June 22, 2015
06/22/15

By Subscription Box Mom

0 Comments
0
Love with Food June 2015 Tasting Box Review + Coupons
Disclosure: This post contains affiliate links.
My Love with Food Tasting Box just arrived, which completes my Love with Food June 2015 Trilogy.  I think this is the first time I received all three boxes (Tasting, Deluxe, and Gluten Free) in the same month.  I am a huge fan of Love with Food and our family have been subscribers for about 2 years.  
Love with Food recently lowered their prices, so a Love with Food subscription is even more affordable now!  The Tasting Box is $9.99/month with free shipping and contains eight or more snacks.  The Deluxe version that features 16-20 snacks and is $19.95/month (free shipping).  For those on a gluten-free diet, the gluten-free box contains 8-12 snacks for $24.50/month.  Keep reading to the end of the review for coupons to save on a Love with Food subscription.
The Tasting box comes in a much smaller box than the Deluxe and Gluten Free boxes.
The theme for June is "Saturday in the Park" and features snacks you can take on a picnic!
The information booklet features all the snacks in the box and the guide says if the snack is Vegan, Gluten-Free, and Non-Gmo,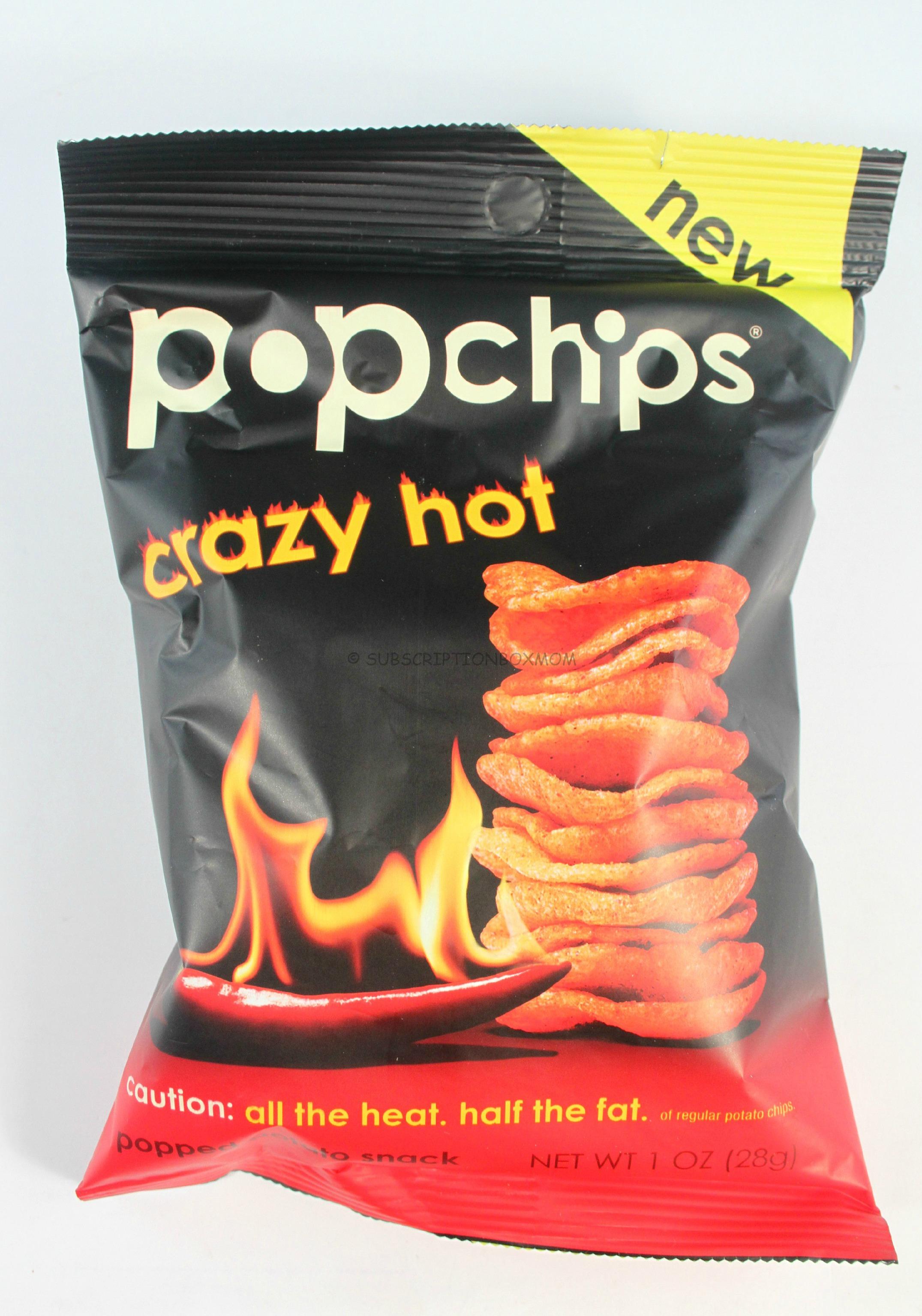 Crazy Hot Popchips by POPCHIPS  I have never been a fan of "hot" chips, so these weren't my favorite.  They have a nice flavor, but the after spice was a bit too much for me.  I do like the light texture of POPCHIPS and it's a nice bonus that they are free from added preservatives, artificial flavors, synthetic colors, cholesterol and trans fat.
Everything Bar by Sheffa  While this bar is filled with many nutritious ingredients (whole grains, seeds, chickpeas and more), I felt the taste came up short.  It's a rather dry bar and other than the garlic flavor, it doesn't have much flavor.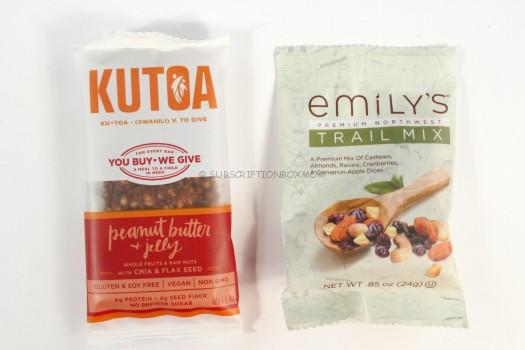 Kutoa Peanut Butter + Jelly Bar I received the chocolate banana bar in my Gluten Free box, and it was a hit with my 3 year old.  This is a soft chew bar that is gluten/soy free, vegan and non gmo.
Northwest Trail Mix y Emily's:  This fruit and nut trail mix was a hit at my house.  I was happy to see it was peanut free, so even my oldest son could try it.
Classic Iced Tea Candy by Bali's Best We received these in the Deluxe Box, but my husband ended up not loving them.  They did taste like tea, but they were not sweet enough for his liking.
Funny Face Flavored Dried Cranberries in Choo Choo Cherry:  This are made just for my 3 year old, he loves fruit and trains.  I love the cute graphics and these have 50% less sugar compared to regular dried cranberries.  I already picked more up in the Love with Food store.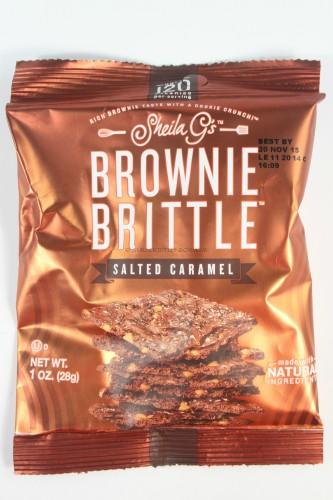 Brownie Brittle  We received the chocolate chip flavor in the Deluxe box and it was really tasty.  At only 120 calories, these doesn't taste low-calorie.  This salted caramel version has a sticky/chewier texture than the chocolate chip version.
Stonefire Naan Crisps These crackers are flame backed and perfect for dipping.  I wish the was a dip included in the box, but these were still fantastic.
There were coupons for Sheffa Foods, Brownie Brittle, the cranberries and a fantastic Free and B1G1 Free Ruby Rockets Fruit and Veggie Pops.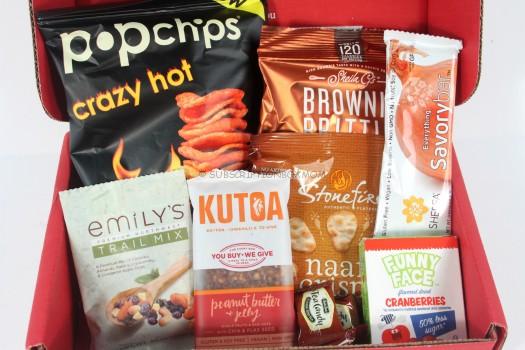 Final Thought: Love with Food's Tasting Box was really great, and I liked that there were some variations to the Deluxe Box.  I bought the Naaan Crisps and the cranberries from the Love with Food shop already and I am going to pick up the Emily's trail mix too.  If you want to try the Tasting Box, use this link to get it for $5.99.  You can save $20.00 on a 12 month subscription plan for any subscription, when you use this link with the code SBMOM20.  Finally, you can save 50% on your Gluten Free box,  just click HERE.
Do you like FREE SUBSCRIPTION BOXES?  Click HERE to see my free subscription box list.
Check out my Full List of Subscription Box Coupons