June 18, 2015
06/18/15

By Subscription Box Mom

0 Comments
0
Love with Food June 2015 Gluten Free Box + Coupons
Disclosure: This post contains affiliate links.
Snack Overload!  My Love with Food June 2015 Gluten Free Box  arrived the same day as the Deluxe box, so I have been snacking all day. The gluten-free box contains 8-12 snacks each month and Love with Food recently lowered the price of the gluten-free box to only $24.99.  
Love with Food also has a tasting box for $7.99/month and a Deluxe box for $24.99/month.  I will have coupons for all the boxes at the end of this review.
The gluten-free box ships in a large red box, just like the Deluxe box.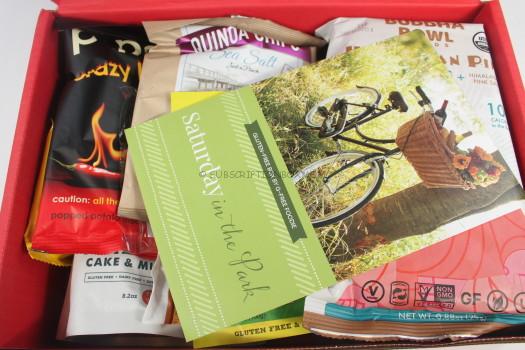 First Look
The theme for June is "Saturday in the Park".
The information card features everything in the box along with labels to indicate if it is: organic, vegan, non-gmo and gluten-free.
Original Shoestring Potatoes by Pik Nik:  These taste like the ones you find at the gas station, but these don't have all that nasty grease and are non gmo and vegan.  They taste great and you would never know they were a healthy snack.
Chewy Banana Bites by Barnana:  These are literally dried organic pieces of banana.  They were good and I am saving them for my banana-loving child.
Cookies by Alternative Baking CO: This chocolate fudge cookie is made without butter, eggs or flour.  The chocolate seems to a have a more natural taste, but overall, a very softy chocolate cookie.
Sea Salt Quinoa Chips by Simply 7:  These chips are baked and seasoned with sea salt.  They have the same texture as munchos, but are much better for you.  You can pair these with salsa and have an outstanding snack.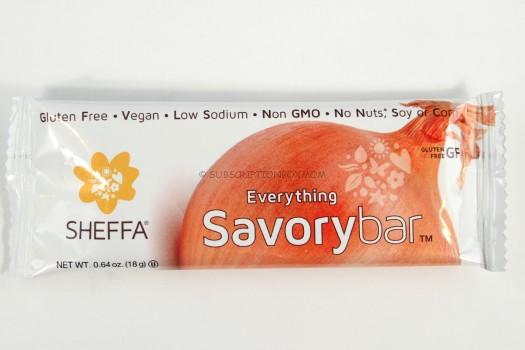 Everything Bar by Sheffa This bar is made with whole grains, seeds, chickpeas and more.  I thought this was too dry and really not my taste.  It has a bit of a garlic flavor, which was what I liked best.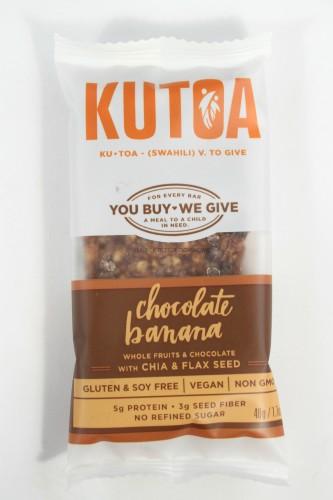 Kutoa Chocolate Banana Bar: This one wasn't listed on my information guide.  This has chia and flax seed and is gluten/soy free, vegan and non gmo.  Based on the ingredients, I passed on trying this and will give it to my kids, I think they will like it better.
Honey Grahams by Schar: There were 3-4 thick honey Graham crackers in this package.  They are super sweet and I am saving most of them for some marshmallows and chocolate.
Paleo Hazelnut Cake & Muffin Mix by Paleo Baking Co:  I was surprised to see a full size baking product in the box.  This is gluten, grain, dairy and sugar-free and makes 16 servings!
Crazy Hot Popchips by POPCHIPS  These start off with a nice flavor, but after you swallow, the heat really kicks in.  I don't love hot chips, so these were just okay for me.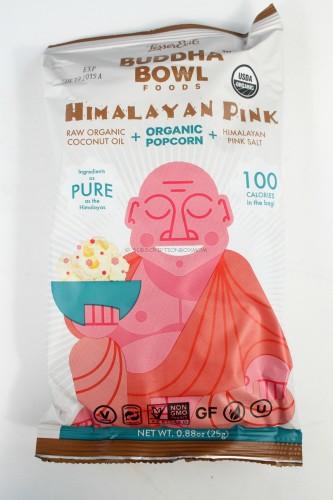 Buddha Bowl Himalayan Pink Popcorn by Lesser Evil:  I had such high hopes for this, but it's made with coconut oil.  I do like this popcorn, but you can taste the coconut and I really hate coconut.  I like this is healthy, I just wish there was a different oil used.
Love with Food included coupons from Simply 7, Sheffa Foods, Paleo Baking Co and Ruby Rockets.  The Ruby Rockets coupons are for full size products!
Final Thought: Like the Deluxe Box, there were some products I didn't love, but overall I thought it was a nice box.  My 3-year-old is going to love the banana chews and I loved the Quinoa chips.  I am going to make the muffins for breakfast this week.  If you want to try the Gluten Free Box, it's now only $24.99 and you can get 50% on your Gluten Free box,  just click HERE.  If you want to try the Tasting Box, use this link to get it for $5.99.  You can save $20.00 on a 12 month subscription plan for any subscription, when you use this link with the code SBMOM20
Do you like FREE SUBSCRIPTION BOXES?  Click HERE to see my free subscription box list.
Check out my Full List of Subscription Box Coupons