June 18, 2015
06/18/15

By Subscription Box Mom

1 Comment
1
Love with Food June 2015 Deluxe Box Review – New Prices + Coupons
Disclosure: This post contains affiliate links.  I received this box for review.
Love with Food is one of the subscriptions I get, that my whole family enjoys.  When Love with Food offered the Deluxe box for me to review, I happily said yes, hello double snacks!  Love with Food recently lowered their prices on some of their boxes, so a Love with Food subscription is even more affordable now!
Love with Food is a great snack subscription box.  The tasting box features eight or more snacks for only $9.99, but you can get your first box for $5.99 (see end of review).
There is a deluxe version that features 16-20 snacks and is $19.95/month (free shipping).  For those on a gluten-free diet, the gluten-free box contains 8-12 snacks for $24.50/month.  I have a few great coupons for all of these boxes, just read to the end of this review.
The deluxe box ships in a huge red box that is packed with snacks.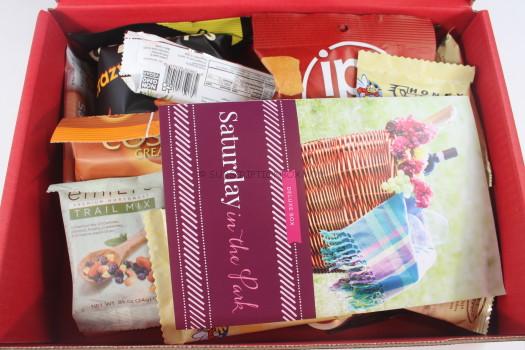 First Look
The theme for June is "Saturday in the Park" and features snacks you can take on a picnic!
The information booklet features all the snacks in the box.
Lemon Waffle by Honey Stinger:  I have used these as a snack before going running and I am really excited to get these lemon versions.  These are organic, vegan and so tasty.
AmaZing Grass Green Superfood Chocolate Chip Coconut This is made with superfoods like wheatgrass, spirulina, and spinach, so you will great nutrition, but it is made to taste good too.  Unfortunately, I don't eat coconut, so I will be giving this to my dad.
Rosemary Croccantini by La Panzella Mine arrived a bit crumbled, but they still tasted good.  These crackers were a great addition to my lunch today, I paired mine with colby cheese.
Crazy Hot Popchips by POPCHIPS  These gluten-free chips pack some heat.  I like POPCHIPS, but I am not a huge fan of the hot chips.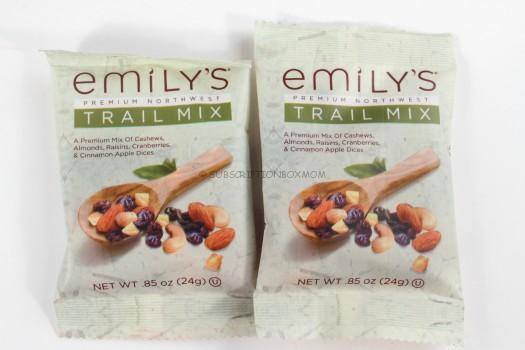 Northwest Trail Mix y Emily's:  This Vegan and organic nut/fruit trail mix packs nutrition and taste in one.  My kids loved it and I was excited it was peanut free (allergies)!
Everything Bar by Sheffa This bar is made with whole grains, seeds, chickpeas and more.  I wasn't thrilled with this one, but I am not a protein/granola bar kind of girl.
Cosmos Creations Salted Caramel and Coconut Crunch:  I loved the salted caramel and of course the coconut is going to my dad.  I love getting popcorn in subscription boxes, as I love almost every one.  The caramel is very addicting and I may need more!
IPS Chips:  I am a huge fan of IPS for their light chips.  These have half the fat of regular chips, but are still satisfying.  These barbeque flavor were a hit and I am going to buy more from Love with Food if they have them in their store.
Brownie Brittle:  These crunchy brownie bites only have 120 calories per serving and totally satisfied my sweet tooth.
Classic Iced Tea Candy by Bali's Best:  These are iced tea in a candy.  Since I don't drink tea, my husband gets all of these.  These are also vegan.
Bruschetta by Dippin:  This vegan/organic roasted pepper and artichoke bruschetta is great with toast.  I have had this before and really enjoyed it.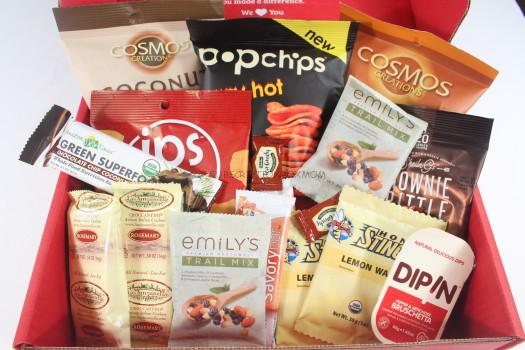 Final Thought: This box was really packed with snacks this month.  While I didn't personally love everything, I thought Love with Food sent a nice selection and my family will eat most of the things I won't.  The IPS chips and the Brownie Brittle are my favorite snacks this month.  If you want to try the Tasting Box, use this link to get it for $5.99.  You can save $20.00 on a 12 month subscription plan for any subscription, when you use this link with the code SBMOM20.  Finally, you can save 50% on your Gluten Free box,  just click HERE.
Do you like FREE SUBSCRIPTION BOXES?  Click HERE to see my free subscription box list.
Check out my Full List of Subscription Box Coupons