March 4, 2015
03/04/15

By Subscription Box Mom

1 Comment
1
Try the World Marrakesh Review + Coupons + Free Box Offer
Disclosure: This post contains affiliate links.  I received this box free for review.
Try the World has released a new box, Marrakesh.  Try the World sends you various culinary treats from all over the world. The Marrakesh box is $39.00 and contains 6 to 9 Moroccan delicacies curated by a local expert.   I have always wanted to go to Morocco, but the closest I have been is Epcot.  Try the World sends a new box every two months and the $39.00 is a new price (It was previously $45.00). I have reviewed many Try the World boxes and I will have links to them and some great coupons, at the end of the post.
The Details:
Cost: $39.00 every 2 months (Subscription)
Coupon: Click HERE and use the code SBMOM12 to save 30%!
What is in the box? Every 2 months Try The World's team of travelers and local experts curates a collection of products that best represent each country. In your box you will find not only a some of the most delicious gourmet finds but also a companion on the history of the products and how to use them.  There is not only food in the boxes.  The founders Kat and David believe "The two essential ways to discover new cultures are through food and art".  In addition to food, there will also be "culture gems" such as a music play list, a list of top local films or a poem.
When do boxes ship?  Your first box will arrive no later than 4 weeks after you order.  All the boxes get shipped together.  When you receive your first box, your next box will arrive 60 days later.
When am I billed: You are billed the day you order and then every 60 days after that.
How do I cancel? To cancel your subscription, click the link you received when you subscribed to manage your account. Or send us a note to sayhello@trytheworld.com and they can do it for you.  Their service meets logistics needs dictated by their shipper, who requests that any cancellation of a box shipment should be made 5 business days prior to the shipping of the box. If you cancel your subscription less than 5 business days prior to your scheduled box shipment, your cancellation will be taken into account after you receive your box.
Website:  http://trytheworld.com/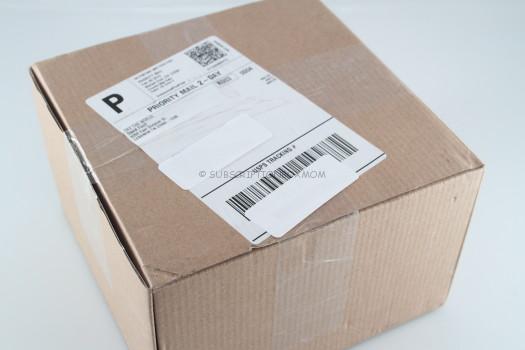 Try the World was mailed by Priority 2 Day mail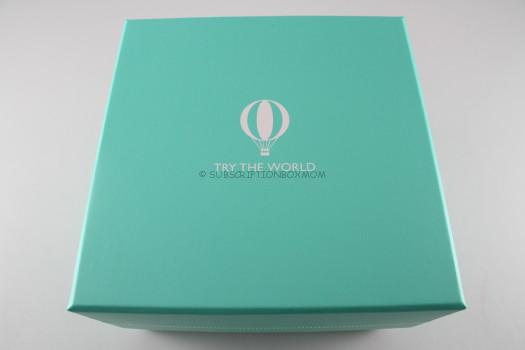 I love Try the World's box, it is a pretty green color.
First Look
This box was jam-packed!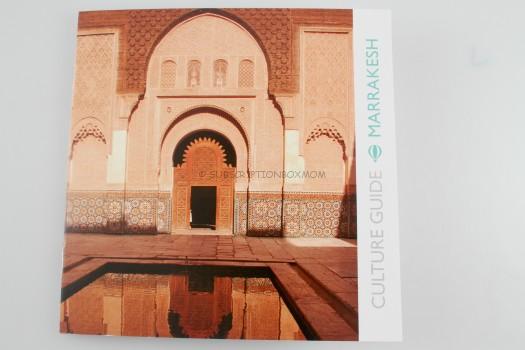 There was a culture guide that tells you all about Moroccan food, playlist, and movies.  This is a fun little book to find out more about Morocco.  You can make a Moroccan meal, put on a good song and almost pretend you in Morocco.
There was a list of classic and contemporary songs
There were several different Moroccan recipes.  Try the World included recipes for Macaroons. Marrekesh Stew, and B'stilla.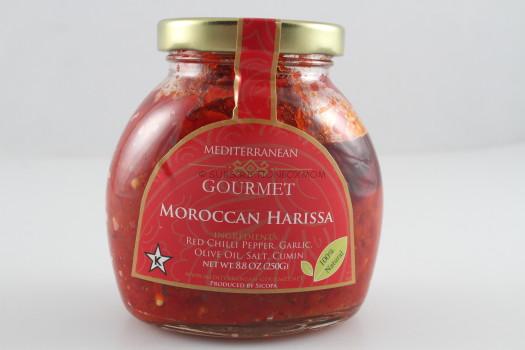 Mediterranean Gourmet Harissa Sauce:  This sauce is flavored with red chili pepper, garlic, olive oil, salt and cumin.  You can use the Harissa in quinoa and couscous, or just use it as a condiment.
Mustapha's Mediterranean Lemon Confit:  These are sweet Beldi lemons have a tangy taste, and can be used on meat or with a dessert.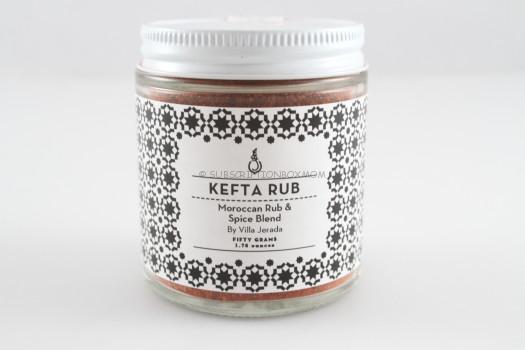 Villa Jerada Kefta Rub:  This rub smells amazing and is made with cumin, paprika, morita pepper, mint, coriander, cilantro and cinnamon.  You can add this to eggs,  or various meats (beef, lamb or chicken) to make tasty meatballs.
This is a look at the rub, isn't it beautiful.  This has an amazing smell and I think this could add a nice kick to chili.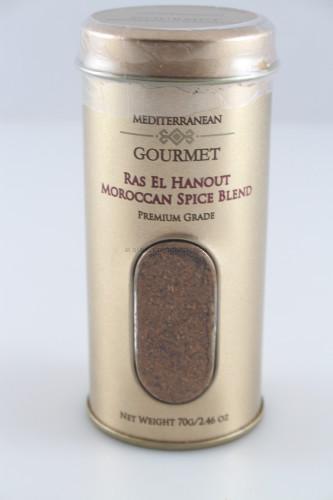 Mediterranean Gourmet Ras-el-hanout blend: This spice blend contains rosebuds, coriander, cinnamon and fennel.  You can use this spice blend as a rub on meat, or can flavor rice, or couscous.  This smells really good, the cinnamon adds a nice warm taste to the spice blend.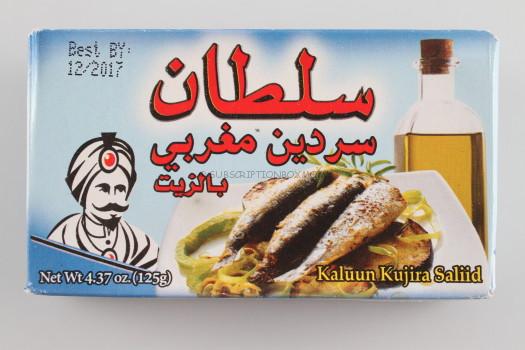 Sulton Sardine in Oil:  Morroco is the largest exporter of canned sardines.  These sardines can be used to garnish pasta or other recipes.  My husband loves sardines, and he was happy to get these in the box.  I am not a fan of sardines, so these will all be for my husband.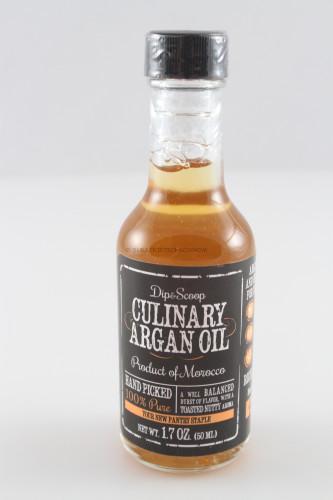 Dip & Scoop Culinary Argan Oil: I love Argan oil, because it has a great flavor and is so versatile.  This is made by the Berber women in Southwestern Morocco.  You can pour this oil on fish, grilled vegetables or use it to dip flat bread in.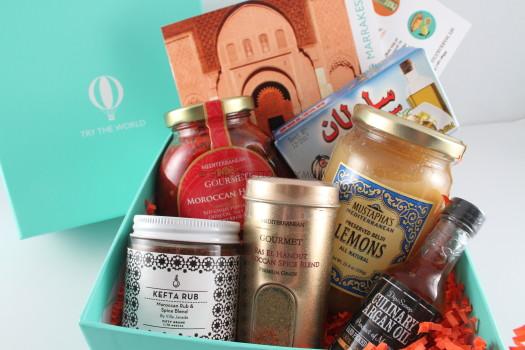 Final Thought: This was a nice box and this maybe one of my favorite boxes.  I like the rub and spices, because I am always looking to make new things with wheat.  The argan oil is going to be used first.  I haven't decided how to use the harissa and lemon confit, but they sound good.  I will note, when you subscribe, you may get a slight variation from what I received.  If you sign up during March or April, you will get this box!  If you want to get this box, use this link with the code SBMOM12 to save 30% on your box.
Or
Purchase a Try the World subscription and get the Paris Box FREE. No code needed, just use the link.
You can read all my Try the World reviews below:
Do you like FREE SUBSCRIPTION BOXES?  Click HERE to see my free subscription box list.
You can see my full coupon list HERE.