October 21, 2014
10/21/14

By Subscription Box Mom

1 Comment
1
Try the World Tokyo Review
Disclosure: I received this box for review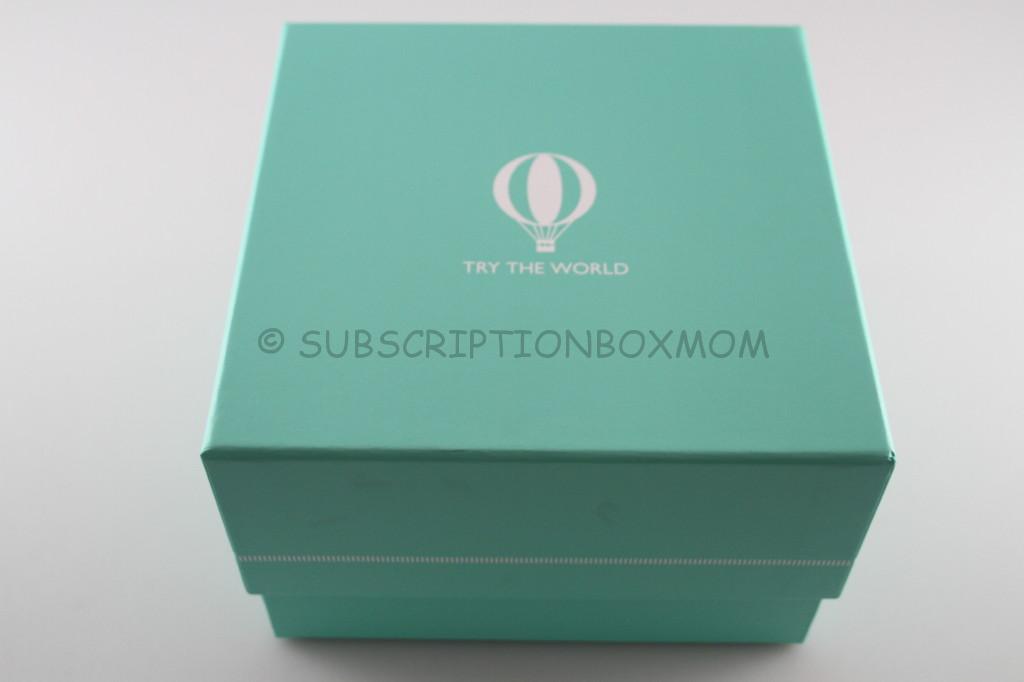 Try the World is a destination subscription box, that sends not only some of the most delicious gourmet finds but also a companion on the history of the products and how to use them, as well as a few cultural tips like music, movies, and things to do.  This is a fun way to get a taste of a new city, without leaving your living room.
I reviewed a sample of the Paris box and you can read that review HERE and my Rio review HERE.
The Details:
Cost: $45.00 every 2 months (Subscription)
Coupon: Click HERE and use the code SBMOM12 to save $10.00.
What is in the box? Every 2 months Try The World's team of travelers and local experts curates a collection of products that best represent each country. In your box you will find not only a some of the most delicious gourmet finds but also a companion on the history of the products and how to use them.  There is not only food in the boxes.  The founders Kat and David believe "The two essential ways to discover new cultures are through food and art".  In addition to food, there will also be "culture gems" such as a music play list, a list of top local films or a poem.
When do boxes ship?  Your first box will arrive no later than 4 weeks after you order.  All the boxes get shipped together.  When you receive your first box, your next box will arrive 60 days later.
When am I billed: You are billed the day you order and then every 60 days after that.
How do I cancel? To cancel your subscription, click the link you received when you subscribed to manage your account. Or send us a note to sayhello@trytheworld.com and they can do it for you.  Their service meets logistics needs dictated by their shipper, who requests that any cancellation of a box shipment should be made 5 business days prior to the shipping of the box. If you cancel your subscription less than 5 business days prior to your scheduled box shipment, your cancellation will be taken into account after you receive your box.
Website:  http://trytheworld.com/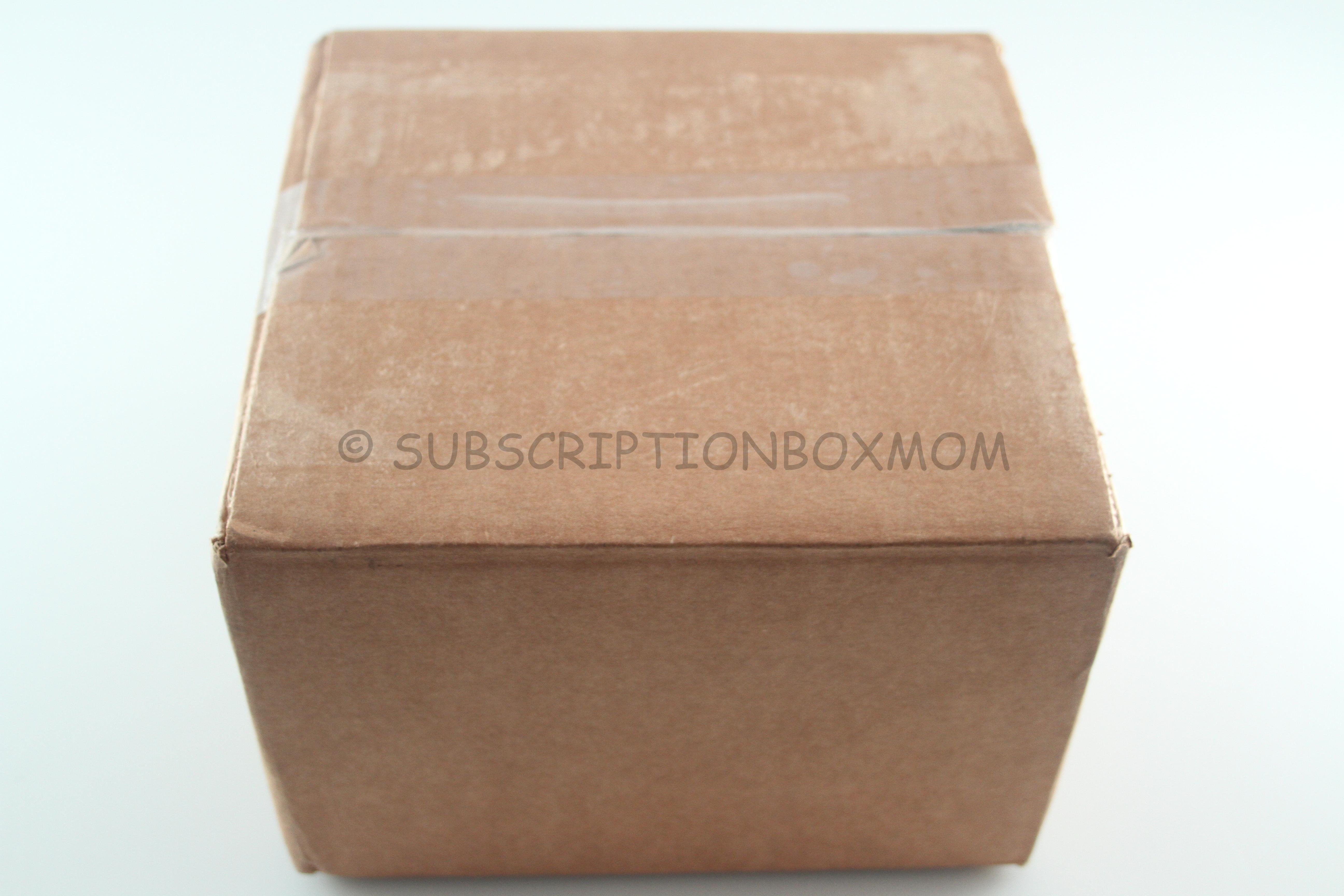 Try the World ships in a plan brown box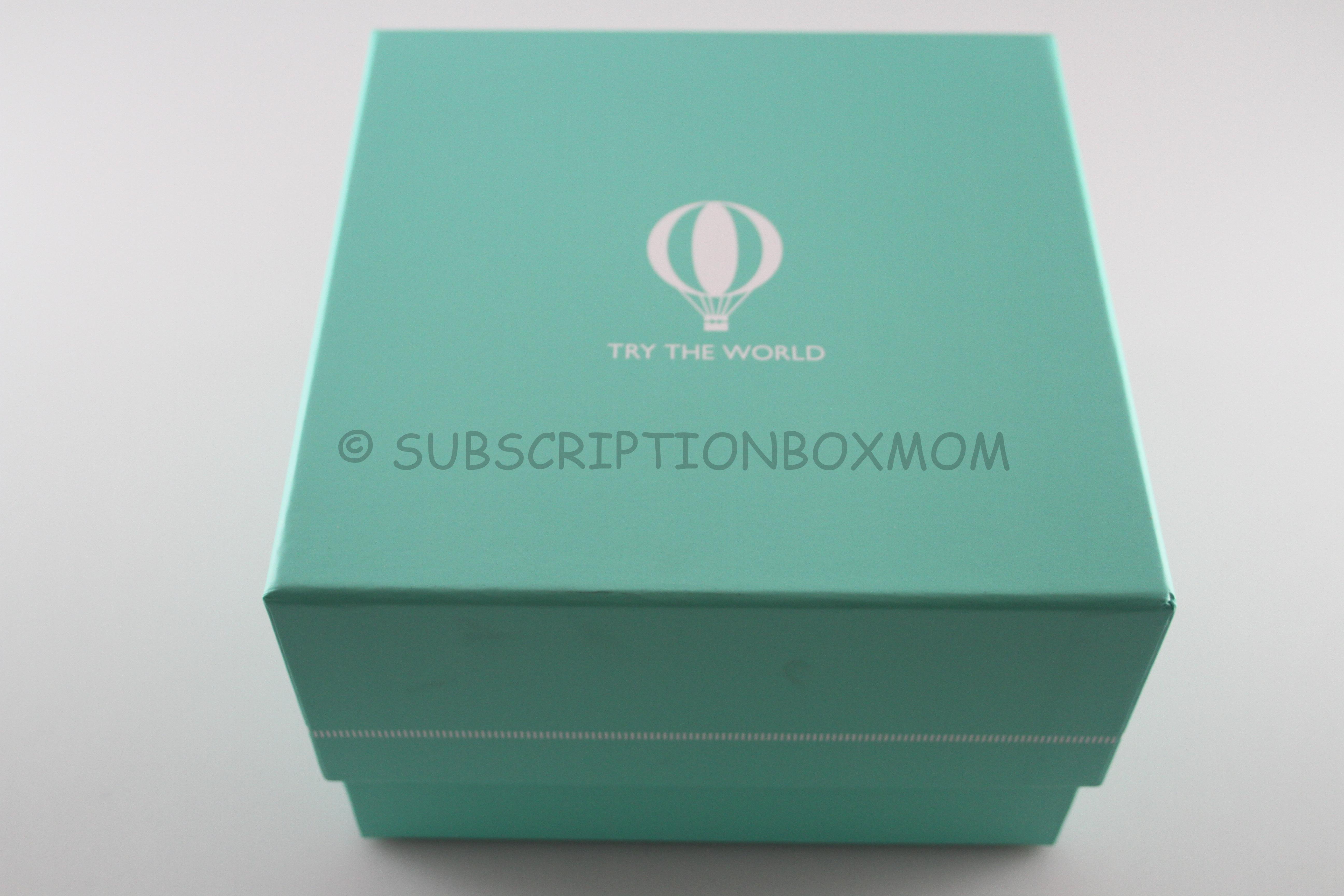 Inside the brown box is a beautiful green Try the World box.  The box itself is super sturdy and great to save to store items in.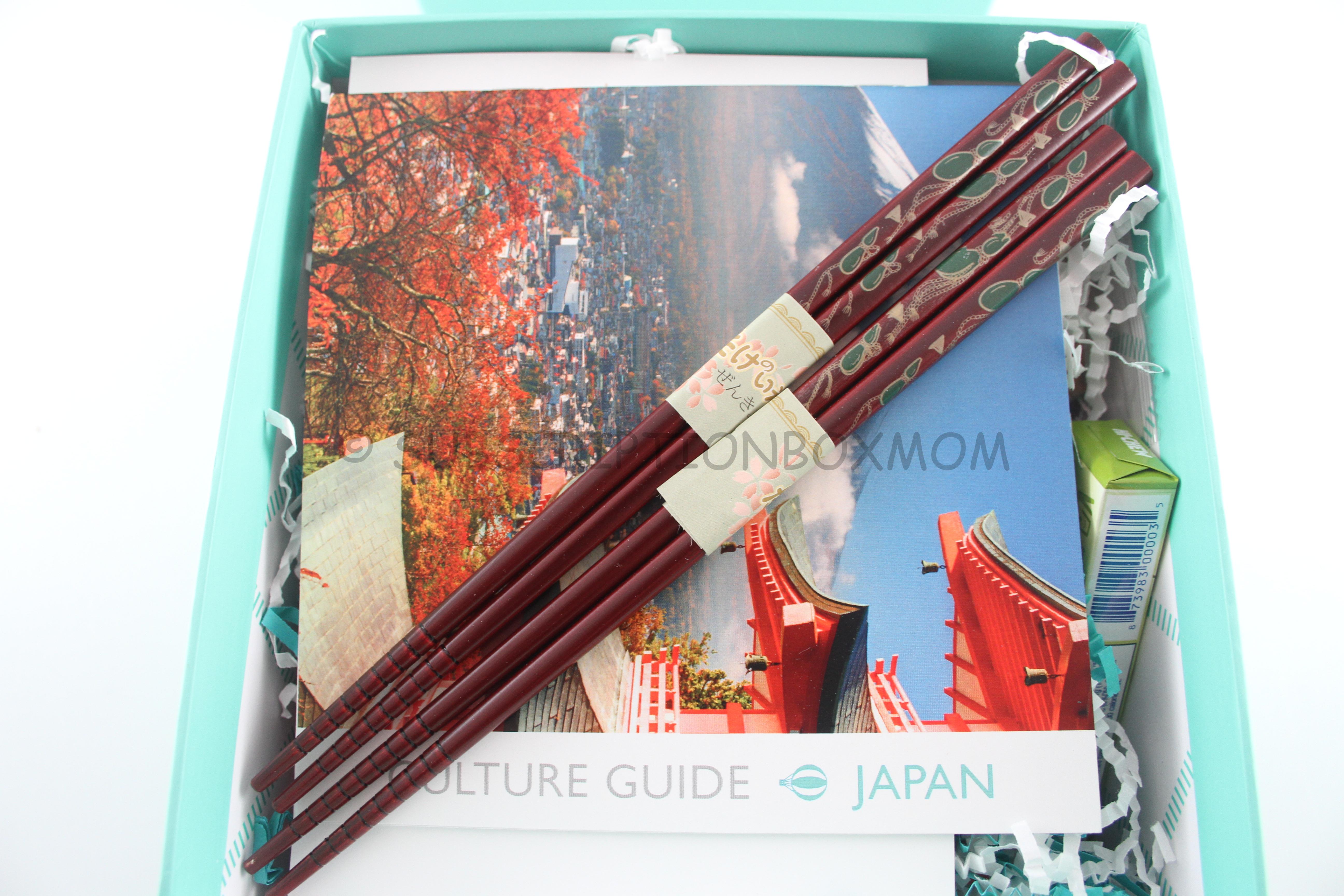 First look:  Everything was so bright and colorful when I opened the box.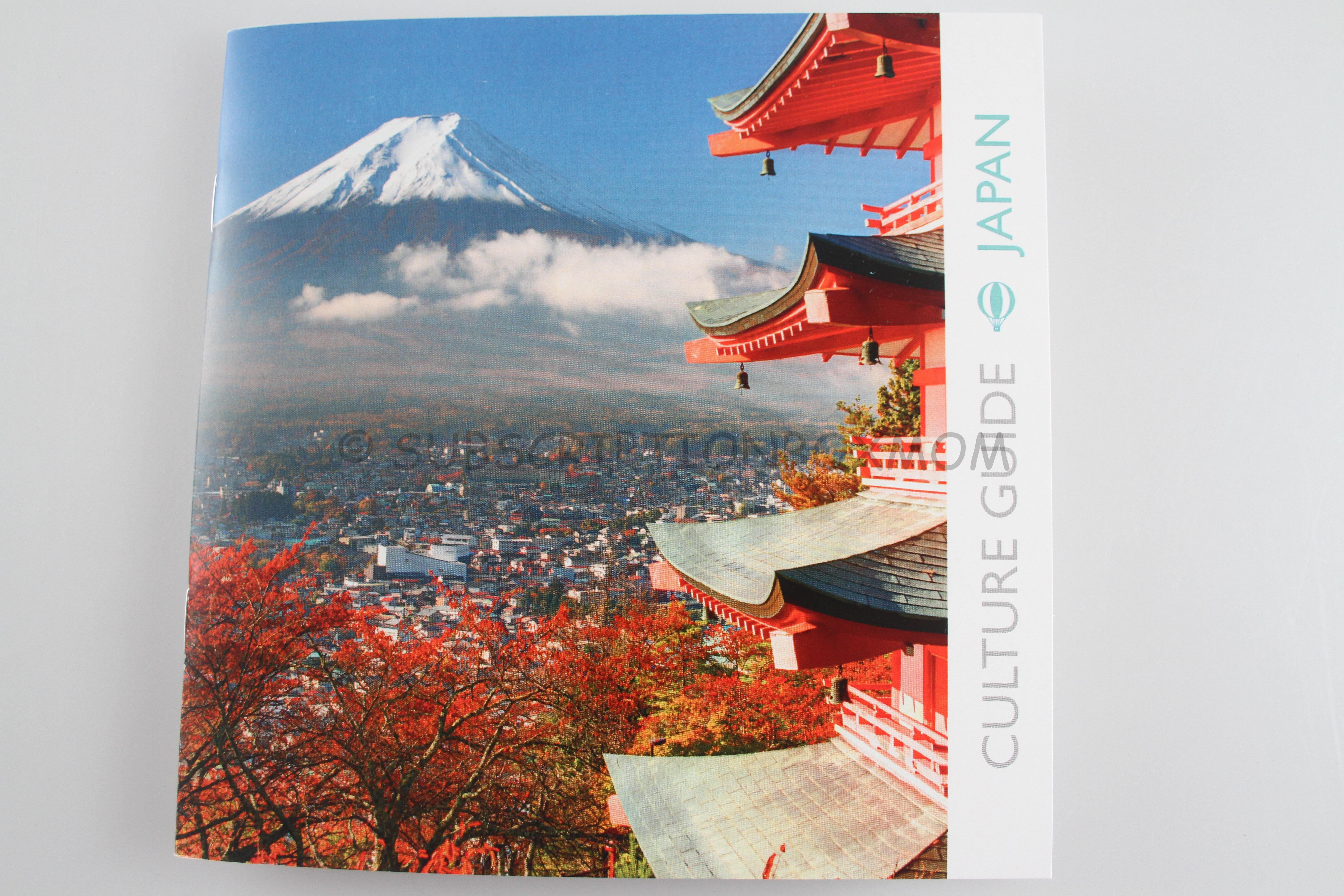 There is always a culture guide in every Try the World box.  This guide is packed with information about that month's featured location.
Here are just some of the articles/information in the book: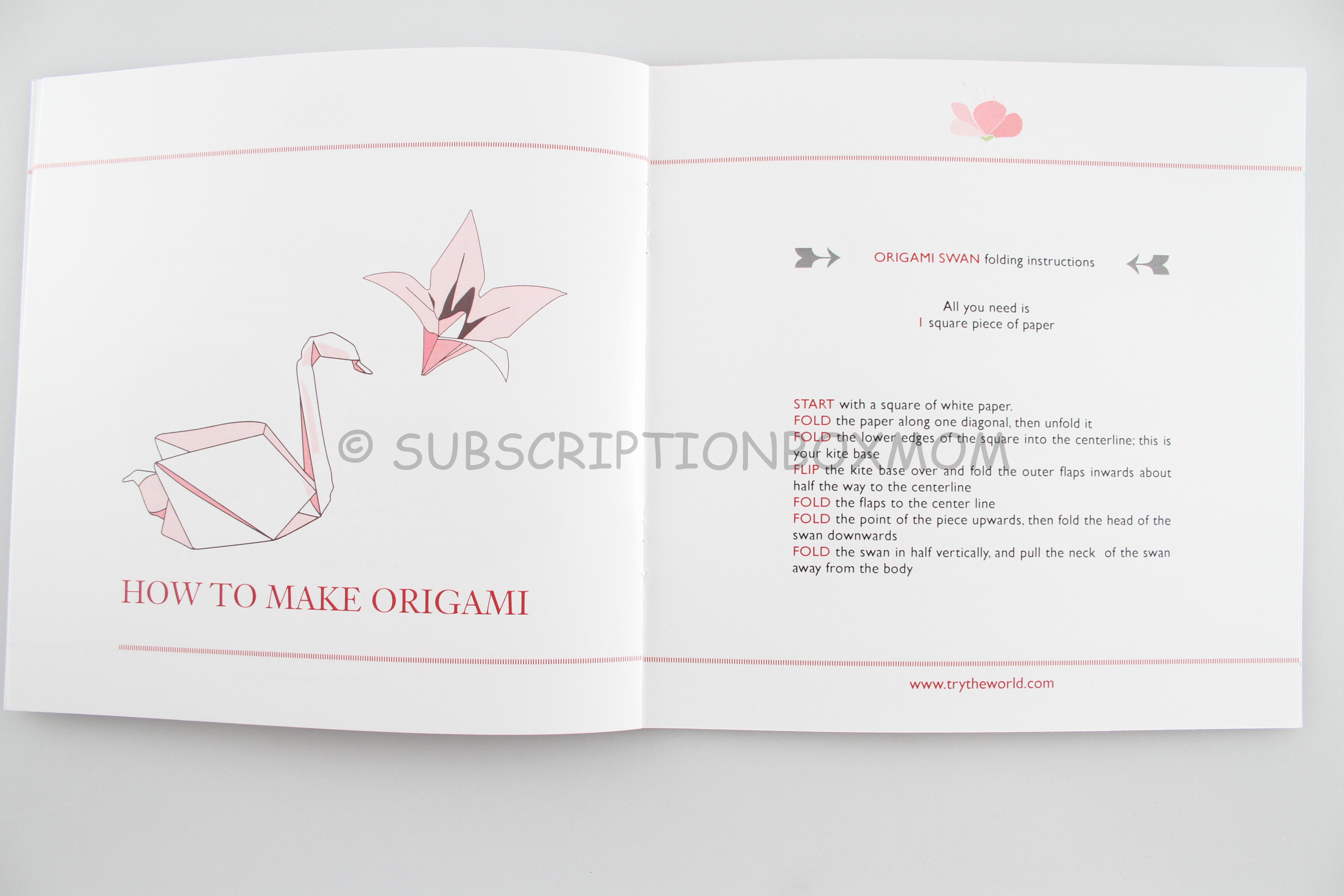 There were instructions on how to make origami.  Keep reading, because they included origami paper too!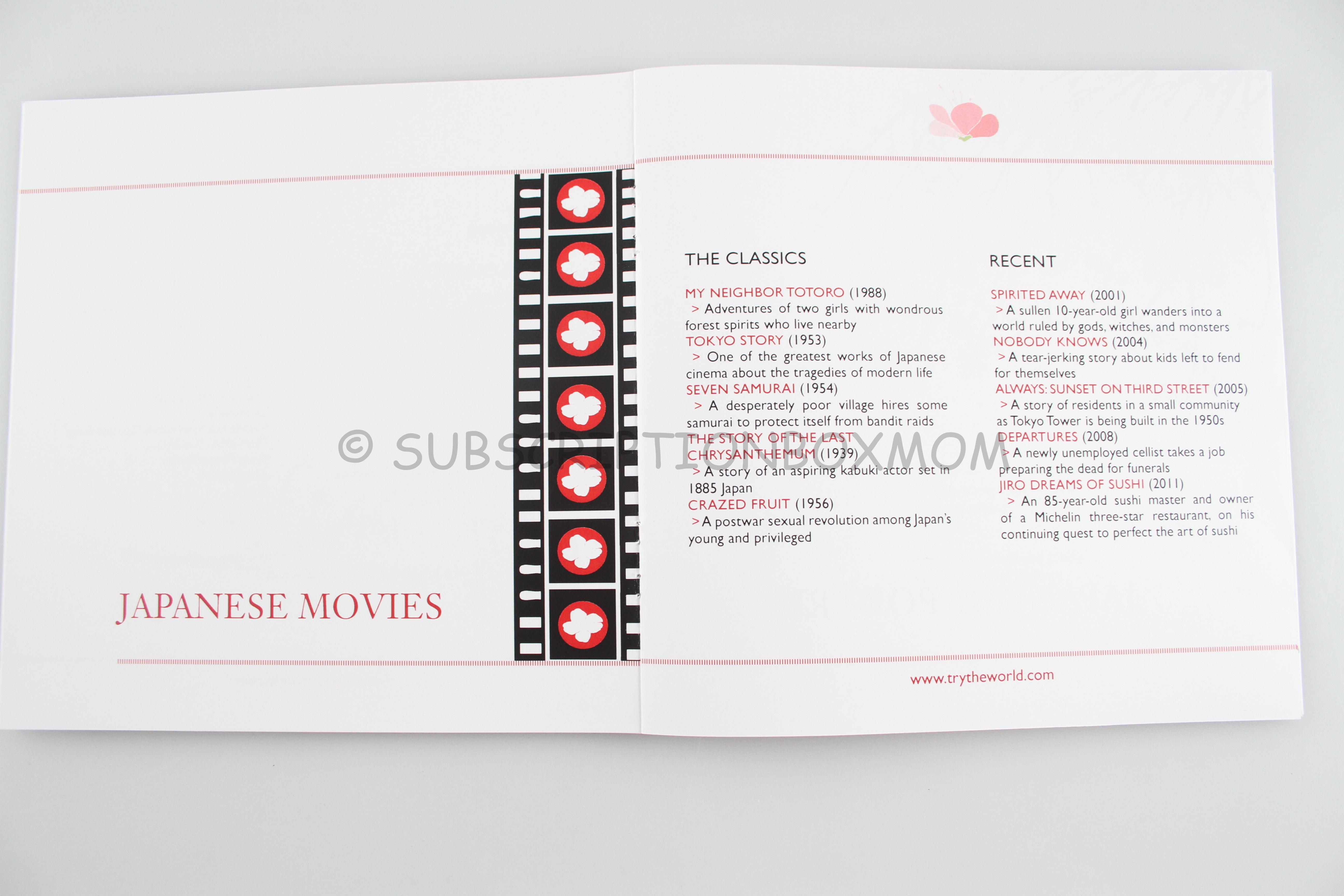 There was a full selection of Japanese movies, both classic and recent.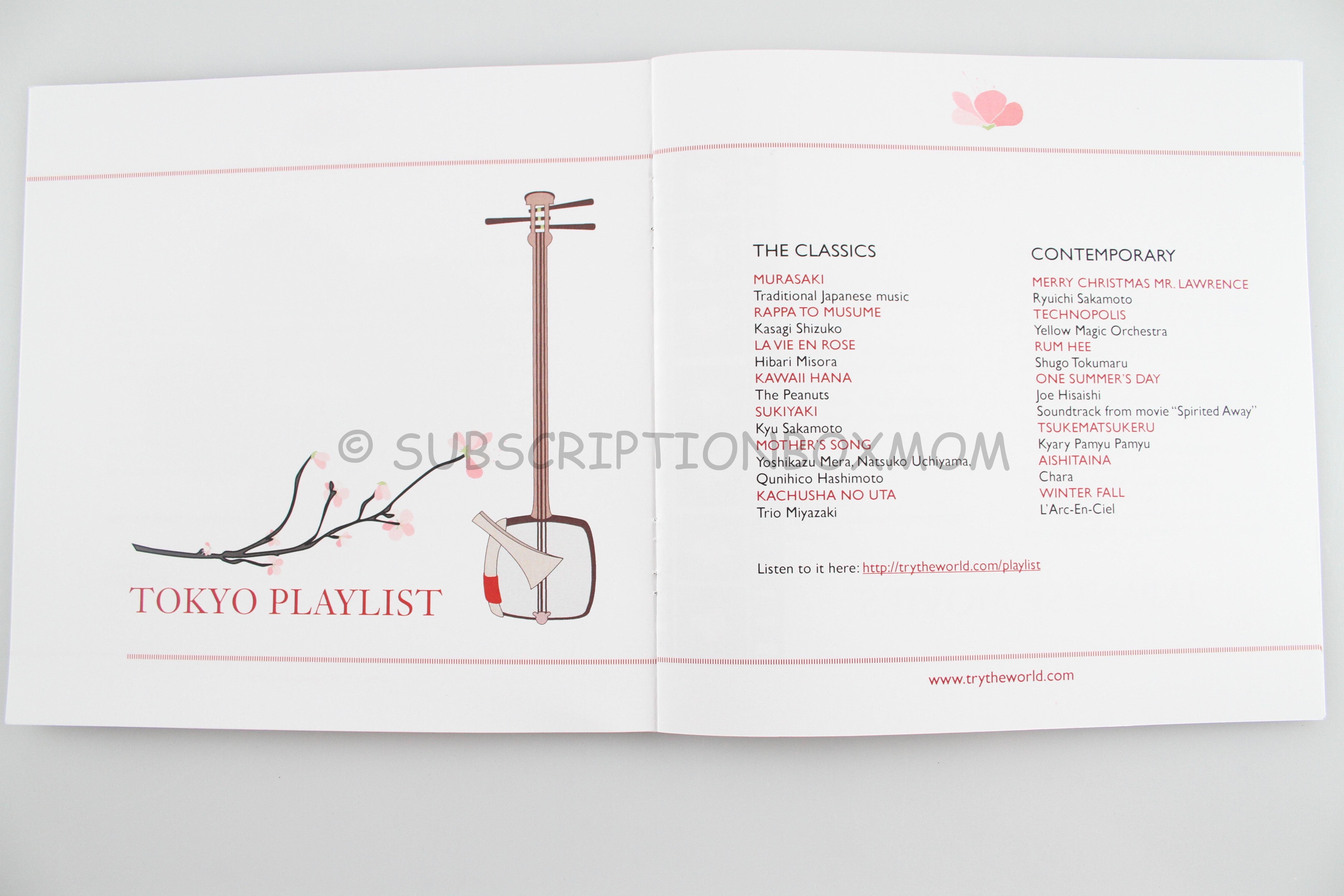 There was a Tokyo playlist of some great Japanese songs.  I checked a few out and was impressed.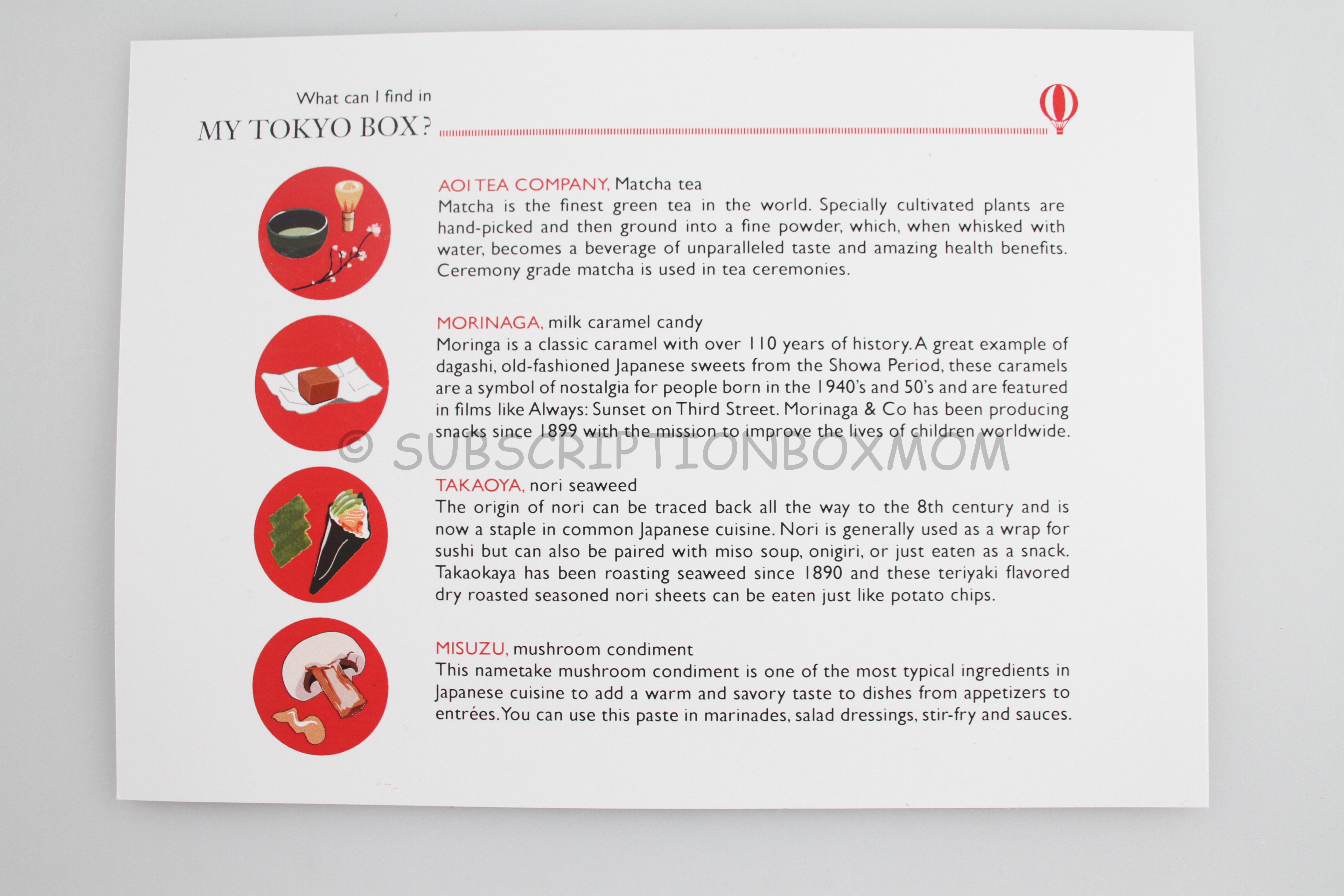 There is also a separate information guide with all the products in the box.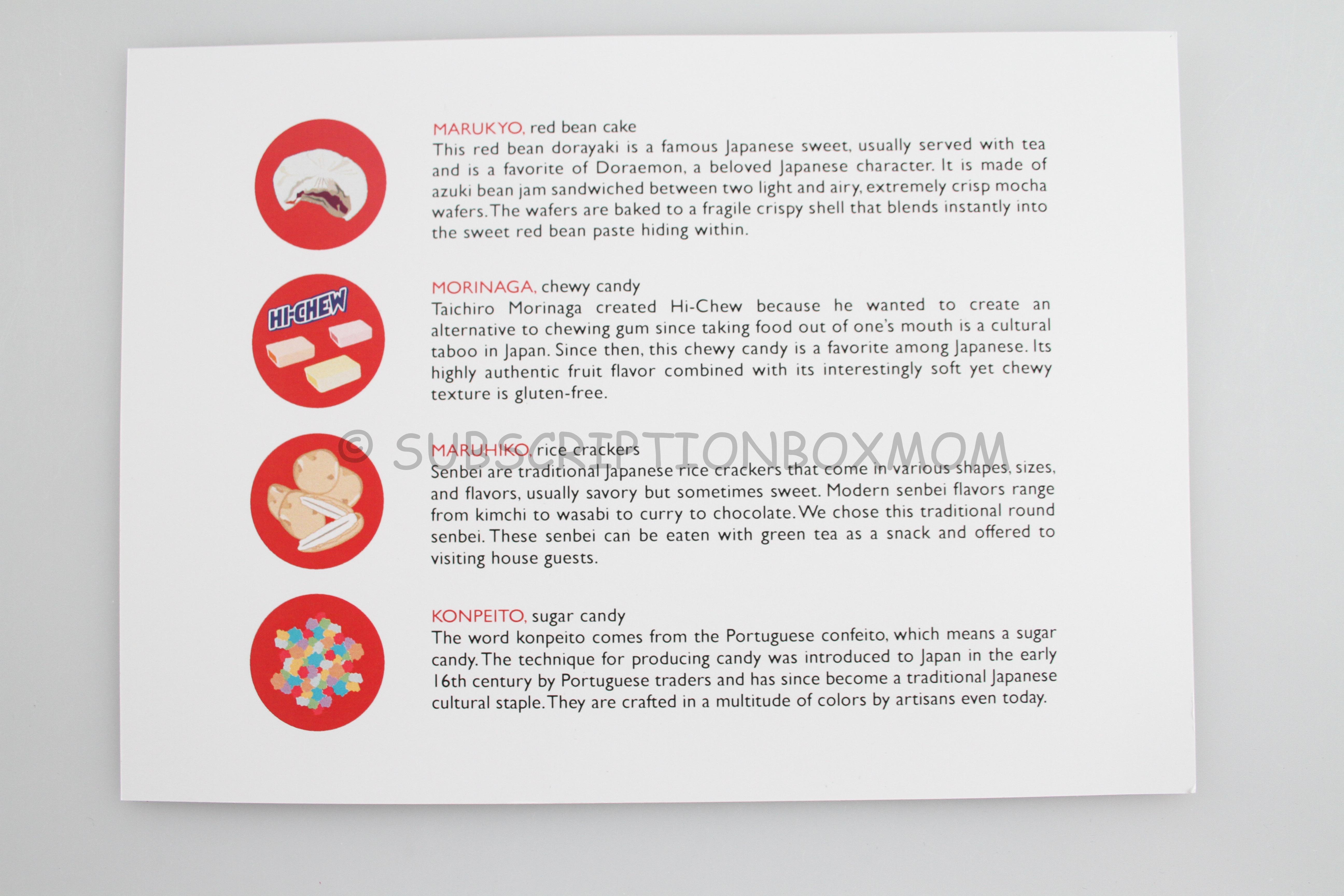 There were over 8 items in the box this month.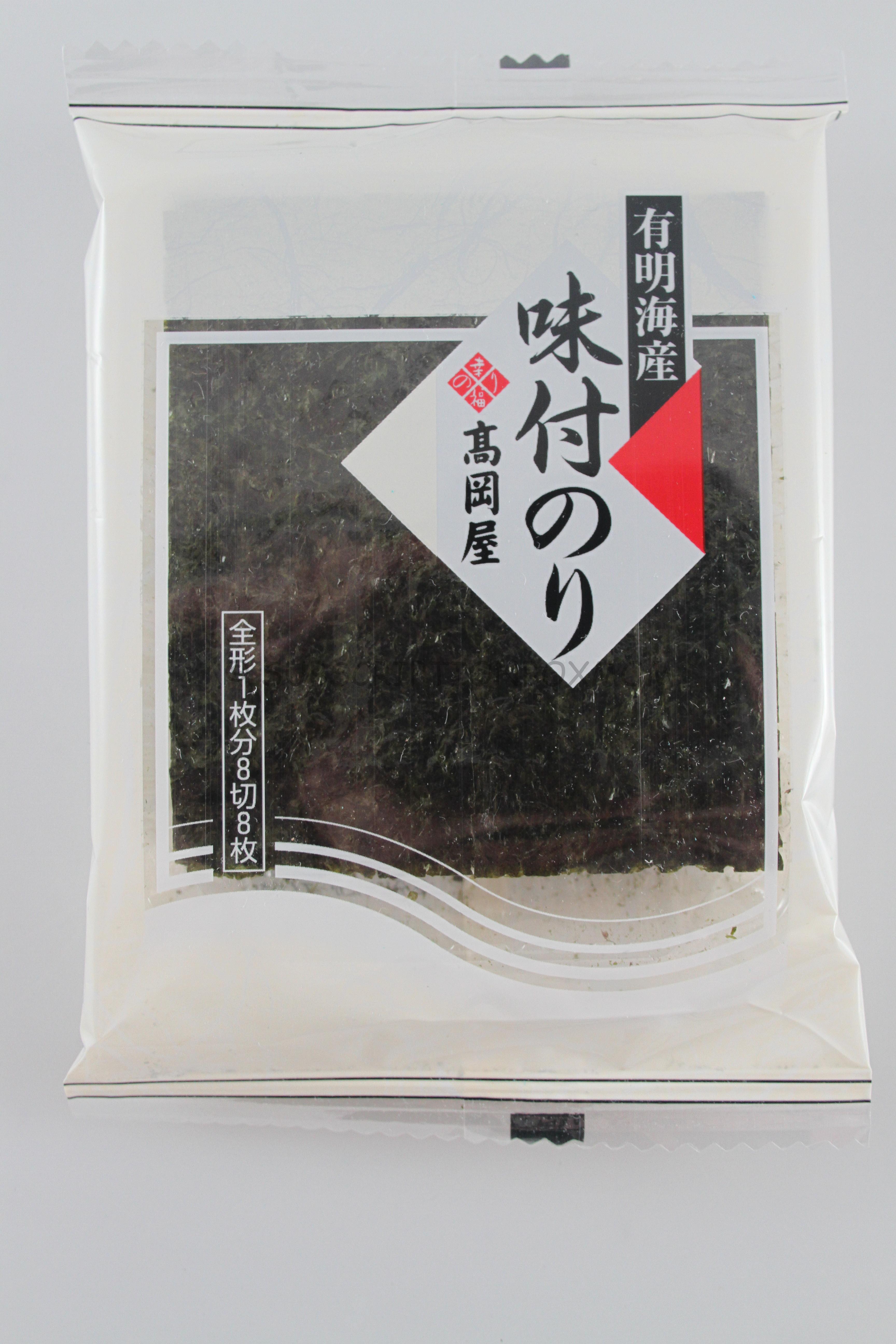 Takaoya-Nori Seaweed:  I think seaweed is a love or hate kinda food.  I am unfortunately in the hate categorie.  I don't care for sushi and I don't like seaweed.  I know some people who love this, so I will send this to them, and make their day.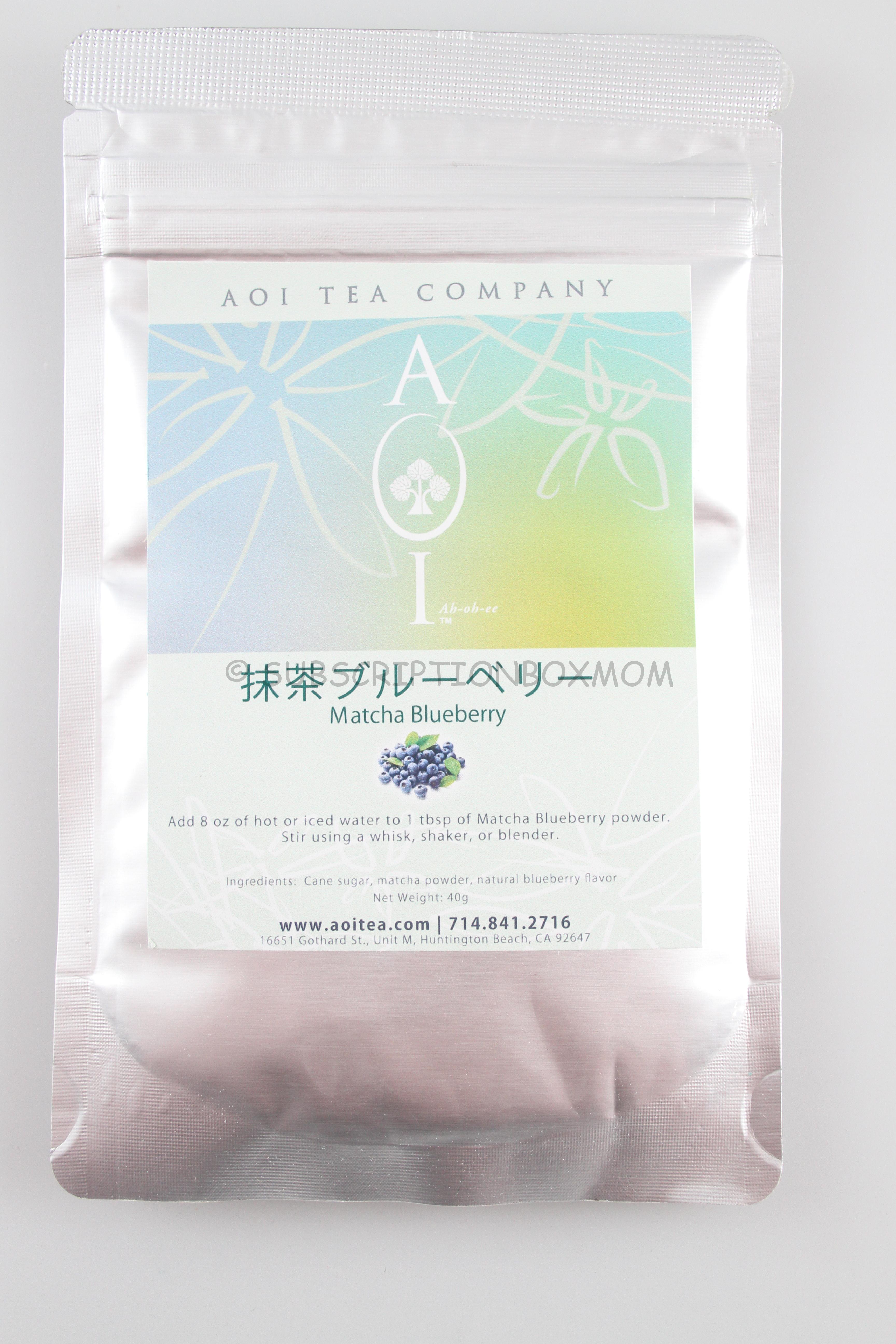 AOI Tea Company  Matcha Tea:  As I am sure you have read, C is our family's tea drinker.  He like black and green tea best, so I am sure he will enjoy this green tea.  Matcha is the finest green tea in the world, according to Try the World.  Matcha tea also has great health benefits.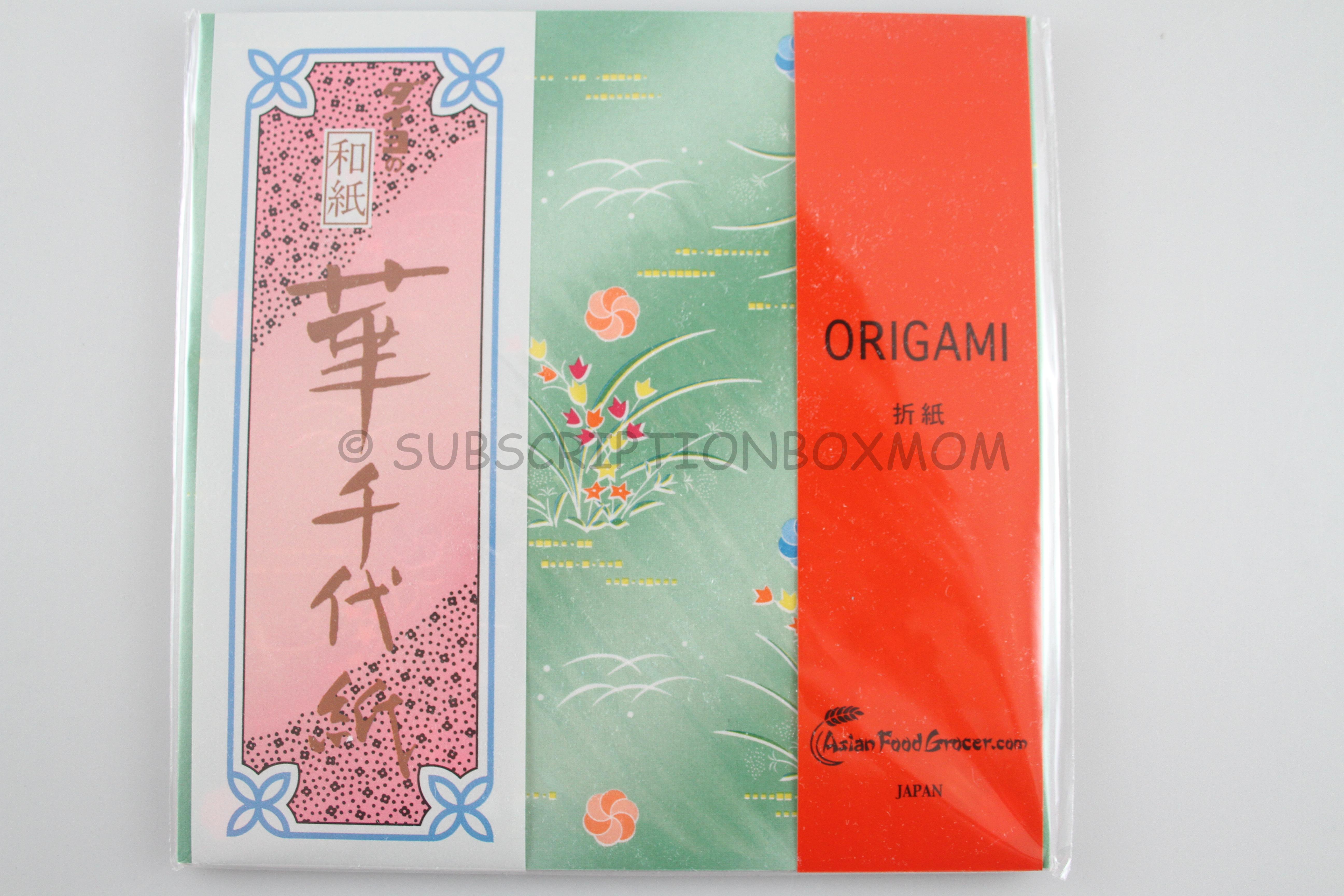 Origami Paper:  This wasn't listed in the information card, but I love it's included.  I have always wanted to learn origami.  Thanks to this paper and the culture guide, I can learn!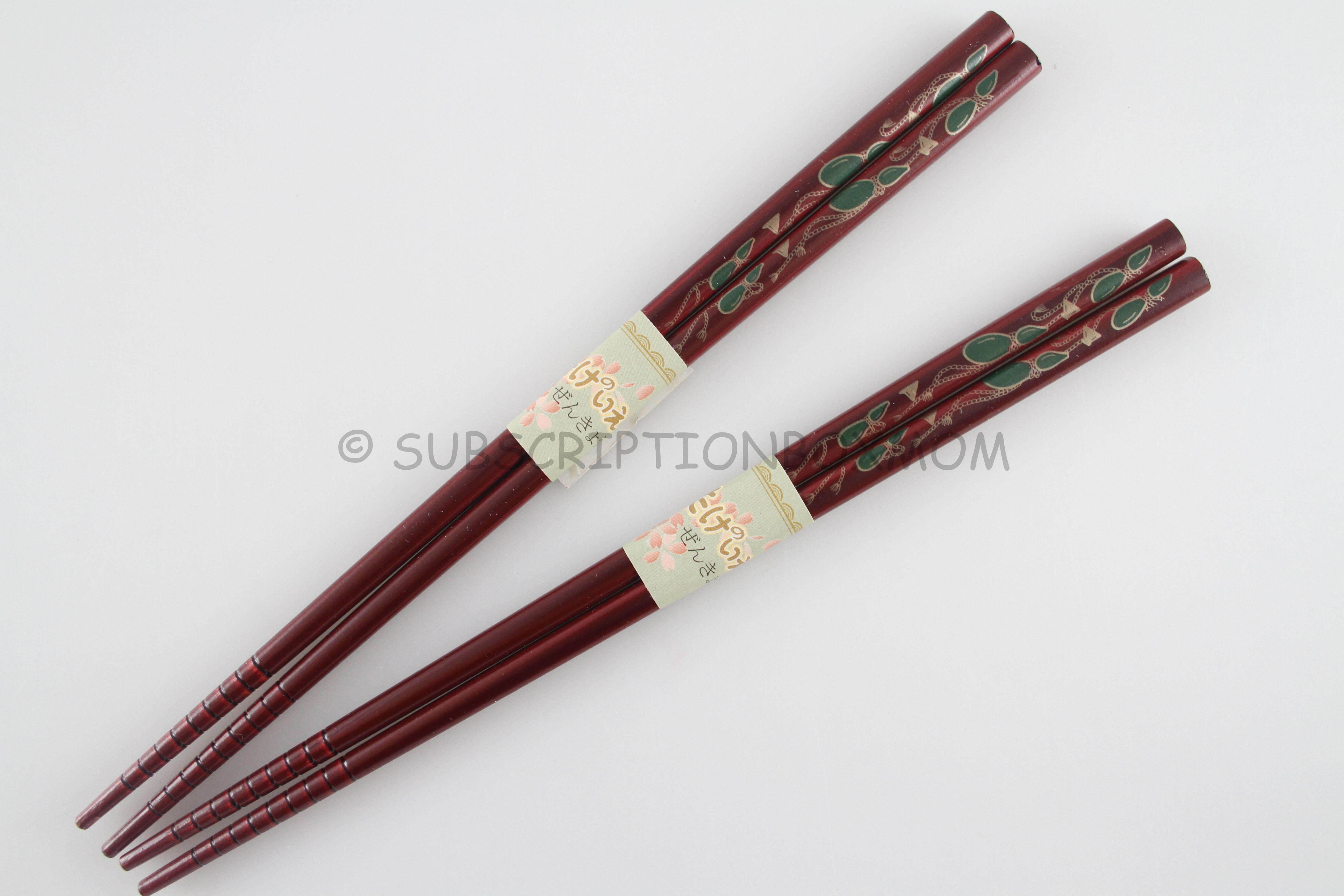 Chopsticks: There were two sets of chopsticks.   These are really nicely made and I will use them when we eat Japanese at home.  I love the beautiful detail on the side.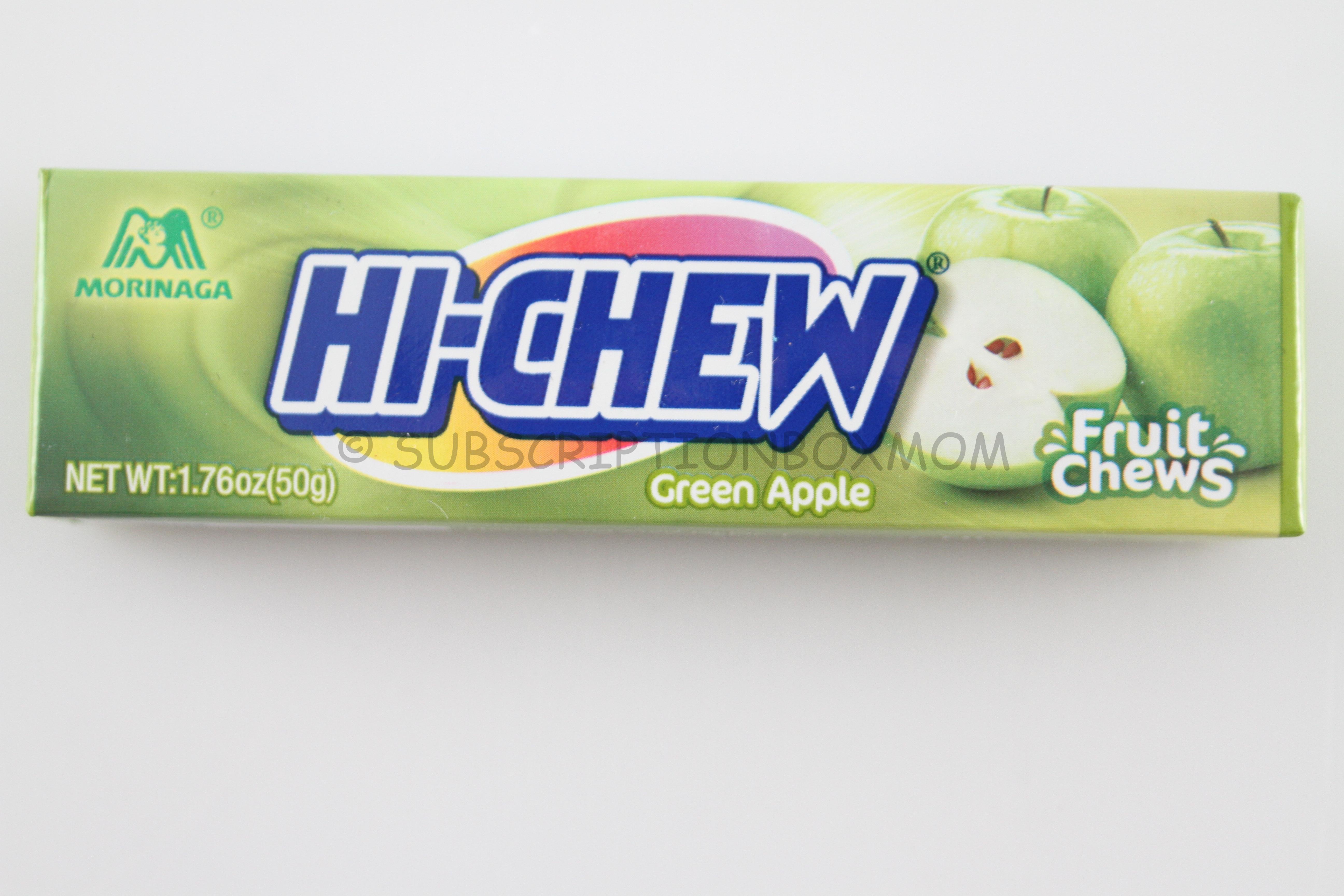 Hi-Chew:   Oh my, this is my family's favorite Japanese treat.  These are a cross between a Now and Later and Starbursts.  These have a great flavor and I hate half this pack, typing this review.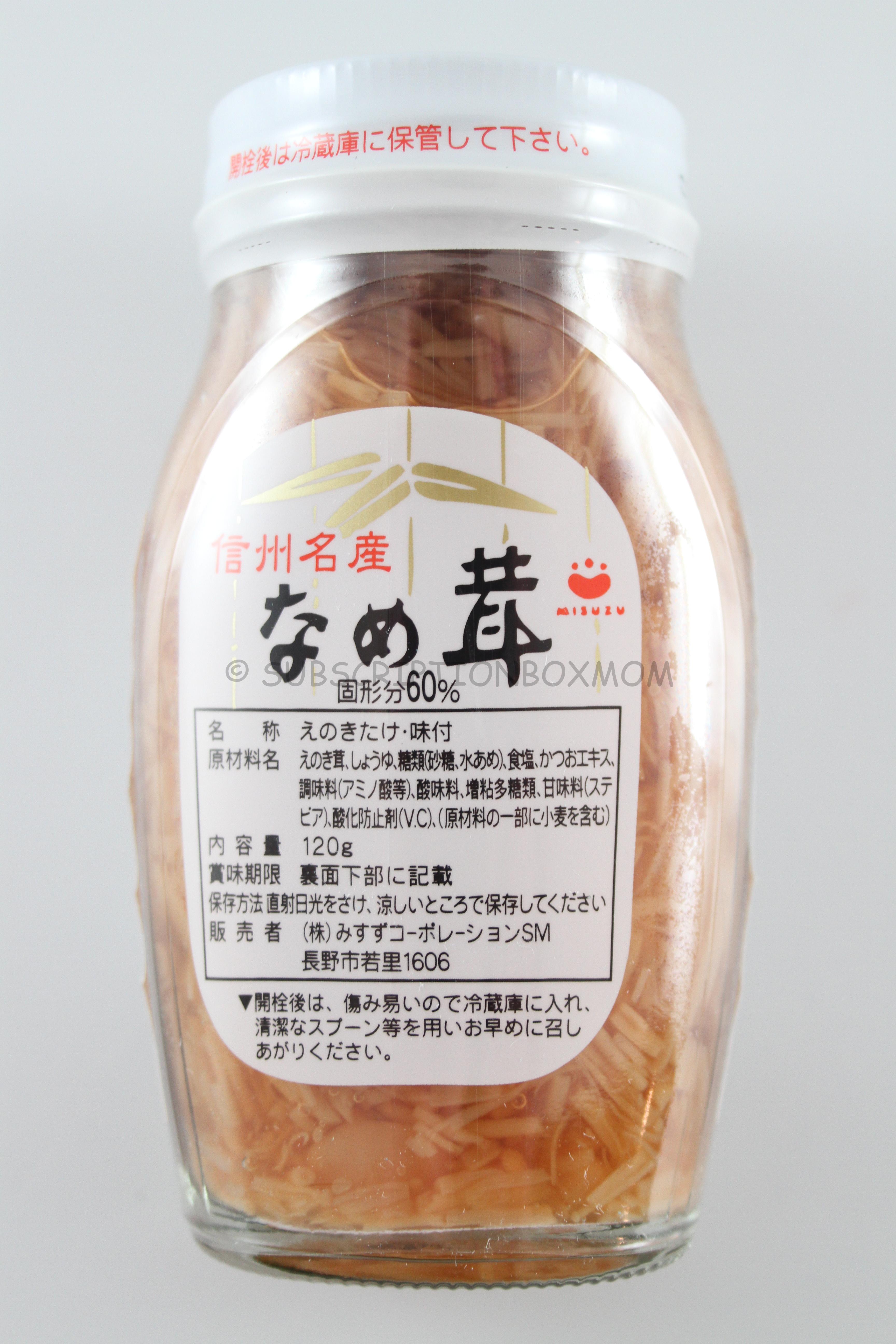 Misuzu Mushroom Condiment: I love mushrooms and I am excited to try this paste.  You can use it in salads, stir fry, and sauces.  I am going to try it as a marinade on steak.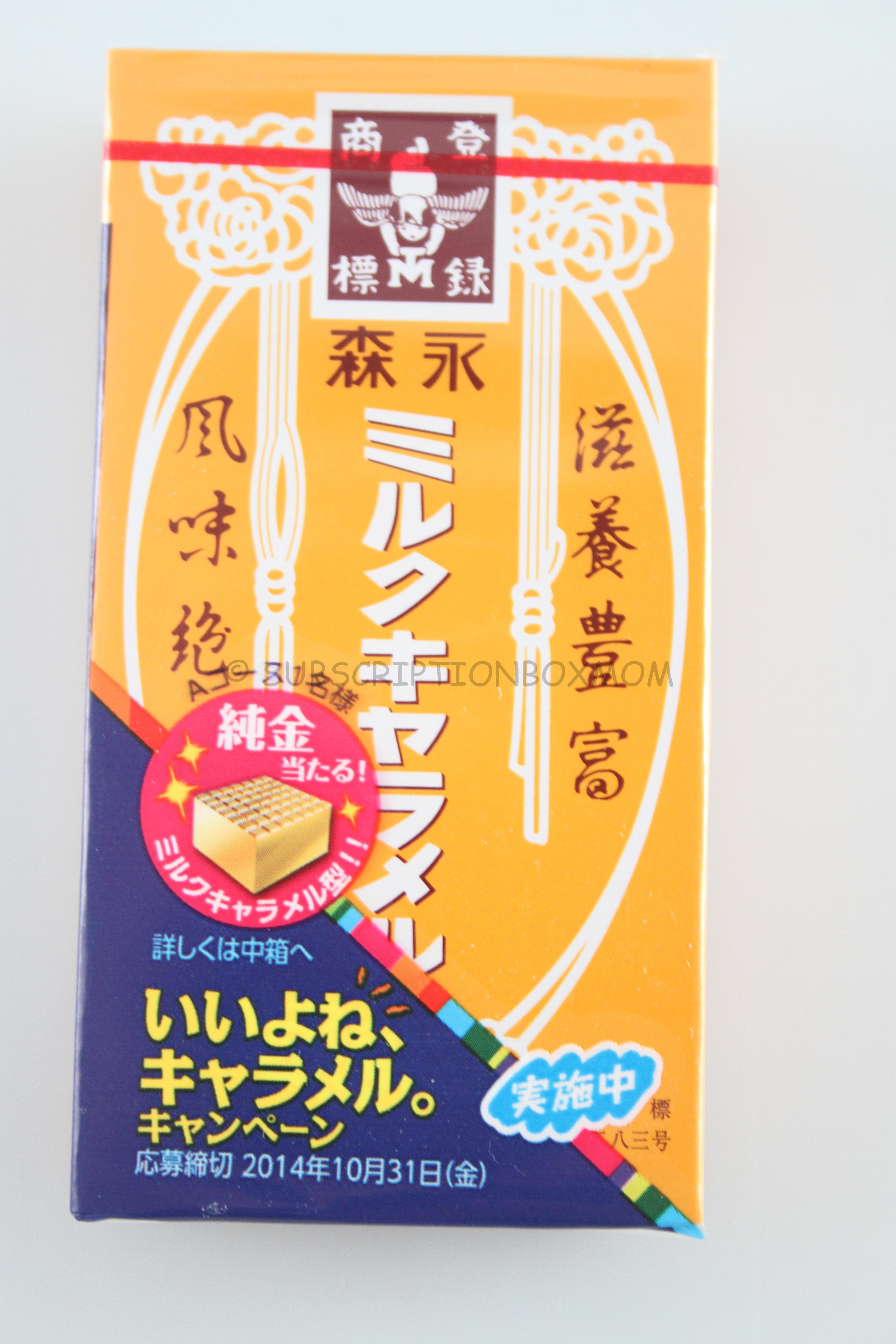 Morinaga Milk Caramel Candy:  This are tasty little caramel bites.  They date back to the 1940's and have even been featured in various films.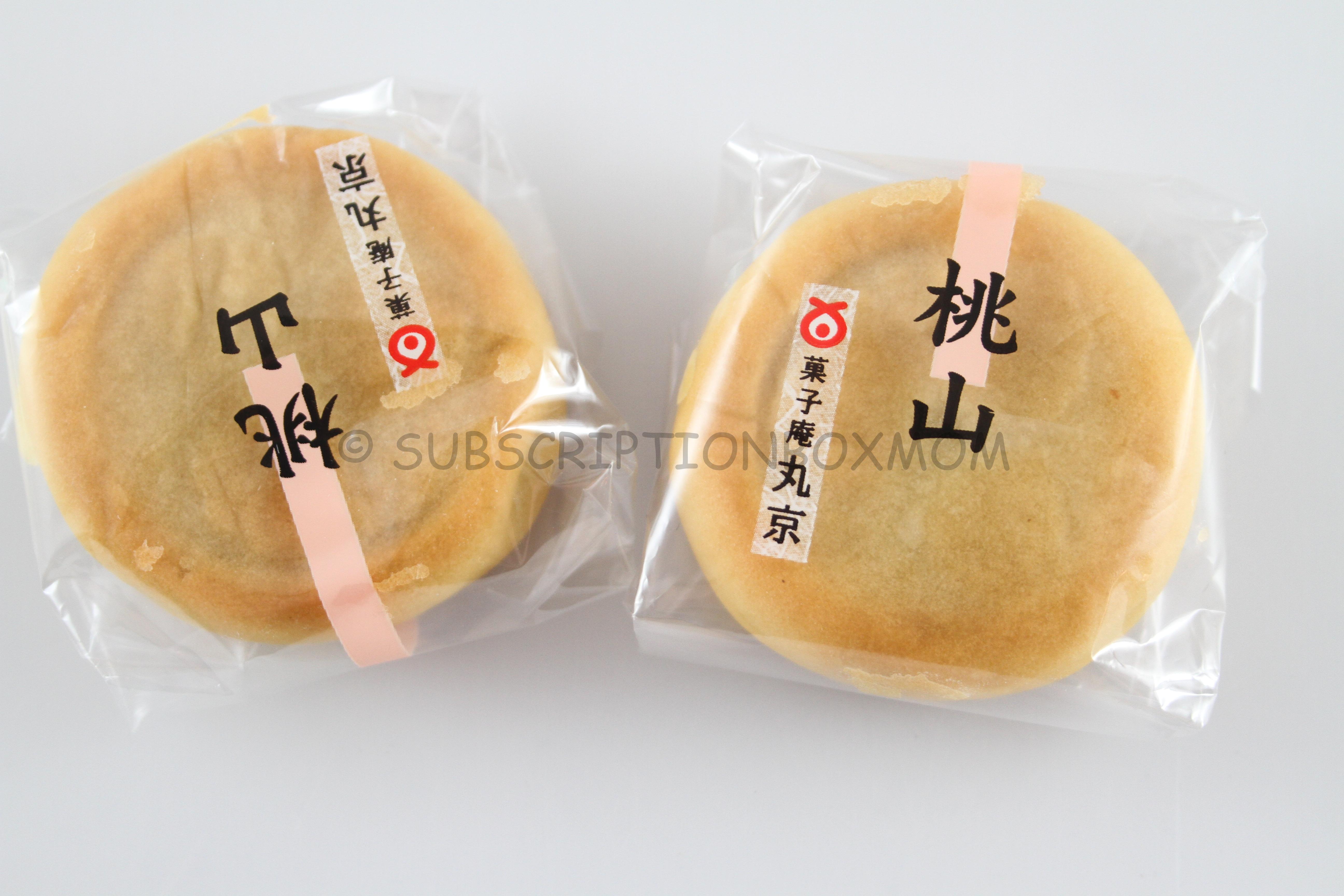 Marukyo Red Bean Cake:  This is a very popular Japanese treat.  It has a flaky shell and a bean jam in the middle.  It has a very unique taste, and it's pretty good.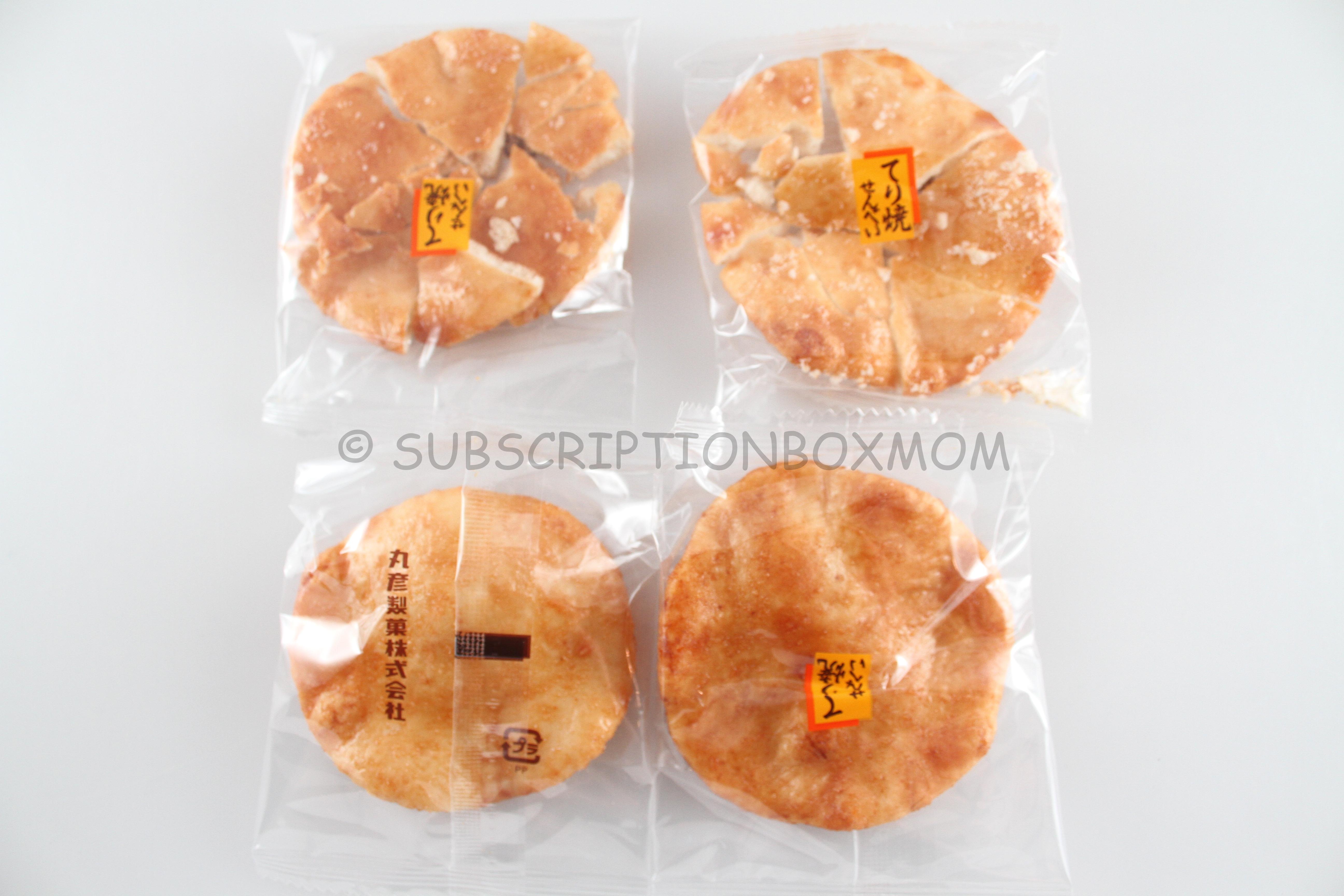 Maruhiko Rice Crackers.  These are light,crunchy sweet and salty crackers.  They have a great taste.  Two of mine were broken, but they still taste great.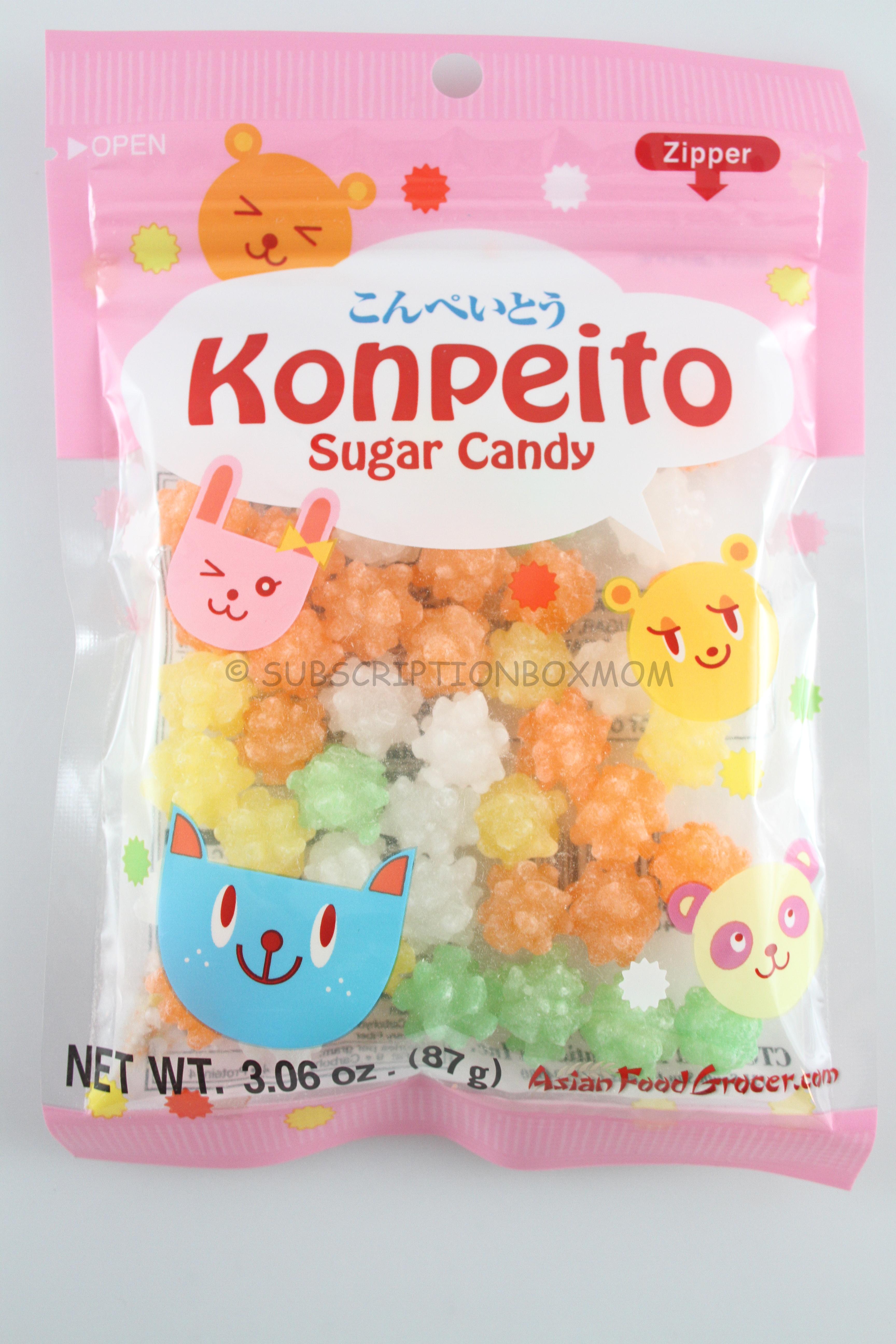 Konpeito Sugar Candy:  These taste like balls of rock candy.  These are basically pure sugar and my kids and I loved them.  These date back to the 16th century from Portuguese traders.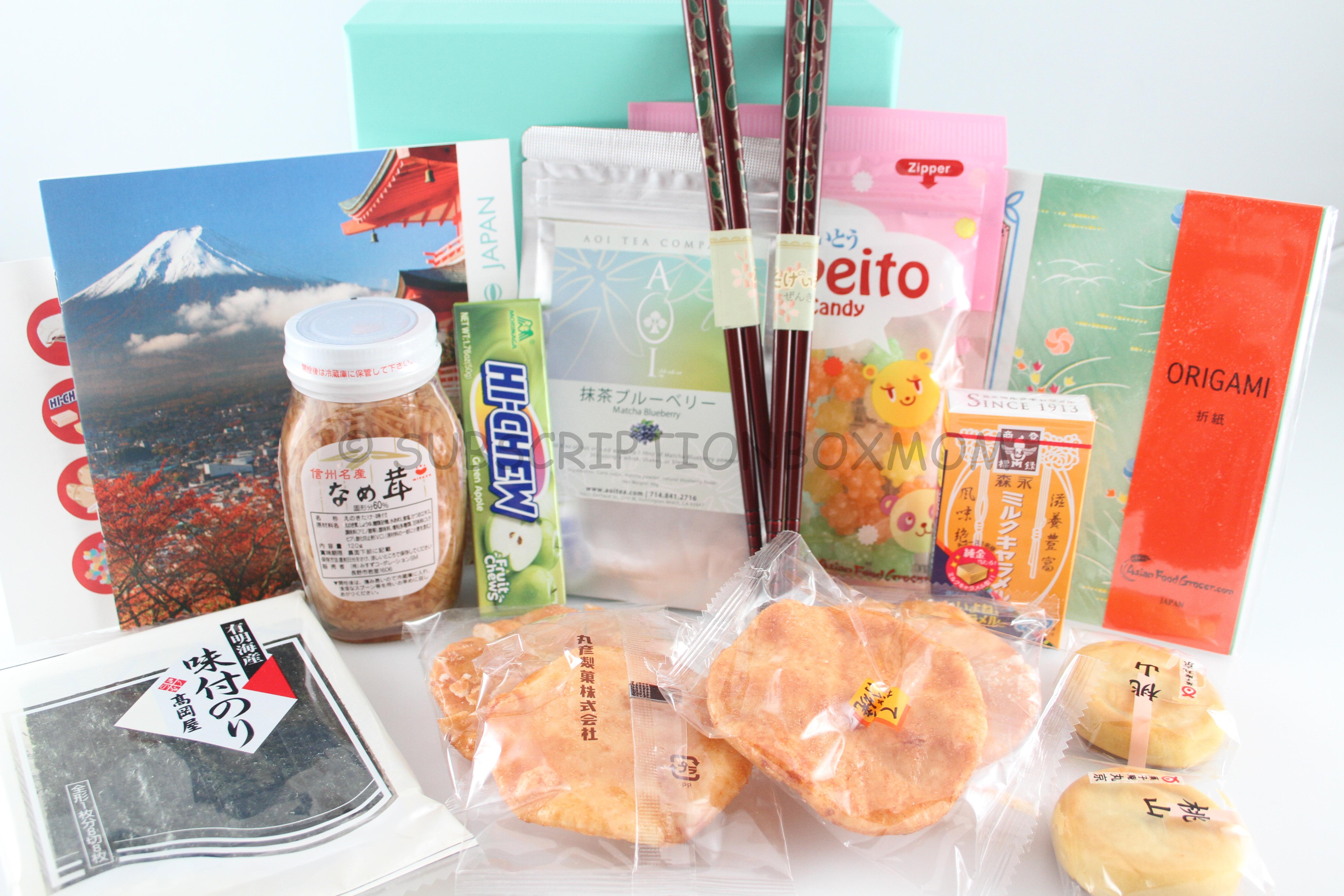 Final Thought:  This was a great box and I think this was my favorite Try the World box.  I like that you get more than just some snacks.  You will receive all kinds of information about the culture of Tokyo.  The snacks were really great and I am excited to try that mushroom condiment.  When you sign up, you will receive Paris first, then Tokyo and then Rio.  If you want to get this box, use this link with the code SBMOM12 to save 30% on your box.
Or
Purchase a Try the World subscription and get the Paris Box FREE. No code needed, just use the link.
Do you like FREE SUBSCRIPTION BOXES?  Click HERE to see my free subscription box list.
Do you love Giveaways?  Check out all my Giveaways HERE
Disclaimer: This box was received free for review,  My opinions are my own.