January 14, 2015
01/14/15

By Subscription Box Mom

13 Comments
13
Try the World Venice Review – 50% Coupon + B1G1 Free Deal
Disclosure: This post contains affiliate links
Try the World is a fantastic box that takes you on a culinary trip around the world.  I have reviewed almost all the Try the World Boxes and each one has been tasty and unique.  Try the World is $39.00 but I have some HUGE coupons at the end of this post.  Try the World's newest box, Venice, takes you to Italy with 7 to 10 Italian delicacies curated by David Rosengarten.  I really want to visit Venice, but until then, I will enjoy the box.

Try the World shipping the box in a little brown box.  It was quite heavy and was bulging.  I couldn't wait to check it out.
First Look:  Try the World's packaging can't be beat.  I love how their boxes are presented like a gift.
Second Look:  This box was packed with goodies and squiggles!
Every Try the World box has a culture guide.  The culture guide is like your tour guide for each city.  Try the World lets you know recipes for some great Italian dishes, History, music playlists, and movies.
Here is an example of the recipe for zucchini and capers cichetti.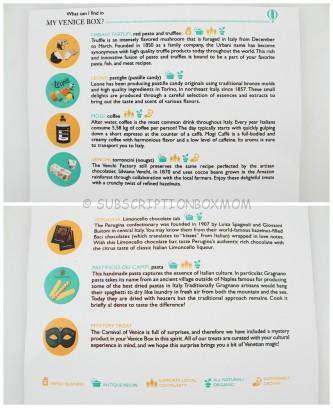 Try the World also includes a two-sided information card, about everything in the box.
Melata di Bosco Waldhonig Forest Honeydew: Honeydew honey is a sugary liquid secreted by insects.  The liquid is then collected by Honeybees and converted to a dark Honeydew honey.  This doesn't taste like regular honey, it tastes more like the sweet honey you get from honeysuckle.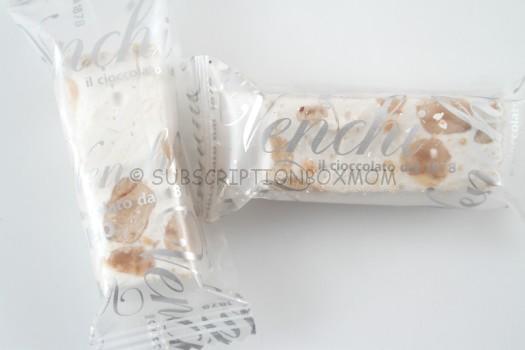 Venchi torronici (nougat): This is made by the Venchi Factory, which has been in business since 1870.  This is a white chocolate and hazelnut confection.  The cocoa beans are grown in the Amazon rain forest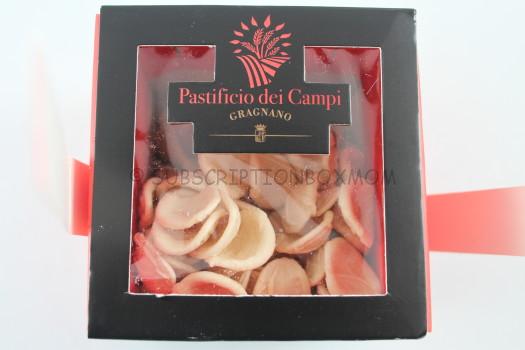 Pastificio Dei Campi Gragnano You can't have a box from Venice and not include pasta.  This pasta is handmade in Italy.  This pasta gets its name from an ancient village outside Naples, which is famous for producing fantastic dry pasta.  Back in the day, pasta was dried like laundry in the fresh air.  Today, it is tried with heaters.  The pasta kept staring at me, so I had to try it.  The pasta was amazing!  I made it al dente and it really held in the flavor of the pasta.  I want more pasta like this.
Leone Pastiglie (pastille candy) $3.95 This company has been making candy since 1857.  These candies are lightly lemon flavored and taste similar to a sweet tart.
Perugina Limoncello Chocolate tab The Perugina company was founded in 1907.  They make famous hazelnut filled Baci chocolates, wrapped in love notes.  This chocolate is rich dark chocolate that has a hint of citrus (lemon).  The dark chocolate is wonderful and one of the best I have had.
Urbani Tartufi, red pesto and truffles $9.95 You can't have pasta without a great pesto.  This is a red pesto with truffles.  I had never had truffles until subscription boxes, but they are really great.  I haven't tried this yet, but it looks tasty.
Mogi Coffee $24.50 After water, coffee is the most popular beverage in Italy.  Mogi Caffe is a full-bodied coffee with a low-level of caffeine.  I don't drink coffee, but I love the smell.  This coffee has a rich dark smell and my husband said it tasted good too.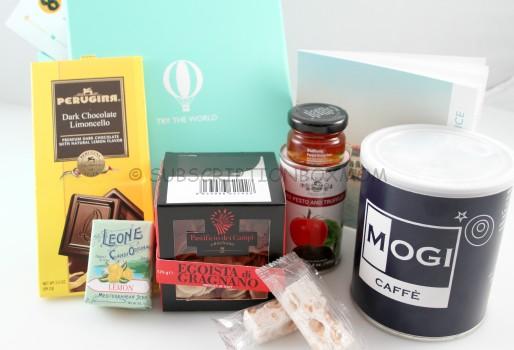 Final Thought: This was one of my favorite Try the World boxes.  The pasta was great and the chocolate was pretty fantastic too.  I actually really liked the entire box.  Try the World is your passport to explore fantastic food from all over the world.   If you want to get this box, use this link with the code SBMOM12 to save 30% on your box.
Or
Purchase a Try the World subscription and get the Paris Box FREE. No code needed, just use the link.
Try the World Paris Mini Review
Try the World Paris Full Box Review (YouTube)
Do you like FREE SUBSCRIPTION BOXES?  Click HERE to see my free subscription box list.
You can see my full coupon list HERE.
Do you love Giveaways?  Click HERE to enter all my Giveaway