December 31, 2014
12/31/14

By Subscription Box Mom

0 Comments
0
Koala Crate December 2014 "Safari" + Coupon
Disclosure: This post contains affiliate links
My son's December 2014 Koala Crate arrived at the very end of the month.  I reviewed Koala Crate in November and I fell love with this box.  I used one of the recent coupons to sign T (almost 3) for a subscription.  Koala Crate is $19.99 and is a subscription box for the littlest of crafters.  Each month, your 3-4 year old will get imagine! Magazine and a box full of activities.  imagine! Magazine is a partnership with Highlights for Children.  If your child gets Highlights, you will see some similar columns in the magazine.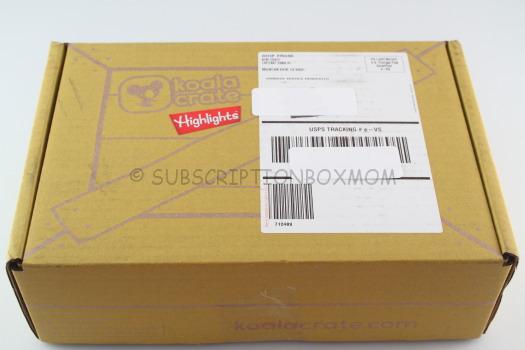 I love how all of Kiwi Crate's boxes are addressed to the child.  My oldest loves seeing his name on a box.  Koala Crate ships near the end of the month by USPS.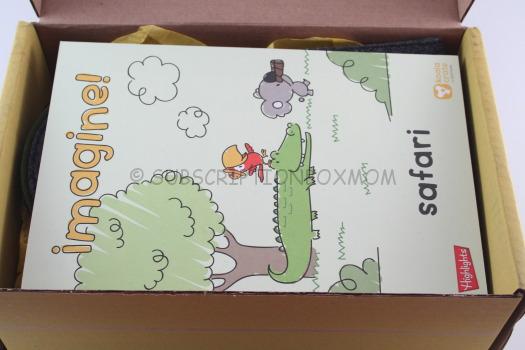 First Look:  The theme for December is "Safari"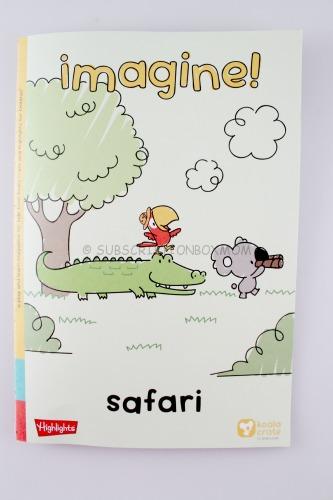 imagine! magazine is a partnership with Highlights Magazine.  Each magazine will follow the adventures of Kellan the Koala.  This is a super cute magazine.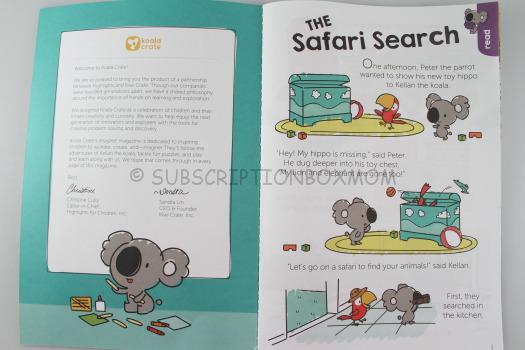 The first article in the magazine, is a story featuring Kellan.  My kids love books, so I am always happy to get more stories to read to them.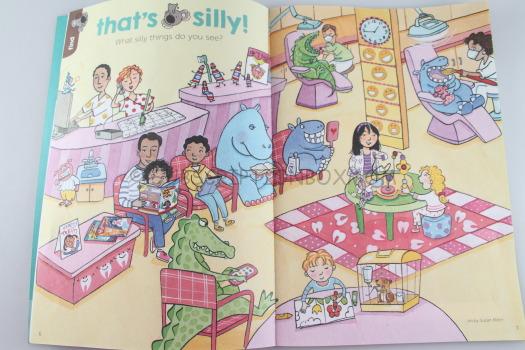 I have said this before, but my kids love "That's Silly".  Your child looks through and finds all the silly things in the magazine.  There are several other activities and stories in this magazine.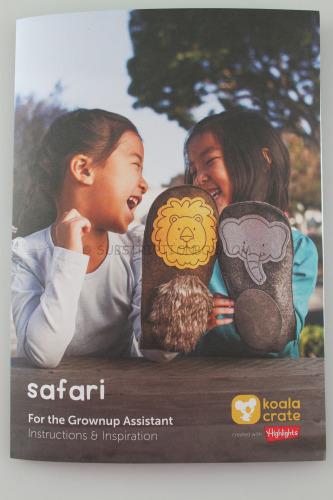 There is an instruction/information booklet included in the box.  This booklet contains instructions for all the activities in the box.  There is a QR code on the back of the booklet, along with a url, to gain access to more activities.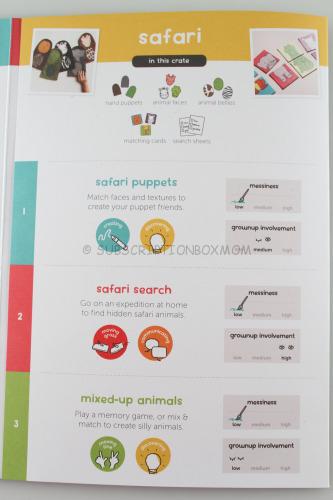 Koala Crate lets you know the messiness scale and how much parental involvement each activity takes.
Here is the run down of each activity:
Safari Puppets: Low Messiness and Medium Grownup Involvement.  Skills Learned: Creating and Discovering
Safari Search: Low Messiness and High Grownup Involvement. Skills Learned: Gross Motor Skills and Communicating.
Mixed Up Animals: Low Messiness and Low Grownup Involvement. Skills Learned: Fine Motor Skills and Discovering.
Activity #1: Safari Puppets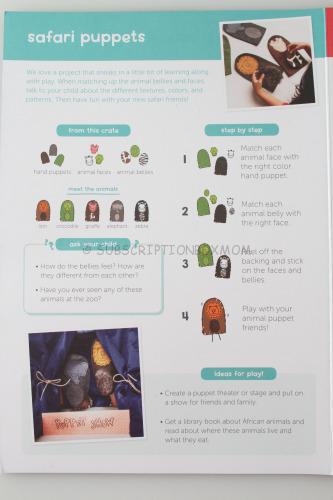 The first activity is safari puppets.  Your child makes animal puppets of a giraffe, lion, alligator, elephant and zebra.  Your child sticks the head on and the matching belly.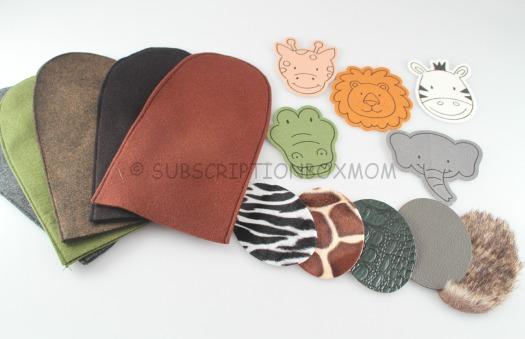 Your child can explore different textures, colors and patterns with this activity.  I like how the bellies are similar in texture, color and pattern to the real animal's skin/coat.  Once the puppets are made, Koala Crate suggests having a puppet show or reading a book about animals.
Activity #2: Safari Search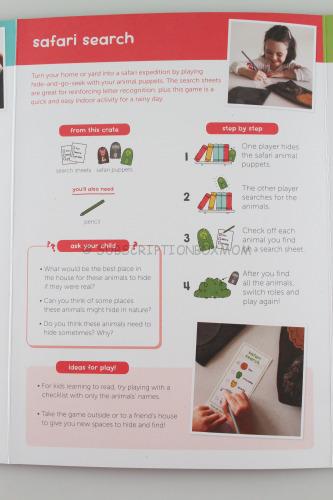 Once the puppets are made, your child can hide them in a fun safari search.  One person hides the puppets and the other person uses the checklist as they find each one.  This activity is a good way for you to discuss how and why animals hide in the wild.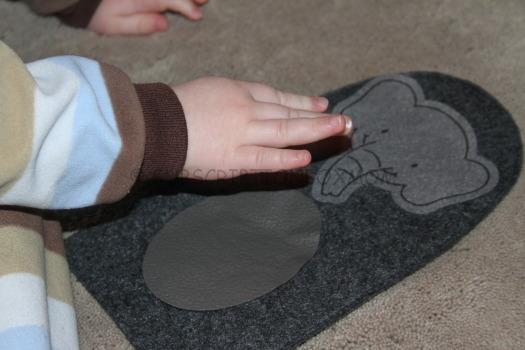 Making the puppets.  I had to remove the sticker paper from each piece but he did most of the stickers himself.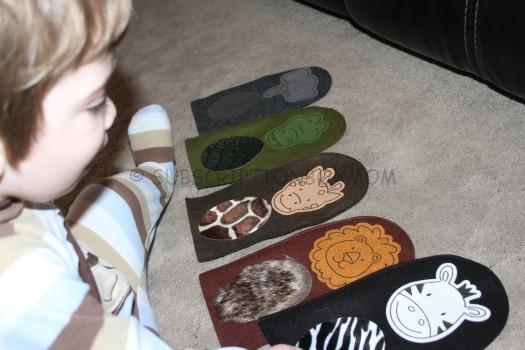 Checking out his work.  T loved all the animals.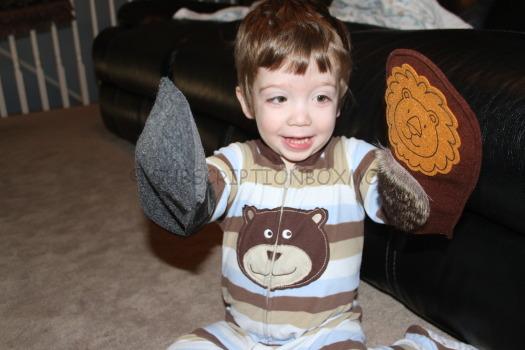 We had a great time interacting with each other using the puppets.  We practiced our animal noises.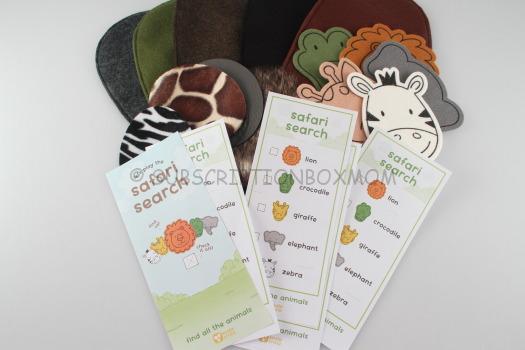 I love the little safari checklists.  These checklists are a good way to teach fine motor skills and a pencil grip.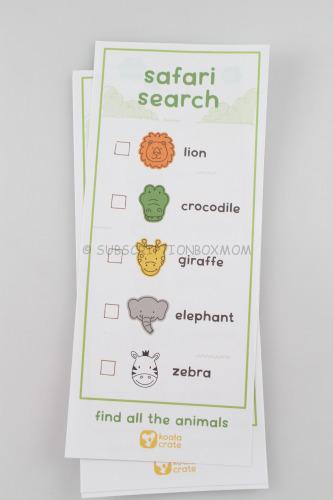 Here is a close up look at the checklists.
Activity #3: Mixed-Up Animals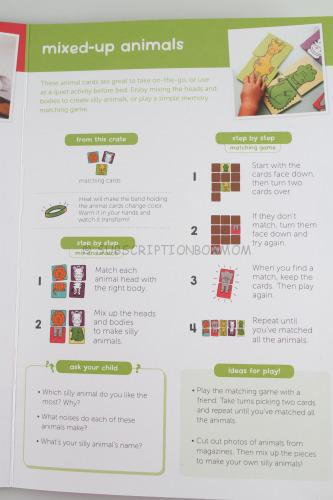 Koala Crate sent a super cute set of animal cards.  Your child can use these cards to match the animals up correctly, or create silly new animals.  Your child can also use these as a traditional matching game.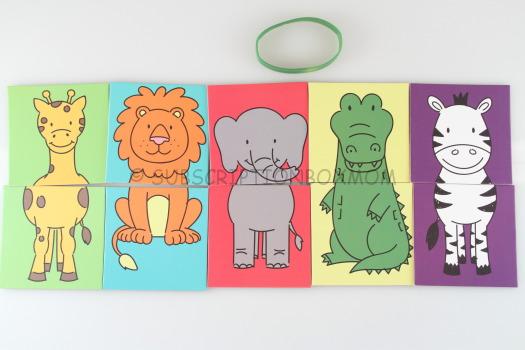 There were cards to create the same animals as the puppets.  The cards are super sturdy and are such bright colors.  There was also a green bracelet that changes to light green when it is exposed to heat.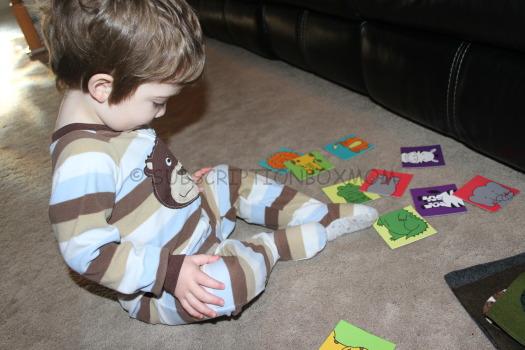 Trying to make a match.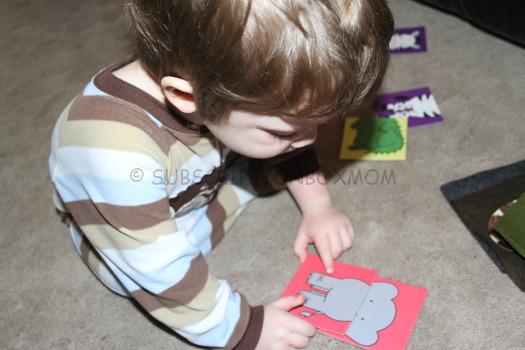 Matching each animal.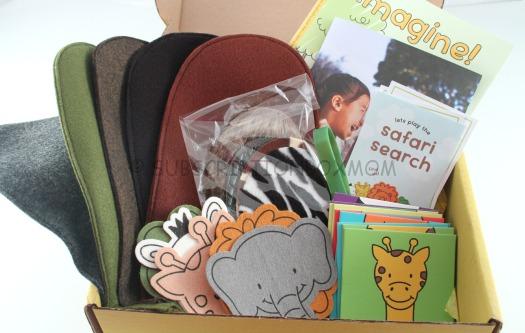 Final Thought: This crate was super cute!  I love animals and I love to teach my kids about.  I am always impressed with how Koala Crate makes activities fun and educational.  The animals cards are simply adorable and T had a great time with them.  I also love the textures of the animal bellies (puppets).  The puppets are cute, whimsical, but they have a realistic aspect.  T really had a blast with the puppets and they are something that will last a long time.  If you want to try Koala Crate, click here and use the code SBM50 to save $10.00 on your first box.  This code will also work for Kiwi Crate, Tinker Crate and Doodle Crate.  Code expires 1/15
Here is a bit more information about Kiwi, Tinker and Doodle
Kiwi Crate Ages 4-8 Includes all the materials and inspiration for 2-3 activities – art, science, games, imaginative play, and more.  Every kit will have a new theme – like gardening, dinosaurs, and space.
Tinker Crate Ages 9-14+ Tinker Crate inspires kids to explore and learn about science, engineering, and technology—and have fun doing it. Every month, a new crate to help kids develop a tinkering mindset and creative problem solving skills.   Read my review HERE.  
Doodle Crate Ages 9-16+ Doodle Crate inspires young makers to learn new skills and gain creative confidence. Every month, a new super-fun DIY project that kids will love to design and create.
There is also a NEW FREE TRIAL for Kiwi Crate.  This is the Pom Pom Pets crafts.  This is an awesome craft.  My son completed it in a past crate, and loved it!  To sign up for the FREE trial kit, click HERE and pay $3.95 shipping.  You will be signed up for a subscription.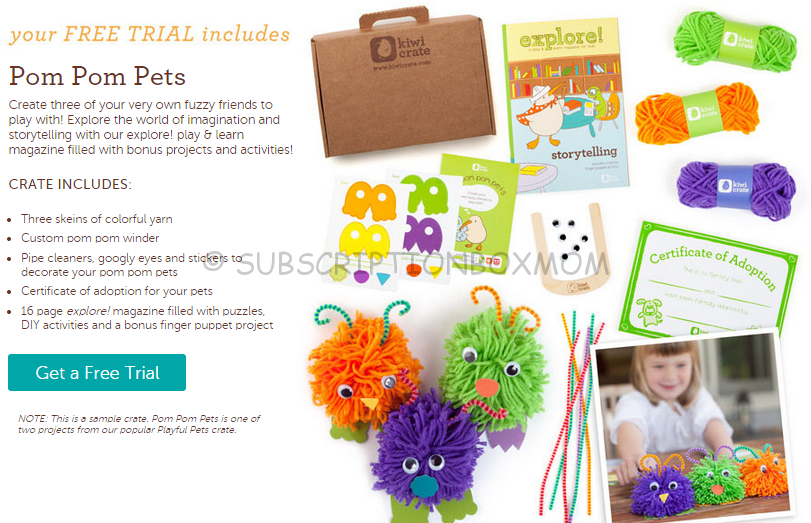 Do you like FREE SUBSCRIPTION BOXES?  Click HERE to see my free subscription box list.
Do you love Giveaways?  Click HERE to enter all my Giveaways.
Disclosure: This post contains affiliate links