July 31, 2020
07/31/20

By Subscription Box Mom

0 Comments
0
Pipsticks July 2020 Kids Sticker Club Review + Coupon
Disclosure: This post contains affiliate links. I received this box for review.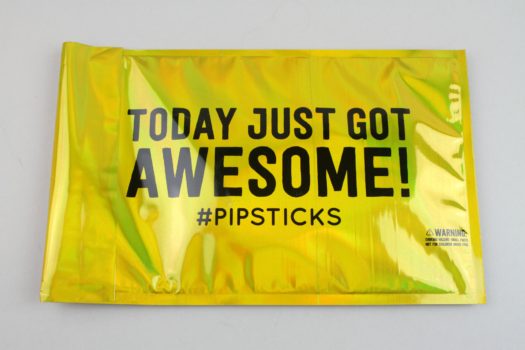 Pipsticks is a sticker subscription box for kids and adults too!
The Pro Club is $17.95/month and it's the sticker subscription just for adults, perfect for decorating planners, scrapbooking, or fun notes in your kid's lunch box. Each package contains 15 sheets of stickers, a reusable holographic pouch, plus extra goodies like paper, postcards, and an issue of Pippy, sticker club zine.
The Kids Club is $17.95/month and contains 15 sheets of stickers, a reusable holographic pouch, an issue of Pippy, sticker club zine, an activity booklet, 1 coloring postcard,
There are now Petite subscriptions. You can get either the Pro Club or the Kids Club for $11.95/month. Each package comes with 7 sheets of stickers and including 1 collectible Big Puffy PipSticker with the kids club and 1 Issue of Pippy, sticker club zine with the Pro Club.
The Details
Cost: Kids/Pro Club – $17.95/month Kids Petite/Pro Club Petite – $11.95/month. There are discounts for longer subscriptions.
Coupon: To check out Pipsticks, use this link with the code BOXMOM15 to save 15% off the first month of any subscription order.
What's in the box? Each Pipsticks sticker subscription pack is full of stickers in all shapes, sizes, colors, and textures.
When will I get my box? Your first sticker pack will be shipped on the 1st or 15th of the month. You will never wait more than two weeks for your stickers.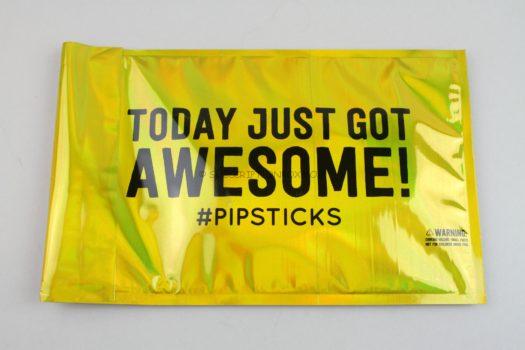 Pipsticks ships in a holographic envelope.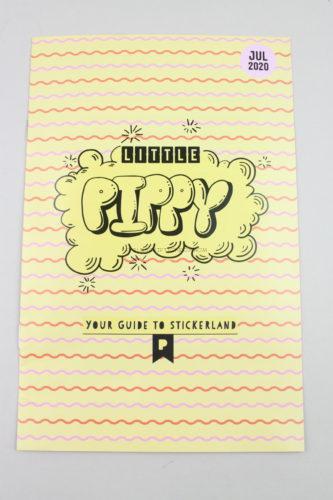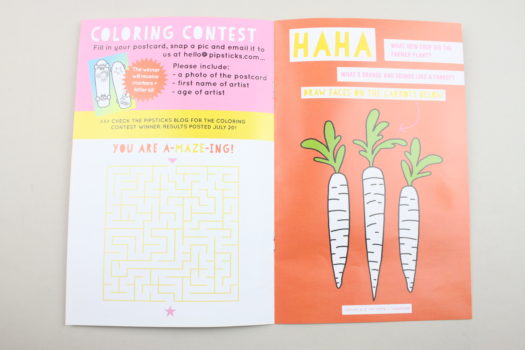 The magazine comes with a magazine, Little Pippy. The magazine contains an introduction to the magazine, and games/activities. There is also a monthly raffle.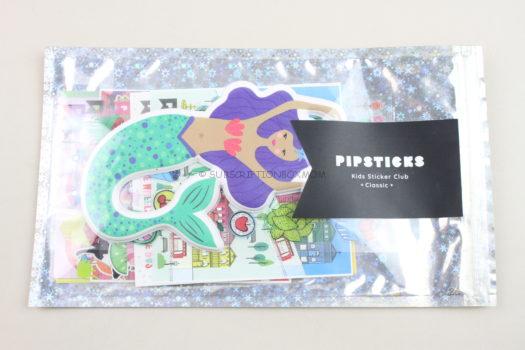 All the stickers come in a holographic resealable pouch.
Fruits and Veggies There were several sheets of stickers that have various kinds of products. I like the little fruits on the skinniest sheet.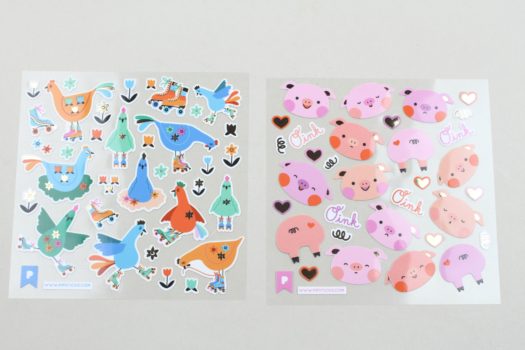 Chickens and Pigs There is a sheet of colorful chickens and a sheet of happy little pigs. The pigs are adorable and I love all their expressions.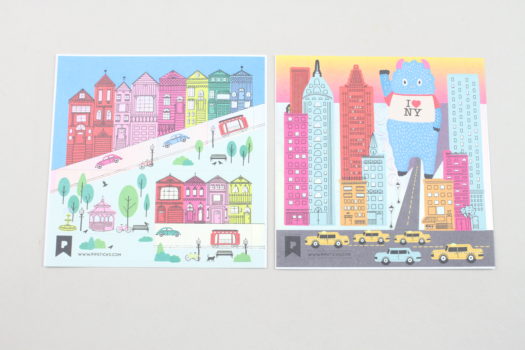 Buildings The sheet on the left appears to be San Francisco and the sheet on the left is NYC. Each of the sheets has holographic details. I really love the giant monster.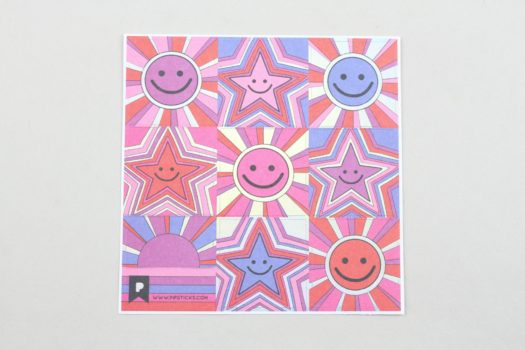 Smiles and Stars This bright and fun sheet of stickers will be great for lunch notes for my kids. The smiling stars are my favorite!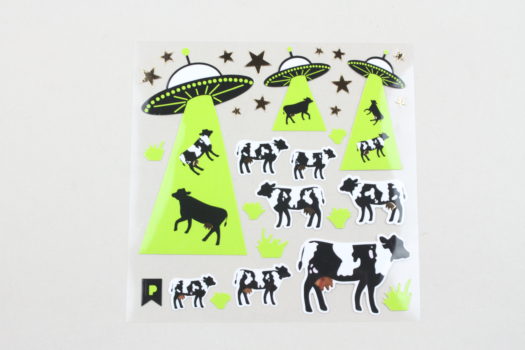 Cows in Space This sheet is hillarious. All these poor cows are being beamed up into space. I wonder will they are going?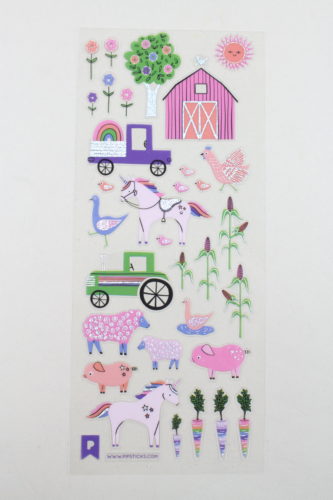 Fantasy Farm At first glance, this looks like a farm, but it's a fantasy farm. Instead of a horse, there is a rainbow unicorn and a purple barn.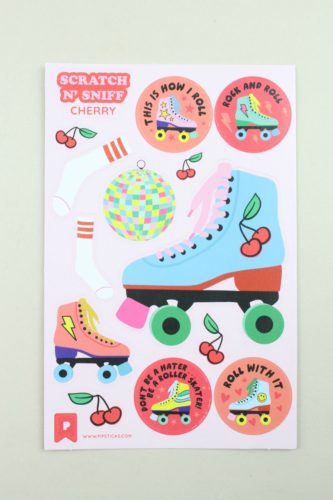 Scratch and Sniff I am loving these stickers. I loved scratch and sniff stickers growing up. The roller skate smells like cherries.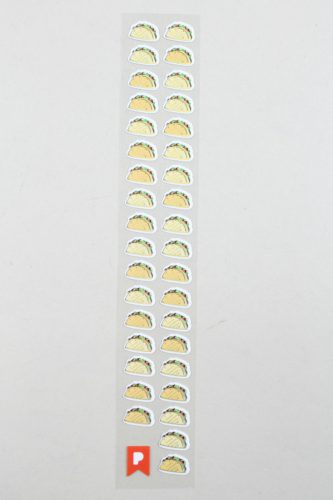 Tacos My kids can use these for mark taco Tuesday on the calendar. We love tacos in this house.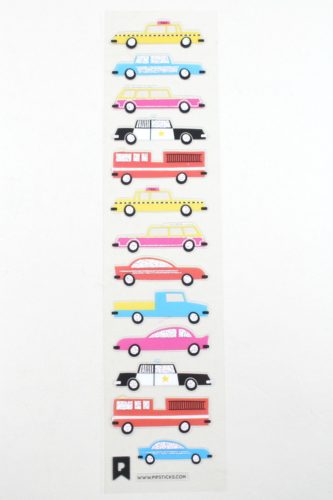 Transportation As a mom of two boys, I know they will both like these transportation vehicles. I like the police car and fire engine.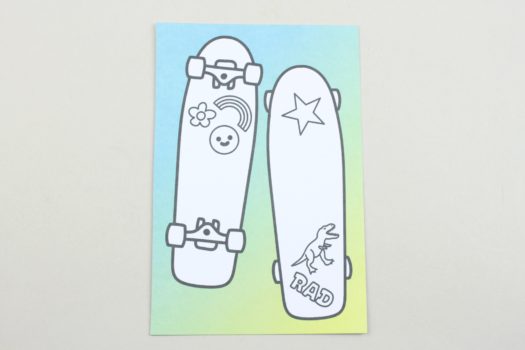 Coloring Postcard The postcard this month has two skateboards. One with rainbows and smiley faces and the other with a dinosaur.
Mermaid Puffy Sticker Huge puffy sticker alert! This purple-haired mermaid is pretty big and would look really cute on a folder.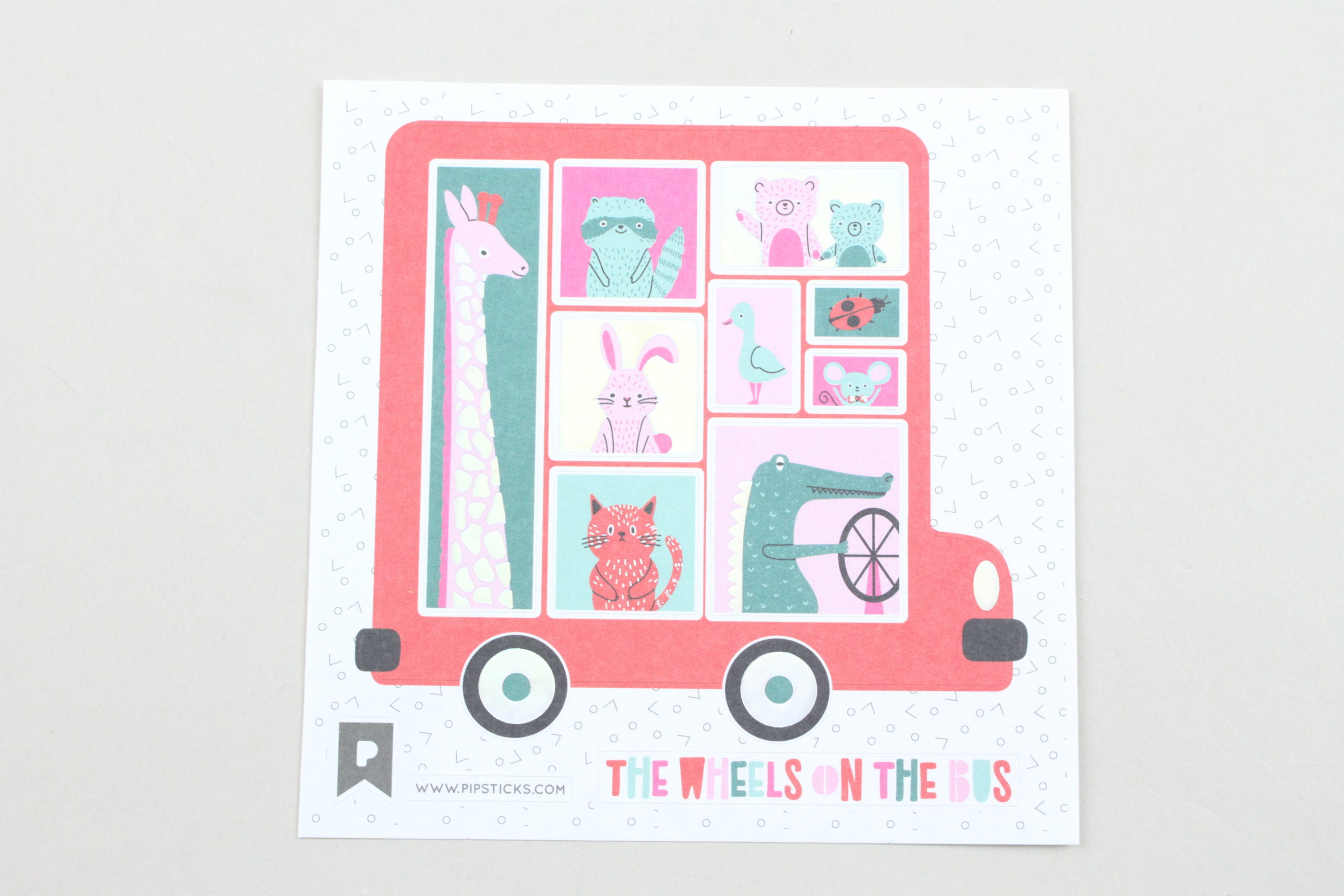 Wheels On The Bus Sticker Can you read this sticker without singing the song? This bus has a cat, giraffe, alligator, raccoon and more.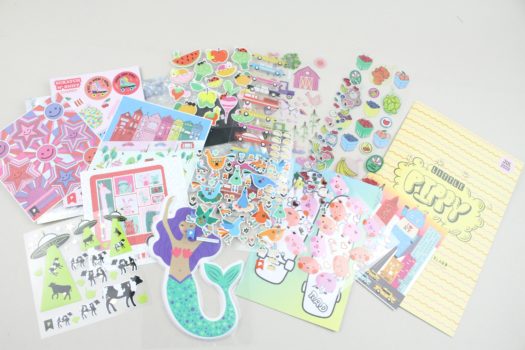 Final Thought: This is such a fun a subscription for kids. The fruit stickers are my favorite ones in the package. Pipsticks is an affordable subscription with cute stickers.  For a limited time, use this link with the code BOXMOM15 to save 15% off the first month of any subscription order.
Do you like FREE SUBSCRIPTION BOXES? Click HERE to see my free subscription box list.