July 9, 2018
07/09/18

By Subscription Box Mom

0 Comments
0
Book of the Month July 2018 Review + Free Book
Disclosure: This post contains affiliate links. I receive a commission from my link.

Book of the Month is a book subscription box that sends a brand new book for as low as $10.47/month.
On the first of the month, you log into your account and choose between five different books, picked out by Book of the Month Judges.  There are authors, editors and more on the judging panel.  There is also one guest judge each month.  You must make your selections by the 14th, or Book of the Month will pick for you.  If you don't like any of the books, you can skip!
Once you make your book selection, you can add up to two books to your account for $9.99/each.  Once you get your book, you can log into your account and join the discussions.
The Details:
Cost: $16.99/month, $14.99/month for a 3 month subscription and $11.99/month for a 1 year subscription.
Coupons:
What's in the box?  On the first of the month, you will get to select from 5 different books.

I was sent all the books for review this month.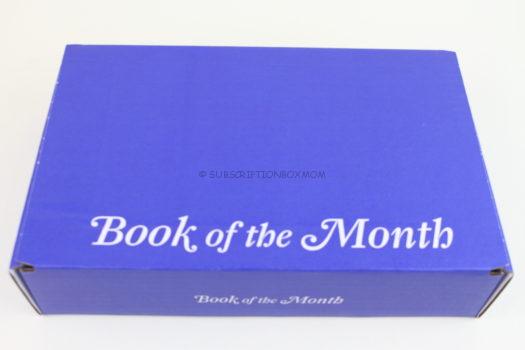 Each book is sent in a little blue box.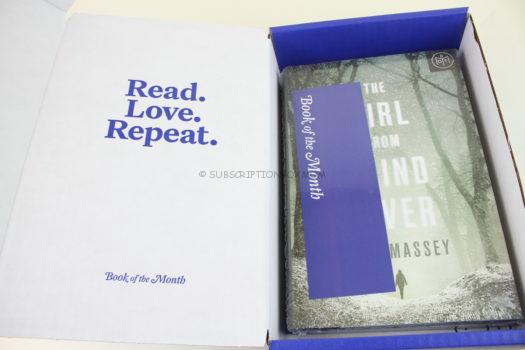 First Look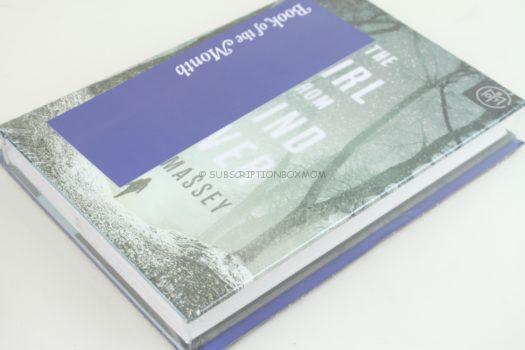 Each book is wrapped in plastic and packaged on a larger cardboard card.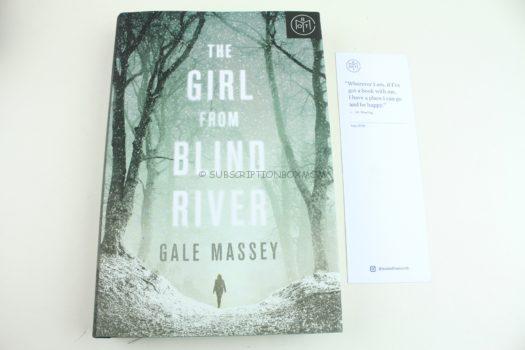 The Girl From Blind River by Gale Massey This is a great book for people who like a book about good vs evil. Jaime is caught up with a criminal family and is trying to figure out if she is going to join her family or risk facing the consequences of her actions.
Summary: Everyone says the Elders family are nothing but cheats, thieves, and convicts―a fact nineteen-year old Jamie Elders has been trying desperately to escape. She may have the natural talent of a poker savant, but her dreams of going pro and getting the hell out of the tiny town of Blind River, New York are going nowhere fast. Especially once she lands in a huge pile of debt to her uncle Loyal. 
At Loyal's beck and call until her debt is repaid, Jamie can't easily walk away―not with her younger brother Toby left at his mercy. So when Loyal demands Jamie's help cleaning up a mess late one night, she has no choice but to agree. But disposing of a dead man and covering up his connection to the town's most powerful judge goes beyond family duty. When it comes out that the victim was a beloved athlete and Loyal pins the murder on Toby, only Jamie can save him. But with a dogged detective on her trail and her own future at stake, she'll have to decide: embrace her inner criminal, or defy it―and face the consequences.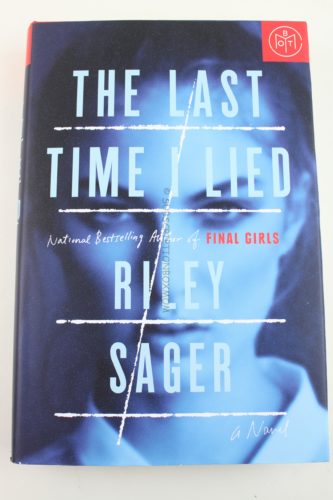 The Last Time I Lied by Riley Sager Emma is a painter and highered to come to be a painting instructor at a camp. Once there, she uncovers new details about her past. This looks like a great mystery novel.
Summary: Now a rising star in the New York art scene, Emma turns her past into paintings–massive canvases filled with dark leaves and gnarled branches that cover ghostly shapes in white dresses. When the paintings catch the attention of Francesca Harris-White, the wealthy owner of Camp Nightingale, she implores Emma to return to the newly reopened camp as a painting instructor. Seeing an opportunity to find out what really happened to her friends all those years ago, Emma agrees.
Familiar faces, unchanged cabins, and the same dark lake haunt Nightingale, even though the camp is opening its doors for the first time since the disappearances. Emma is even assigned to the same cabin she slept in as a teenager, but soon discovers a security camera–the only one on the property–pointed directly at its door. Then cryptic clues that Vivian left behind about the camp's twisted origins begin surfacing. As she digs deeper, Emma finds herself sorting through lies from the past while facing mysterious threats in the present. And the closer she gets to the truth about Camp Nightingale and what really happened to those girls, the more she realizes that closure could come at a deadly price.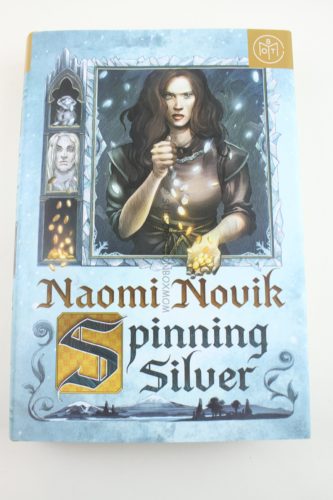 Spinning Silver by Naomi Novik I love the cover of this book. This story covers loans, two kingdoms, and various creatures. This looks like a great book if you are a Game of Thrones fan.
Summary: Miryem is the daughter and granddaughter of moneylenders, but her father's inability to collect his debts has left his family on the edge of poverty—until Miryem takes matters into her own hands. Hardening her heart, the young woman sets out to claim what is owed and soon gains a reputation for being able to turn silver into gold.
When an ill-advised boast draws the attention of the king of the Staryk—grim fey creatures who seem more ice than flesh—Miryem's fate, and that of two kingdoms, will be forever altered. Set an impossible challenge by the nameless king, Miryem unwittingly spins a web that draws in a peasant girl, Wanda, and the unhappy daughter of a local lord who plots to wed his child to the dashing young tsar.
But Tsar Mirnatius is not what he seems. And the secret he hides threatens to consume the lands of humans and Staryk alike. Torn between deadly choices, Miryem and her two unlikely allies embark on a desperate quest that will take them to the limits of sacrifice, power, and love.
Channeling the vibrant heart of myth and fairy tale, Spinning Silver weaves a multilayered, magical tapestry that readers will want to return to again and again.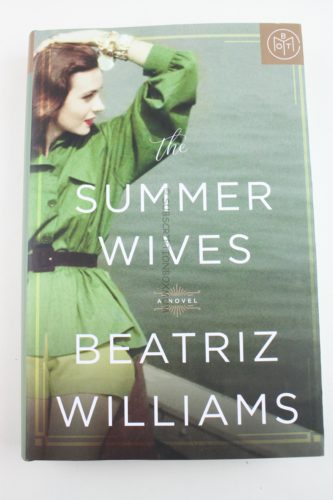 The Summer Wives by Beatriz Williams  When Miranda's mother remarries to a wealthy man, Miranda moves to an exclusive Winthrop Island. There she is introduced to a whole new world. Something happens that will cause Miranda to be banashied from the island for two years.
Summary: In the summer of 1951, Miranda Schuyler arrives on elite, secretive Winthrop Island as a schoolgirl from the margins of high society, still reeling from the loss of her father in the Second World War. When her beautiful mother marries Hugh Fisher, whose summer house on Winthrop overlooks the famous lighthouse, Miranda's catapulted into a heady new world of pedigrees and cocktails, status and swimming pools. Isobel Fisher, Miranda's new stepsister—all long legs and world-weary bravado, engaged to a wealthy Island scion—is eager to draw Miranda into the arcane customs of Winthrop society.
But beneath the island's patrician surface, there are really two clans: the summer families with their steadfast ways and quiet obsessions, and the working class of Portuguese fishermen and domestic workers who earn their living on the water and in the laundries of the summer houses. Uneasy among Isobel's privileged friends, Miranda finds herself drawn to Joseph Vargas, whose father keeps the lighthouse with his mysterious wife. In summer, Joseph helps his father in the lobster boats, but in the autumn he returns to Brown University, where he's determined to make something of himself. Since childhood, Joseph's enjoyed an intense, complex friendship with Isobel Fisher, and as the summer winds to its end, Miranda's caught in a catastrophe that will shatter Winthrop's hard-won tranquility and banish Miranda from the island for nearly two decades.
Now, in the landmark summer of 1969, Miranda returns at last, as a renowned Shakespearean actress hiding a terrible heartbreak. On its surface, the Island remains the same—determined to keep the outside world from its shores, fiercely loyal to those who belong. But the formerly powerful Fisher family is a shadow of itself, and Joseph Vargas has recently escaped the prison where he was incarcerated for the murder of Miranda's stepfather eighteen years earlier. What's more, Miranda herself is no longer a naïve teenager, and she begins a fierce, inexorable quest for justice for the man she once loved . . . even if it means uncovering every last one of the secrets that bind together the families of Winthrop Island.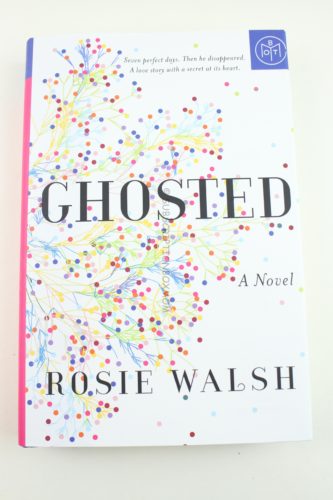 Ghosted by Rosie Walsh Sarah and Eddie meet and fall in love. When Eddie goes away for business sand doesn't return, Sarah becomes worried. She won't forget about him and will eventually find out the truth about why he left.
Summary:  When Sarah meets Eddie, they connect instantly and fall in love. To Sarah, it seems as though her life has finally begun. And it's mutual: It's as though Eddie has been waiting for her, too. Sarah has never been so certain of anything. So when Eddie leaves for a long-booked vacation and promises to call from the airport, she has no cause to doubt him. But he doesn't call.
Sarah's friends tell her to forget about him, but she can't. She knows something's happened–there must be an explanation.
Minutes, days, weeks go by as Sarah becomes increasingly worried. But then she discovers she's right. There is a reason for Eddie's disappearance, and it's the one thing they didn't share with each other: the truth.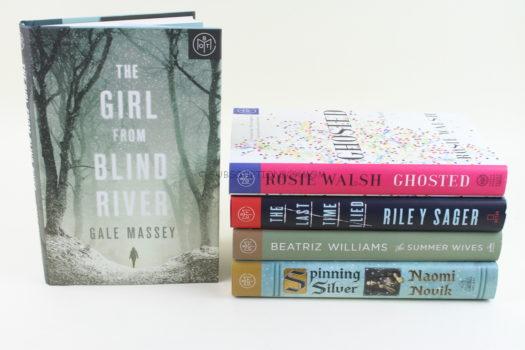 Final Thought: This was a great month of books. Ghosted is the first one on my reading list, but there are several books I want to read. Book of the Month is a great subscription for people who like to read. Use code FIREWORKS to get your first month free! You will be charged $14.99 when you sign up for a subscription that will renew monthly. You'll also receive a credit for a free book at the time of this transaction (redeemable at any time). Then your subscription will renew at the end of your second month (unless you cancel).
Do you like FREE SUBSCRIPTION BOXES?  Click HERE to see my free subscription box list.
Check out the NEW Subscription Box Directory
You can see my FULL coupon list HERE.