May 11, 2016
05/11/16

By Subscription Box Mom

0 Comments
0
Bramble Box April 2016 Review + Coupon + New Changes
Disclosure: This post contains affiliate links.  This box was received free for review.
Bramble Box had a "Music" theme for the April 2016 Bramble Box.  My children, especially my youngest, loves music.  We usually have a dance party in the living room every afternoon.
 Bramble Box is a play subscription box for children 3-7 years old.  Each box is $25.00/month and boxes are filled with dramatic play materials.  Boxes have specific themes, like post office, detective, and scientist.
The Details:
Cost: $25.00/Month, $75.00/3 Months, $144.00/6 Months, $276.00/12 Months.
Coupon:   If you want to try Bramble Box, use this link with the code subboxmom30 to save 30% off of any subscription (can't be applied to single kits).
What's in the box? Each box will contain props and play materials to fuel your child's imagination.
Website: http://www.brambleboxprops.com/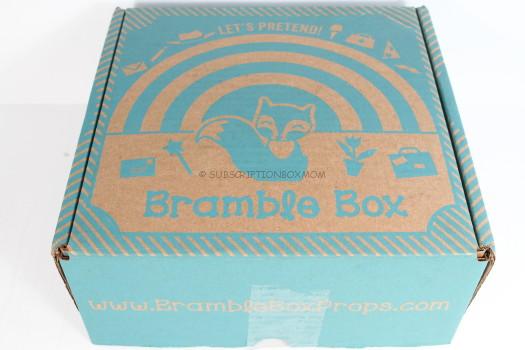 Each Bramble Box has a cute little fox on the top.  We save the boxes from our past boxes and they look cute in the play area.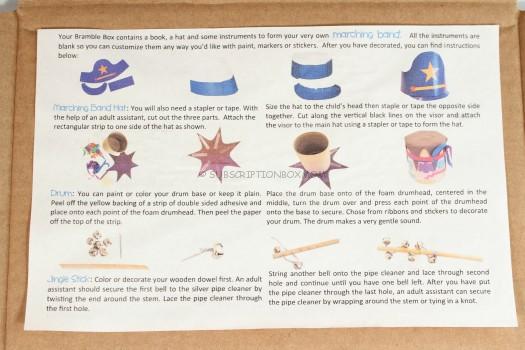 The inside lid had an information sheet of directions, for how different instruments are put together.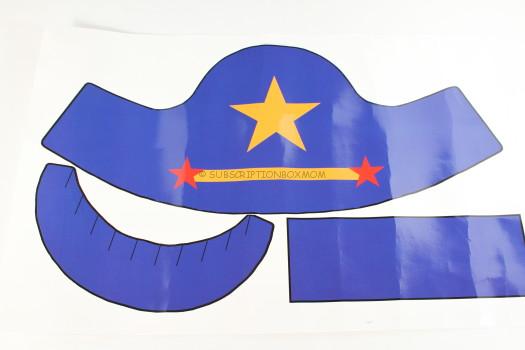 Marching Band Hat  Both my husband and I were both band geeks, so I have fond memories of these funny hats.  You or your child can cut out the hat and tape it together.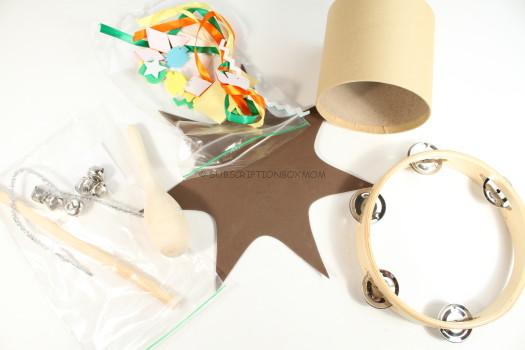 This box had materials to make and play four instruments: a tambourine, drum, maraca, and jingle stick.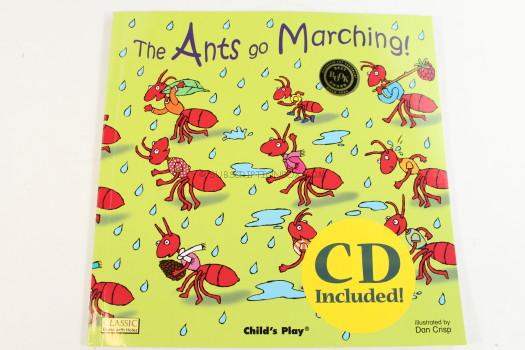 The Ants Go Marching (Classic Books With Holes) There was a book with a musical cd included with The Ants Go Marching book.  My 4 year old loved the song and marched all around the house to the song.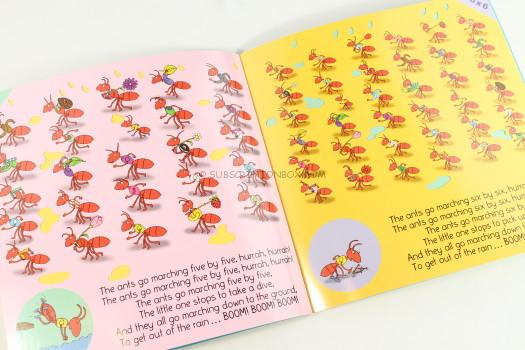 This is a peek inside the book.
Making the Drum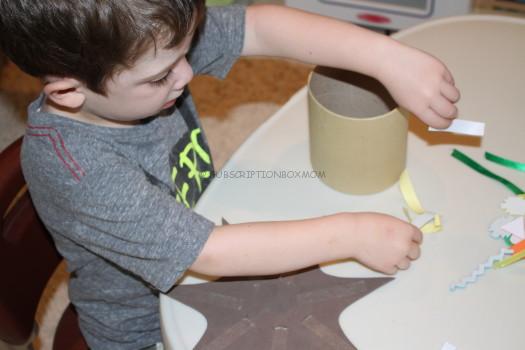 The first step to making the drum was to attach the top of the drum with sticky tape.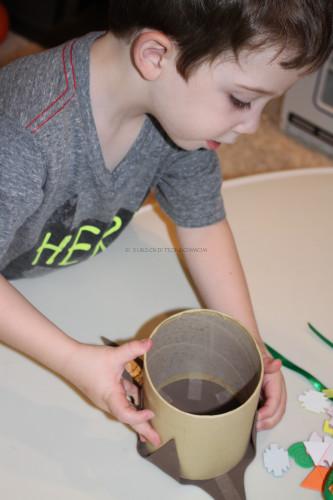 All the sides folded up to make the top of the drum.  T was so excited to play with this, he quickly put the drum together.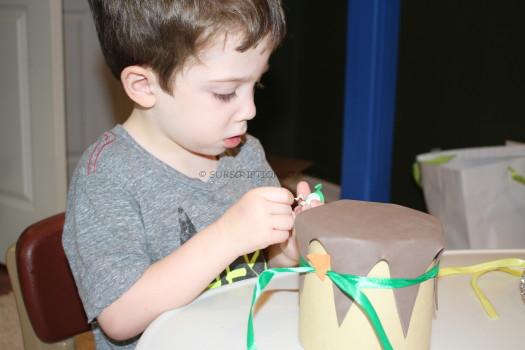 T fastened a sticker to the drum, added a few stickers and was ready to play.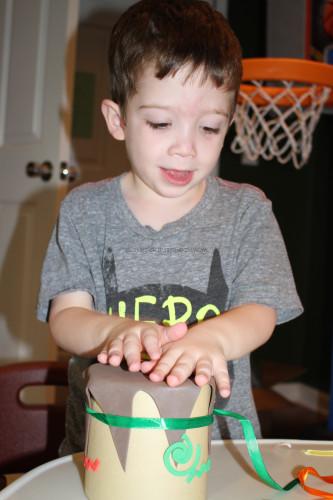 T loved the drum and is currently his favorite item.  He has been taking the drum all over the house and has been showing it off to whoever comes by the house.
Jingle Stick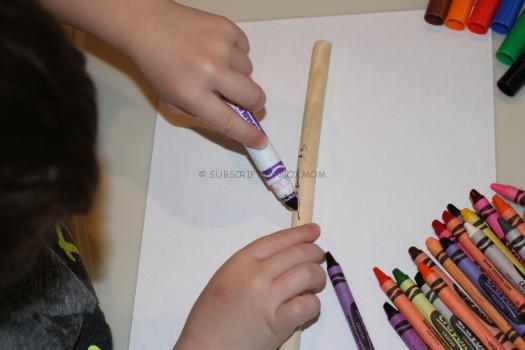 Before putting together the jingle stick, T colored it with markers.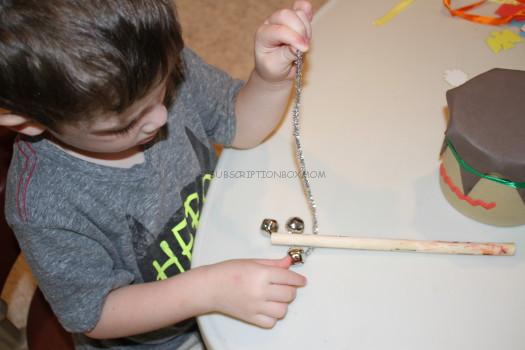 Bramble Box gave instructions for the parent/adult helper to thread the first bell and T did the rest.  This was a great project for fine motor skills and for strengthening little hands.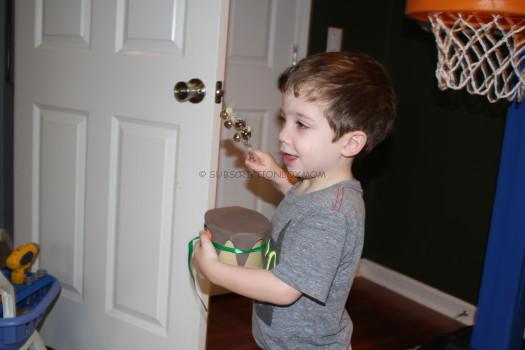 While they are designed to be played by themselves, T used the jingle stick as a drumstick and had a blast.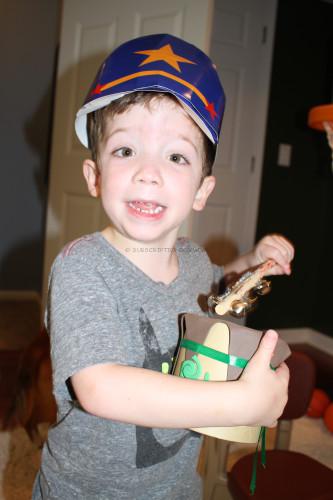 I put together the hat and he was ready to be in a marching band.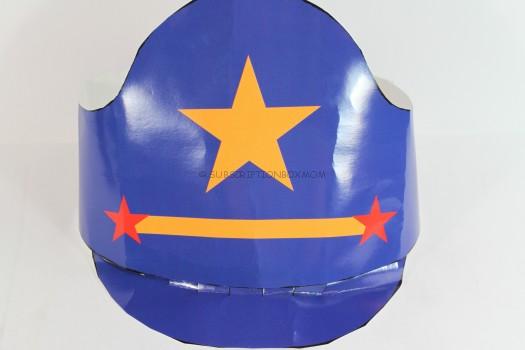 This is the finished hat.  T isn't the biggest fan of hats, but this hat didn't squeeze his head, so he wore it and had fun!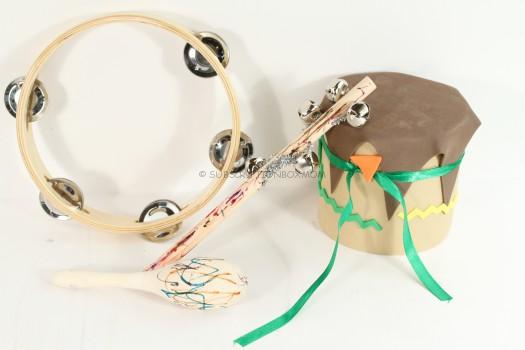 This is all four instruments.  The maraca didn't come with instructions, but T decided to decorate it too.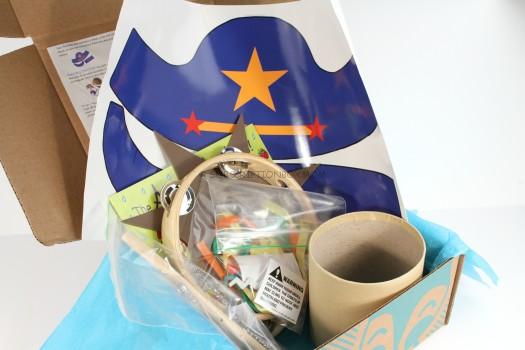 Final Thought: This is one of our favorite boxes from Bramble Box.  T loves music and this box made him light up with excitement.  Bramble Box always sends boxes that last well beyond the month.  T loves Bramble Box . In addition to this month's kit, my youngest is constantly playing with the Birthday Box from last month and the Ice Cream Box.  
New Changes
Bramble Box is also making BIG changes.  Now you can choose your first 6 boxes, based on the themes your child wants.  Also, starting now, your child will get a FREE Welcome Kit with a sticker book, glue and crayons with your child's 1st box.
More changes:
Bramble Box will be introducing quarterly subscriptions
The recommended age range will be 3-7 (formerly 3-8).
Due to the increase in shipping prices, there will be a $8.95 shipping rate to subscriptions.
Want to subscribe?
Pick from the following themes, or choose to be surprised!  You can use this link with the code subboxmom30 to save 30% off of any subscription (can't be applied to single kits) .
Post Office
Ice Cream Shop
Pizzeria
Wizard Science
Birthday Party
Do you like FREE SUBSCRIPTION BOXES?  Click HERE to see my free subscription box list.
You can see my FULL coupon list HERE.
Do you love Giveaways?  Click HERE to enter all my Giveaways