April 28, 2016
04/28/16

By Subscription Box Mom

0 Comments
0
Little Lace Box April 2016 Review + Big Coupons
Disclosure: This post contains affiliate links.  I received this box for review.
My April Little Lace Box arrived and it's another great box! Little Lace Box is a bi-monthly subscription that is $59.99 for a one time box and there are discounts for longer subscriptions (6 and 12 months).
The Details;
Cost: $59.99/bimonthly, $ 149.97/6 months, $ 269.95/12 months.
Coupon:  Just click HERE and use the coupon SBM15 to save $15.00 on a 6 month subscription plan or use coupon SBM20 to save $20.00 on a 12 month
What's in the box? Little Lace Box is a a subscription service that delivers hand-curated, nearly impossible-to-find designer products directly to your doorstep every month.  Each month you will get high-end, brand name beauty, lifestyle, and home product samples.  
Shipping:  Shipping is free from all the 50 states, including Alaska, Hawaii and Puerto Rico
How do I cancel? You can cancel from your account
Website: http://littlelacebox.com/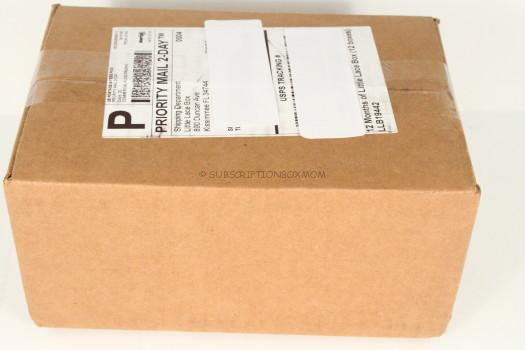 Everything shipped in a plain brown box.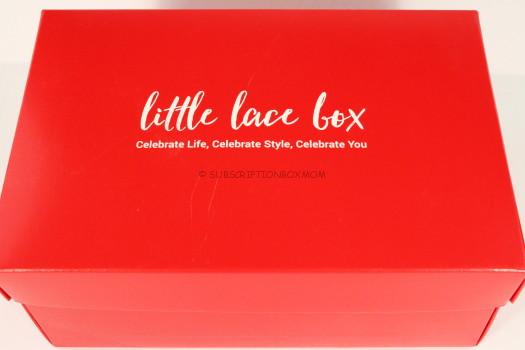 Inside the brown box, there was the bright red box.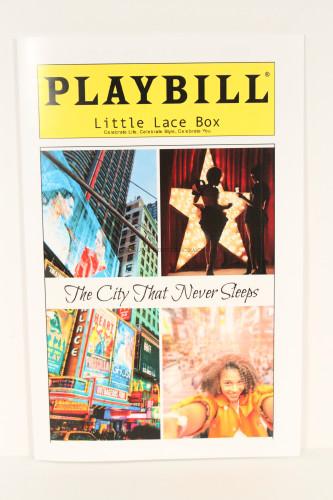 The theme for April is " The City That Never Sleeps".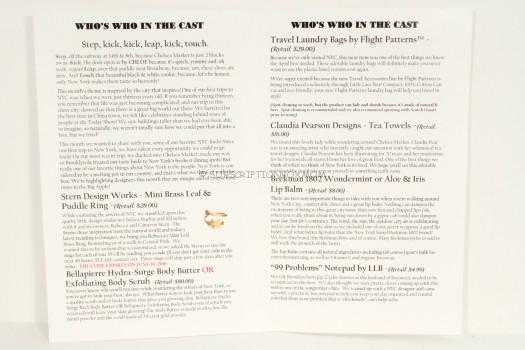 The information card listed everything in the box.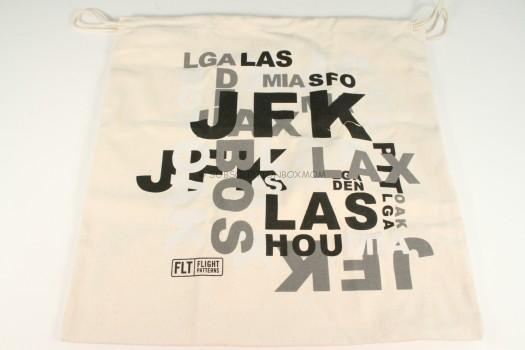 Travel Laundry Bag by Flight Patterns $29.00 I always take a laundry bag with me on vacation, but I can't have my dirty clothes touch my clean ones.  This one is made of 100% cotton canvas and has a draw string top.  You are advised to spot clean this, as using a washing machine can make this shrink and fade.  As cute as it is, I am not thrilled with something I am not supposed to wash, especially since it holds dirty laundry.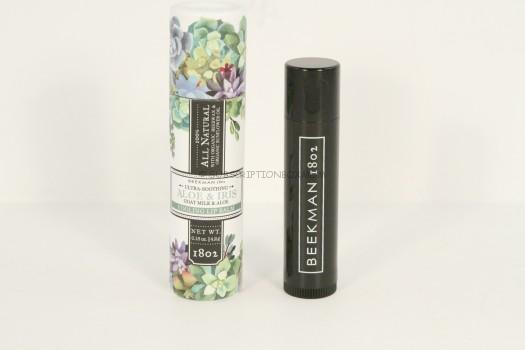 Beekman 1802 Aloe & Iris $8.00 I was expected this to have a floral smell, but this actually smelled rather minty.  Beekman has made this with vitamin e, beesmwax and goat's milk to moisturize. Some subscribers received this in Wondermint.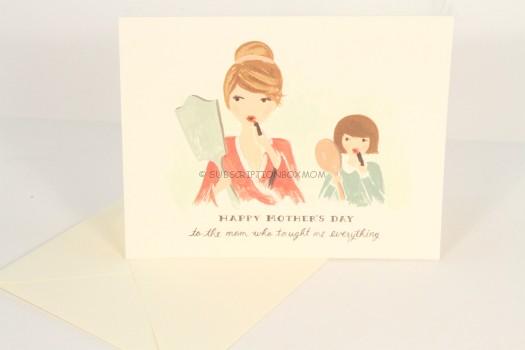 Rifle Paper Co. Mother's Day Card $4.50 Little Lace Box included this card, since Mother's Day is right around the corner.  This card is made by Rifle Paper Co, which is hugely popular right now.  Cards in each box vary, but I love mine.  The inside is blank, so you can write a heartfelt message to your mom.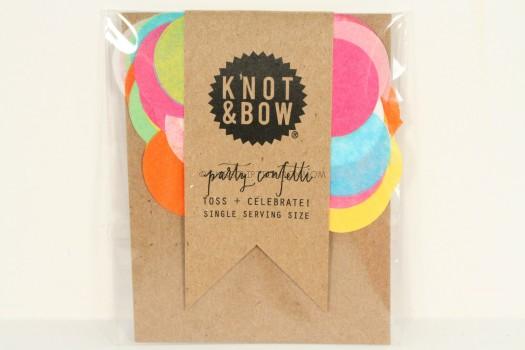 Knot & Bow Confetti $4.50 When I saw this confetti, I didn't automatically think New York, but it was included because this store is in New York and super cute.  Their Etsy store has some really great balloons.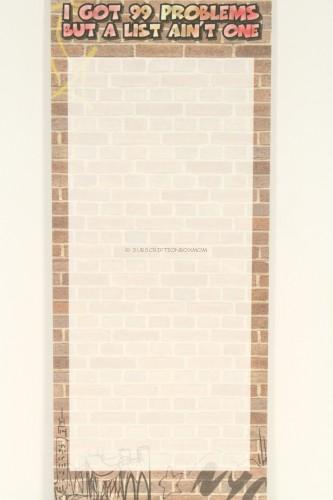 "99 Problems" Notepad by LLB $4.99 Little Lace Box made this notepad as tribute to Jay Z,  The phrase" I got 99 Problems but A List Aint One"  Most of my note pads are either free promotional ones or some "froo froo" floral thing, so I think this one is awesome.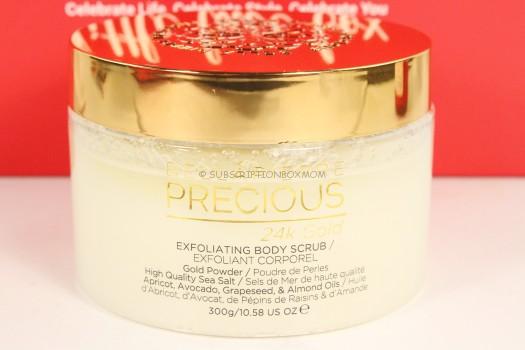 Bellapierre Exfoliating Body Scrub $80.00  Seriously, WOW!  This has real 24 carat gold, which is why this has a $80 value.  I raced to use this right away and it was so lovely.  This has a sweet/citrus scent and left my skin feeling amazing.  Some subscribers received the Bellapierre Hydra-Surge Body Butter, which is made with diamond dust.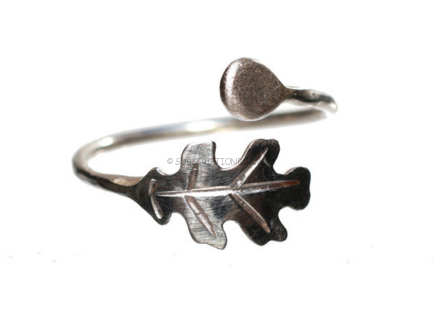 Stern Design Works Mini Brass Leaf & Puddle Ring $28.00 Subscribers will receive coupon code to get a beautiful ring.  The ring is from a shop in Chelsea Market and was selected to make you think of a walk in Central Park.  The picture of the ring is from their website.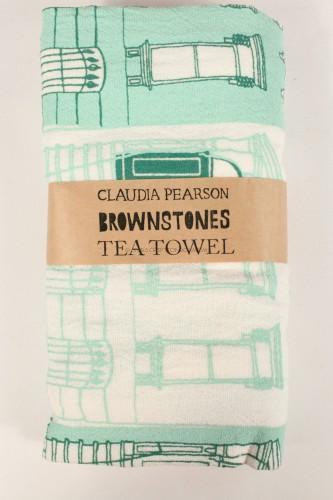 Claudia Pearson Designs Tea Towel $16.00 Little Lace Box found Claudia in Chelsea Market, who has been illustrating for 20 years.  This tea towel is called "Brownstones in Blue", which reminds of the movie You've Got Mail, which is my favorite movie, and takes place in New York!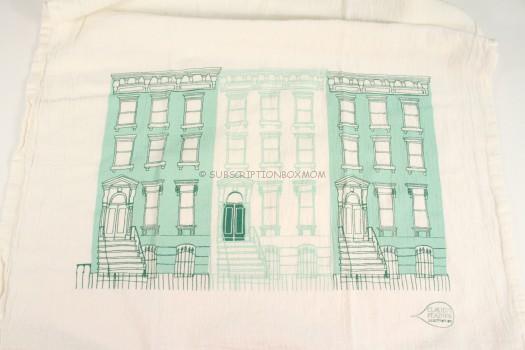 This is the full look of the towel.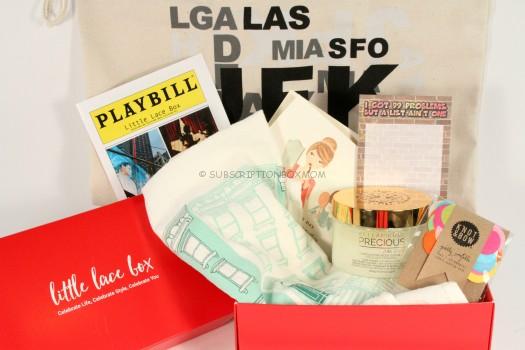 Final Thought: This box had a total value of $174.99.  Little Lace Box is one of the best subscription boxes for women.  I personally love it, especially because they always find such unique items for their boxes.  My favorite item this month was the body scrub.  If you want to subscribe, check out all the coupon deals below!
June 2016 Spoilers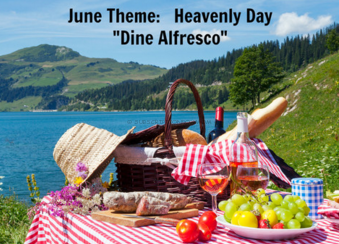 JUNE THEME: HEAVENLY DAY – "DINE ALFRESCO"
Since starting Little Lace Box, we've gotten to know many of our subscribers on a personal level. This is an experience that has been both rewarding and heartbreaking, because there are a lot of people out there who are truly hurting. We've tried to be helpful whenever possible, and when we do, we see their smiles shining right through our keyboards. Last year on a visit to Chicago, we were lucky enough to experience something called Ravinia Festival. It's a place just outside of Chicago, and for those of you from Chicago, you probably can say much more about it than I, but while I was there, for one brief shining moment, all my troubles went away. Not for long; not forever, but it made me wish that everyone have a day when their troubles go away. And I thought of the Patty Griffin song, "Heavenly Day." Patty sings,
"No one at my shoulder bringing me fears Got no clouds up above me bringing me tears
On this Heavenly…heavenly day, all the troubles gone away
for a while anyway, for a while anyway"
I guess a Heavenly Day means something different to each of us. To me, it means, a picnic in the park, going barefoot, feeling warm, staring at beautiful clear skies lit by stars, eating homemade ice cream and enjoying good music, good friends and family. So for all of our subscribers, we know life takes a certain arc, and nothing we do at LLB will change it, but we want our June Little Lace Box to help you have a heavenly day. A day when "all the clouds blew away" and you can "Lay here and watch the trees sway… for a while anyway, for a while anyway"
Do you like FREE SUBSCRIPTION BOXES?  Click HERE to see my free subscription box list.
You can see my FULL coupon list HERE.
Do you love Giveaways?  Click HERE to enter all my Giveaways