January 16, 2016
01/16/16

By Subscription Box Mom

0 Comments
0
Serendipity by LLB January 2016 Review + Coupon
Disclosure: This post contains affiliate links.  This box contains referral links.
My Serendipity by LLB arrived and once again, I am totally impressed with the box.
Little Lace Box has a new subscription, Serendipity by LLB.  Serendipity by LLB is $9.99/bi-monthly.  Serendipity by LLB is a pouch filled with 5-7 sample size (sometimes full size) products.  This is the first month that Serendipity by LLB wasn't included as part of the subscription.
 Little Lace Box is a bi-monthly subscription that is $59.99 for a one time box and there are discounts for longer subscriptions (6 and 12 months).  If you want to subscribe for a 6 or 12 month term, use this link with the code SBM15 to save $15.00.
The Details;
Cost: $9.99 Every other month
Coupon Use the coupon SBM15 to save $15.00 on a 6 or 12 month subscription.
What's in the box? Serendipity by LLC is a pouch filled with 5-7 sample size (sometimes full size) products.
Shipping:  Shipping is free from all the 50 states, including Alaska, Hawaii and Puerto Rico
How do I cancel? You can cancel from your account
Website: http://littlelacebox.com/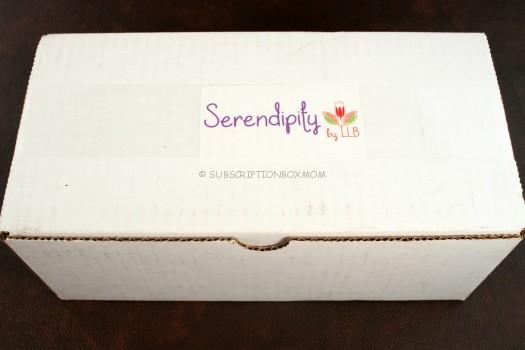 Every other month, Serendipity by LLB ships out.  This month was a plain white box.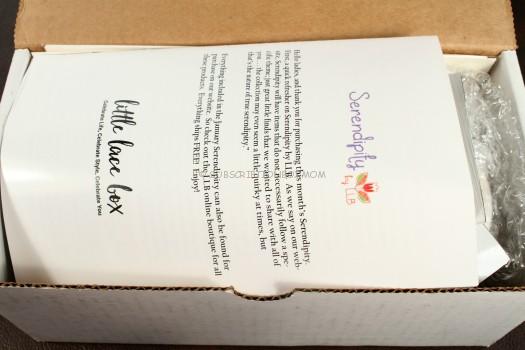 First Look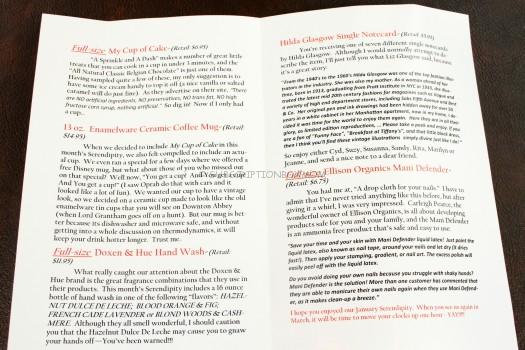 This box, there was an information booklet, instead of the colored sheet.  The booklet includes the value of each item and a description.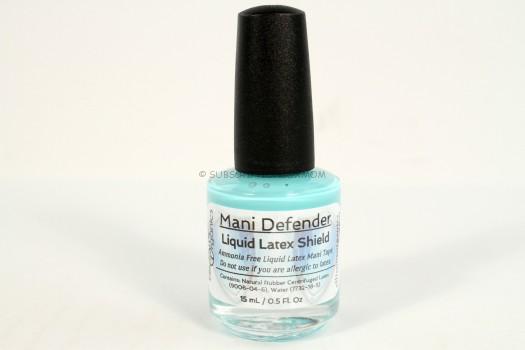 Ellison Organics Mani Defender (FULL SIZE) $6.75 First, this is ammonia free and safe for your skin.  Second, this is the best invention ever (maybe not ever, but it's awesome).  You paint the skin around your nails, then peel it off when your nails are dry.  BAM! Instant perfect mani!   I have been dying to try water marbling, but I didn't want to deal with the mess.  I am going to use this on my next mani and try it!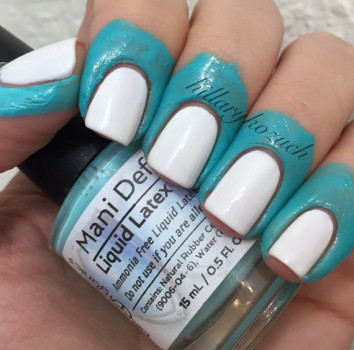 Here is a look at how you use the product.  This photo isn't mine, it's from the EllisonsOrganics Etsy page.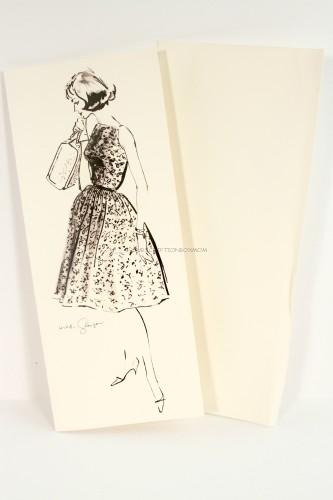 Hilda Glasgow Single Susanna Notecard $5.95 Hilda Glagow was a top fashion illustrator from the 1940's to the 1960's.  Subscribers received one of seven cards made from Hilda's design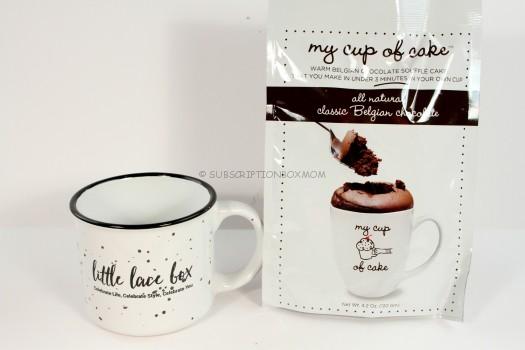 My Cup of Cake Pouch  (FULL SIZE) $6.95 I received this in Classic Belgian Chocolate.  This makes a little cake in a mug in under 3 minutes.  I received this in my POPSUGAR box in December and it was so good.  If you add some ice cream and warm hot syrup, it makes it even better.  I love that all I have to do is microwave it, because even I can do it.
13 oz Enamelware Ceramic Coffee Mug $14.95  Since I don't drink coffee or hot tea, I normally am kinda blah when it comes to get a mug, but this was an exception.  The mug is made to keep things hotter longer, and it's designed to look like the old enamelware tin cups.  I remember my grandmother's cups like this.  The mug is short wide, it's really a great cup.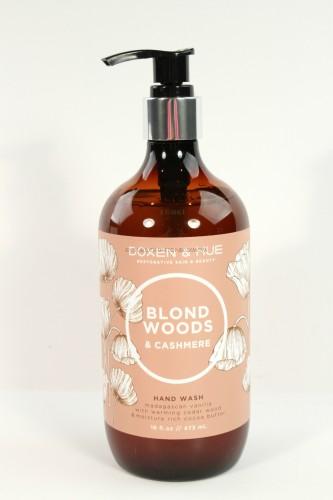 Doxen & Hue Hand Wash in Blond Woods & Cashmere (FULL SIZE) $11.95 This is a giant bottle of hand soap (16 oz) and subscribers were sent one of 4 scents.  The other scents were  Hazelnut Dulce de Leche, Blood Orange & Fig, and French Cade Lavender.  I would have picked the lavender scent, but I like the woods and cashmere scent.  It's a soft, romantic, fruity/floral scent with a woodsy kick.  They may not make much sense, but just know it smells good.  It's a feminine scent, so I am hoping to keep this for me.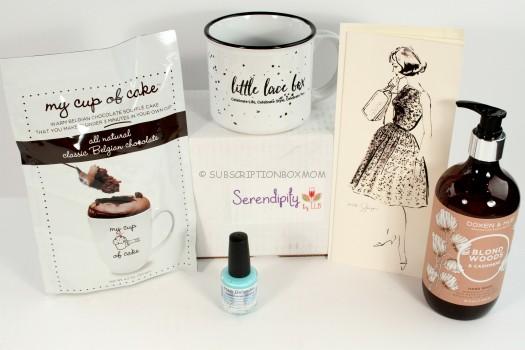 Final Thought: This box had a total value of $46.55 and the box only costs $9.99.  It's pretty amazing Little Lace Box can include everything for only $9.99.  The hand soap alone is worth more than the box costs.  I am also super excited to try out the mani defender.  If you are looking for a woman's lifestyle box or an affordable subscription, this box is BOTH.  Use this link to get a 12 month subscription to Serendipity by LLB for $59.94 (you will get 6 boxes).  Subscriptions for Serendipity by LLB are currently sold out, but they should be open soon.
If you want to subscribe to the regular Little Lace Box, you can save $15.00 when you sign up for a 6 or 12 month subscription.  Just use this link with the code SBM15 to sign up.
Do you like FREE SUBSCRIPTION BOXES?  Click HERE to see my free subscription box list.
You can see my FULL coupon list HERE.
Do you love Giveaways?  Click HERE to enter all my Giveaways