November 1, 2015
11/01/15

By Subscription Box Mom

0 Comments
0
Try the World Special Edition Holiday Box 2015 Review + Coupon Code + FREE BOX
Disclosure: This post contains affiliate links.  I received this box for review.
Try the World has released a special box for the holidays.  Try the World sends you various culinary treats from all over the world.The Special Edition Holiday Box is $39.00 and contains 8 holiday foods from around the world. Try the World sends a new box every two months for $39.00.  Spoiler alert, this was my favorite box from Try the World.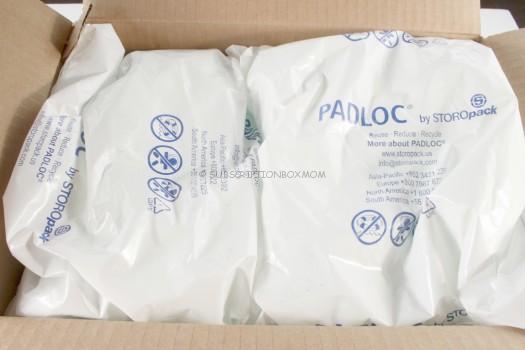 Try the World shipped in a giant brown box, packed with packing material.  Boxes get bonus points with me, when they go above and beyond to protect the contents of their boxes.
The Holiday Box was wrapped in a beautiful red ribbon.  This would make a fantastic gift for someone.
Usually the culture guide is just laying on top of the box, but this time, it was neatly adhered to the top of the box lid.
First look into the box.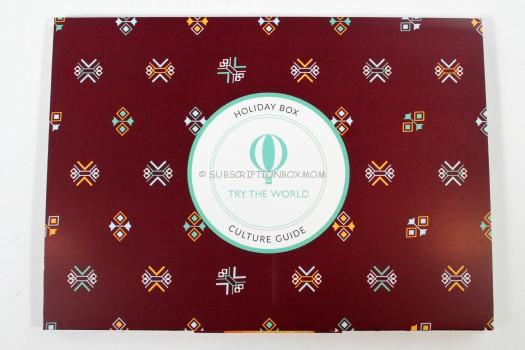 The culture guide folds out into an accordion.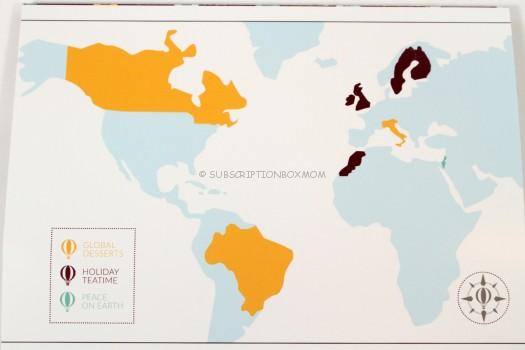 There was a color coded map, letting you know where the treats came from.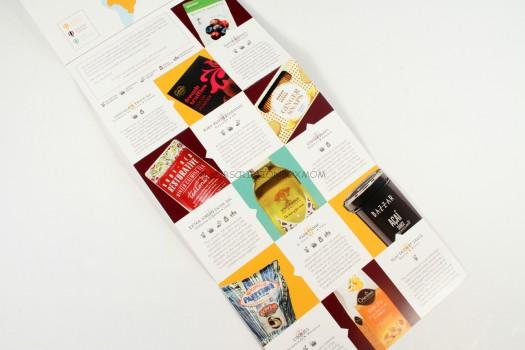 There were descriptions and pictures for every treat in the box.
Like other culture guides, there was a playlist of music to go with the treats in the box.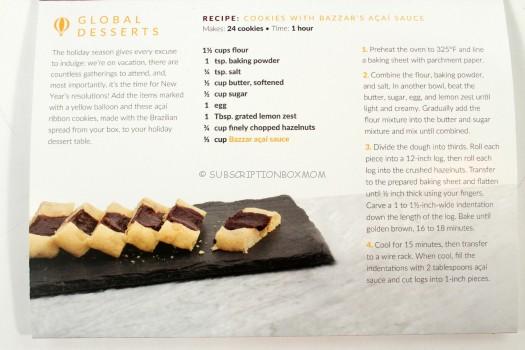 So you can make full use out of the box, there are two recipes in the box.  This first recipe is cookies with Bazzar's Acai Sauce.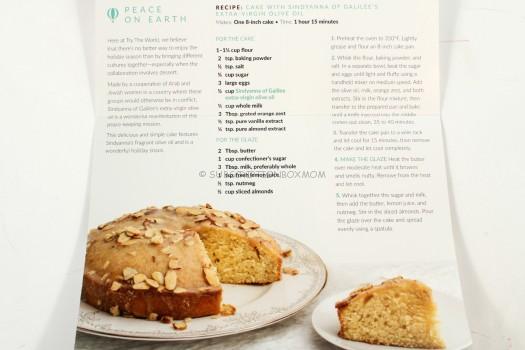 The other recipe is for cake with Sindyanna of Galilee's extra-virgin olive oil.
Biokia Kuivattu Marjamix Dried Berry Mix (Finland) This is a mix of bilberries, cranberries, lingonberries and blackcurrants.  These berries are packed with antioxidants, fiber and vitamins, not to mention, they taste fantastic.  This is a snack my kids will eat too, which makes it even better.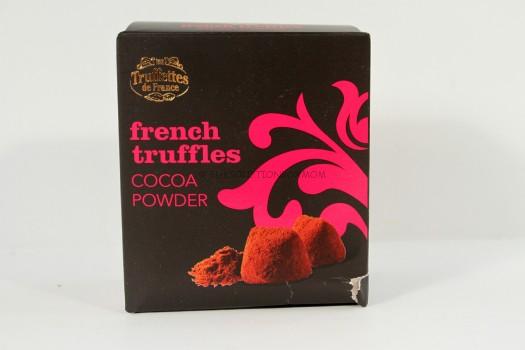 Truffette de France Chocolate Truffles (Canada)  Oh delicious chocolate!  These soft cake-like truffles are covered in cocoa powder.  These had a rich, almost dark chocolate taste.  A glass of ice-cold milk goes with these nicely.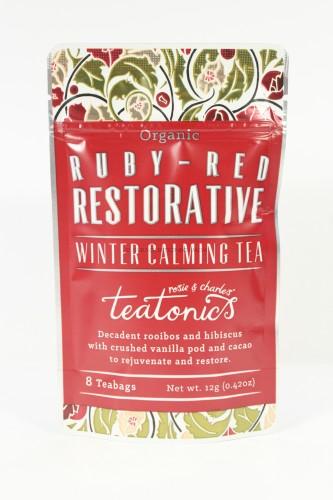 Teatonics Ruby-Red Restorative (UK)  This loose leaf tea is milled by hand and made of red and green roobios, hibiscus, cacao. vanilla and licorice.  This is described to be a great night cap.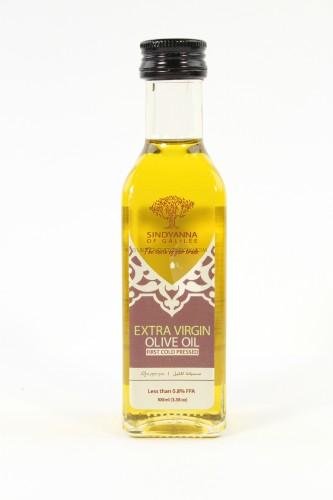 Sindyanna of Galilee Extra-Virgin Olive Oil (Israel)   This olive oil was made by a group of Arab and Jewish women in Northern Israel in a cooperative.  I am not known to cook much, but I love cooking with EVOO.  This is a staple in my kitchen and will be used for sure.
Nyåkers Gingersnap (Sweden) These gingersnaps are thin, crispy and have a hint of orange.  These are often eaten on December 13th for St. Lucia's Day, which commemorates the girl who brought food to the Christians being persecuted in Rome.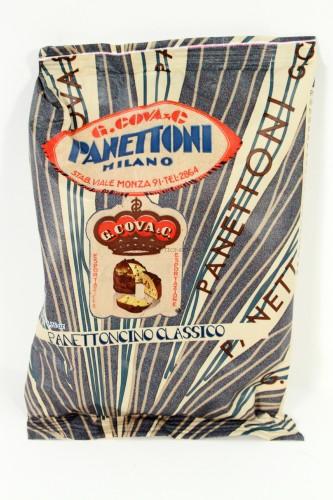 G. Cova & C Panettone (Italy) This pastry/bread is traditionally marked with a cross, as an omen for good luck.  This flaky bread is made with candied orange peals.  My husband really loved this and I do too.  This would be great to take to a holiday party.
Orientines Marocaine Cookies (Morocco)  These cookies are made with filo dough all natural ingredients and Morrocon spices. They are crispy, almost the texture of a crouton, but they are so sweet.
Bazzar Acai Dessert Sauce (Brazil)  I have had acai berries before and they are a great antioxidant.   Acai berries are also great to help you lose weight.  This fruity spread can be enjoyed best on toast, or on your Thanksgiving turkey.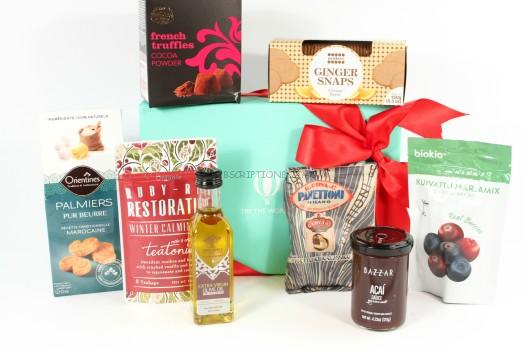 Final Thought: This box was fantastic, truly fantastic.  Of all the Try the World boxes I have tried, this one is my favorite.  I am a very picky eater and I love everything in the box, well C will drink the tea.  If you are looking for that perfect Holiday box of gourmet treats, check out Try the World's Special Edition Holiday Box at this link and use the code SBMOM12 to save 30% on your first box. If you would rather have more boxes, use this link and get the Spain Box Free (reviewed here) when you buy the Holiday Box.  The holiday box is the perfect combination of treats from all over the world.
Do you like FREE SUBSCRIPTION BOXES?  Click HERE to see my free subscription box list.
Check out my Full List of Subscription Box Coupons
Check out my current giveaways 
HERE