August 19, 2015
08/19/15

By Subscription Box Mom

1 Comment
1
30 Days of Candy August 2015 Review + Coupon – Box 3
Disclosure: This box was received free for review.
As soon as my kids see the stripped box, they yell 30 Days of Candy!  30 Days of Candy is a new subscription box that sends 30 bags of candy each month, each bag has a total of around 100 calories.  Subscriptions are $29.95 and you can choose a month to month plan or a one time only box.  When you subscribe (regardless of the month), you will start with "Around the world in 30 sweets" Box, reviewed here and continue with box 2, 3 etc.
30 Days of Candy comes in a long stripped box.
The theme for Box 3 is "The candy of our grandparents and great grandparents."
Famous National Brands: Since these brands have been around over 100 years, 30 Days of Candy didn't want to leave them out.  As a sample pack, they included Juicy Fruit, Tootsie Rolls, Hershey Chocolate Bar, and LifeSavers, since these can be bought everywhere.
Doscher's French Chews: Founded in 1871, these taffy pieces were called chews, since no one had heard of taffy yet.  These were soft and chew taffy pieces.
Barnier Mini Pulpi: These were first created in 1885 and are a fruit/pulp-filled hard candy.  I loved the strawberry.
Slo Pokes @ Black Cows: Slo Poke is a caramel candy while Black Cows are similar to tootsie rolls.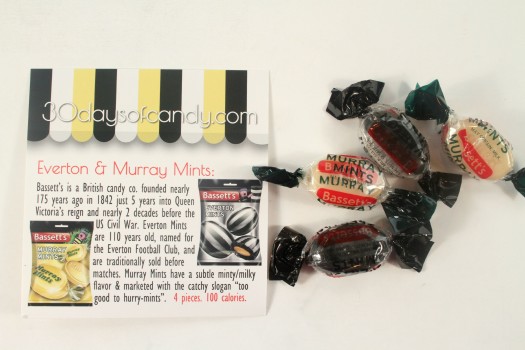 Everton & Murray Mints: Murray Mints have a milk/mint flavor, while Everton Mints have a strong pure mint flavor.  I loved the Everton Mints.
Peanut Butter Bars: These reminded me of Halloween when I was a kid.  These are crispy icing covered peanut crisps.
Good and Plenty: These are candy coated licorice.
Sour Lemon Balls:  These came before Lemon Heads and are just hard lemon candy.  They are not really sour, at least compared to modern sour candy.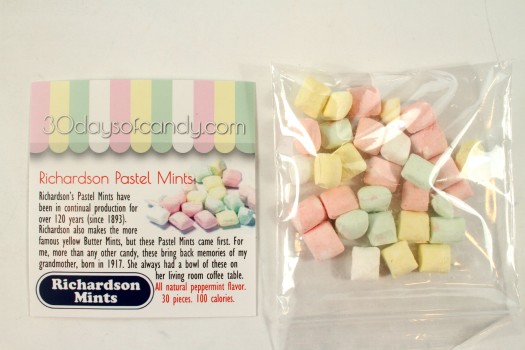 Richardson Pastel Mints:  A classic mint commonly found at weddings.
Atomic Fireballs & Lemonheads: Still popular after 100 years, Atomic Fireballs are a hot cinnamon while Leomonheads are a sour lemon candy.
Kits: These are similar to Now and Laters, in that there are several chews in each pack and are a tougher chew to eat.
May Janes:  I used to get these in my trick or treat bags too.  These are peanut taffy.
Zeeuwse Babbelaars: This is a butterscotch hard candy with bit of salt flavor.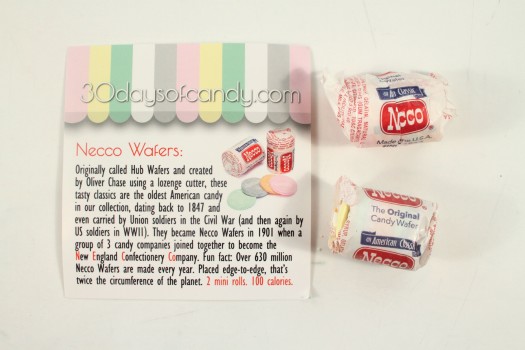 Necco Wafers:  A classic American candy.  These are basically flavored sugar discs.
Goetze's Bullseyes: These are caramel cream candy in chocolate, caramel and strawberry.
Butter Mint Rolls:  These taste just like the Richardson Pastel Mints, only bigger.
Fralinger's Salt Water Taffy: This soft taffy was founded in the 1800's.  I tried the strawberry and loved it.
Peanut Butter Chews: This candy was said to come about when Nettie Fralinger's bag of peanuts and taffy gor crushed by a circus elephant.  My husband wondered why you would eat a candy after an elephant stepped on it, which is a good point.  There peanut butter taffy pieces.
Dumle Toffee: These toffee candies date back 125 years!
Hopjes:  A coffee/caramel candy.  My husband didn't really care for these.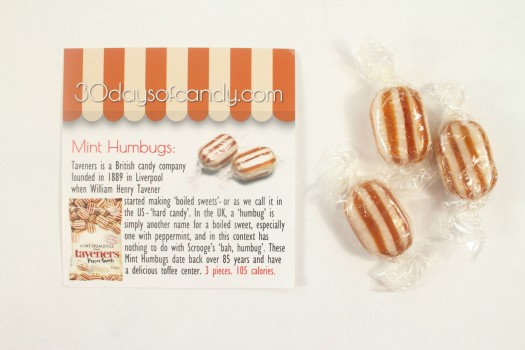 Mint Humbugs: These are a peppermint candy with a toffee center.  Very unique and tasty.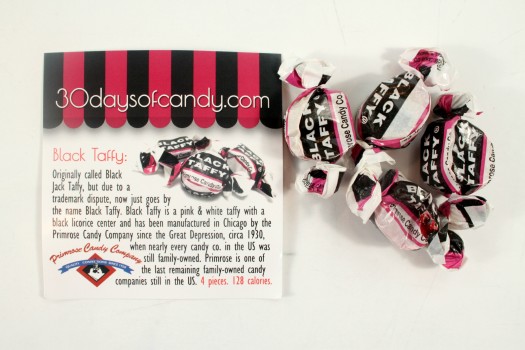 Black Taffy: This is a mix of regular taffy and black licorice.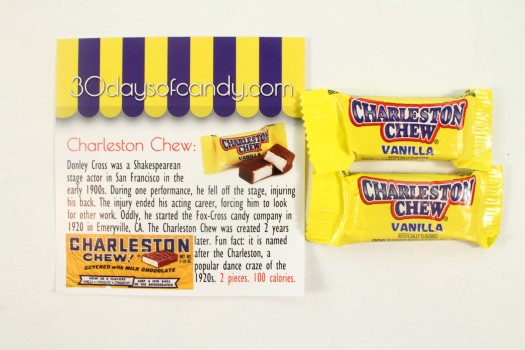 Charleston Chew:  I have heard of these but never tired them till this box.  This is a chocolate bar with vanilla/marshmallow center.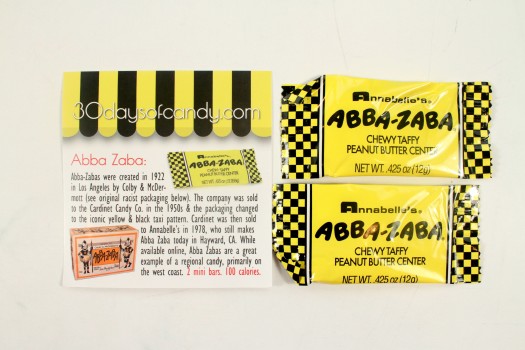 Abba Zaba:  These were created in 1922 and used to have a very racist packaging.  In the 1950's, the packaging was changed to the taxi cab look.  This is a white taffy with peanuts throughout.
Walnettos: These candies are part of MREs (meals ready to eat), although my husband has never had them before.  These are a caramel/taffy like candy, but I wasn't a fan.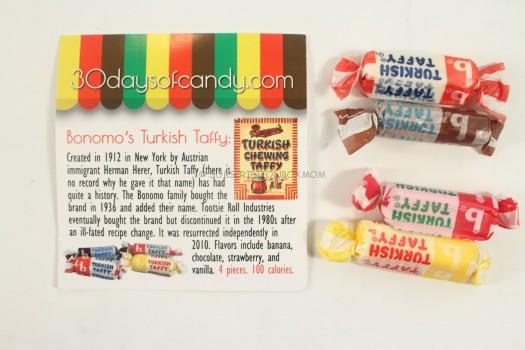 Bonomo's Turkish Taffy: These taffy candies date back to 1912 and come in banana, chocolate, strawberry and vanilla.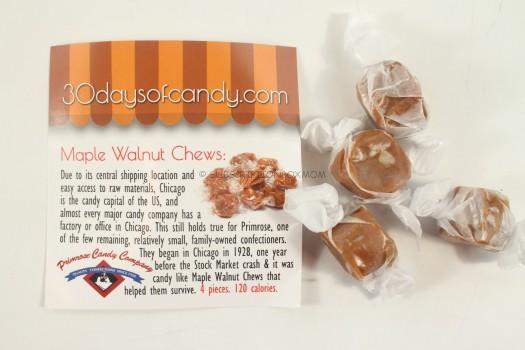 Maple Walnut Chews:  These literally taste like maple and walnut mixed together.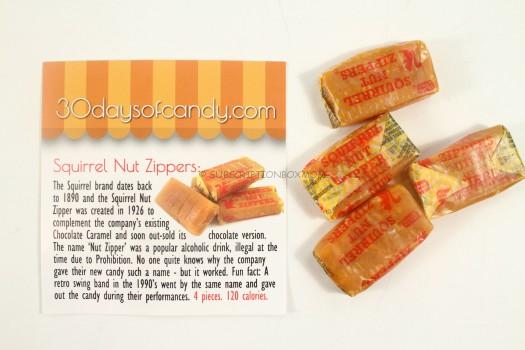 Squirrel Nut Zippers:  The name came from a popular drink during prohibition, but this doesn't taste anything like the drink, these are peanut chews.
Red Bird Peppermint Puffs: These taste just like the puffy peppermints you get at Christmas.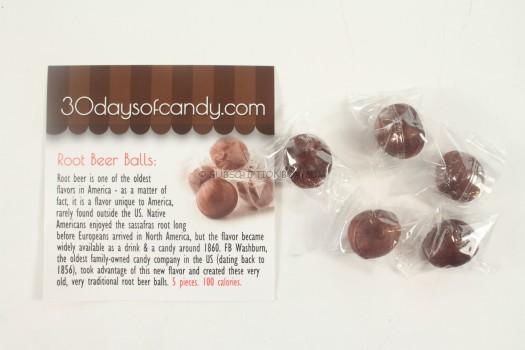 Root Beer Balls:  These root beer balls were my husband's favorite candy.  He said it tastes like IBC Root Beer.
Wilhemina Mints:  These are a strong white mint, similar to an Altoid, but sweeter.
The theme for Box 4 is "Candy from behind the Iron Curtain"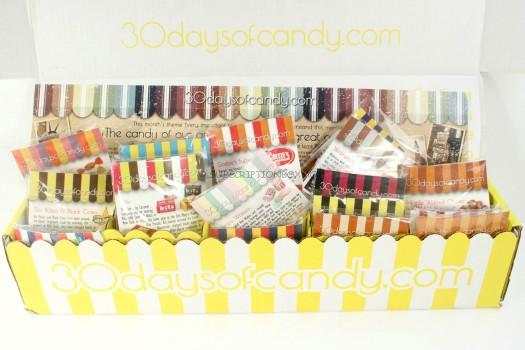 Final Thought:  I never knew there were so many different candies until 30 Days of Candy.  30 Days of Candy is great box to experience candy from all over the world.  Our box lasts a full month, even with four candy eaters.  If you want to try 30 days of candy, use this link with the code 30%OFF to get free shipping on your first box.
Do you like FREE SUBSCRIPTION BOXES?  Click HERE to see my free subscription box list.
You can see my FULL coupon list HERE.
Do you love Giveaways?  Click HERE to enter all my Giveaways.