June 10, 2015
06/10/15

By Subscription Box Mom

2 Comments
2
30 Days of Candy Review May 2015 + Coupon
Disclosure: This box was received free for review.
30 Days of Candy is a new subscription box that sends 30 bags of candy each month, each bag has a total of around 100 calories.  Subscriptions are $29.95 and you can choose a month to month plan or a one time only box.  Each box will have its own theme, this first box is themed "Around the world in 30 sweets".  When you subscribe (regardless of the month), this is the box you will receive.  I love candy, so I was excited to check out this box.
The Details:
Cost: $29.95/month or a one time only purchase.
What's in the box?  Each box will contain 30 individual bags of candy.
Shipping: Shipping is $5.95 and US only
How do I cancel? Email unsubscribe@30daysofcandy.com to cancel.

30 days of candy ships in a long box and it came by FedEx,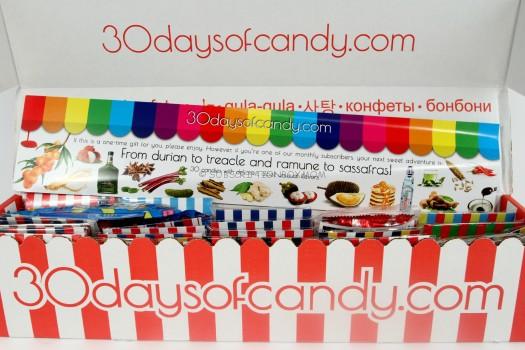 First Look: There was a card giving the theme for this month.  There wasn't a single information card, each candy comes in a bag with its own information card.
Okio – Malaysia: These gummies come in mango, strawberry, grape and orange and they taste better than Haribo!
Meiji Hello Panda – Singapore: Meiji has been around since 1916 and make the famous Hello Panda snacks.  Each panda cookie has a different panda character on it and these cookies are filled with chocolate.  I have had these several times and they are a family favorite.
Perugira Spicchi di Sorrento – Italy:  Perugina makes Baci and these hard candies.  Lemon, orange and tangerine flavors were sent and I really enjoyed tangerine.
Kit Kat Green Tea Flavor – Japan: I have had several different Kit Kat flavors and these green tea are some of the best tasting Kit Kats.  You don't need to like drinking green tea to like these either.
Mishka Kosolapy – Russia: These bars are also called clumsy bear and are loved in Russia.  These are milk chocolate almond praline wafers, that taste a bit like a dark chocolate Kit Kat bar.
Mondelez International Daim – Sweden: This is a crunch almond butter toffee bar covered in milk chocolate.  It actually contains the same ingredients as the Heath Bar!
Arcor – Argentina: These taffies are world-renowned and come in orange, green apple, banana, cherry.
Sixlets-Canada: These candies got their name because they were originally sold in packs of 6 for one penny.  These little chocolate balls have a candy coating and my kids love them.
Black Licorice Caramels – Norway: These are salty black licorice caramels.
White Rabbit – China: These were originally called Mickey Mouse Sweets, but later were called White Rabbit because Mickey was seen as being too "western".  These milk flavored candies have an edible rice paper wrapper.
The Garden Lucky Candy – Hong Kong: These strawberry candies have a soft taffy center.  The strawberry had a more milky flavor than what I expected, but it was tasty.  These candies are commonly brought out during the Chinese New Year.
Napoleon Bonbons – Belgium:  These hard candies have a sour center and are very tasty.
Hi-Chew – Taiwan: These fruit chews are a family favorite.  They were originally created to have a gum-like candy that you could swallow, since it's taboo to take food out of your mouth in Japan.
Krowki Cream Fudge – Poland: These are little creamy pieces of fudge.
Bit O Honey – USA: These are chewy pieces of taffy and almond bits with a honey taste.  Bit O Honey is really hard to chew, so you have to let it melt a bit in your mouth.
Perfetti – Netherlands: Perfetti van Melle is the 3rd largest candy company in the world.  These candies are eggnog toffees
 Hirsch Swabian – Germany: These fruit taffies have fruit and berry flavors, and they taste very similar to Now and Later candy.
Roshen Jelly Sweets – Ukraine: These gummies come in cherry, orange, strawberry lemon, pink grapefruit & cranberry and they have a liquid/jelly center.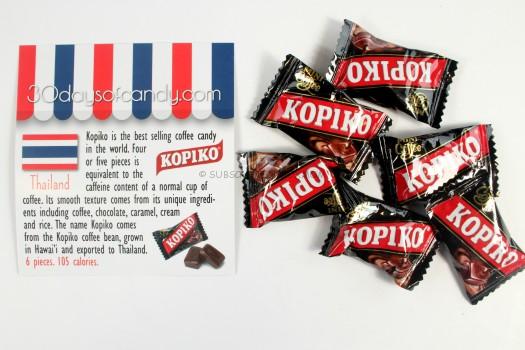 Kopiko – Thailand: These candies are packed with coffee, chocolate, caramel, cream and rice.  4 or 5 candies contain as much caffeine as a cup of coffee.
Frazer – Finland: These Marianne minds have a hard peppermint shell and depending on the wrapper, there are two different flavors inside.  The red wrapper is chocolate and the blue wrapper is caramel.  These are really an interesting combination of flavors and I prefer the chocolate.
Maison Pecou – France: These are Jordon almonds, otherwise called dragees.
Haribo Gummy Bears – Turkey: I was a bit confused when I saw these were in the bag for Turkey instead of Germany, but these gummies are actually manufactured in Germany.
Fresch – Morocco: These candies have a crunch outer shell and a chewy center.  The white ones are min and the colored ones are fruit flavored.  These are very similar to Mentos.
Laima – Lativa: These candies are hazelnut and praline chocolates.
Columbina Fussione Caramel – Columbia: These are chocolate filled caramels.
Walkers Nonsuch – England: Named after King Henry VIII's Nonsuch Palace, these are English cream toffee candy.
Milkita – Indonesia: These candies are made with milk and come in three different milkshakes: chocolate, strawberry, and Melon.
PEZ – Austria: I never knew PEZ came from Austria, until today.  The word PEZ comes from the first, middle and last letters in "pfefferminz", the German word for candy.  There was not only three packages of pez, but a full size PEZ dispenser too.
The Jelly Bean Factory Jelly Beans – Ireland: These beans are very tasty fruity beans that are GMO, fat, gluten and gelatin free.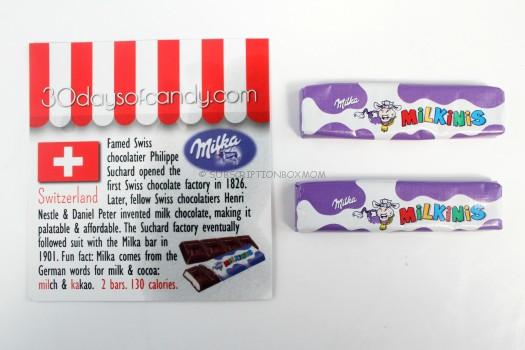 Milka Milkinis – Swizerland: These are milk cream filled milk chocolate candies.
Final Thought:  I don't think I have every unboxed a bigger box of sweets!  This was an outstanding box and I loved that 30 Days of Candy combined great tasting sweets with a background of each candy.  The individual bags makes it easy to indulge your sweet tooth, without adding too many calories.  If you want to try 30 days of candy, use this link with the code FREESHIPMOM to get free shipping on your first box.  This coupon expires in 10 days!
Do you like FREE SUBSCRIPTION BOXES?  Click HERE to see my free subscription box list.
Check out my Full List of Subscription Box Coupons
Do you love Giveaways?  Click HERE to enter all my Giveaways