July 3, 2015
07/03/15

By Subscription Box Mom

2 Comments
2
Whistle Work Box July 2015 Review
Disclosure: I received this box for review.
Whistle Work Box is a subscription box filled with fun items for your office.  Boxes are $19.99/month and when you sign up, you choose a box for a man or woman.  Each box will be filled with fun and useful things for your office like, office supplies, office decor, office lifestyle products, snacks, and more.  I received the women's box for review.
The Details:
Cost: $19.99/month for a man or woman box.
Shipping: $5.95/month to US only.
What's in the box? "Every month you will receive a new kit including work inspired products to create your work-space. It may include office supplies, office decor, office lifestyle products, snacks, etc…."
When will I get the box? Boxes ship at the end of the month.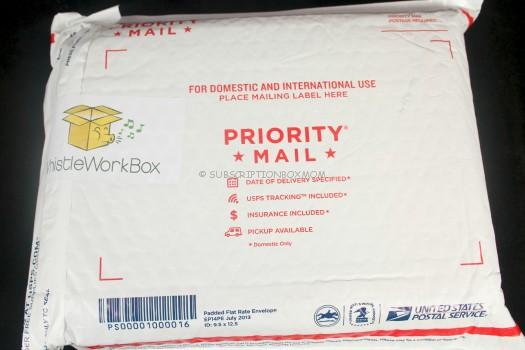 Whistle Work Box ships in a polymailer bag from USPS.
Whistle Work Box comes in a little brown box with a green sticker.
First Look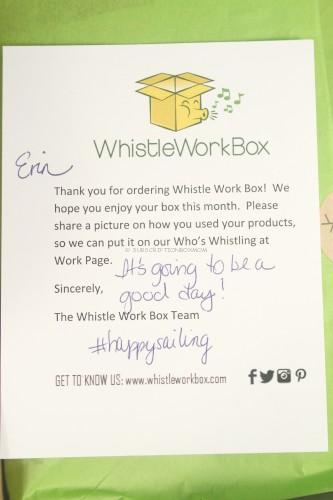 There was a thank you note from Whistle Work Box for taking this box.  I love that they hand write a message on the note.
The inside lid has an information card sticker with everything listed in the box.
American Crafts Pink Paislee Paper Pad, 6-Inch by 6-Inch, Solstice, 36-Pack
$6.00  This is actually listed for over $7.00 on Amazon, so I was happy the retail price was under what I expected.  This is a pad of 36 sheets of  6×6 paper.  As a scrapbooker, I can think of tons of uses for this.  You can use it to make cards for coworkers, of just a quick mini album on your lunch break.
American Crafts Dear Lizzy Serendipity Watercolor Paper Words
 $5.00  This packet of watercolor words can go on in your desk area or with use with your paper.
Here is a look at what the words look like on the paper.
Summer Anchor Mouse Pad: $11.00  I think $11.00 is a bit high for this, but it is cute.  Nautical is very popular right now, so this is not only trendy, but cute.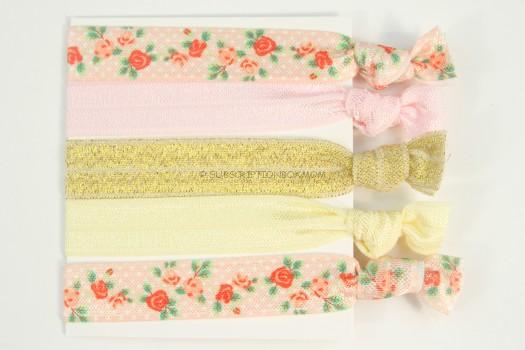 Hair Ties: $5.00  I really love getting hair ties in boxes, and I am not being facetious.  I use hair ties all the time, but they always disappear.  I need a lifetime supply of sunglasses and hair ties, but both always disappear at my house.
Main Street Collection Magnetic Bookmark $4.00  This pink bookmark with cute little turtles will keep you place in any book.
Kawaii Whale Phone Holder $3.00  My Otterbox is too big to put my cell phone on this, but my son just got an iPod for his birthday, so this will go to him.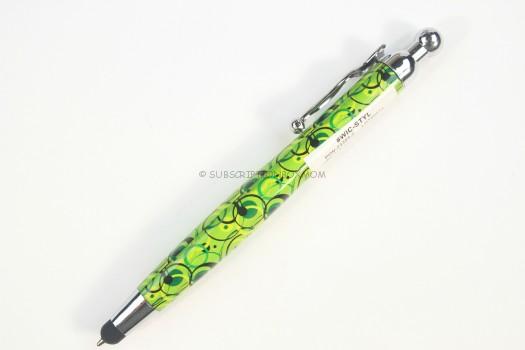 Women in Charge Stylus Pen $4.00:  This stylus is also a pen and it turned out to be quite awesome.  A certain awesome blogger got me hooked on the game Tsum Tsums and this stylus got me my highest score.  Okay, that probably sounds really lame, but I was excited.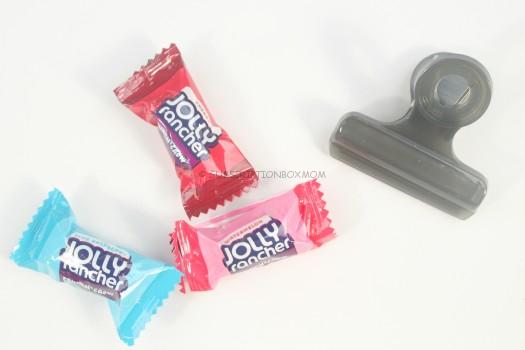 Bonus:  There were three Jolly Ranchers and a snack clip included as free bonus goodies.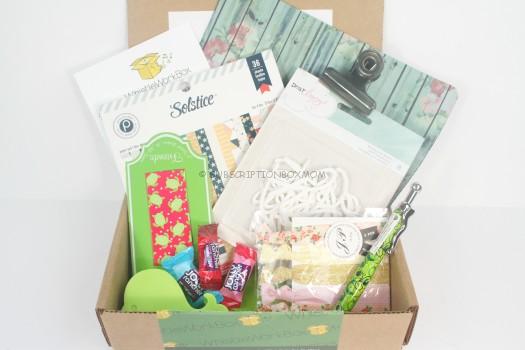 Final Thought: This box had a total value of $38.00.  I enjoyed this box, especially the stylus.  I do wish there was a few wacky office supplies, like those face coasters from the first box.  I love really unique stuff, so I hope the next box has a few wacky items. I do really enjoy Whistle Work Box and I always find uses for the items in the box.  If you want to try Whistle Work Box, use this link.