July 17, 2015
07/17/15

By Subscription Box Mom

0 Comments
0
30 Days of Candy Review Box #2 + Coupon – July 2015
Disclosure: This box was received free for review.
After last month's fantastic 30 Days of Candy box, I was thrilled to be offered a new box to review.  30 Days of Candy is a new subscription box that sends 30 bags of candy each month, each bag has a total of around 100 calories.  Subscriptions are $29.95 and you can choose a month to month plan or a one time only box.  When you subscribe (regardless of the month), you will start with "Around the world in 30 sweets" Box, reviewed here.

30 Days of Candy comes in a long stripped box.  My kids knew what this box was, as soon as our mail carrier delivered it.
First Look: Each box is packed with different kinds of candies.
The theme for this month is "from durian to treacle and ramune to sassafras! 30 candies with delicious, albeit unusual flavors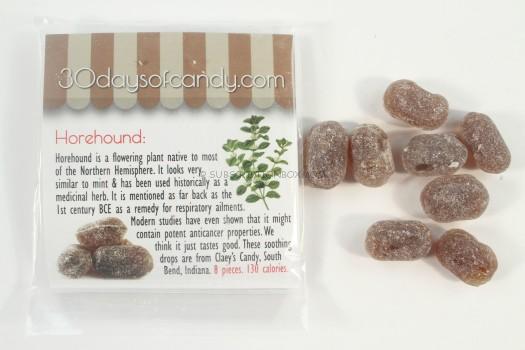 Horehound: Horehound is found in the Northern Hemisphere and is said it might contains potent anticancer properties. This is candy from Clay's Candy in South Bend and it has a sweet taste, almost "Earthy".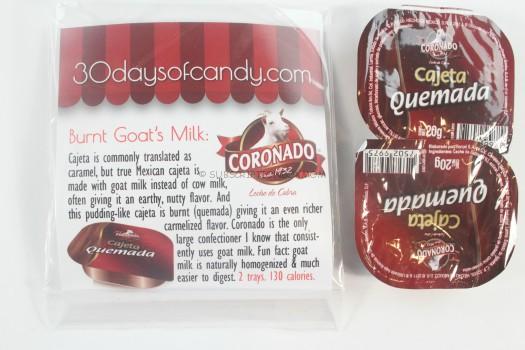 Burnt Goat's Milk: From the brand Coronado, this is a pudding like treat that has a caramelized flavor.
Cinnamon: There were two brands of candy included, Kasugi (Japan) and Jolly Rancher.  After tasting both, I think the Jolly Rancher had a stronger cinnamon taste
Jube This Canadian Golden Bonbon is like a marshmallow, filled with fruit jellies.  These were really good!
Mint Julep & Banana Split From NECCO, mint julep and banana split candies were included.  We tried the banana split flavor and we thought it tasted like banana pudding.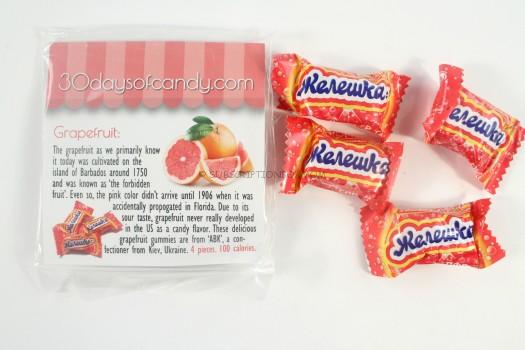 Grapefruit While I am not a fan of actual grapefruit, these ABK gummie grapefruits are tart, without being too tart.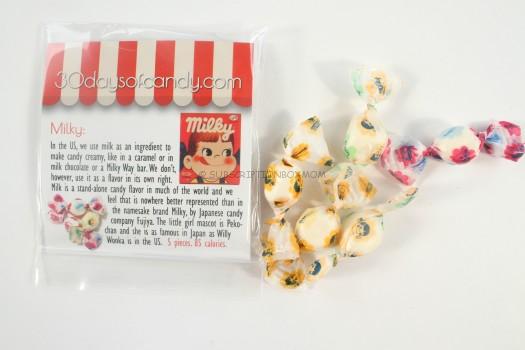 Milky: Fujiya is a Japanese company that makes these little chews, which taste just like chewy milk.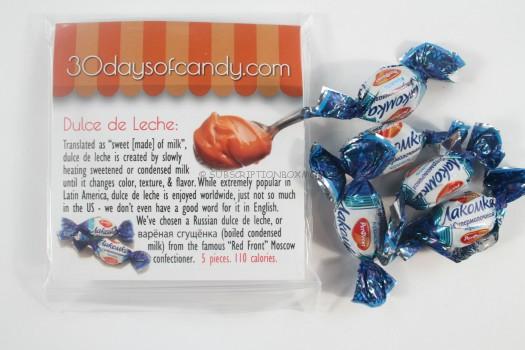 Dulce de Leche: Another milk candy, this time from Latin America.  This had a creamy, caramel, toffee like taste.
Dill Pickle: Made by David Klein, this pickle candy tasted a bit more dill, but didn't have quite the salty flavor of a real pickle.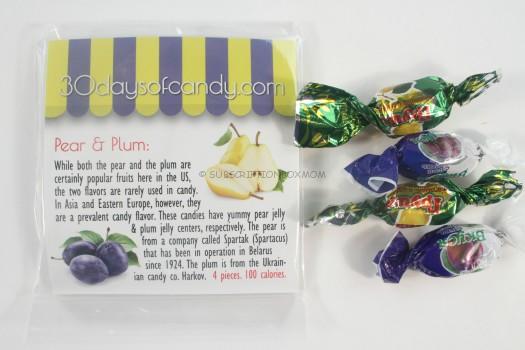 Pear & Plum: Spartak makes the pear candy and Harkov makes the plum.  Each are very tasty and have a jelly filling.
Durian:  This unique candy is made to taste like durian, a fruit from Southeast Asia.  This candy has a pretty strong odor and a very unique flavor.  Honestly, it smelled like a skunk, which turned me off to the flavor.
Anise: From Holland, these Anise candies tasted a bit like cough medicine, only better.
Treacle: Walkers makes this treacle candy, which is a popular flavor in British households and tastes like caramel toffee.
Salt Water Taffy:  While salt water taffy may not seem unusual, these candies from Taffy Town came in very unique flavors: Buttered Popcorn, Chili, Mango, Maple Bacon, Huckleberry and Molasses.  The buttered popcorn tasted just like the Jelly Belly candy.
Lychee & Muscat:  Both candies are made by Kasugai.  I have had lychee in some Asian snack boxes.  Lychee and the muscat both have a fruity flavor, although they do taste differently.
Clove: These hard candies are made by FB Washburn America and taste similar to the spice.
Chamoy: Beny makes these hard candies, which are a mix of apricot, plum and mango fruits.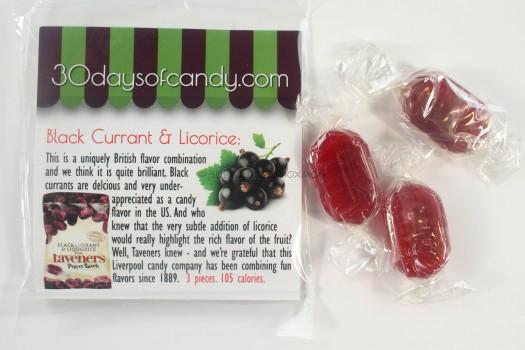 Black Currant & Licorice Taveners Black Currant & Licorice makes these unique candies, which are another British treat.
Chinese Hawthorn: These candies, made by Chinese Haw Flake are little flaky discs with a very slight fruit flavor.  The packaging is super cute and looks like a firework.
Extreme Sour: I loved these as a child, and they are just as great now.  I received Toxic Waste and Warheads, the lemon candies remain the most sour.

Corn Starch: From Belgium, the outer shell of these candies has the texture of styrofoam, but doesn't have a flavor.  Inside, there are tons of rainbow sugar balls, which is the best part of the candy.
Chili Powder & Peanut Butter: Picosito makes these hot candies.  I have never had chili powder and peanut butter, but it was fun to try.  The chili powder was a bit too hot for me, but my husband didn't think it was too bad.
Tamarind: Considered the date of India, Gula makes these sweet and tart date candies.  They really have such a unique flavor, it's hard to adequately describe.
Coffee: There were several brands of coffee candies included.  Since my husband is the resident coffee drinker, these candies went to my husband.  These had a milk and coffee flavor which my husband enjoyed.
Matcha: Matcha isn't new to me, as it is used is many different Japanese candies.  These green tea candies are in creamy chews.

Barberry: From Spartak, these candies have a fruity, almost cherry flavor.
Sesame: These were one of my favorite treats in the box.  This was a mix of toasted sesame seeds, coated in honey.
Coconut & Ginger:  Since my immediate family doesn't eat coconut, we haven't tried these candies yet.  From Dandy Foods, the coconut helps balance out the hot from the ginger.
Ramune: Ramune is another familiar treat to me. these gummies have a lemon-line flavor similar to 7 Up or Sprite.
Sassafrass: From Claeys, these hard candies taste just like Root Beer, which my husband loved.
Extra Bonus: Double Salted Licorice: These were a special bonus in the box.  From Holland, these
Final Thought: 30 Days of Candy delivered another fantastic box.  This box was filled with an array of diverse treats, which really pushed me out of my comfort zone.  More than just a candy box, this was a fun experience trying new and different treats.  If you want to try 30 Days of Candy, check them out at this link.   If you want to try 30 days of candy, use this link with the code FREESHIPMOM to get free shipping on your first box.
Box 3 Spoiler:
The theme for box 3 is "The candies of our grandparents and great grandparents! 30 candies that are good enough to have stood the test of time for at least 80 years, often longer."
Do you like FREE SUBSCRIPTION BOXES?  Click HERE to see my free subscription box list.
You can see my FULL coupon list HERE.
Do you love Giveaways?  Click HERE to enter all my Giveaways.