May 4, 2015
05/04/15

By Subscription Box Mom

0 Comments
0
My Pretend Place Play Projects May 2015 Review – Ninja + Coupon
Disclosure: This post contains affiliate links.
My Pretend Place Play Projects is craft and play subscription box for children aged 3-8 years old. Last month's Play Projects box was all about birds and nature.  You can read my April Play Projects review here.   The Dress up box is designed for 3-6 year olds and is all about dress up play.  You can read my dress up box review from April here, it is all about Superheros!
The Play Projects Subscription box is $15.00/month and each box comes with 2 crafts to complete.  You get two of each craft, so this box is great for siblings or sharing with a friend.  You choose between boy, girl or gender neutral.  I am reviewing the May 2015 Play Projects for Boys.
The Details:
Cost: My Dress Up Box: $50.00/Quarter.  DIY Projects Subscription $15.00/Month
What's in the box?
My Dress Up Box

:  This box is for children aged 3-6.  Each box will contain  dress-up costumes, activities or crafts, and other pretend play inspiration.

DIY Projects Subscription:

 This box is for children aged 3-8.  Every month, your child will receive two crafts (same craft), so this is great for siblings.
Coupon: Use the coupon playtime to save 20% on your first box of the dress up box or the craft subscription.
When will my box ship?  Your first box will be sent within 2 days of subscribing.  After that, boxes will ship the first week of the month.  Remember the dress up box ships every 3 months.
When am I billed?  You will billed right before your box ships.
How do I cancel?  You can cancel from your account, after your first box ships.
Can I return?  Yes!  If you aren't happy, you can return your complete box for a refund!
This box actually came in a white bubble mailer, but I didn't take a picture of it.  This box is plain, because there are fun stickers and a handle you can add to the box.
There was swirl sticker and a zig zag sticker included in the box.  The handle is used to make the box into a little suitcase.  My kids love sticking stuff in containers and boxes.
First Look
There is always a letter addressed to your child.  Sensei Honshu sent my children a letter, stating he needs their help.  There is a group of people threatening to blow up Mt Fuji.  The mission is to make some nunchucks and headband, so you Ninja can save the day.
There was one sheet of directions for the headbands and nunchucks.  The projects were really easy to complete.
The Play Projects subscription comes with two projects of every activity.  There was enough materials for two nunchucks.  I have two boys, so I love reviewing this subscription, as no one is left out.
The headband project consisted of long strips of felt and four markers.
The nunchuck project was really easy.  You thread the string through each hole, tie a knot on each end and add stickers.  L completed his nunchucks without help (other than the knot), T need a bit more help.  This is why there is only one picture.
For the headbands, you just colored the headband like you wish.  L used one of the stickers for the box and T took his time coloring.  T really loves to color, while L tends to rush through it.
The finished projects!
My little ninjas!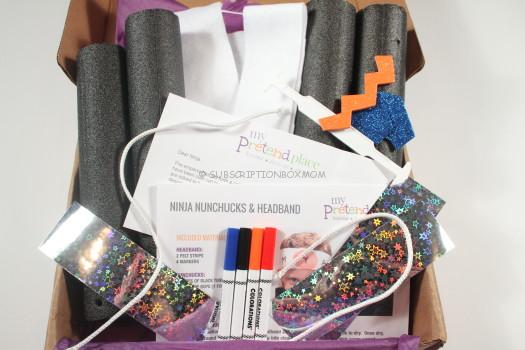 Final Thought: This was a really fun month.  Surprisingly. the boys have played with the nunchucks without anyone crying.  The one critique I have of this box, is I wish the ends of the rope were sealed.  The ends were a bit frayed on the end, so it made it more difficult to thread.  I really love My Pretend Projects Play Project Subscription.  The box is $15.00/month and there were two activities for each child, for a total of 4 projects.  That is less than $4.00 per project. To try this box out, use the coupon pretend to save 30% on your first box.
Do you like FREE SUBSCRIPTION BOXES?  Click HERE to see my free subscription box list.
Check out my Full List of Subscription Box Coupons
Check out my current giveaways 
HERE