April 18, 2015
04/18/15

By Subscription Box Mom

5 Comments
5
Loot Crate April 2015 Review – "Fantasy" + Coupon #LOOTCRATE
Disclosure: This post contains affiliate links.  I received this box for review purposes.
Wow, my husband's April 2015 Loot Crate arrived today and I was really surprised.  Normally I see spoilers, so I was glad to be completely surprised.  The theme for April is Fantasy!  Loot Crate is a geek and gamer subscription that is only $13.37/month (plus shipping).  Each box is filled with memorabilia, exclusive items, FUNKO Pop and more.
The Details
Cost: 1 month plan: $13.37/mo + $6 S&H. \
          3 month plan: $12.37/mo + $6 S&H
          6 month plan: $11.67/mo + $6 S&H
Coupon:  If you want to try Loot Crate click HERE and use the coupon subscriptionboxmom to save 10%.  OR Use the code NEWS3 to save $3.00 on your subscription.
What's in the box?  Each month you get over $40.00 worth of loot curated around a geeky theme, for less than $20.00 a month.
Shipping:  Loot Crate ships to the US, Canada, Australia, and England.
When does Loot Crate ship? Loot Crates are sent out once each month, scheduled to begin shipping on the 20th unless otherwise specified. Signups are taken until 9pm PT on the 19th. If you signup after 9PM PT on the 19th, your first crate will come in the following month.
When am I charged? For one month subscriptions: You are charged at the time of signup and then the same date each month based on that signup date.* For example, if you signed up on the 28th then your renewal would be the 28th of each month.
The box this month was much smaller than previous boxes.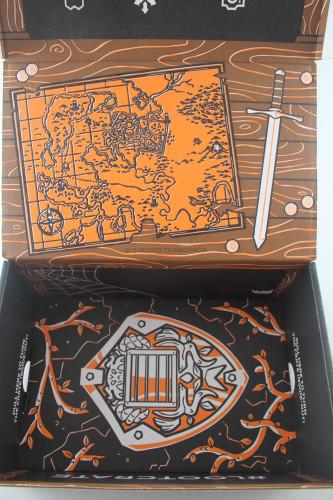 The inside of the box is themed with Fantasy artwork.  Previous boxes featured interactive elements with the box, but this month, it's just artwork.  Still pretty cool looking.
Every Loot Crate comes with the Loot Crate magazine.  This month's magazine features articles about must watch tv shows and D & D Adventure League. The back of the magazine has a listing off all the contents of the box.  There was also a Fantasy themed Loot Crate button as well.
Exclusive Game of Throne USB Flash Drive:  This is a grey direwolf House Stark USB flash drive with 4 GB of memory.  This is an awesome looking flash drive and I am going to battle my husband for it.
Game of Thrones Magnet Set: This set of four magnets represents the four feuding houses on Game of Thrones: Stark, Lannister, Targaryen,  and Batatheon.  You can choose which will get top place on your refrigerator.
Exclusive RPG Bow Tie by Spotted and Tied: $85.00 ? Loot Crate says this bow tie was made by Spotted and Tied, whose bow ties sell for $85.00!!!  This actual bow tie has a label that says Black Tie Geek, so I am not sure who actually made this tie.  I think there was a misprint in the book.  Black Tie Geek made a space invaders tie in the January 2015 Loot Crate box.  Regardless who made the tie, this is an exclusive for Loot Crate and features images from Dungeons and Dragons.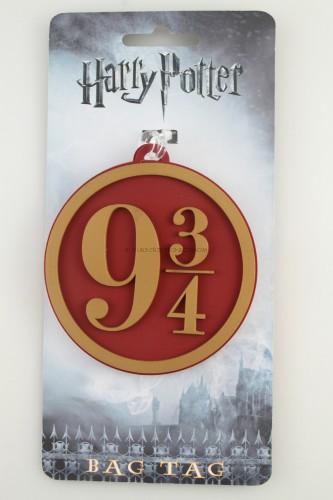 Bioworld Luggage Tag Harry Potter $11.76  This luggage tag features a sign for the 9 3/4 platform, where you get on the train.  This is really awesome and it is going on our luggage.
Inflatable Crown: This crown fit with the fantasy them, but it seems a bit silly.  I don't see my husband sitting around wearing an inflatable crown.  This crown is actually a bit small.  It only fits our 5 year old's head.
The Princess Bride Playing Cards – As You Wish
 $14.99  Oh My Goodness.  This deck of cards features characters and quotes from one of the coolest movies ever made.
Here is a look at the cards. Aren't they awesome?
Dungeons & Dragons T Shirt $15.00 est  My husband doesn't play Dungeons & Dragons, but this shirt is still really cool looking.  The shirt seem a bit softer than past shirts too, always a plus.
Final Thought:  I couldn't get a complete retail value for this box, but the shirt, luggage tag and playing cards are $41.76 in value!  I thought this was a really cool box and the shirt was one of my favorites.  The crown was a bit silly, but The Princes Bride playing cards and the Game of Thrones USB are really awesome.  You still have one day left to subscribe and get this box.  If you want to try Loot Crate click HERE and use the coupon subscriptionboxmom to save 10%.  OR Use the code NEWS3 to save $3.00 on your subscription.
Do you like FREE SUBSCRIPTION BOXES?  Click HERE to see my free subscription box list.
You can see my FULL coupon list HERE.