April 19, 2015
04/19/15

By Subscription Box Mom

0 Comments
0
Koala Crate April 2015 Review "Garden" + $10.00 Coupon Code
Disclosure: This post contains affiliate links.
Koala Crate is a super cute subscription for 3-4 year olds.  Boxes are $19.95 and filled with a fun magazine and craft activities.  Koala Crate has a partnership with Highlights magazine, so there are fun articles and activities included in the box from Highlights. My 3-year-old loves the subscription and the crafts are easy enough for him to do.
Koala Crate ships in a super cute yellow box.
First Look
Imagine Magazine is a super cute magazine.  Since Koala Crate is a partnership with Highlights Magazine, there articles in the magazine, similar to Highlights.
One of my son's favorite articles is "That's Silly".  You look at the pages and point out all the silly things.
There is a fold out information card.  The information card has a section for each activity.
There is a section of the information card that tells you the details about each activity: skills your child will learn, how messy it is, and the level of grownup involvement needed.
Funny Grass Head:  Your child makes a face on little pots, plants seeds, then watching the character grow "hair".
Skills Learned: Discovering + Creating
Messiness: Medium
Grownup Involvement: Medium
Koala Crate included pots, dirt, a rake, stickers, and seeds
First you add water to the disc to make it expand.  This was really good for T's fine motor skills.  It took him a few tries to master the water dropper, but he had lots of fun doing it.
Once the dirt is wet, you use the rake to break up the dirt. You then plant seeds in each pot!
These are the finished faces!
 Growing Plant: Your child pops out the plant pieces, adds dabs of glue and then adds the tissue paper.
Skills Learned: creating + fine motor skill
Messiness: Medium
Grownup Involvement: Low
There were four cards of punch out pieces, glue, tissue paper, water dropper, and glue for this activity.  The rake slipped into the picture by mistake.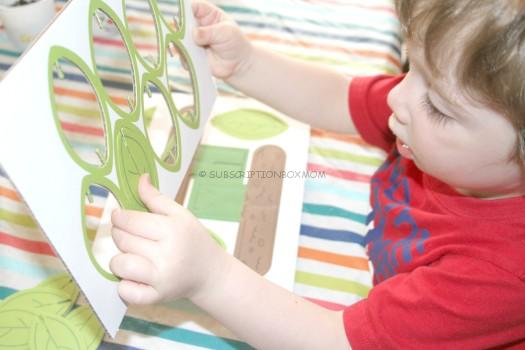 T loved punching out the pieces.
This was a more challenging activity for T.  You add drops of glue, then you add the tissue paper with the water dropper.  I had to help him wrap the tissue paper around the water dropper, but he did the rest himself.
I didn't get a picture of him assembling (I had to help), but T was so proud of his tree.  He gave it a hug + kiss when he was done.
Garden Book:  As you read the book "The Growing Garden" to your child, your child re-builds the plant from the growing plant activity.
Skills Learned: Communicating + Discovering
Messiness: Low
Grownup Involvement: High
Koala Crate included a nice board book about gardening.
There were cute illustrations throughout the book.  T loved the alligator with the hat, he seriously laughed for about 3 mins.  I didn't take a picture of completing this activity, but T had fun building his plant again and again.
Final Thought:  Once again, Koala Crate sent a super cute month full of fun activities.  Koala Crate is one of the few activity subscriptions for 3 year olds.  I like that T can complete the activities and be just like his big brother.  I enjoy seeing T's satisfaction when he completes something hard.  If you want to try Koala Crate, click here and use the code SHARE10 to save $10.00 on your first box.  This code will also work for Kiwi Crate, Tinker Crate and Doodle Crate.
Here is a bit more information about Kiwi, Tinker and Doodle
Kiwi Crate Ages 4-8 Includes all the materials and inspiration for 2-3 activities – art, science, games, imaginative play, and more.  Every kit will have a new theme – like gardening, dinosaurs, and space.
Tinker Crate Ages 9-14+ Tinker Crate inspires kids to explore and learn about science, engineering, and technology—and have fun doing it. Every month, a new crate to help kids develop a tinkering mindset and creative problem solving skills.   Read my review HERE.  
Doodle Crate Ages 9-16+ Doodle Crate inspires young makers to learn new skills and gain creative confidence. Every month, a new super-fun DIY project that kids will love to design and create.
Do you like FREE SUBSCRIPTION BOXES?  Click HERE to see my free subscription box list.
You can see my FULL coupon list HERE.
Do you love Giveaways?  Click HERE to enter all my Giveaways.