March 20, 2015
03/20/15

By Subscription Box Mom

0 Comments
0
Junior Explorers Mission Arctic Review – Month 2 + 50% Coupon
Disclosure: This post contains affiliate links. I received this box free for review.
Junior Explorers is a subscription box designed to educate children about wildlife and nature.  Boxes are designed for children 6-11 years old and are $19.00, plus $2.00 shipping.  Your first box will be the welcome kit.  The welcome kit is filled with everything your child needs to get started.  You can read my welcome kit review, so you will know what you will get in your first box.  This review is for the second month, "Mission Arctic".
A big component of this subscription, is the online mission.  Every month, your child will get a mission code and get to explore wildlife and nature with Kia and Kyle.  My oldest child is 5 1/2, so I helped him with this mission.
The Details:
Cost: $19.00, $49.00 for 3 months, $96.00 for 6 months, $185.00 for 12 months
Coupon: You can 50% on your first month with the coupon BOXMOM50
What's in the box?  Once you subscribe, the Welcome Kit is your first delivery. It comes with everything you need to get started as a Junior Explorer! With you Welcome Kit, you will find your first code to get started online too
Each subsequent month, you will receive a Mission Kit that prepares you for your monthly mission! It includes activities, collectibles and cool facts about the ecosystem that you will visit. It also includes the code to unlock your online mission!
Shipping: Shipping in the Continental United States is $2.00.  Shipping to Alaska and Hawaii is $5.00
When am I billed?  You are billed when you sign up and then again on a regular basis.
How do I cancel?  You cancel from your online account.
Website: http://www.juniorexplorers.com/
Everything shipped in a padded envelope and it is delivered by USPS.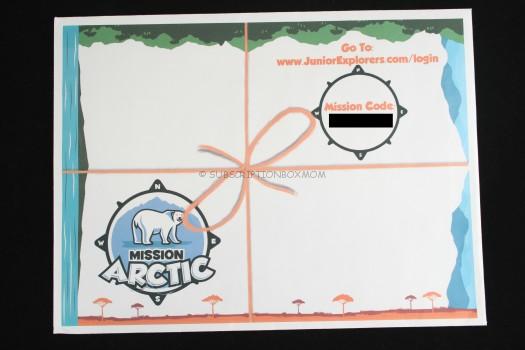 Your child gets a little packet filled with goodies.  The mission code is printed on the outside of the packet (where the black strip is).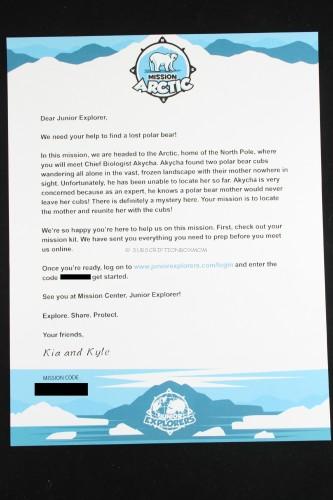 There was a welcome letter for your child, introducing them to the mission.  This month, your child will go to the Arctic to meet with Chief Biologist Akycha.  He found two polar bear cubs without their mother, and it is the mission to find her.
There was a checklist included in the box.  Before any mission, it is important to do all the necessary preparations.
Collect: Your child gets a new mission button and wristband.  There were also two little Arctic animals: a beluga whale and a polar bear.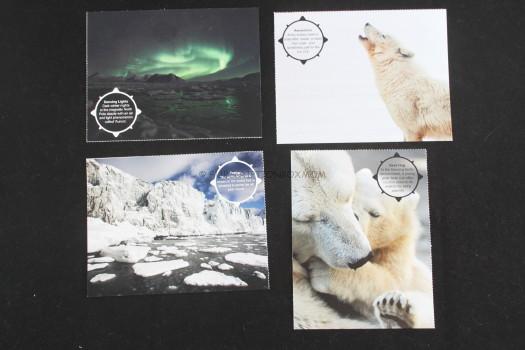 Postcards: There were four beautiful postcards in the box.  Your child can write about their mission and send them to friends and family.  Each postcard has a fact about the Arctic.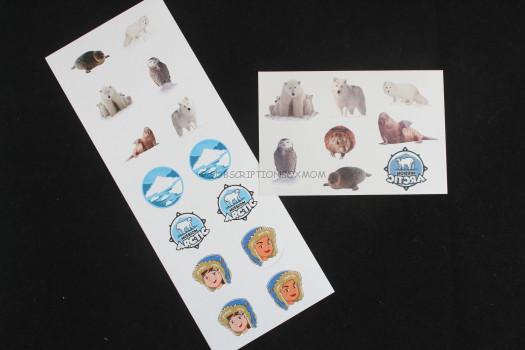 Decorate: There was a full sheet of stickers to decorate your trunk.  Remember, the trunk is sent with the welcome kit.  Also included, were a sheet of animal temporary tattoos.
Get Ready: To better prepare for the mission, a fact sheet about the Arctic and a set of 6 animal cards were included.  Your child can read all about the Arctic, before completing the mission.
This is the fact sheet, it is filled with information regarding animals, vegetation, weather and climate.
Complete: There was a folded activity sheet for your child to complete.  There were five different activities to do.
Once your child completes the steps, it's time to Go Online.
You get to pick your avatar, then you enter your mission code.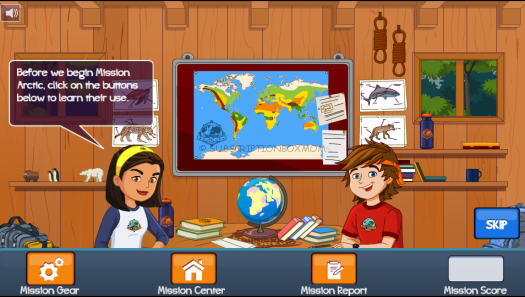 Your child gets an overview of the different buttons and what each of them are for.  You also pack and prep for the trip.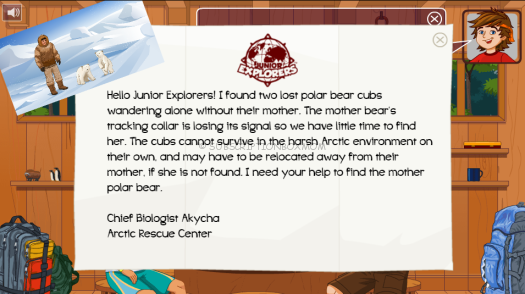 Your mission is to find the cubs' mother.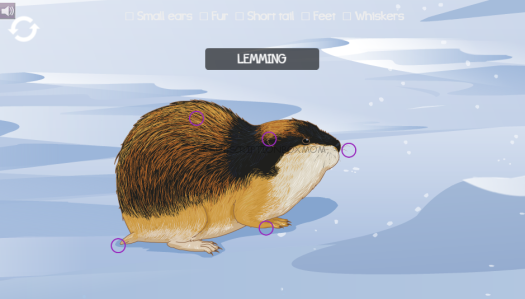 There are a series of games and learning opportunities in the game.  Your child gets to learn about 6 different animals.  Each animal has little purple circles on them.  You child can click on a circle and learn about different parts of the animal's body.
There were around 5 different games in the mission.  My son's favorite game (and mine) was catch the lemmings.  The user is the Snowy Owl and your mission is to dodge the ice and catch the lemmings.  This isn't violent in any way.  When the owl gets to the lemming, the lemming disappears.
Another really fun game was to get the ringed seal to the hole.  Your child had to move the ice to get the seal to the hole.  This was a great game for L.  He really had to focus and think of his next move.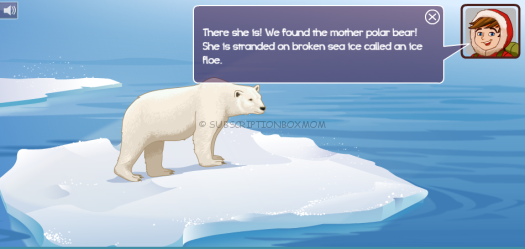 I didn't take screen shots of every move and activity.  The mission lasted long enough to keep my son engaged (under an hour).  Once you rescue the mom, you reunite her with her cubs.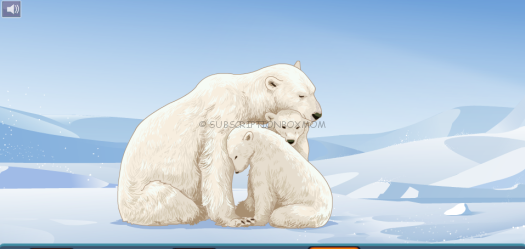 Happy Family!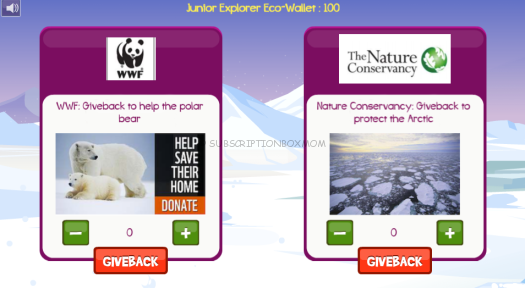 At the end of the mission, you are given money to give back to the WWF and The Nature Conservancy.  L gave most of his to the WWF (he loves animals).
At the end of the mission, your child can type in their name and print out their certificate.  On our actual certificate, we wrote out his name.  I am crazy protective over my little cubs, so I just use their first initials online.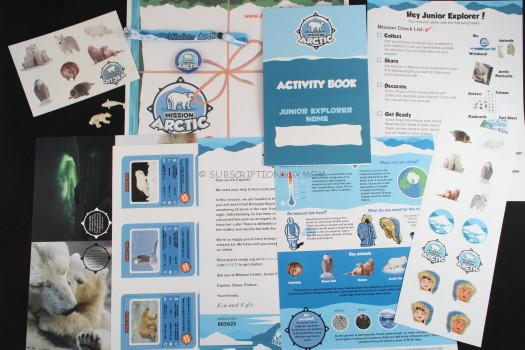 Final Thought: This was a really fun mission for my son.  He loves learning about animals, and the games kept things fun and exciting.  I love to provide learning opportunities, while keeping things fun.  Junior Explorers combines fun and learning into a great subscription.  If you want to sign up for Junior Explorers, use this link with the code BOXMOM50 to get 50% off your first box.
Check out my Master Coupon Page 
Do you like FREE SUBSCRIPTION BOXES?  Click HERE to see my free subscription box list.