December 15, 2014
12/15/14

By Subscription Box Mom

0 Comments
0
Junior Explorers Welcome Kit Review + Coupon – Environment /Nature Subscription Box for Children
Disclosure:  This post contains affiliate links.  I was sent this box for review purposes.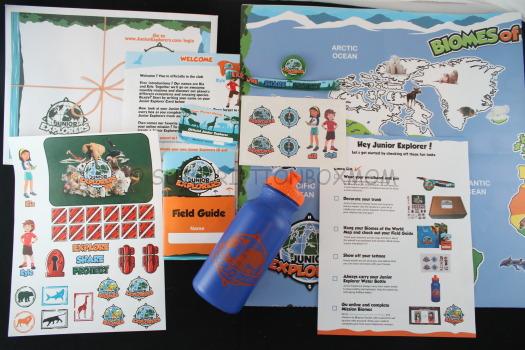 Junior Explorers is a brand new subscription box for kids 6-10.  Junior Explorers subscription is made to teach kids about the environment, nature, and animals.  When you sign your child up, your child will get a welcome kit filled with everything he or she needs to get started.  Your child will also get a unique mission code, so they can access the fun and games online.  Month to month plans are $19.00, plus $2.00 shipping.  
The Details:
Cost: $19.00, $49.00 for 3 months, $96.00 for 6 months, $185.00 for 12 months
Coupon: You can save 50%  on your 1st month subscription when you click here and use the coupon BOXMOM50.
What's in the box?  Once you subscribe, the Welcome Kit is your first delivery. It comes with everything you need to get started as a Junior Explorer! With you Welcome Kit, you will find your first code to get started online too
Each subsequent month, you will receive a Mission Kit that prepares you for your monthly mission! It includes activities, collectibles and cool facts about the ecosystem that you will visit. It also includes the code to unlock your online mission!
Shipping: Shipping in the Continental United States is $2.00.  Shipping to Alaska and Hawaii is $5.00
When am I billed?  You are billed when you sign up and then again on a regular basis.
How do I cancel?  You cancel from your online account.
Website: http://www.juniorexplorers.com/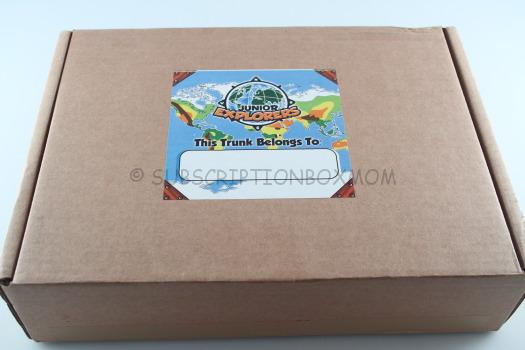 Junior Explorers ships in a brown box.  The shipping label was placed on the bottom, so your child could decorate the top of the box.  There is also a place to put your child's name.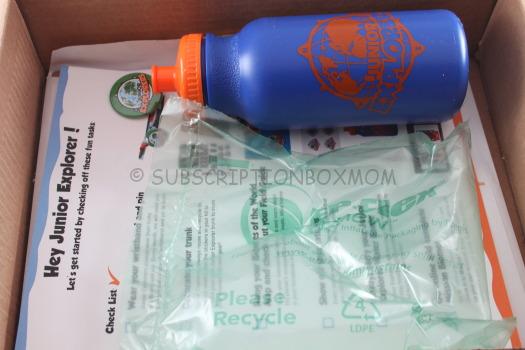 Junior Explorers packs everything nicely in the box, included packing materials, to keep items from being damaged.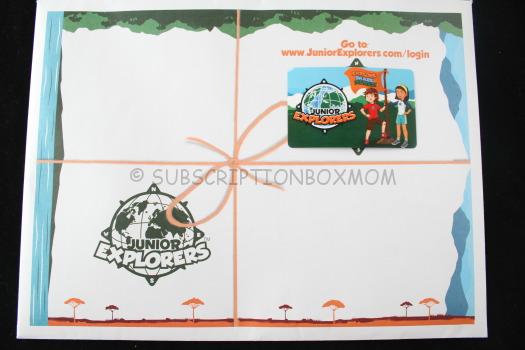 Your child will get an envelope filled with goodies.  I put the membership card on the front of the envelope, to block the mission code.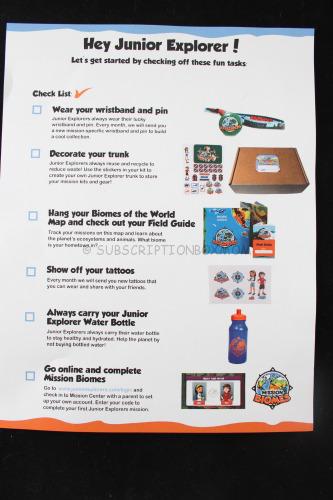 Junior Explorers sends a checklist of tasks to do, once your child gets the box.  I will go through each of the steps on the checklist.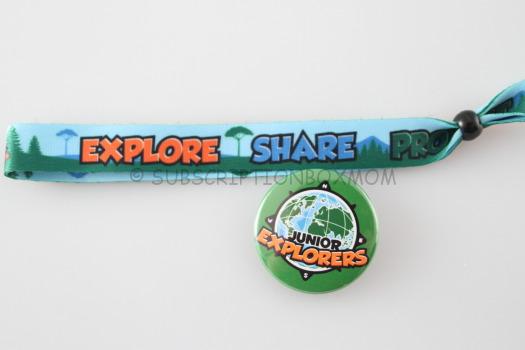 Wear your wristband and pin:  Junior Explorers send an adjustable wristband and a pin they can wear.  The wristband is printed with the words explore, share and protect.
Decorate your trunk: A sticker sheet is included in the welcome packet, so your child can decorate the box.  Since Junior Explorers is about the environment, the box is reused to store your monthly items.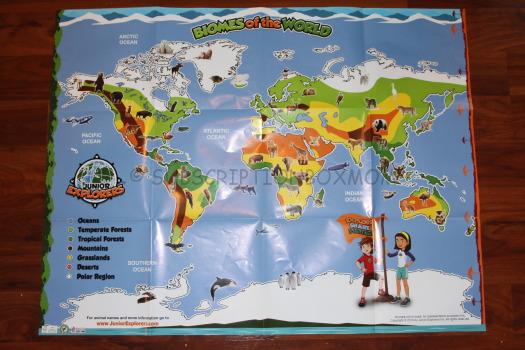 Hang your Biomes of the World Map: Junior Explorers sends a giant map.  The map is color coated to indicate the different biomes of the world.  My oldest son is 5 and he loves the map and wants to hang it in his room.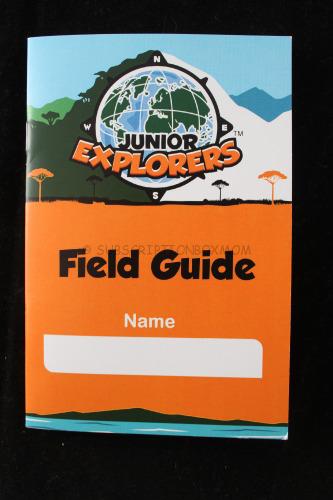 Check out your field guide: Junior Explorers sends a huge field guide.  There are two different sections of the book, biomes and the animal kingdom.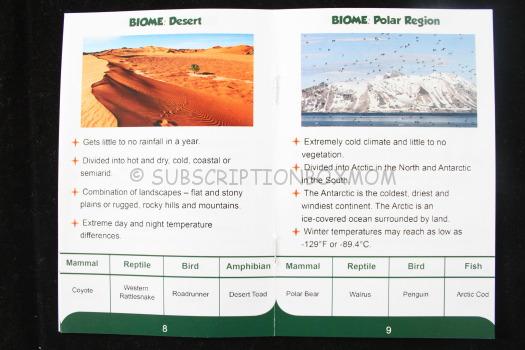 This is what the biomes section looks like.  Each biome is described and Junior Explorers also tell the type of mammal, reptile, bird and amphibian that lives in each biome.  I didn't take a picture of the animal kingdom section of the book, but it is set up in a similar way as biomes.  There are pages about different kinds of vertebrates and invertebrates, with further descriptions of different kinds of animals.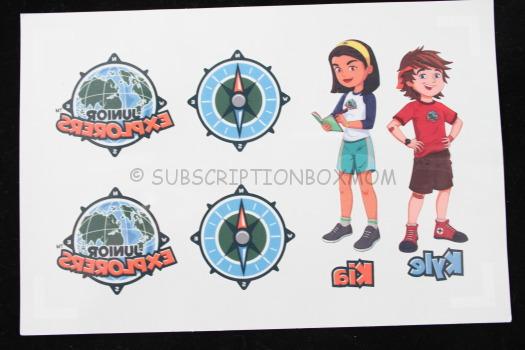 Show off your tattoos:  Junior Explorers sends a sheet of temporary tattoos.  There are two junior explorers tattoos, two compass tattoos, along with Kia and Kyle avatars.  Kia and Kyle are the characters that will follow your child through different adventures.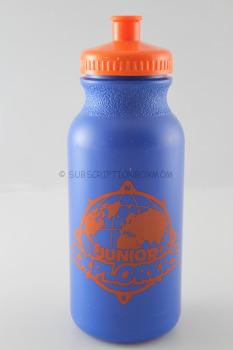 Always carry your Junior Explorer water bottle: Junior Explorers encourages kids to use this water bottle, as opposed to drinking bottled water.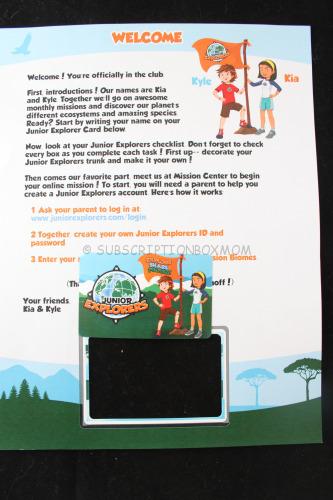 Membership Card: Junior Explorers send a membership card and a secret code to unlock online missions.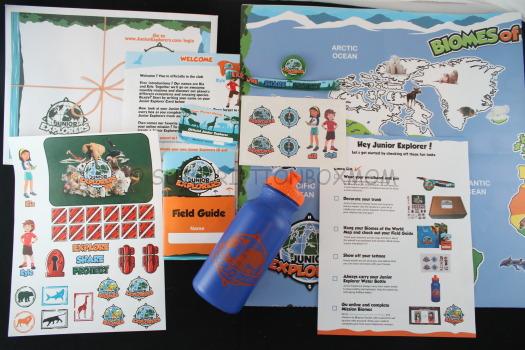 This is everything that comes in the Welcome Kit.  Now I will let you know about the online missions.
Online Missions:
Once you log into your account, you are given a space to enter the mission code.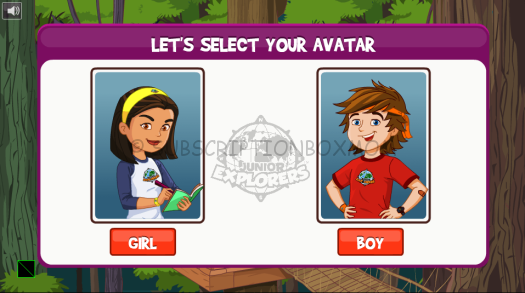 Your child selects the avator they like.  Once they select their boy or girl avatar, your child can pick one of 6 avatars for further customization.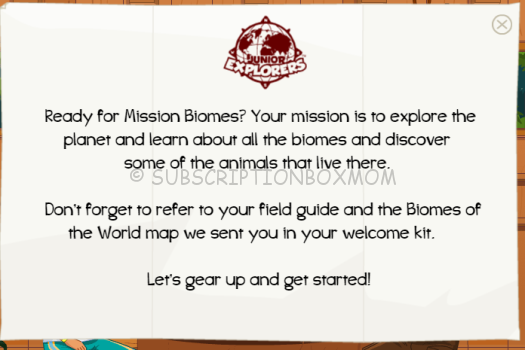 Your child goes to the clubhouse, gathers supplies and gets a mission.  This month's mission is about learning about the biomes and discovering the animals that live there.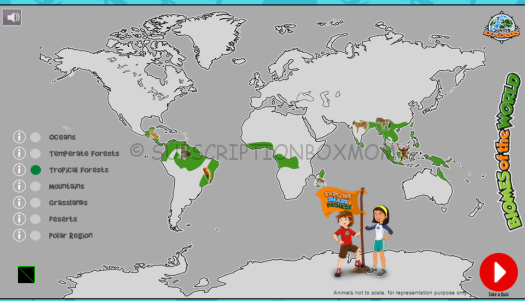 Your child can explore a map of the world.  There are buttons to highlight different biomes.  Once a biome is selected, your child can click and learn about the different animals that live in each biome.  My son enjoyed discovering where he lives and the animals in our area.  He also enjoys penguins, so we spent extra time in the polar region.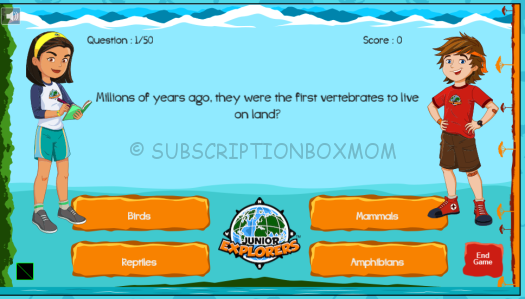 Once your child explores the interactive map and their field guide, they can take a 50 question quiz.  You can end the game at any time. My son wasn't really interested in the quiz, but he is only 5.  One aspect I like about the quiz, is Junior Explorers will let your child know the correct answer to each question, before going on to another.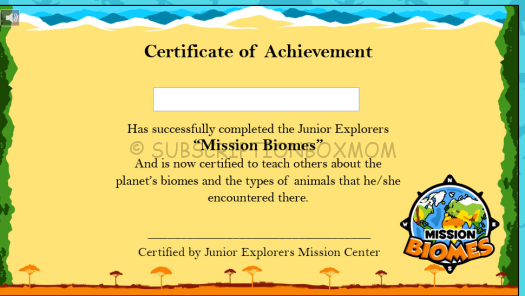 When your child ends the game. they can print a certificate of completion.
Final Thought: Junior Explorers is a fun new subscription for children interested in the environment, nature and animals.  This is a very unique subscription for kids and don't know of another box similar.  I also like this box is for older kids (the box goes up to 10 years old).  I would like to see the option to save the quiz and come back to it.  There are 50 questions on the quiz and the ability to save and come back, would be helpful for younger kids.  I will say, if children end the game before they complete the quiz, they will still get the completion certificate.  Junior Explorers is a fun new subscription for kids and I really enjoyed the online missions mixed with the physical items in the box.  If you want to try Junior Explorers, you can save 50%  on your 1st month subscription when you click here and use the coupon BOXMOM50.
Check out my Holiday 2014 Subscription Box Coupons 
Check out my Holiday Gift Guide HERE.
Do you like FREE SUBSCRIPTION BOXES?  Click HERE to see my free subscription box list.
Do you love Giveaways? Check out all my Giveaways HERE
Disclosure: This post contains affiliate links.