January 29, 2015
01/29/15

By Subscription Box Mom

0 Comments
0
January 2015 Koala Crate + Coupon
Disclosure: This post contains affiliate links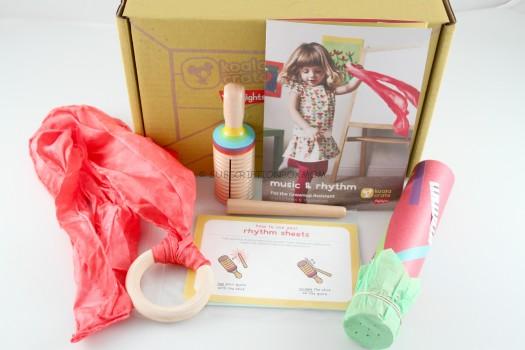 Koala Crate is a super cute craft subscription box for 3-4 year olds.  For $19.95/month, your child gets 2-3 activities and a little magazine.  Highlights partnered with Kiwi Crate to create imagine! magazine.  imagine! magazine is filed with activities, games, and stories.  My "almost" 3-year-old gets Koala Crate and he loves completing the projects.

Koala Crate ships at the end of the month and by USPS.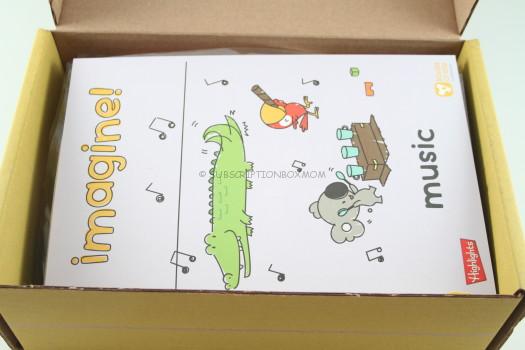 First Look
The theme for January is "Music".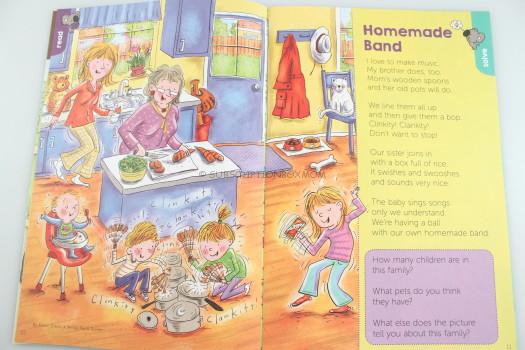 This is an example of one of the little stories/poems.  After you read the story, there are questions to ask your child.
One of my favorite articles in imagine! is "That's Silly".  Your child looks at the pages and points out all the silly things on the page.
There is also an instruction booklet.  Koala Crate includes full color instructions for every product.
This is a look at the brochure.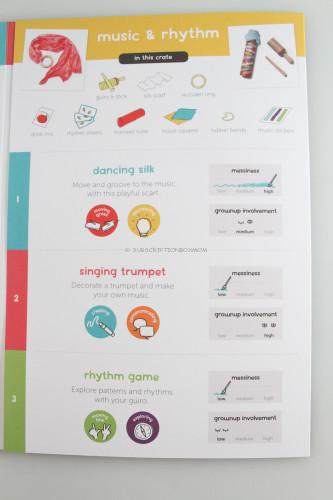 Koala Crate lets you know how messy each craft is and how much parental involvement is needed.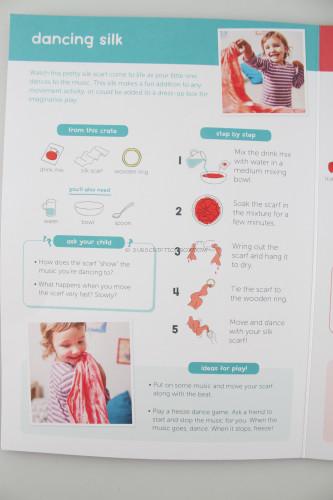 The first activity is a dancing silk.  This ranked high on the messiness scale and medium on the parental involvement.  Your child takes the Kool Aid, mixes it with water and then you soak the silk scarf.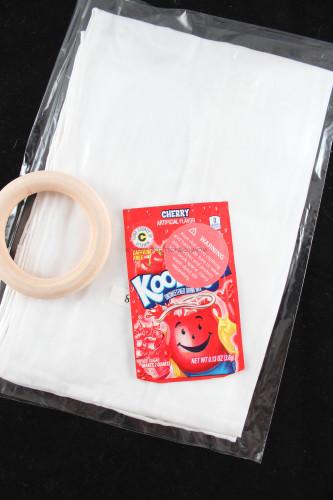 Koala Crate includes a silk scarf, Kool Aid, and a wooden ring.
T had a great time mixing the Kool Aid.
He put the scarf in, but he was quite concerned about it.  Once we let it sit for a few minutes, I wrung out the liquid and let it dry.
The dry scarf was attached to the wooden ring.  Now T can use it to dance to music.  The scarf dried after T was in bed, so he hasn't played with it yet.
The second project was a "singing trumpet".  Using tissue paper, a rubber band, and stickers, your child makes a trumpet.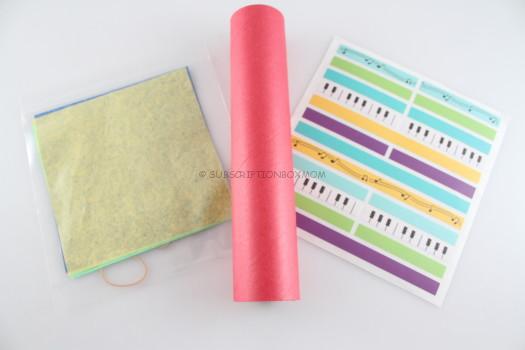 Koala Crate includes everything you need.
T had a great time adding the stickers to the tube.
Peeling off the stickers was a great way to practice fine motor skills.
I loved watching my little baby complete the project.
I didn't get pictures of all the steps, but T added tissue paper to the end to the tube, added a rubber band and then I poked holes in the end of the tube.  T was really interested in the trumpet.
This isn't the best picture of T playing the trumpet, but he had lots of fun with it.  When you blow into the trumpet, the tissue will "buzz" like a kazoo.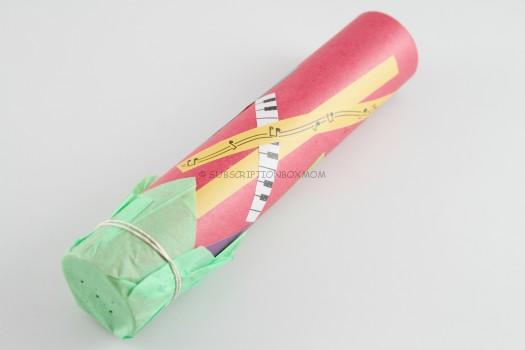 This is the finished trumpet.
The last project is the "rhythm game".  Koala Crate included a quiro and stick and rhythm sheets.
There were several different rhythm sheets for your child to follow.  T is very independent and didn't want to follow the cards, so we made our own music together.
These are all the supplies included in the box.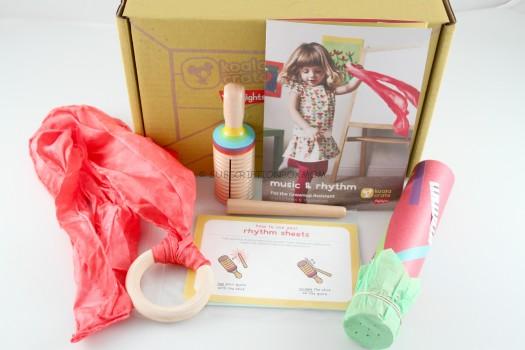 These are all three completed projects!
Final Thought: This box was really fun.  T loves music, so this was a perfect for him.  I really liked that Koala Crate included a real musical instrument.  I liked that Koala Crate made the projects easy to do and perfect for a 3-year-old.  If you want to try Koala Crate, click here and use the code SHARE10 to save $10.00 on your first box.  This code will also work for Kiwi Crate, Tinker Crate and Doodle Crate.
Here is a bit more information about Kiwi, Tinker and Doodle
Kiwi Crate Ages 4-8 Includes all the materials and inspiration for 2-3 activities – art, science, games, imaginative play, and more.  Every kit will have a new theme – like gardening, dinosaurs, and space.
Tinker Crate Ages 9-14+ Tinker Crate inspires kids to explore and learn about science, engineering, and technology—and have fun doing it. Every month, a new crate to help kids develop a tinkering mindset and creative problem solving skills.   Read my review HERE.  
Doodle Crate Ages 9-16+ Doodle Crate inspires young makers to learn new skills and gain creative confidence. Every month, a new super-fun DIY project that kids will love to design and create.
Do you like FREE SUBSCRIPTION BOXES?  Click HERE to see my free subscription box list.
You can see my FULL coupon list HERE.
Do you love Giveaways?  Click HERE to enter all my Giveaways.