November 20, 2014
11/20/14

By Subscription Box Mom

1 Comment
1
November 2014 MunchPak Review – Snack Subscription Box
Disclosure: This box was received free for review
MunchPak is a snack subscription box, that sent me this box for review.  Munchpak is not a healthy snack box, it is just an assortment of some of the best snacks they can find.  Munchpak says " Let's face it; even those who claim to be on strict diets are guilty of sneaking in their favorite brand of potato chips or candy bar from time to time.
The Details:
Cost: $21.00, Family plan $39.00
Coupon:  If you want to try MunchPak, click HERE and use the code SNACKIN to take $2.00 off.
What's in the box?  Boxes are filled with a huge variety of delicious munchies from Australia, Sweden, Japan, United States, Canada, and many other countries from all over the world
When will I get my box?  You box will ship within about 48 hours after ordering.  You will then get a new box around the same time each month.
How many snacks will I get?  You will get 20-30 snacks.
Where do you ship?  USA and Canada
Website: www.munchpak.com
Facebook: https://www.facebook.com/munchpak
Twitter: https://twitter.com/munchpaksnacks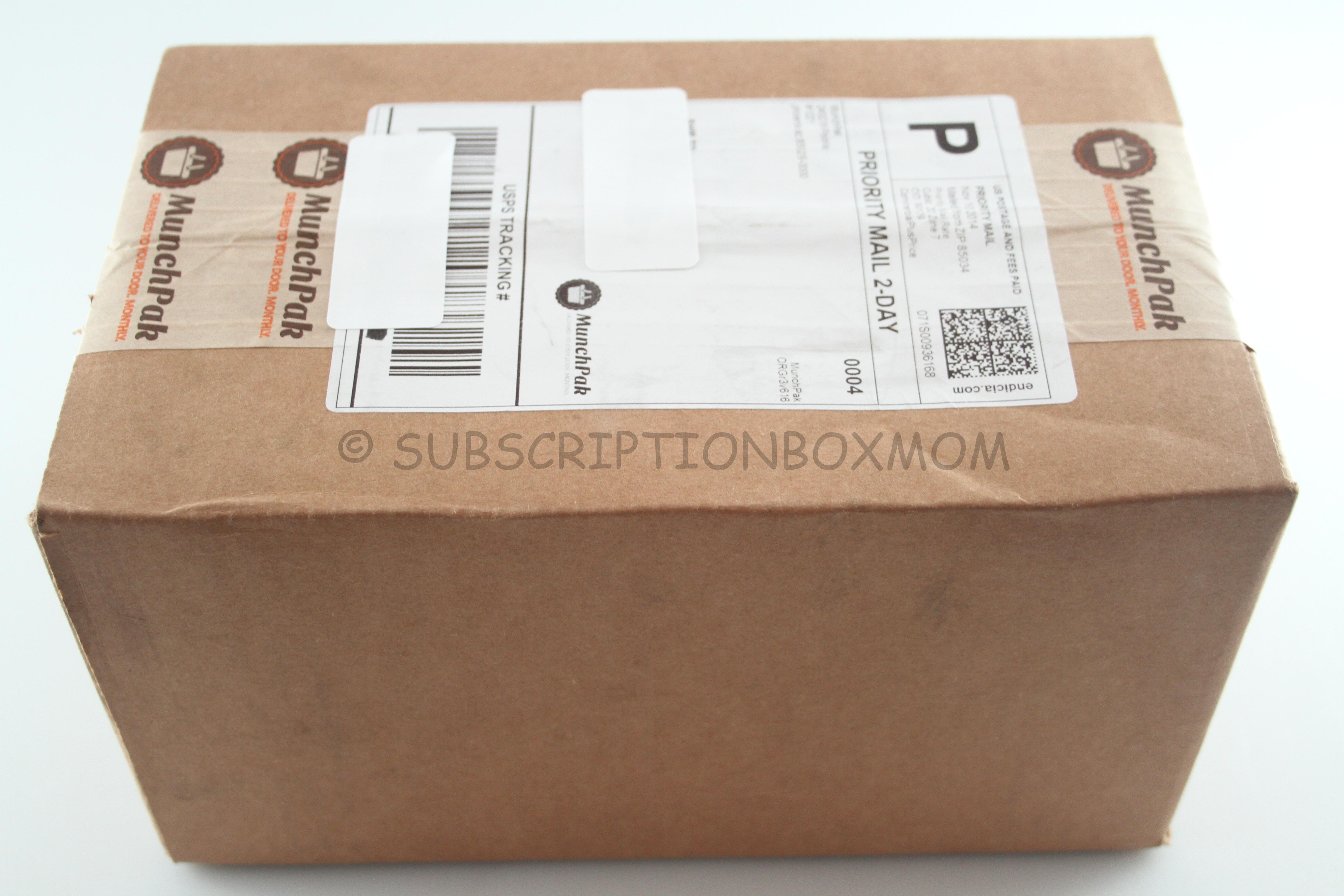 MunchPak ships in a plain brown box.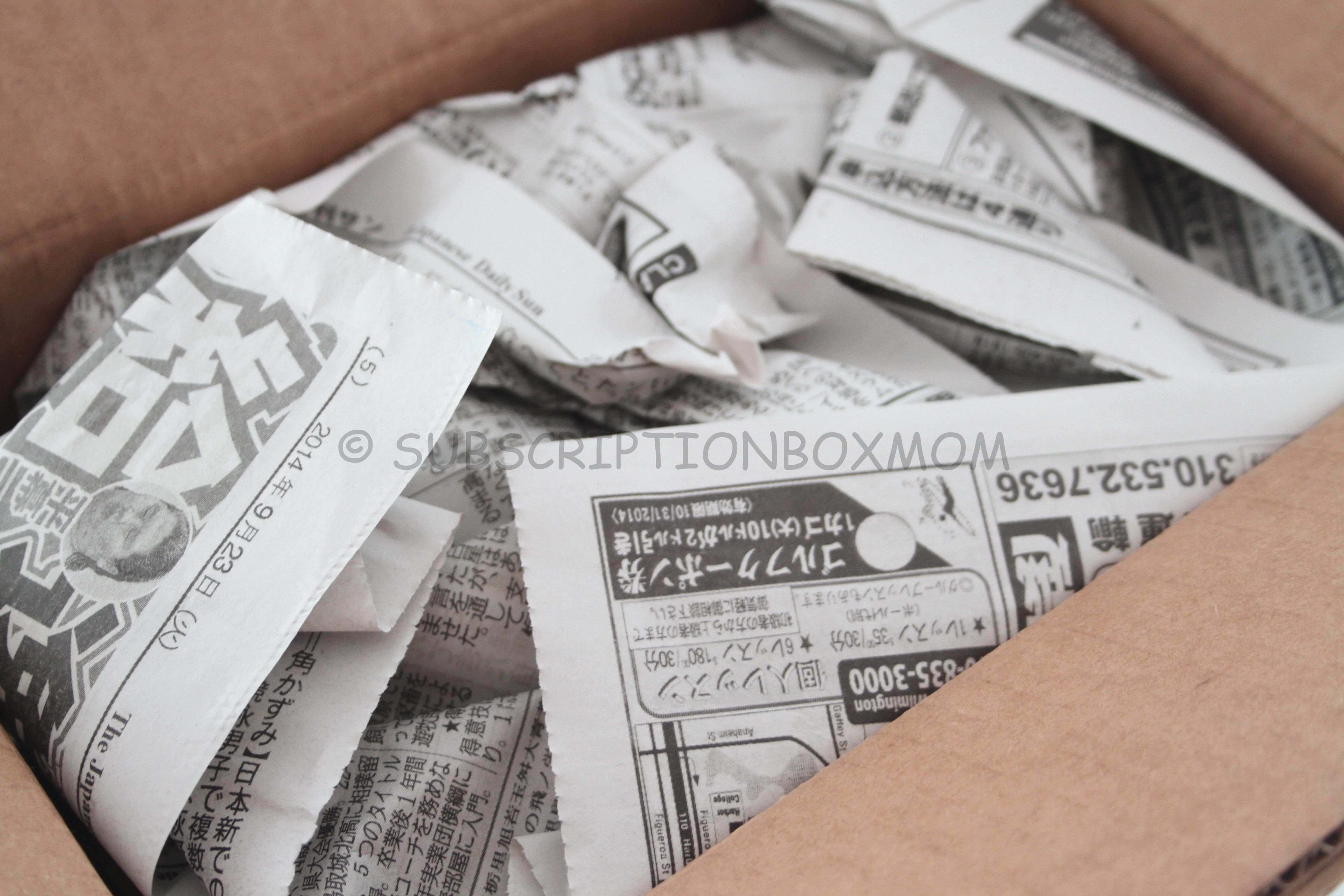 First Look:  The box was packed with newspaper at the top.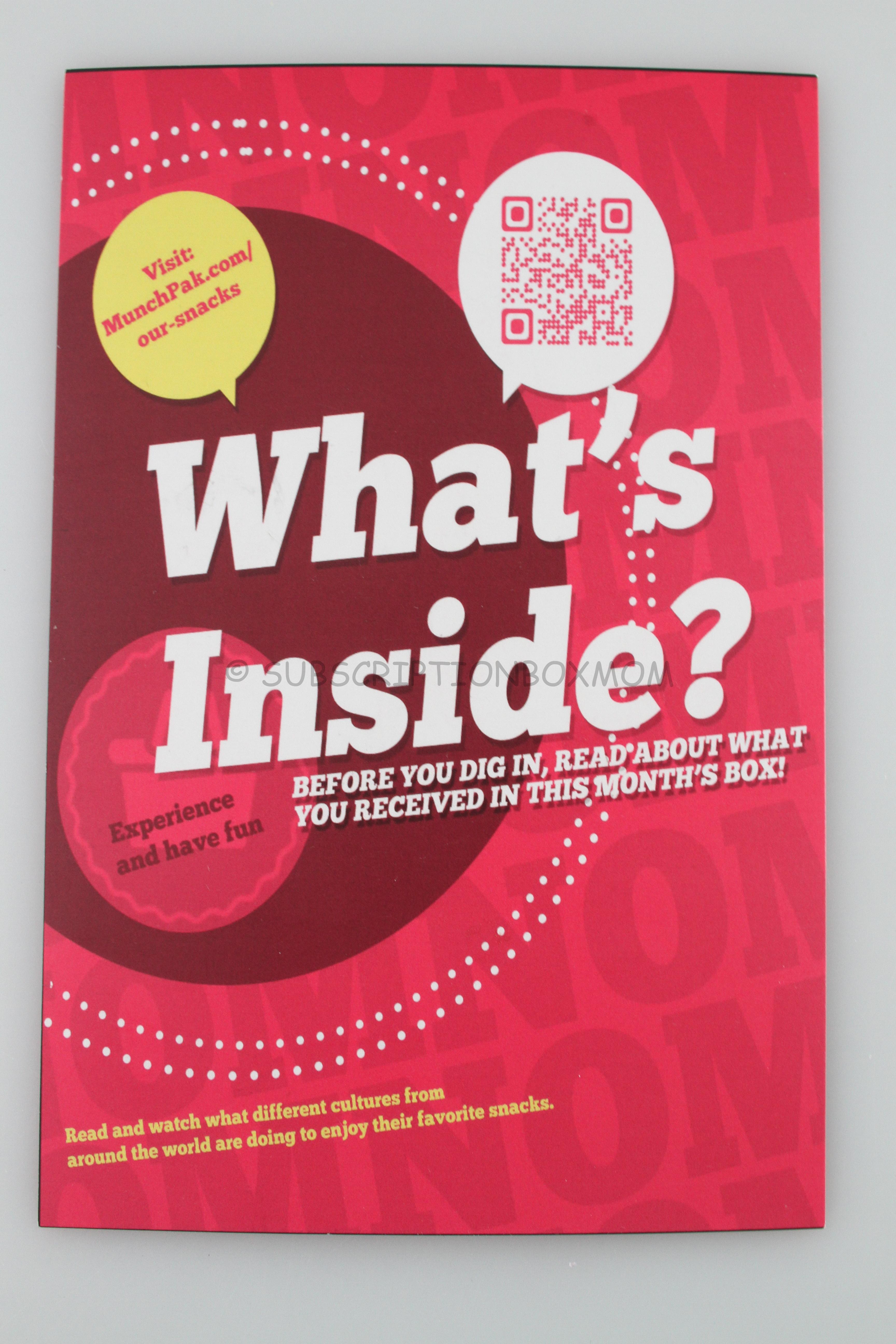 MunchPak now has an information card.  You can scan the QR code with your phone and see all their snacks.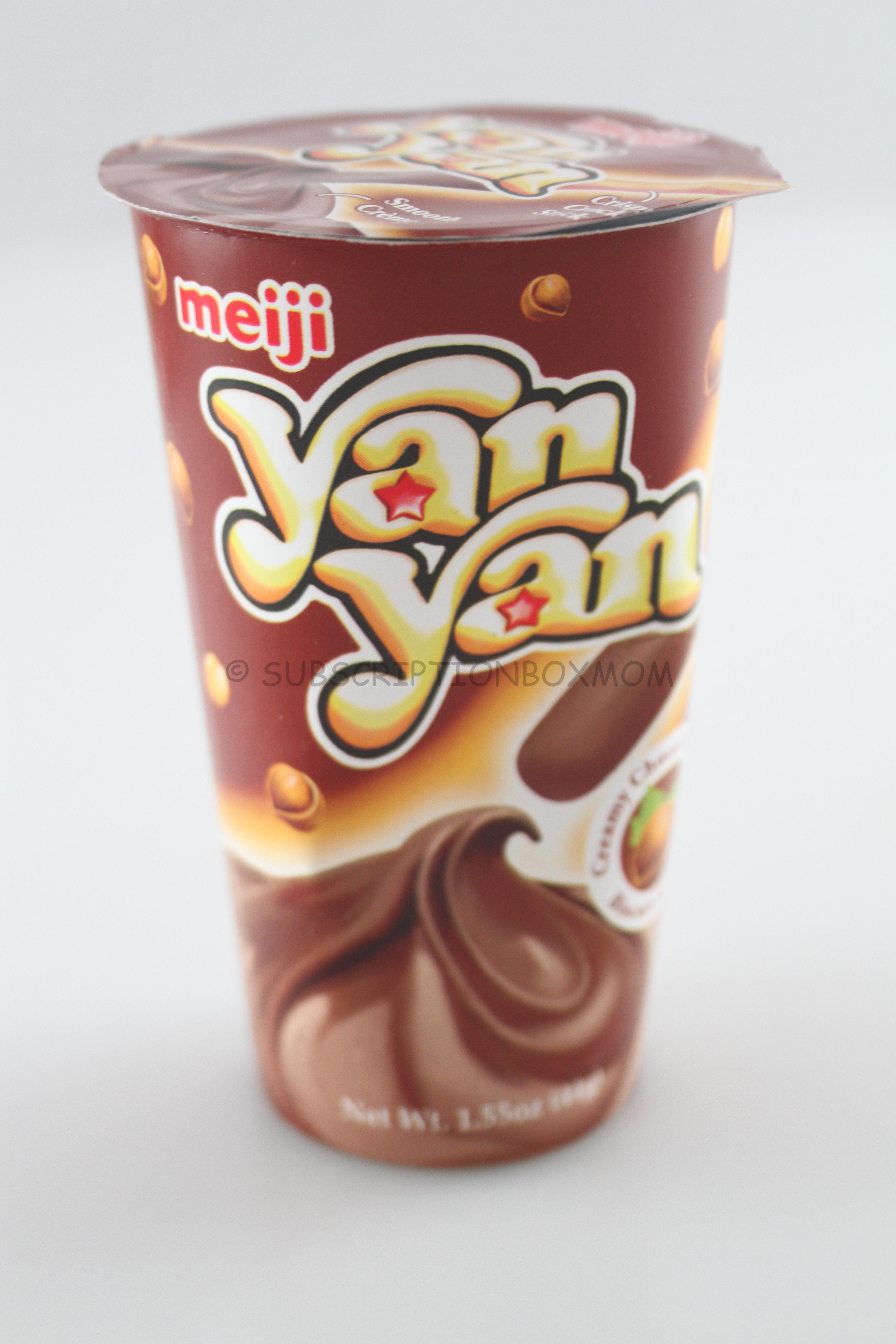 Yan Yan:  These are little biscuits that you dip in creamy chocolate.  I have had these before, and they are really good.
Furuta Sequoia Chocolate Bar:  These are sugary biscuits covered in chocolate.  Furuta is from Japan and it is very tasty.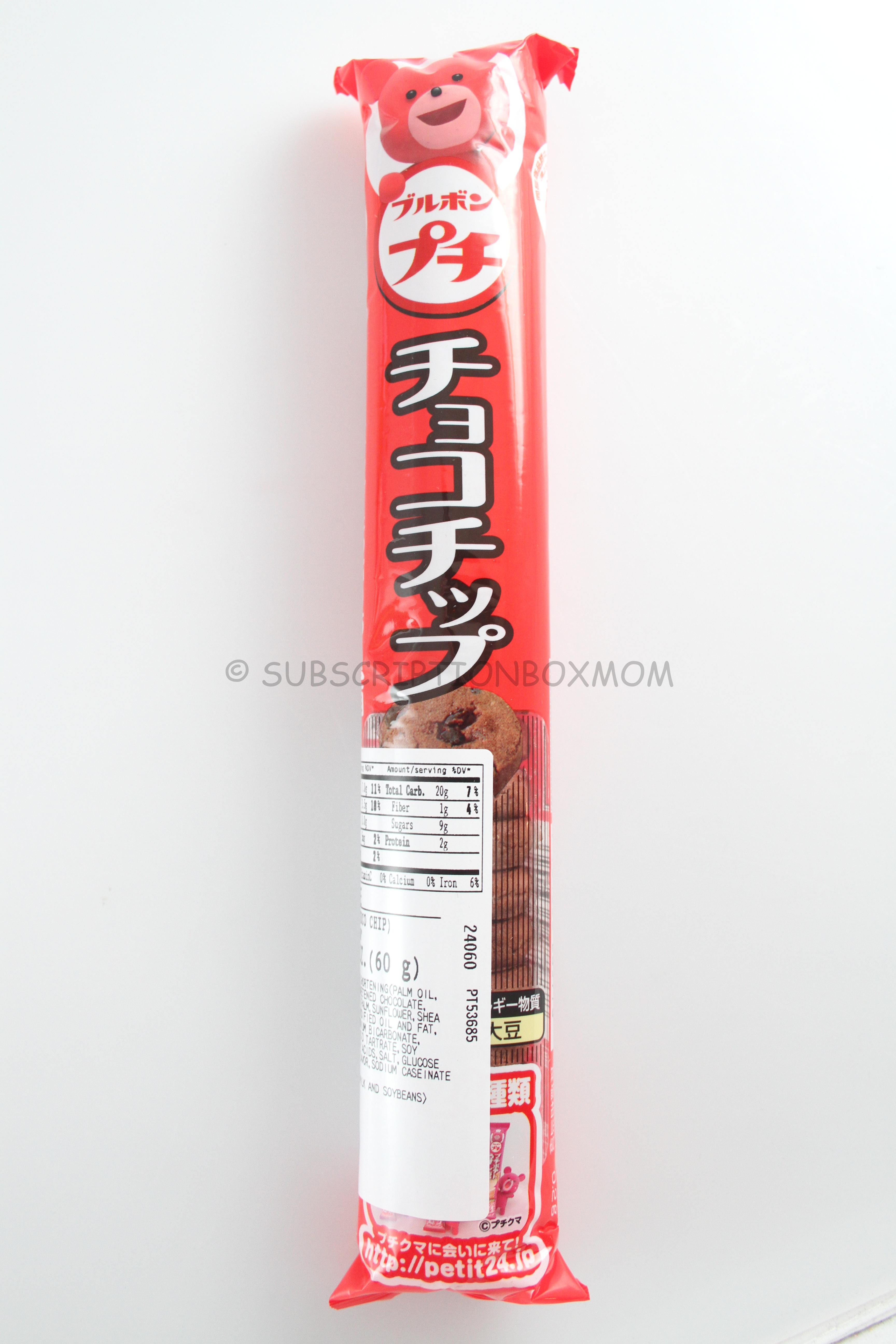 Bourbon Petit Series Choco Chip Cookies:  These are crunchy chocolate chip cookies.  They taste really good and I can eat just two and fill my chocolate fix.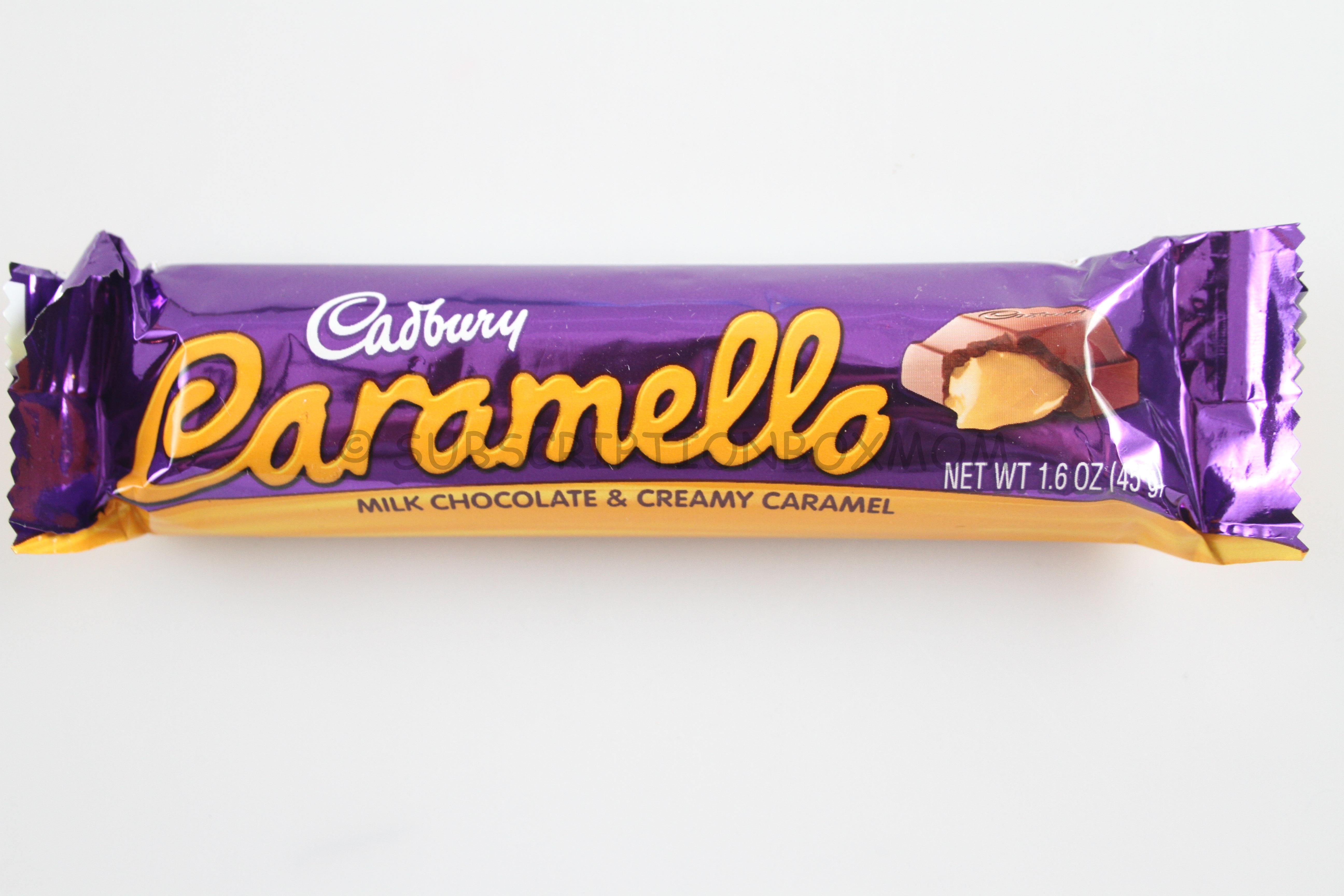 Cadbury Caramello:  My husband loves caramel and this is a tasty candy bar.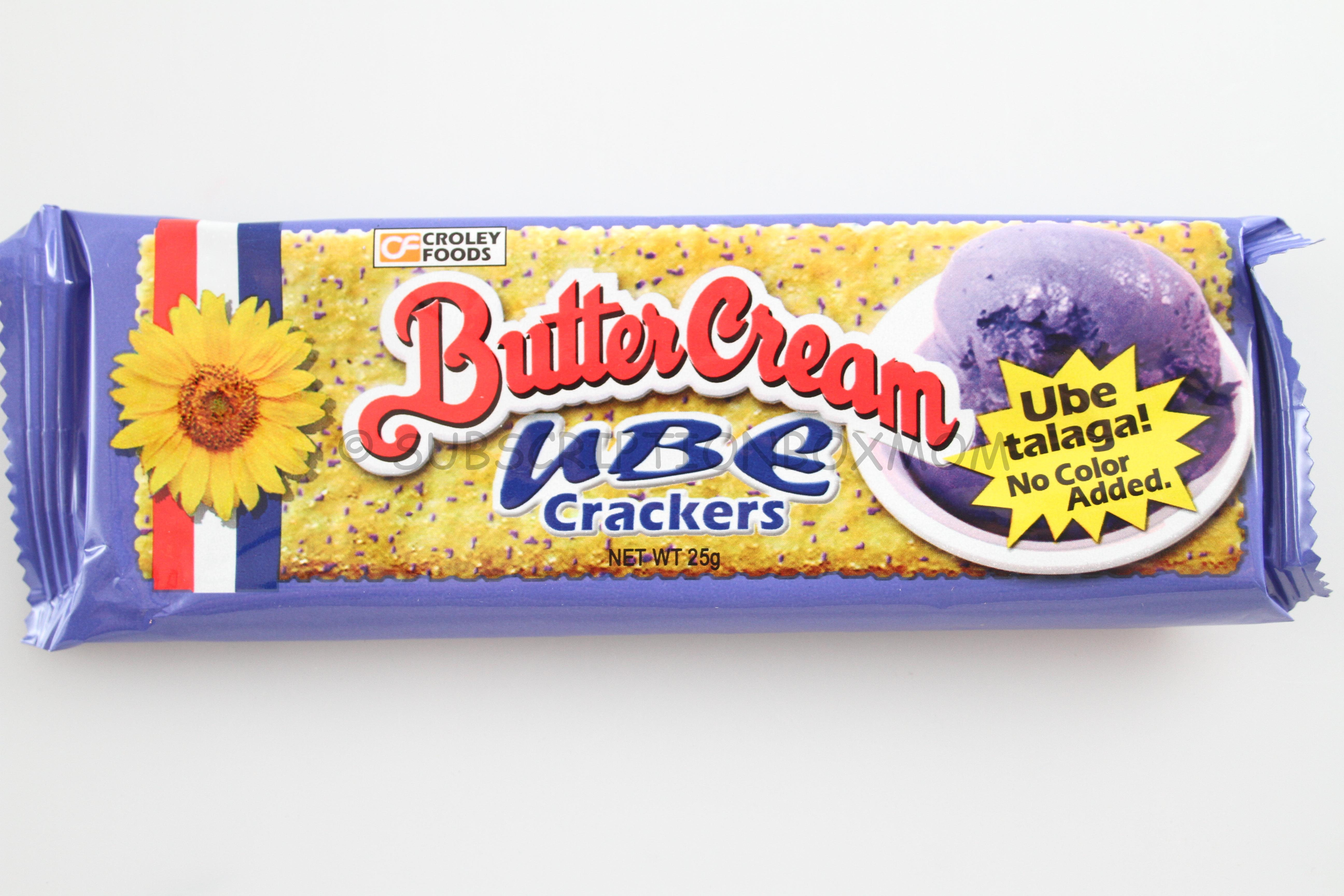 Butter Cream UBE Crackers: These are really interesting.  They are a very sugary, blueberry cracker.  I have never had anything like that before, and it was a nice treat.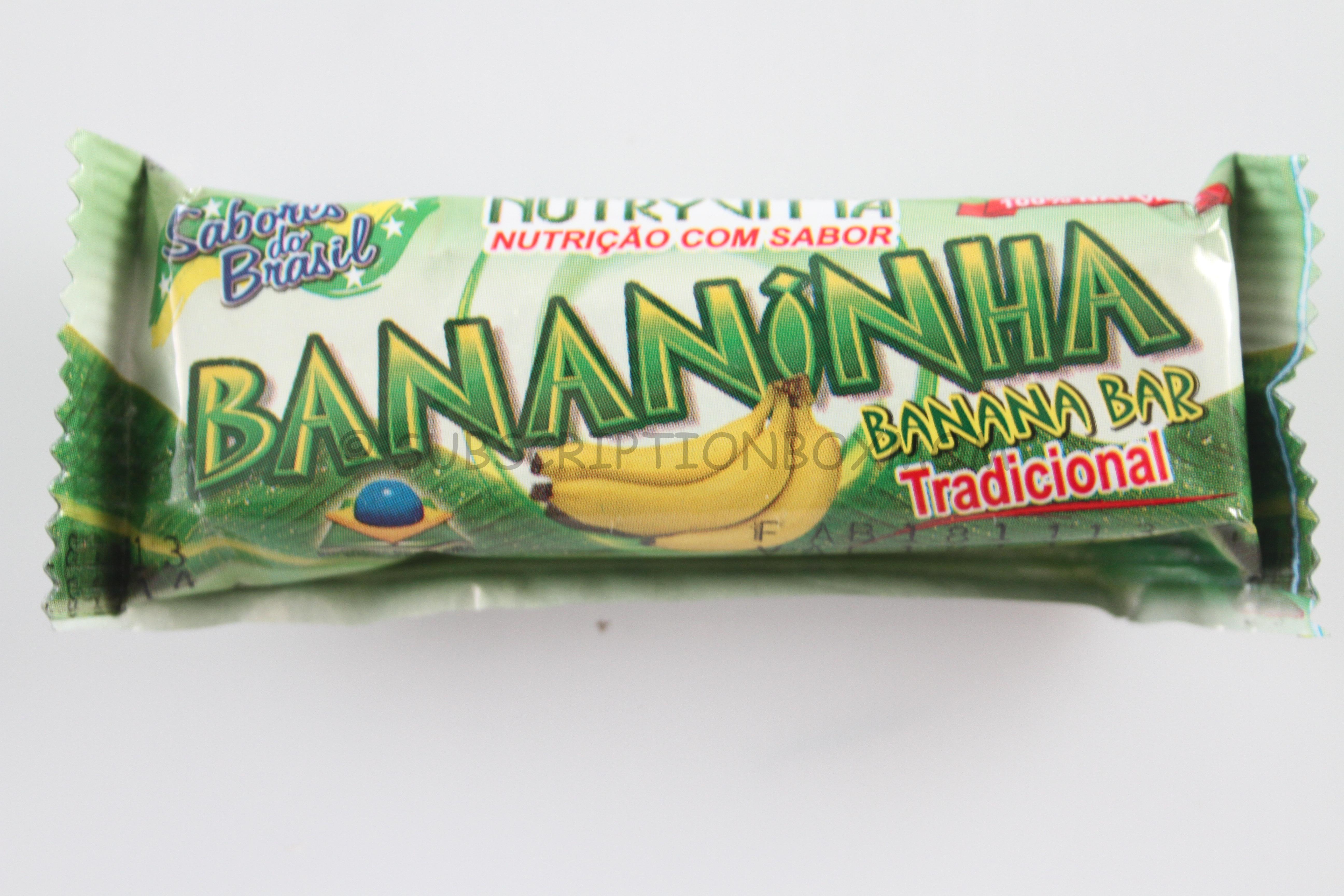 Bananinha Banana Bar by Nutryvitta: This is a chewy banana bar that is 100% natural. My youngest son loves bananas and really enjoys these.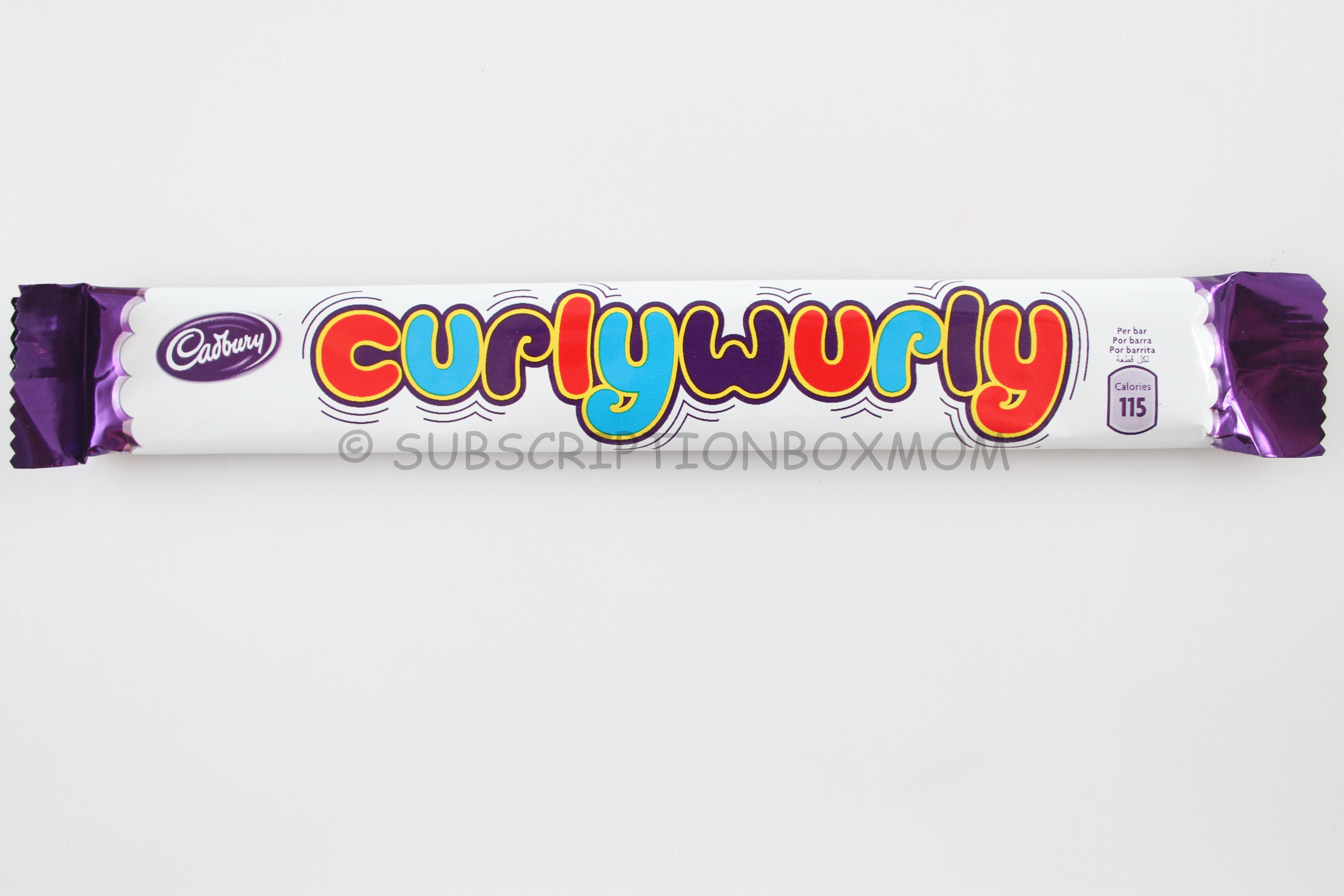 Cadbury Curly Wurly:  This is a curly strip of chocolate covered in caramel.  My husband really enjoyed this one too.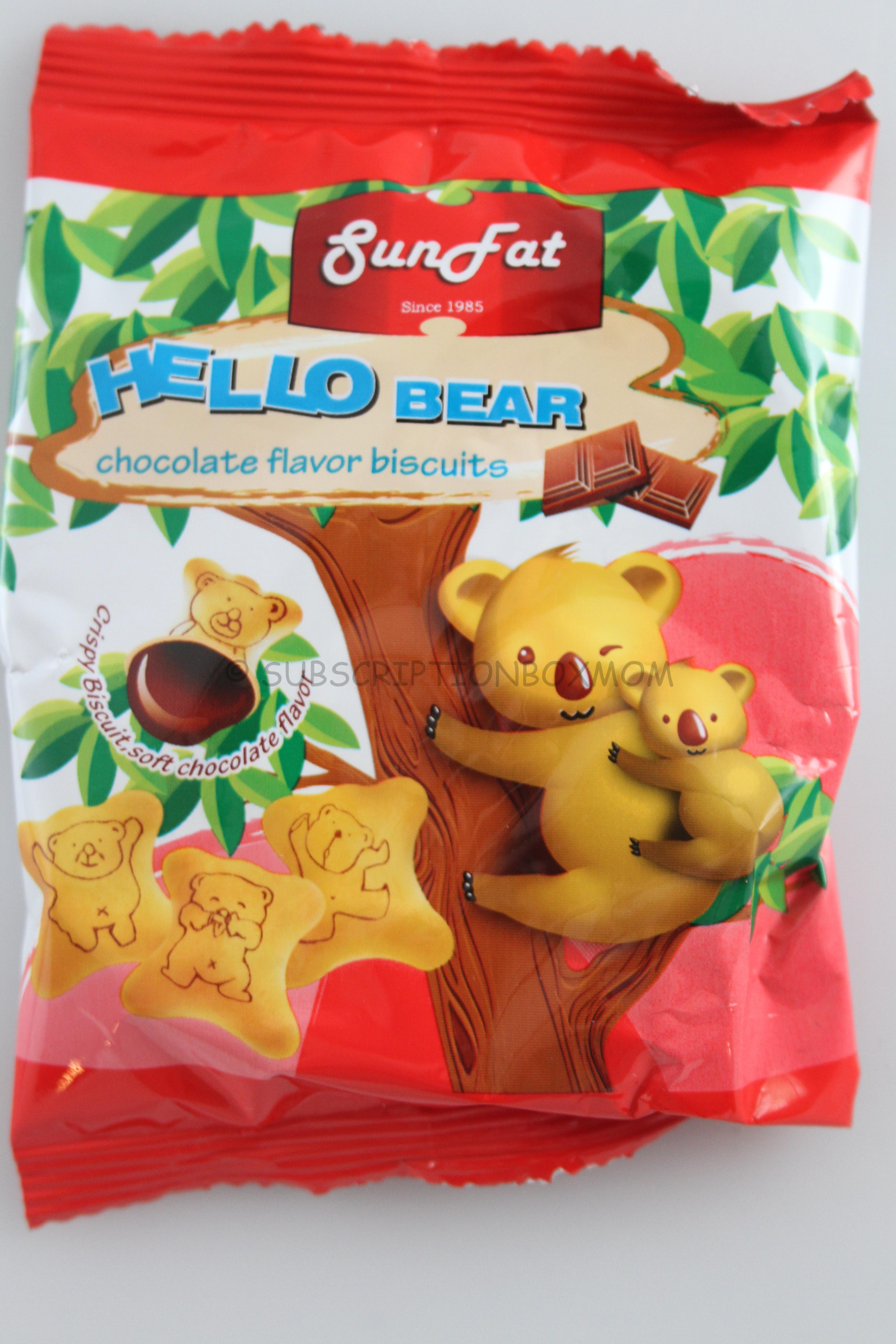 Hello Bear:  These are just like Hello Panda, only bears.  Each cookie has a different bear shape on it and the inside is filled with chocolate.  My youngest loved these.  He loves all the cookies like these.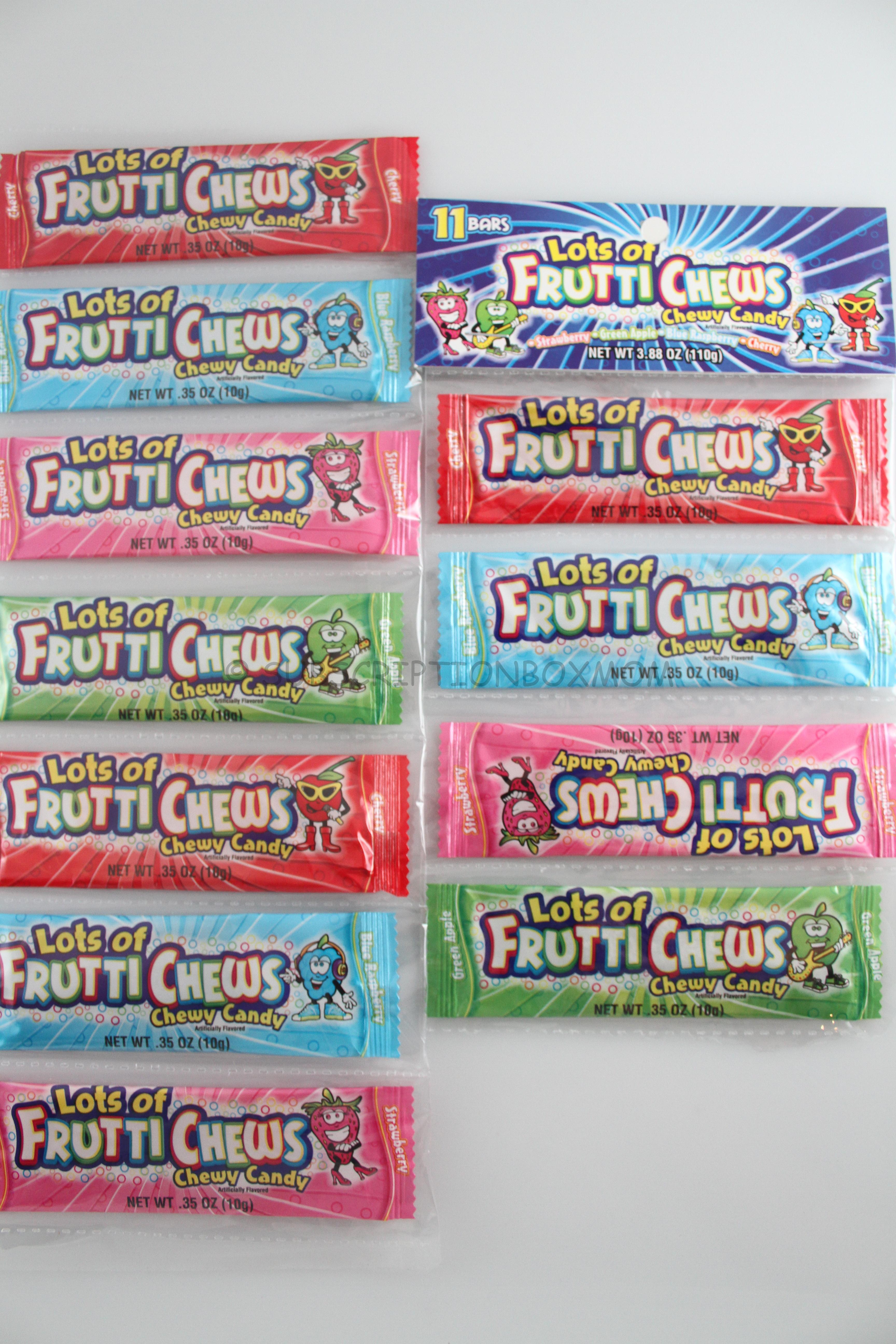 Lots of Frutti Chews:  MunchPak included a huge strip of these.  These taste very similar to Laffy Taffy.  My 5 year old would eat this entire strip of candy in one day, if I let him.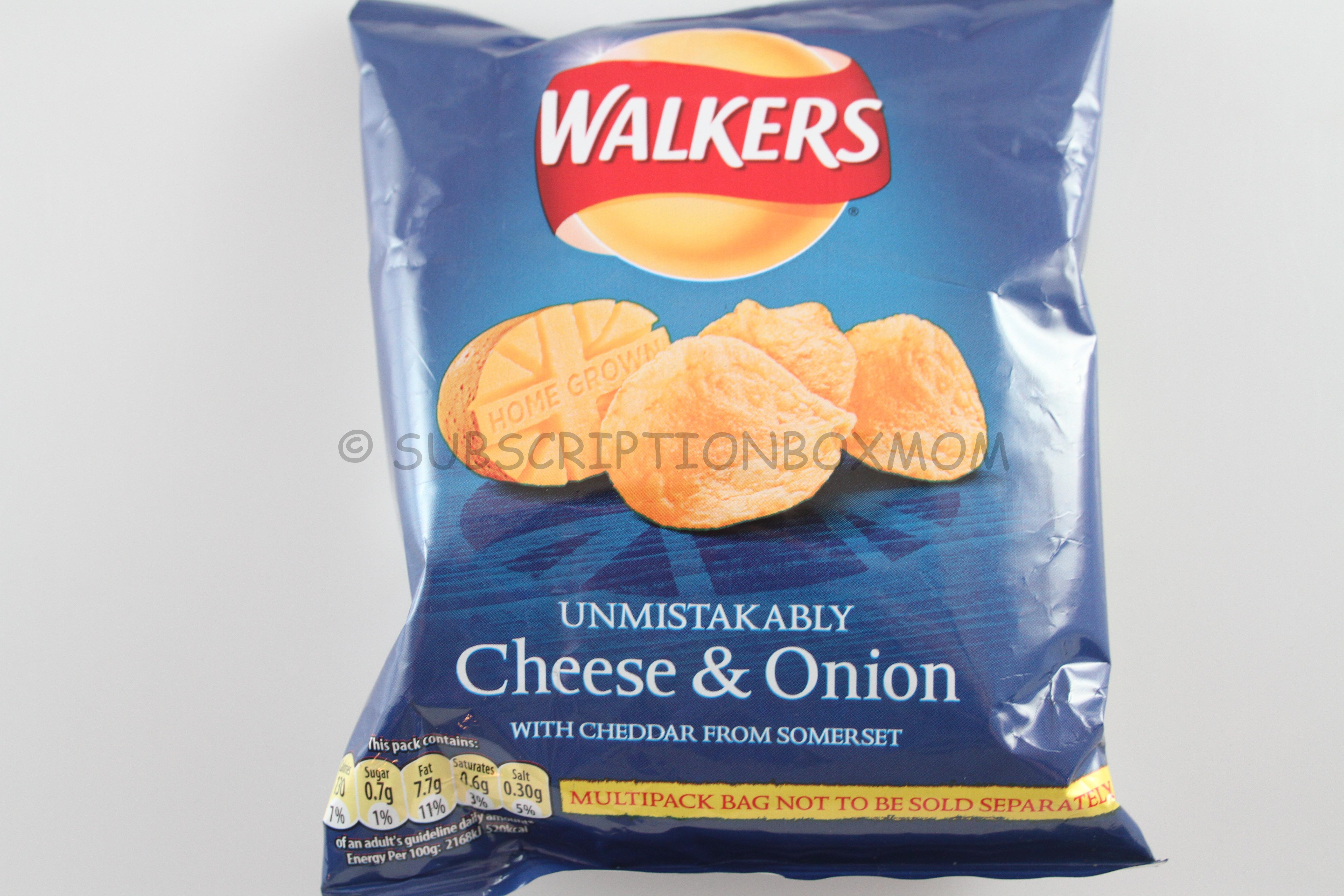 Walkers Cheese & Onion Chips:  The package says these are from Great Britain.  I love the flavor combination and they taste similar to Lays.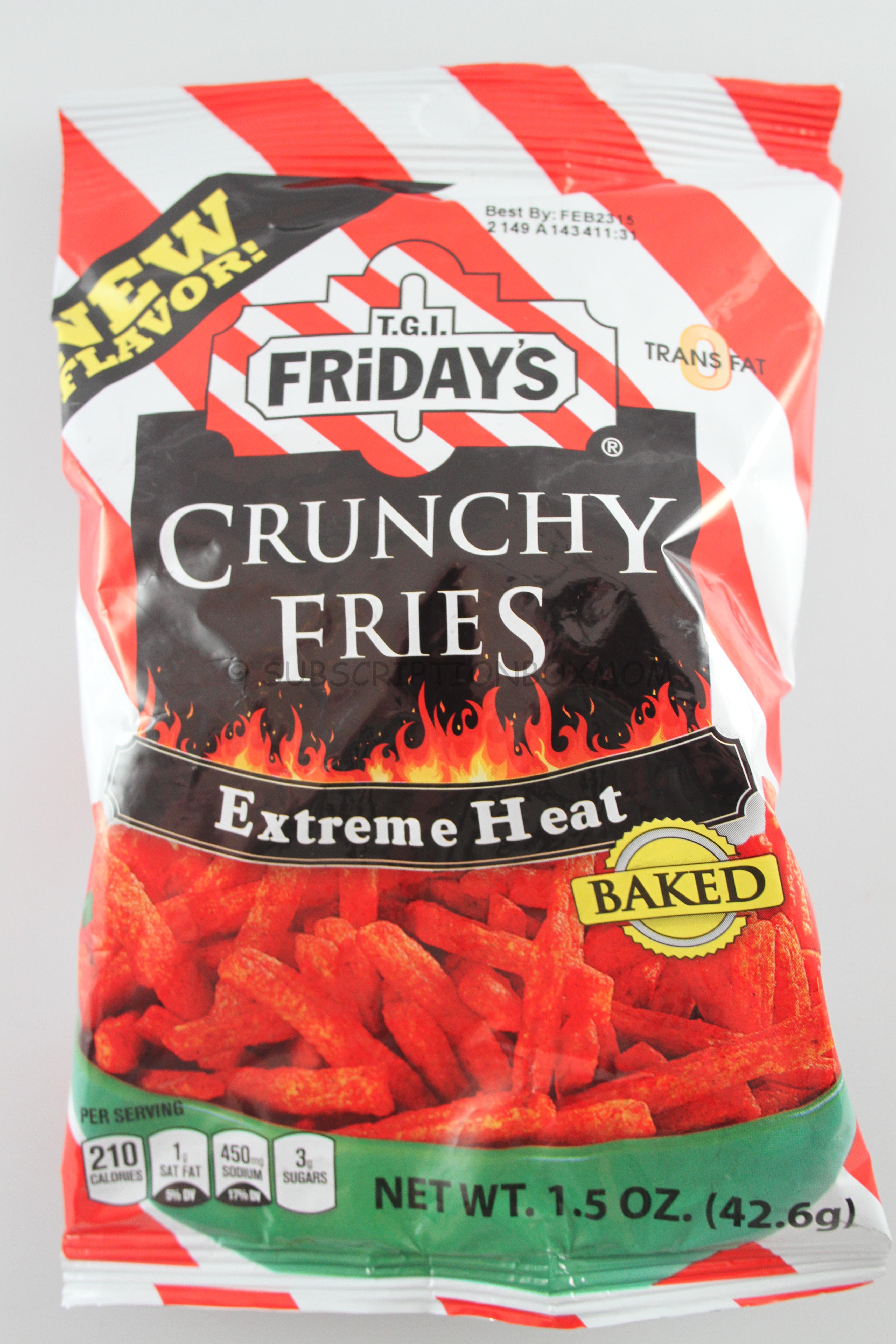 T.G.I Fridays Crunchy Extreme Heat Fries:  I like hot and spicy but I am not a big fan of hot chips.  These weren't my cup of tea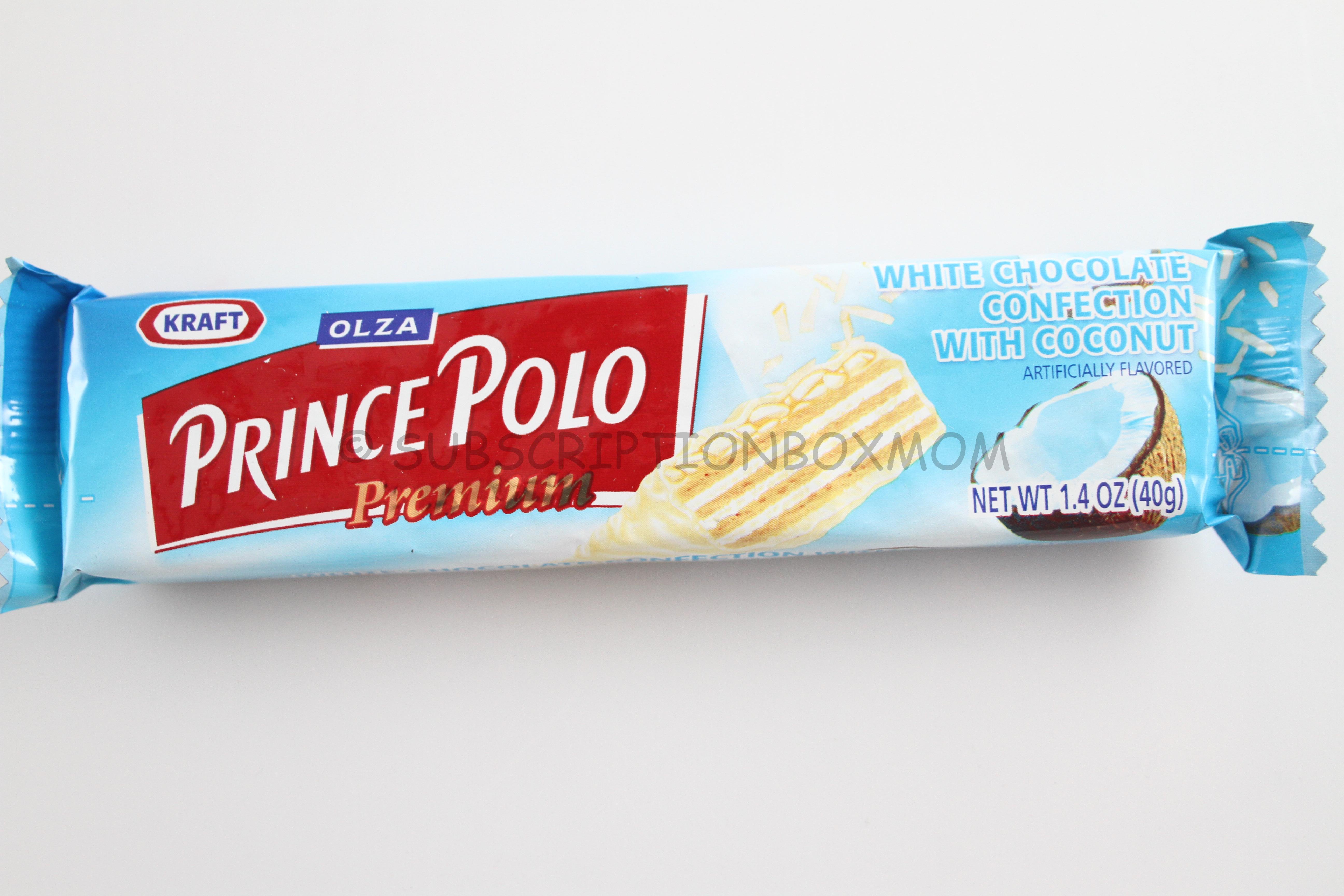 Prince Polo Premium: These is white chocolate with coconut.  I actually hate white chocolate and coconut, so I won't be trying this.  My dad likes both, so this will go to him.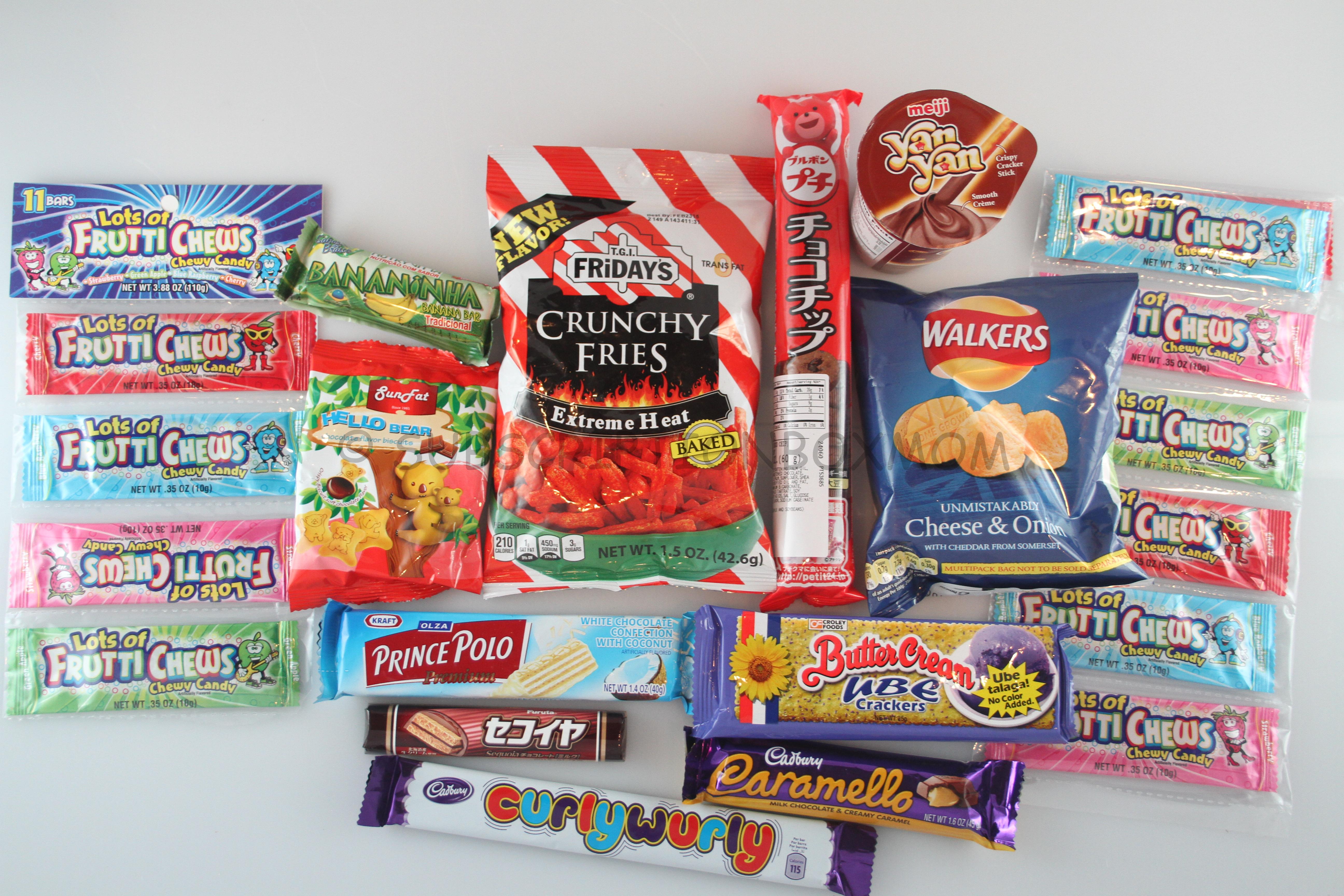 Final Thought: This was a very tasty box and I think it was well worth the $21.00.  I really enjoyed all the snacks, but I loved the Walkers chips the most.  I didn't care for the coconut bar, but, I wouldn't have eaten anything with coconut (personal preference).  MunchPak sends a great assortment of tasty treats, at an affordable cost.  If you want to try MunchPak, click HERE and use the code SNACKIN to take $2.00 off.
Check out my Holiday Gift Guide HERE.
Check out my Black Friday – Cyber Monday – Holiday 2014 Subscription Box Coupons 
Do you like FREE SUBSCRIPTION BOXES?  Click HERE to see my free subscription box list.
Do you love Giveaways? Check out all my Giveaways HERE
Disclosure: This post contains affiliate links.