September 15, 2014
09/15/14

By Subscription Box Mom

0 Comments
0
Popsugar Must Have September 2014 Review + $10.00 Coupon
Disclosure: This post contains referral links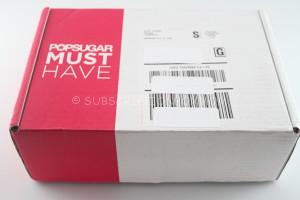 Popsugar is $39.95 a month, but you can save $10.00 on your first box by clicking HERE and using the code THIRDLOVE.  I saw all the spoilers for September, but I still didn't know how I felt about the box and I was excited to see it.
The Details
Cost: Month to Month $39.95
3 Months: $109.85
6 Months: $214.70
12 Months: $429.40
Coupon: Save $10.00 on your first box by clicking HERE and using the code THIRDLOVE
Shipping: Popsugar only ships to the United States
What's in the box? Every month, Lisa Sugar and her editorial staff will curate an exciting monthly box full of fun, must-have picks across fashion, beauty, home decor, fitness, and more, which we will deliver to your door. The monthly box targets women ages 18-40 and features full-size products and premium items including tried-and-true classics, celebrity favorites, and brands consumers have yet to discover. Your monthly subscription box will include products worth over $100. (Please note: The $100 value is based on the manufacturer's estimated MSRP at the time products are acquired by POPSUGAR. All prices are subject to change without notice.)
When do I get my box? Your POPSUGAR Must Have box will ship by the 15th of the month, or the following business day if the projected shipment date is a holiday, or as otherwise indicated in your account. Your account settings will initially display that your box is "processing" after you are billed. When your box ships out, the "processing" message on your account settings will update to reflect your tracking information.
When am I billed? You will be billed for your first month immediately upon placing your order for a monthly subscription. Please note that if your monthly subscription begins in a later month, you will still be billed at the time you place your first order. After the first month has completed, you will be billed when your next shipment is being processed (expected to occur in the beginning of each month, or as otherwise indicated in your account).
How do I cancel? In order to cancel your subscription, simply go to your Account Page, and under the "Subscriptions" tab, click "Manage Billing." On the "Billing" pop-up, please scroll to the bottom where you will find the text "You can cancel your subscription here." Please click the highlighted "here." You will be prompted to confirm whether or not you want to cancel. Please note, clicking "Cancel" will disable the auto-renewal feature on your account but will not affect your current order. For example, if you have a 3-month subscription, you will still receive all three boxes but no additional boxes. Also, any referral bonus boxes as noted on your account settings page will be placed on hold after you cancel your account, as you need to have an active subscription in order to receive any of your referral bonus boxes.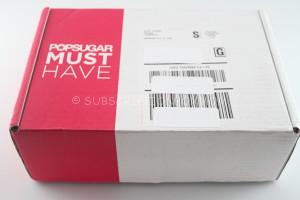 Popsugar's box this month was smaller than previous month's.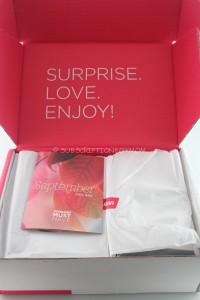 First Look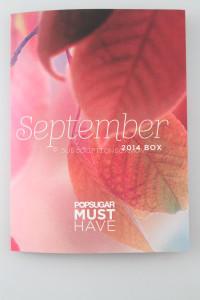 September's Fax Box Information guide has pretty fall leaves on the cover.  I am really ready for fall.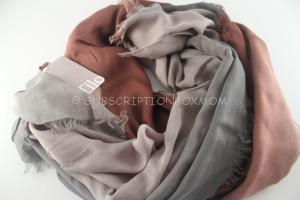 Tilo Scarf $125.00 This is a beautiful soft scarf.  This scarf is hand dyed with colors of grey, and maroon.  Tilo scarves are sold at Saksm Fred Segal and Ron Herman.  I never shop at fancy stores, so I am enjoying this piece of luxury.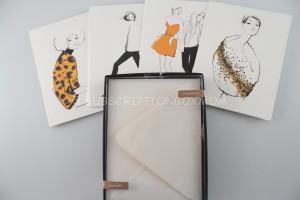 Rifle Paper Company Assorted Girls Cards $18.00 This is a set of pretty note cards and envelopes.  As much as I love computers (aka blogging), there is something to be set about a written sentiment.  I love sending people hand written notes.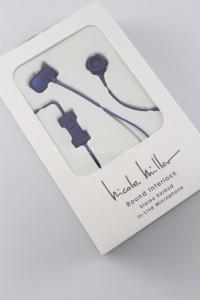 Nicole Miller Earbuds $19.99 I have a pair of running earphones that I love!  I tried these out and I really like these.  These will be great for when I am not running.  There are three different size ear buds, which means these don't hurt my ears.  There is also an on off switch for music, which my running earphones don't have.  These are great!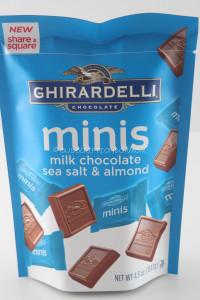 Ghiradelli Milk Chocolate Sea Salt & Almond minis Pouch $5.95  These are just plain tasty.  This is chocolate, sea salt and almonds.  Really really tasty!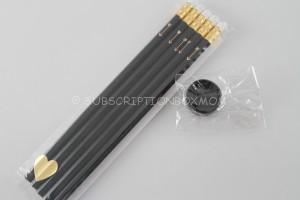 Letter C Design Black Pencils with Gold Foil Arrow $7.50  These little black pencils have gold arrows on them.  There are 5 in the set and they come with a pencil sharpener.  These are nice, but I would have preferred a pretty pen.  These are just okay to me.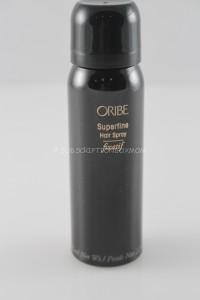 Oribe Superfine Hairspray Purse size $21.50  This has a really nice hold and it's a nice small size for travel.  I hate the normal travel hairsprays, so this is fantastic.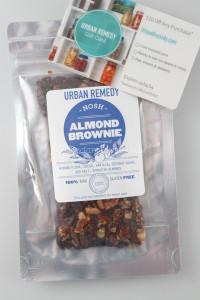 UrbanRemedy Almond Brownie $6.99/bag This is 100% Raw/Organic and it is Gluten Free.  Cindy Crawford is also a brand ambassador for this brand.  I tried this, and unfortunately, I disliked it, alot.  I am trying to eat healthier, but I still love my Betty Crocker brownies.  There was also a $10.00 off a $50.00 purchase.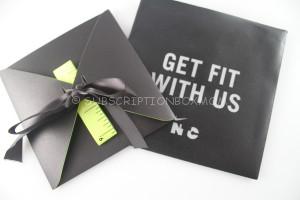 $20.00 Nike Gift Card: $20.00 This is a online gift code to Nike for anything.  I am so excited and I hope to use it and get a great deal.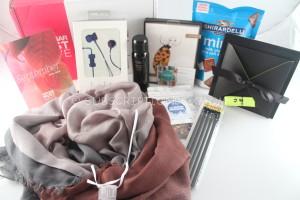 Final Thought:  This was a really nice box. Yes, there was a couple misses for me (the brownie and the pencils), but the rest of the box I loved.  The scarf is so soft and beautiful, I don't want to take it off.  I love the earphones and the on off button is a great feature.  I am also excited about the Nike gift card.  All in all, I am really happy with this box.  It had a fantastic value.  If you want to try Popsugar,  click HERE and use the code THIRDLOVE to save $10.00.
Also, a special note, Popsugar's website will be down till the 16th.  Then they will relaunch with new boxes.
Do you like FREE SUBSCRIPTION BOXES?  Click HERE to see my free subscription box list.
Check out my current giveaways 
HERE
Disclosure: This post contains referral links