July 22, 2014
07/22/14

By Subscription Box Mom

2 Comments
2
PawPack July 2014 Review + Coupon – Pet Subscription Box
PawPack is subscription box for your furry kid (aka your dog and cat).  Each month, you will get a box which features 5 – 8 high quality and carefully selected products. PawPack strives to include the best items for your pet.  PawPack searches to find organic treats, stylish accessories, addicting catnip toys and other goodies for your cat or dog.  You can also customize your box and get boxes for 1, 2, or 3 dogs or cats.  PawPack sent me the cat box for Oliver and I to review.  Oliver is my 7 year old fur baby feline.
The Details: 
Cost: $43.00/mo for 1 pet, $61.00/mo for 2 pets. $79.00/mo for 3 pets. 6 and 12 month subscriptions are also available.
Coupon: Check out PawPack HERE and use the coupon SubBoxMom to get $10.00 off your first order.
What's in the box? Subscribers receive a box once a month which features 5 – 8 high quality and carefully selected products.
When will I get my PawPack? PawPack ships out on the 15th of the month, every month
How do I cancel?  You can cancel from your account.
Website: https://pawpack.com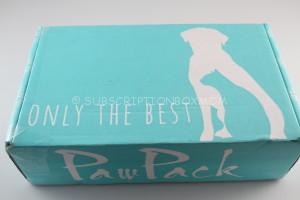 PawPack shipped in a teal box.  The box was quite large.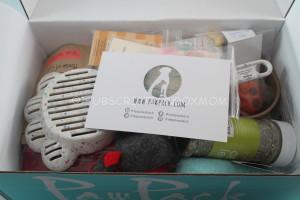 First Look:  This box was packed with tons of stuff!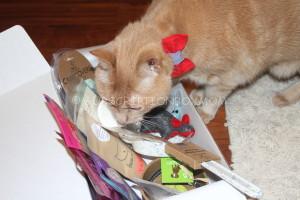 Oliver was eager to check out his treats.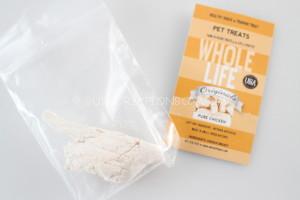 Whole Life Pet Pure Chicken Sample:  All whole life products contain one ingredient.  This is dried chicken.  I like how healthy this is for Oliver.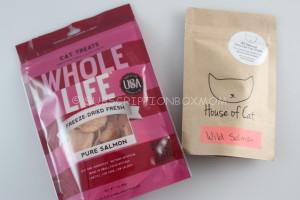 Whole Life Pet Single Ingredient USA Freeze Dried Salmon Filet Treats for Cats, 1-Ounce
 $6.99:  These treats contain one ingredient, Salmon!  Oliver really enjoyed these.  He can be pretty picky with his treats, but these passed the test.
House of Cat Wild Salmon: $3.63 These are made to order and come from Cananda.  These are soft little treats and are salmon flavored.  These come from Etsy, just click on the name.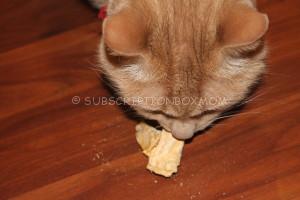 Salmon Treats!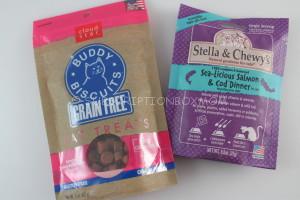 Buddy Biscuitts Gran Free Cat Treats Savory Turkey & Cheddar Flavor $3.29: Oliver has had these treats before and he is a fan.  These are also gluten free and grain free.
Stella & Chewy's Sea-Licious Salmon and Cod Dinner. $2.08 This is a dry cat food, that you add a bit of water to.  Oliver loves this dinner and it doesn't upset his sensitive tummy.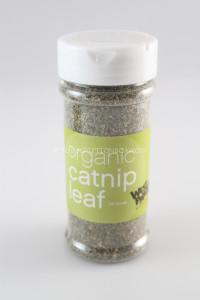 Organic Catnip Leaf $6.00: I suppose all cats love catnip, but Oliver LOVES it.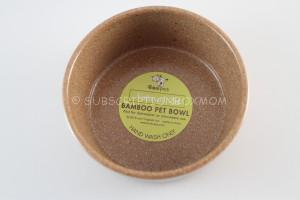 Bamboo Pet Bowl: $4.00: This bowl is eco friendly and made with bamboo.  This will be a great replacement for Oliver's water bowl.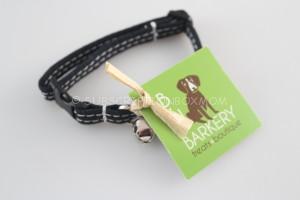 B. W. Barkery Collar  $13.95: This is a really cute black collar with a little bell.  Oliver hasn't had a new collar in several years, so this came at a great time.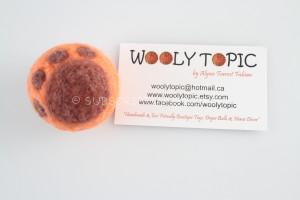 Wooly Topic Ball $5.00 est.  The owner of this Etsy shop is on vacation, so I had to guess on price.  This is a cute little felt ball and Oliver had fun batting it around the basement.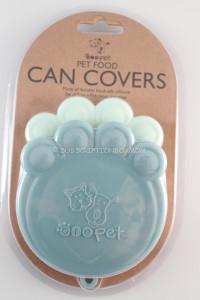 Pet Food Can Covers $9.50  These snap over a can of pet food, to save some for later. Oliver eats dry cat food, so we will pass this onto a friend.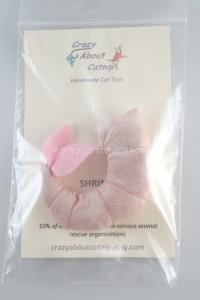 Shrimp Cat Toy $4.50 This shrimp toy has been made with 100% cotton fabric and filled with catnip.  10% of the profits of the toy goes to various animal rescue organizations.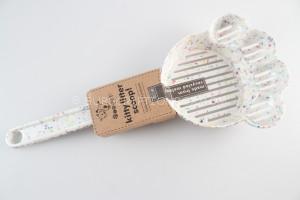 Kitty Litter Scoop $7.00  This is really sturdy and well made.  I am surprised to say this liter scoop is actually cute too.  This has a nice long handle, so you don't have to stick your hand all the way in the liter box.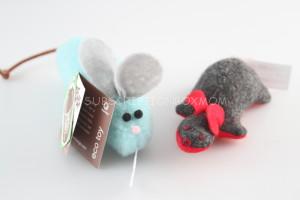 West Paw Design Blue Mouse: $8.00: This is made with recycled soda bottles.  This cute little mouse is also filled with catnip.
Furry Ones Harley the Mouse $2.25 Oliver really took to this toy right away.  He grabbed this toy and went nuts.
Oliver and Harley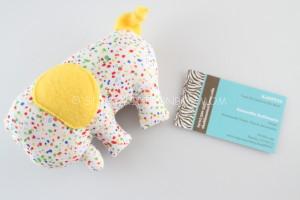 KuhlPETZ $5.99: This is another handmade item from Etsy.  It is made with catnip and quite cute.  Oliver also loves this toy.  He grabbed it from me while I was writing this review.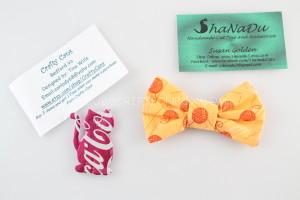 ShaNaDu Bow $4.00:  This is a cute little bow, made with elastic.  You just slip the collar into the bow and you cat looks fancy.  I love bows for cats!
Crafty Cans Magnet  $3.00: This is a unique little magnet made from a soda can.  It looks like a Coke can but it's pink.  Anyone know what this is?  It's a cute can anyway.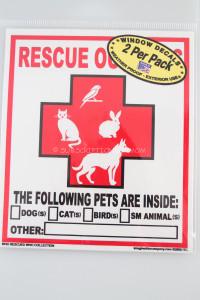 Rescue Stickers:  $2.00 est  These are stickers you post on your door in case of an emergency.  If there is ever a fire, or another emergency, this sticker will let people know who is inside.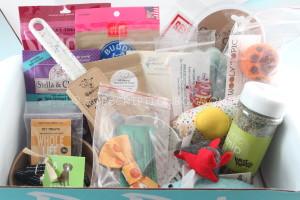 Final Thought: This box had a total value of $91.18!  Let me say this pet box had the most items I have ever seen in my life!  This is a fantastic box!  I was really impressed with this box.  PawPack delivers a great selection of goodies for you cat or dog.  If you have a cat or dog, you can check out PawPack HERE and use the coupon SubBoxMom to get $10.00 off your first order.
Do you love Giveaways? Click 
HERE 
to enter.
Disclaimer: I received this box free for review.