July 5, 2014
07/05/14

By Subscription Box Mom

3 Comments
3
Bare Necessities Review – Necessities Shipped Monthly
Bare Necessities is a subscription box that send a backpack full of basic necessities to men and women.  Each month you will get a month's supply of: shampoo, deodorant, body wash, toothbrush/paste, razors and shaving cream. This is the first of this kind of box (that I found) and I like the simplicity of it.  No fluff, just the basics.  I was sent a package to review, and I was excited to see what was inside.
The Details:
Cost: $29.00/mo, $159.00/6 months, $299.99/ 1 year
What's in the box? Each month, you can expect to receive a Sudz decorated drawstring bag, along with all of your Bare Necessities including:
Shampoo/Conditioner, Deodorant, Shaving Cream, Razors, Toothpaste, Toothbrush, Body Wash, And More! Along with a variety of complimentary surprises from our valued sponsors…
Website: http://www.bnbag.com/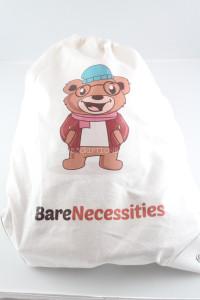 Everything shipped in this bag and was shipped in a Fedex Bag.  Everything arrived safely and nothing leaked.  I received the girl package.
The Bag; $10.00 est:  This is an estimate of value but this is a cute little backpack.  It has the Bare Necessities logo on the front.  This can double as a small laundry bag or a tote to the shower.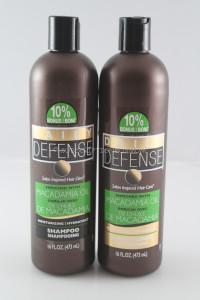 Daily Defense Shampoo and Conditioner with Macadamia Oil 16 oz
 $13.95  This is safe for color treated hair and is enriched with Moroccan Argon Oil,  It smells good and reminded me of coco butter. There is also the matching conditioner.  I do wish the shampoo or conditioner was a bit more girly/floral.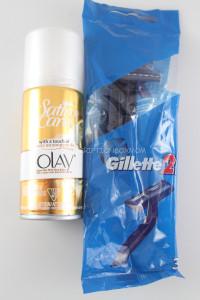 Olay Satin Care Shave Gel with Shea Butter 2.5 oz  $2.96:  This is shaving gel with Olay/shea butter added.  This combination leaves your legs silky smooth.
Gillette 2 Razor 3 pack: $ 4.00:  I couldn't find this online, so I made an estimate on price.  I don't think Gillette makes the 2's anymore, because I couldn't find them on their website.  I like that these are name brand, but wish it was more feminine like a Venus.  I do use men's razors though, because they do provide a great shave.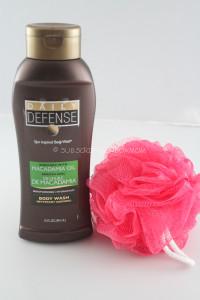 Daily Defense Macadamia Oil Body Wash $1.05:  This brand goes with the shampoo and conditioner.
Pink Loofah $1.00: Loofah's are some of the best bath inventions.  These can trap mold, so it's good to have a new one hanging around, for replacement.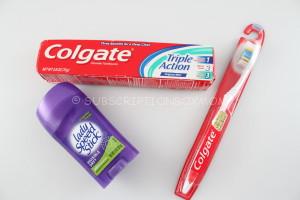 Lady Speed Stick Invisible Dry 1.4oz  $2.89: This provides 24 hour protection and is said to leave your black clothes without white residue.  I have used the same deodorant for over 10 years, so I will try something new.
Colgate Triple Action Toothpaste 2.8 Oz  $1.50: This has cavity protection, whiter teeth,  and fresh breath.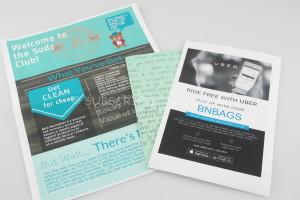 Bare Necessities included a flyer about their subscription.  They also mentioned they have a program to review your products in your box and earn BN bucks, that can be used on your next box.
There was also a coupon for UBER to save $20.00 on your first ride.  This is a service in cities that will pick you and take you where you need to go.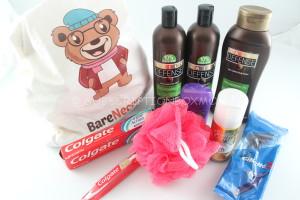 Final Thought:  This box/bag had a total value of $37.35.  This was higher than the $29.99 cost, but lower than the $70.00 value.  I like the concept of this subscription.  I do wished there were some more name brand shampoo, conditioner and body wash.  I would love to have some Olay Body Wash, or some fruity or flowery shampoo and conditioner.  I also wish the razors were made for women.  I can see this subscription being good for kids in college.  Who wants to spend their money on shampoo vs pizza?  This would also be a nice care package for people in the military.  If you are interested in Bare Necessities, click HERE.
Do you like FREE SUBSCRIPTION BOXES?  Click HERE to see my free subscription box list.
Do you love Giveaways? Check out all my Giveaways HERE
Disclosure: I received this box free for review.  My opinions are my own.