July 17, 2014
07/17/14

By Subscription Box Mom

1 Comment
1
Animal Trackers Introductory Box + Month 2 Review
Animal Trackers is a new subscription box for children 3 year olds and up.  Each month, Bode Bear takes kids on an adventure to the African Savannah.  On your first month, your child will get Animal Trackers Club Safari Lunchbox.  The lunchbox will be where your child can stick their animal magnets, as well as store their animal figures and put their animal information card collection and the "Safari Animal Tracks" ringed set.
Each month your child will get a monthly packet.  Each monthly packet include an Animal Trackers Club Information card with information about that animal of the month.  The packet will also include an animal magnet, a foam animal mask, and a realistic, hand-painted animal play figure. In addition, the packet will have a "Safari Animal Tracks" card for your ringed set, containing a real photo of the monthly animal as well as the track it leaves in the wild. Each monthly packet will also contain a learning activity and an art project created to develop the skills needed to become a proficient student and reader.  I was excited to check out Animal Tracks.  This company also produces Space Scouts, which is for ages 6 and up.  You can see my Space Scouts review HERE.
The Details:
Cost: $11.95/mo, $36.00/3 months, $70.00/6 months, and $135.00/12 months
Shipping: $3.00 shipping per subscription plan.
What's in the box?  Your child will get a lunch box with an information/welcome kit.  Every month after, your child will get an Animal Information Card, Animal Play Figure, Animal Foam Mask, Animal Magnet, Safari Animal Photo Card, Learning Activity, and an Art Project.
Website: http://www.atcssc.com/animal-trackers.html
I received the introductory box and month 2 for review.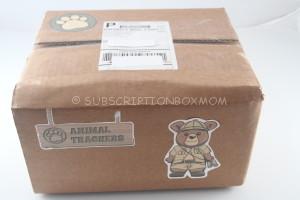 The box came by USPS and had some cute Animal Trackers stickers on it.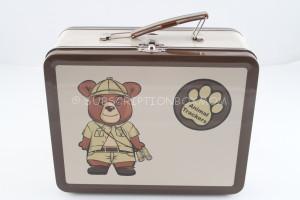 This is the Animal Trackers Lunchbox.  This is where all the monthly animal magnets will go on.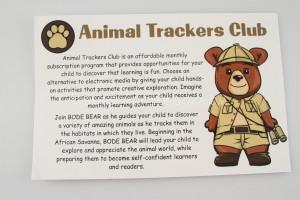 There was a general information card about Animal Trackers Club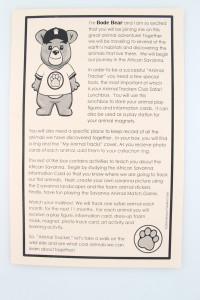 There was also a letter from Bode Bear to your child.  He tells your child all about the subscription.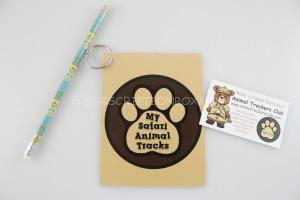 In the lunchbox was the animal tracker card and keychain, a pencil and a card about the referral program.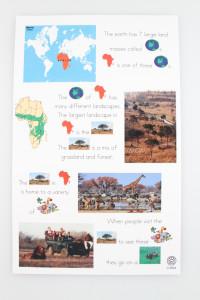 There was an little story card about the Savannah and Africa.  The side shown has pictures to help your child learn to read and tell a story.  The back side has the story all written out in words.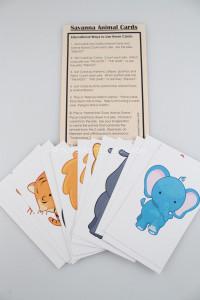 There was a set of animal front and back cards with directions for a memory game and other activities to help you child learn.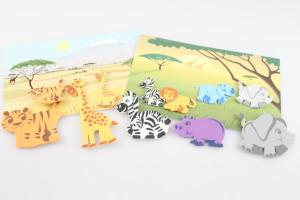 There were two Savannah scenes with sticker animals for you child to place.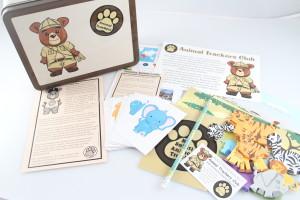 This is the full introductory lunchbox/welcome package.  I was really impressed with all the fun activities inside.  Keep reading and see what month two will bring.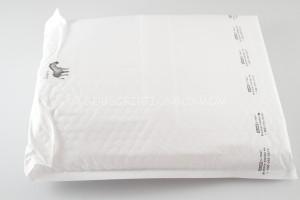 Everything came in a padded white envelope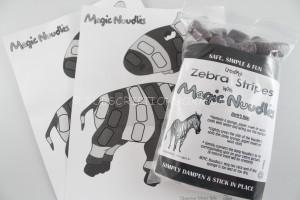 The first activity was zebra stripes.  These are special noodles that stick on paper.  You wet them and stick them on the corresponding spots on paper.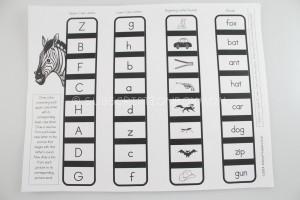 The second activity focuses on letter names, sounds and words.  Your child matches the uppercase letter with the lowercase letter, with a picture that starts with the letter to the word that begins with the letter.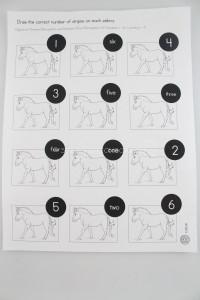 The last activity is about numbers.  Your child matches the numeral with the written number.  This is a great exercise for my son.  i am going to copy it for repeated practice.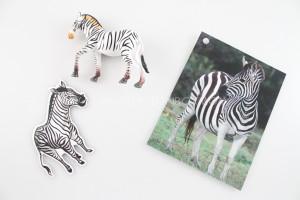 The second month is about zebras.  There is a zebra magnet, zebra figure and a zebra card for they keyring with the zebra track on the back.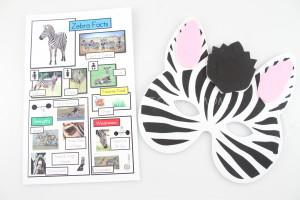 Finally, there is a sheet of facts about zebras with a zebra mask.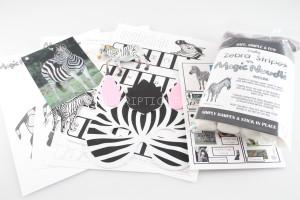 Final Thought: Animal Trackers is a great new subscription box for children.  I was really impressed with the activities included.  I love how Animal Trackers incorporated learning letters and numbers with a fun activity.  The foam pieces are really neat and I liked how they stick to paper.  Animal Trackers is a great subscription for your child to learn preschool skills, animal facts and have fun. at the same time.  If you are interested in trying Animal Trackers, click HERE.
Do you like FREE SUBSCRIPTION BOXES? Click HERE to see my free subscription box list.
Do you love Giveaways?  Check out all my Giveaways HERE
Disclosure:This post contains affiliate links.