June 27, 2014
06/27/14

By Subscription Box Mom

8 Comments
8
Tyler Florence Fancy Box June 2014 Review + Discount – West Coast Kitchen Essentials
I signed up several months ago, for the Tyler Florence Fancy Box.  I love getting newkitchen gadgets, so I was excited to get this box.  The Tyler Florence Fancy Box is $39.00 a month plus $7.95 shipping.  You can save 10% by using the code FOLLOWUP10.  Each month you get more than $80.00 worth of kitchen essentials.  I am not a big cook, but I am trying to change that.  I really want to expand my kitchen tools, so I was excited to check out this box.
The Details:
Cost: $39.00
Shipping: $7.95
Coupon:  Click HERE and use the FOLLOWUP10 to save 10% on your first box.
What's in the box?  Get a collection Of the best home goods hand-picked by celebrity chef Tyler Florence each month. Each box includes $80.00+ of products. 
When does the box ship? Orders placed before the 21st of the calendar month will ship on the 25th of the same month. Orders placed after the 21st of the calendar month will ship on the 25th of the following calendar month. 
When am I billed?  You are billed the day you sign up and every 30 days after
How do I cancel? You can cancel your subscription by visiting  https://www.fancy.com/fancybox/manage. Any monthly Fancy Box subscription cancelation made within 5 days of your last payment will refund that payment. If you cancel after 5 days, you will still receive your Fancy Box for that month, and your subscription will cease in the following month.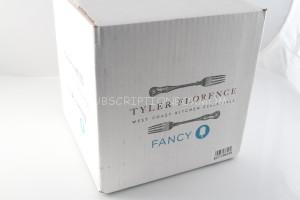 Fancy always ships in HUGE boxes.  I guess they only have one size.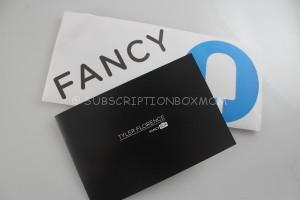 Inside the box was an information card and an envelope with some stickers and my invoice.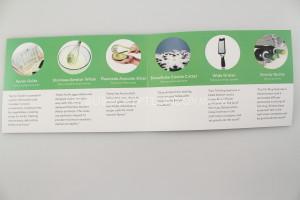 The information card has full color pictures and a note from Tyler about each item.  I will go through more detail later in this review, but only two of the messages from Tyler matched up to the items.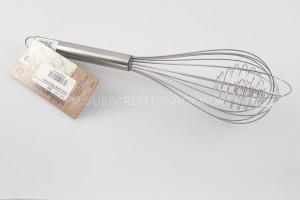 Norpro Stainless Aerator Whisk $7.20  This helps you create fluffy egg whites or whipped cream.  This will be a great mixer.
From Tyler Florence " Make fluffy egg whites and whipped cream the easy way with this newly designed Stainless Aerator Whisk by Norpro.  The wires are perfectly shaped to provide maximum aeration, perfect durability"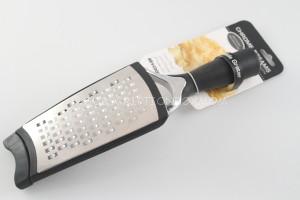 Chrome Dreams Collection Wide Grater $6.00.  This is a really nice grater.  I have a Pampered Chef one but it is smaller and I always seem to cut myself on it.  This is my favorite item in the box.
Tyler Florence Says" Tea Tilt Mug features a tilted bottom and a removable diffuser positioned on the lip of the mug.  Simply place loose-leaf tea int he half-moon container and let gravity do the work."
Obviously Fancy made and error and put the wrong comment on the card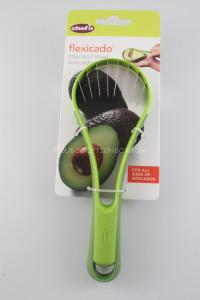 Flexicado Avocado Slicer: $5.84: This is used to cut avocados.  I don't eat avocados, so I won't use this.
From Tyler Florence " Keep the Acacia Salt Cellar near your stove so you can grab a pinch or two freely whenever a recipe calls for more natural flavor."
Again, Fancy put the wrong phrase with the product.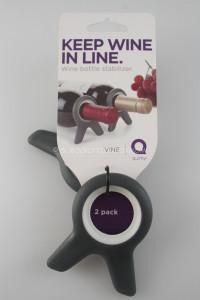 Keep Wine In Line Wine Bottle Stabilizer $2.99:  This keep your wine from rolling when you put it in the fridge.  We usually put wine in our door, and I never drink wine.  I don't think this will be used.  Are you supposed to chill wine on it's side?
Tyler Florence Says" Tea Tilt Mug features a tilted bottom and a removable diffuser positioned on the lip of the mug.  Simply place loose-leaf tea int he half-moon container and let gravity do the work."
Once again, completely the wrong message from Tyler and it's the same one as the grater.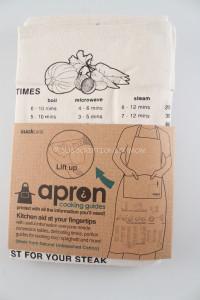 Apron Cooking Guides:  $19.98:  This is a really nice apron.  It has all kinds of cooking facts upside down on the apron.  When you lift the bottom of the apron up, you can read everything correctly.  I really like this apron, but I already have the same apron from another fancy box.  I wish there was a way to track to prevent duplicates.
Tyler Florence Says "Apron Guide is covered in useful information an includes numeric conversions, cooking times for vegetables, roasting times for birds, freezing instructions defrosting times and more".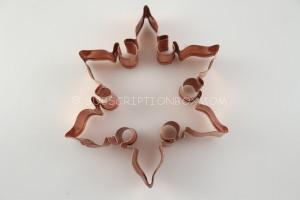 Snowflake Cookie Cutter: $11.00:  Ugh, I don't know where to begin with this.  FIrst, I received the exact same snowflake in my December box HERE.  This is only month six and I don't think it's acceptable to send a duplicate in a six month period, in the same box.  Second, IT'S JUNE!  Currently, it's 98 degrees outside, so making snowflake cookies is not on my mind.  I guess I could do a Christmas in July thing, but that just seems ridiculous.  I emailed Fancy because Tyler Florence's message referred to burger coasters.  The coasters actually sounded cool.  Here is what I think they look like, click HERE.
Anyway, I heard back from Fancy, hoping to hear it was all a mistake.  No such luck.  I was told the message from Tyler was wrong and I was meant to get the snowflake.
Here is the message from Tyler Florence " Stop drinks from leaving ring on your table with these funky Burger Coasters".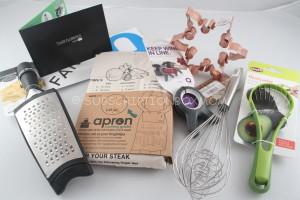 Final Thought: The total value of this box was $53.01.  This box didn't reach the promised $80.00 value.  Of the items I will actually use, the grater, and whisk, it had a value to me of $13.20.  I will be honest and say I didn't like this box and I feel my money was severely wasted.  I hate getting the snowflake, not only again, but in June.  I want useful items and I don't want to have to invent weird reasons to use something ,to convince me of it's value.  I want useful kitchen tools that I will actually use.  This box seemed thrown together with no bit of thought.  From the snowflake to Tyler's comments not matching, this box was a mess. Sure there were a couple items I liked, but I am taking my $48.00 and using it for a box I like.  I have canceled this box.  If you are interested in trying Fancy, I would recommend the new Nikki Hilton Box HERE.  Fancy tends to do well with new boxes and Nikki has great taste.  I will also note, I found a new box that looks awesome, SporkPack.  You can read my write up here, but it is half the price and looks awesome!
Do you like FREE SUBSCRIPTION BOXES?  Click HERE to see my free subscription box list.
Do you love Giveaways? Check out all my Giveaways HERE
Disclosure: This post contains affiliate links.