May 20, 2014
05/20/14

By Subscription Box Mom

0 Comments
0
May 2014 Love with Food – Derby Days – Free Box – Food Subscription Box
Love with Food is $10.00 a month, plus $2.00 shipping. If you subscribe for a longer term, you get free shipping. There is also a deluxe box, which is double the regular box. The deluxe box is $19.95 a month and has free shipping.  I love that Love with Food includes many different snacks to try.  Click HERE and use the code YUMMY to get your first box free (just pay $2.00 shipping).  This month's box theme is Derby Days.
First Look:  I was excited to see a Derby themed box!
The theme for this month was Derby Days.  I love horse racing, and one year I will go to the Derby.
Giddy up & Go Granola – Start your day on the right hoof with this gluten-free granola… and your're off!  This is pretty tasty.
Sweet Potato Chips by Once Potato Two Potato – These are packed with beta-carotene and vitamin A, and are also non, gmo.  They are really tasty, and a much healthier alternative to regular chips.
Tropical Peach Drink Mix by Flavrz Organic – Speaking of beverages, add a southern flair to your daily water intake with this peach water enhancer – it's organic, it's non-GMO, and it will change your outlook on hydration.  I love flavored water.  I have the hardest time drinking enough water, when it is plain.  This makes it easier to be healthy.
Key lime Cookies by Le Caramel – Made only with the best ingredients, these tea cookies strike the perfect balance between tart and sweet.  My 4 year old and I tried these and were not a fan.  My husband really enjoyed them!  Sorry Brandy, he is keeping them.
Honeybush caramel, Southern Mint, and Tropical Green teas by Revolution Tea – These flavorable full-leaf teas are made with select herbs, real fruit pieces, essential oils and all natural flavors.  C loves tea, so these will go to him.
Tarallino Snack with Extra Virgin Olive Oil by Terre Di Puglia – The Kentucky Derby was first raced in 1875, but Italian Tarelli has been around much longer; 6 simple ingredients add up to a snack that pairs great with any beverages.  I really loved these.  They reminded me of those dried breadstick crackers.
Sea Salt Caramels by Le Caramel – These caramel's are the right combo of salt and sweet.  My hubby ate them all.
The Spice lab – Hickory smoked sea salt and Italian Black Truffle sea salt used for bbq.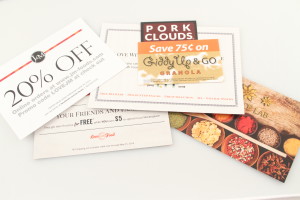 Love with Food always includes coupons for items in the box.
Final Thought:  This was a nice box.  Most of the items were for my husband this month.  I did like the theme.  My favorite item was the sweet potato chips, and I will be buying more of them.  I like Love with Food, because it lets me try food, I would never normally buy.  I have found many new favorite foods with this box.  Click HERE and use the code YUMMY to get your first box free (just pay $2.00 shipping).
Check out my current giveaways HERE
 Disclosure: This post contains referral/affiliate links