April 27, 2014
04/27/14

By Subscription Box Mom

0 Comments
0
April 2014 Silly Rhino – 3 – 4 Year Old Boy – Children Subscription Box
Silly Rhino was started by a mom of two boys who wanted to help other parents find healthy, fun, educational products.  Silly Rhino is $35.99 month to month, and there are discounts for longer subscriptions are available. Each month your child will get 4-5 environmentally friendly safe toys, personal care products, gear and accessories. I really love how unique everything is in the box.
The Details:
Cost: $35.99 a month
What's in the box? From Silly Rhino: "You can expect each box to include four to five products for your baby and sometimes a surprise for you. All products are tailored to your child's age and stage of development. At Silly Rhino, we try not to gender discriminate, so we concentrate on items that will work for both boys and girls, but that does not mean we would ever send pink bows to your manly little guy, promise."
Age Breakdowns: When you order, you will choose between 0-1, 1-2, 2-3, and 3-4.
How do I cancel? You can cancel right from your account (I love that)
When will I get my first box?  You must order by midnight on the 5th of the month, to receive that month's box.
When am I billed? You are billed the day you sign up and every 30 days from the day you sign up thereafter . If you sign up on Feb 21st, you will be billed again March 21st. 3 and 6 month subscriptions are billed at the time of purchase. When your 3 or 6 months is up, your account will revert to month to month
Website: http://sillyrhino.com/
Silly Rhino ships by Priority Mail and I haven't had any issues.
I saw a couple of products on the information card, and I was excited to see what was inside.
Silly Rhino includes an information card with details about every product in the box.
Sticker Pack by Box Play:  $5.00: I love the idea behind this company.  They sell stickers to turn ordinary containers and boxes into toys.  You stick this on a cereal box, to turn it into a barn.
Knockout Monkey by Wonderworld $15.00 This is a fun game.  You try to knock out a color, without knocking over the monkey.  L played with this right away.
What I Like About Me by Simon & Schuster $6.99: This is a great book that discuses the difference between children.  This is a super cute book and I love reading it to L.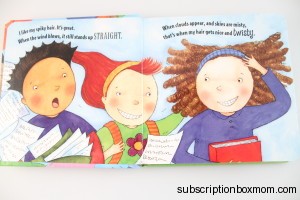 This is a peek inside.
Set of 3 Food Pouches by ORE $14.00  This is a set of three reusable bags.  You can use them for all kinds of snacks and lunch foods.  There is also a place inside each bag to write your child's name.  I am going to save these for when L starts Kindergarten.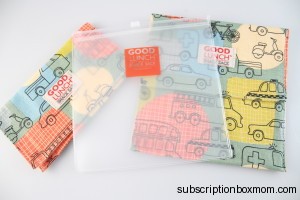 All three bags.   The set of three includes two fabric pouches with hook-and-loop closure and one see-through pouch with simple slide-lock closure.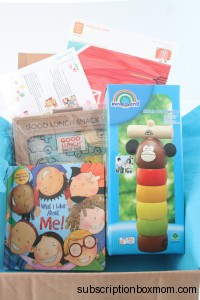 Final Thought: The total value of this box was $40.99.  This was a great box.  L played with the monkey toy right away and we read the book at nap time.  I love how sturdy the snack bags are and they will be great for school.  Everyone should check out the Box Play website.  They have a great company.  Silly Rhino is a great box for kids 0-4, and each box is always filled with safe, fun items.  Click HERE to check out Silly Rhino.
Click HERE and see all my current giveaways.