March 15, 2014
03/15/14

By Subscription Box Mom

0 Comments
0
Kiwi Crate March 2014 "City Adventure" – $10.00 Discount
Kiwi Crate was our family's first subscription box and it remains our favorite. Kiwi Crate is $19.95 a month, and each month you get at least two big crafts along with Explore Magazine. Explore Magazine is a magazine that is included in every box. You can also add supplies for a sibling for only $9.95. The Explore Magazine is filled with cartoons, activities, and bonus crafts. My son L loves Kiwi Crate. He is always so excited to get this box and see what the theme is for the month.
The Details:
Cost: Month to Month $19.95
          3 Months: $59.85
         6 Months: $111.00
       12 Months: $203.40
Sibling Add On: Get extra materials for a sibling to share the crate. Customers call it the "no fight" crate. (available for $9.95/month with a monthly subscription, $28 extra for a 3-month, $56 extra for a 6-month, and $112 extra for a 12-month subscription). Only one sibling add-on can be added per subscription
Coupon: Click HERE and save $10.00 on your first box
What's in the box? Every month you'll receive all the materials and inspiration for projects related to a theme such as music, gardening, dinosaurs or colors. Projects may include arts and crafts, science activities, imaginative play and more. We've hand selected and kid tested projects that are open ended and encourage curiosity, exploration and creativity!
What ages is Kiwi Crate for?  Ages 3-8 but older children can enjoy it too.
When am I billed? You will be billed for your first crate immediately. After that, you will be billed up to 10 days before your ship date. This would be on or around the 5th of each month.
When does the box ship? The first crate will be shipped within 2 business days and subsequent crates will ship the next month around the middle of the month in the U.S. Crates to Canada will be shipped on or around the 15th of each month
Can I skip? Yes – if you do not want to receive a crate for a period of time, you can pause your subscription for 1, 2 or 3 months. To pause, log into My Account page, click "Manage Subscription" next to the subscription that you'd like to pause and then click Pause. You will not be charged while your subscription is paused. Your subscription will automatically resume after the pause period is complete. Pause by 7:00 PM EST on the 4th of the month to avoid being billed for the next crate.
How do I cancel?  You can cancel right from you online account.
Website: www,kiwicrate.com
My son is so excited to see Kiwi Crate on the doorstep.  I have to take my pictures and video immediately, because L has to work on his crafts.
There is always an information card on top, that tells you what the crafts are for the month.
The main crafts this month were "My Skyscraper" and "My Taxi Cab".
The back of the information card has Steve the kiwi bird and a friend.  Your child can color the characters and play with them in the box.  There is also a sticker.  When you first sign up for Kiwi Crate, you will be sent a poster and a pair of scissors.  Your child can put all their stickers on the poster.  When you fill it up, email Kiwi Crate, and they will send you a new one!
This is our current Kiwi Crate poster.  This is actually our second poster.  This is the poster you will get with your box.
 The bottom of the box has a little scene, that your child can use with Steve and his friend.
 Explore Magazine comes with this magazine.  It is packed with cartoons, activities and bonus crafts.  There is even a recipe for "man hole pizza".
 The first bonus craft in Explore Magazine is my traffic light.  This looks like a simple craft and I know L will love playing with it with his cars.
The second bonus craft in Explore Magazine is marshmallow building.  You child can see how tall he/she can build a tower.
The last bonus craft in Explore Magazine is my city stamping.  You make a building out of paper and then your child uses erasers to stamp a colorful city skyline.
 The last special item in Explore Magazine was some punch out signs.  These can be used with the skyscraper your child will make in this kit.
The first craft in the box was "My Taxi Cab"  I love Kiwi Crate's instructions.  They are full color and walk you through each step.  This craft rated low on the messy scale, medium on the parental involvement and your child will work on exploring, creating, and fine motor skills.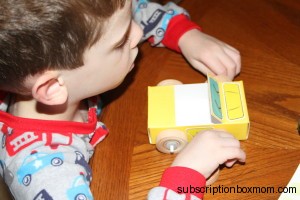 This project was really easy for L (age 4 1/2) to complete.  He is all about doing things himself, and doesn't want me to help him.  He put on the stickers, wheels and had a blast.
Finished Taxi!  The taxi craft came with a roll of road tape, that you child can play with on the floor and then pull back up.
The second craft was "My Skyscraper".  I knew L would love building, but was worried about the coloring part.  L HATES to color.  He always rushes through any coloring project, and just wants to be done.
 After showing L the basic building process on the directions, he went to town building.  He had a blast with these parts and I would love to be able to buy more.
 As suspected, L wanted to take about 10 seconds to color.  I had to do some encouraging, to get him to color and have patience.  He drew his dad in the blank window, a fire fighter in the fire house, his bear blanket in the toy store and pizza in the pizza shop.
 Finished Skyscraper.  I was really proud how it turned out.
 Final Thought:  Once again, Kiwi Crate was a hit!  I can't say enough about this company.  They always find age appropriate activities and projects that my son love.  I get several subscription boxes, but if I had to cut all but one, Kiwi Crate would be the one I would keep.  Kiwi Crate has helped to teach my son letters, following instructions, patience, and so many other skills.  The best part, is my son loves it!  If you want to try Kiwi Crate, click HERE and you can save $10.00.  That means you can try Kiwi Crate for $9.95.
Do you love Giveaways?  Check out all my Giveaways HERE
Disclosure: This post contains referral links