March 3, 2014
03/03/14

By Subscription Box Mom

1 Comment
1
Citrus Lane March 2014 Spoilers and Coupons
I received an email today and I believe it shows some March Spoilers
Citrus Lane sends 4-5 products for children from newborn to age five at $29.00 a month.  You can get discounts for buying longer subscription too.   Click HERE to see all my Citrus Lane reviews.
Coupons: Get your first box for $9.00
To Get This Deal
1.  Click HERE.  Note: You will see a screen to save $10.00.  Just click "GET A BOX".  The special coupon will save you $20.00.
2.  Choose your plan: 1 month, 3 months, 6 months, or 1 year.
3.  Fill out the details of your child.  When it is time to enter your payment information, Click to enter a promo code, and enter SPRING20
4.  Complete your order.  If you chose the 1 Month option, your first box will be $9.00!!
The Details:
Cost: Month to Month $29.00, 3 month subscription $24.00/mo, 6 month subscription $21.00/mo, 1 year $19.00/mo
When am I charged? 1st week of the month
When will I get my box?  Boxes usually arrive between the 17-24th of the month
How do I cancel?  Click HERE to go to the cancellation form.
Website:  www.citruslane.com
Citrus Lane March Spoilers 2
From Left to Right
1. NEW Hape Eco Toys Wooden Animal Number Book (This link takes you to EBAY).  Thank you Melinda L for finding this!
2.  Plum Organic Fruit Pouch $1.99
3.  Hape Bamboo Car-Roadster $4.99 ages 3 + (Confirmed in boxes)
4.  Petit Collage Farm Babies Beginner Puzzle ($14.00) ages 2+
5.  Nail Buddy $6.00 ages 6+ (Confirmed in boxes)
**Update 3/11/14: Citrus Lane released an official spoiler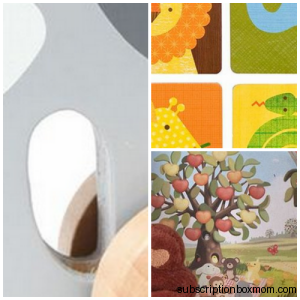 1.  Grey: Hape Push & Pull Elephant $14.90
2:  Animal shapes: Petit Collage Foam Memory ($16.00)  Preschool perfect matching game. Sized large, pieces are just right for small hands. Bright, graphic illustrations encourage interaction.  24 cards makes 12 pairs. Easy slide box allows for easy clean-up.
3.  Tree: Apple Park Bear Picnic Pal Wrist Rattle $16.00:  The link takes you too the owl, the picture shows the bear.
I am not sure is the items that appeared in my email are accurate.  My email stated these are some items that could appear in March Box.  It's safe to say the items in the official spoiler will be in the box.  I guess we will have to wait and see what are in the boxes.
Disclosure: This post contains referral links