March 26, 2014
03/26/14

By Subscription Box Mom

5 Comments
5
Boxtera March 2014 – Discount – Giveaway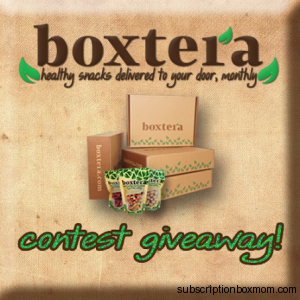 Boxtera, who sent me this box to review, is a snack food company, which brings delicious healthy snacks to your door, for $19.95 a month.  Each boxtera discovery box includes five adventurous all-natural snack varieties that fall into one of the five taste categories included in your gustatory perception; savory, sweet, sour, bitter and salty.  All of Boxtera's snacks feature no high fructose corn syrup, no trans fats, no artificial flavors, no artificial sweeteners, and no artificial colors.
The Details
Cost: $19.95
Coupon: Use the code MARCHBOX to save 10% on you first order
Shipping: Free
What's in the box? Each month you will receive 5 full-sized packages of Boxtera's smart snacks, along with a featured recipe
When am I billed? 6th of the month.
How do I cancel? Go to Boxtera's contact us page or send an email to cs@boxven.com. Then, fill out the contact form or send them an email stating you would like to cancel. Hit submit or send. You must cancel by 12pm on the 5th to prevent from getting another box.
Website: www.Boxtera.com
Boxtera ships by USPS
The first thing I saw was the information card, the fruit chips caught my eye first!
Chili Lime Churrito Mix: Hang on to your buds when trying our mouth-watering snack blend made with chili lime churritos, flaxseed corn chips and buffalo pretzels pieces.
This was a really tasty snack.  It has a very mild kick and the lime gives the snack a great flavor.  This is easy to chew and not too tough.
Ya better find a good hiding place for our Ridiculously Good Fruit Chips enjoyed by kids and adults alike. They're hands-down the best tasting fruit chips you will ever try!
Ridicoulously Good Fruit Chips: Oh My!  This are so tasty!  Many dried fruits are really hard to chew.  This are light, crunchy and have a great flavor!  My whole family loved these!  There is banana, honeydew melon, pineapple, star fruit, and apple pieces.
Our Wholly Wheat Raspberry Bars are out of this world. Just one bite of these decadent moist treats and you'll be in health food heaven!
Wholly Wheat Raspberry Bars:  This was another fantastic snack.  I am actually eating these at breakfast.  I have had some raspberry fig bars from other subscription boxes, but these are the best I have had.  They are soft, moist and I could eat the whole bag in one sitting.
Ready, Set, Snack! Our Fa Va Voom! Beans are roasted and salted to perfection for a crunchy snack that will make your taste buds tingle with delight.
Fa Va Voom! Beans: Okay, I will be honest.  When I saw these, I was skeptical.  Eating dried beans did not sound tasty.  These are dried, roasted and salted.  They are crunchy and are really pretty good.  They are packed with protein and I think these could help replace my chip cravings.
Move over, cheesy poofs. Our wholesome Chasin' Cheddar Sticks are a fresh healthy twist to an old snacktastic past-time.
Chasin' Cheddar Sticks: These have a fantastic taste.  They are toasted, but they don't have that burt flavor.  They have a cheesy coating and my four year old LOVES THEM.  They are also 100% natural, so I can feel good giving these to my children.
Final Thought:  This box may be my favorite snack box I have had.  Usually there is a snack that I don't care for, but I really liked everything in this box!  All the snacks were fresh, tasty and healthy.  I really love Boxtera and would recommend them to anyone looking for a snack box.  If you want to try Boxtera, click HERE, and use the code MARCHBOX to save 10% on your first box.  Boxtera is also giving one reader a free month!  Just enter below for a chance to win.  The contest closes April 21st, so be sure to enter!
Do you love Giveaways?  Check out all my Giveaways HERE
Disclosure:  I received this box for review.  My opinions are my own.  Boxtera is responsible for distributing all prizes.