February 16, 2014
02/16/14

By Subscription Box Mom

2 Comments
2
The Candy Kid Co Munch Box – Discount – Candy Subscription Box
This post contains affiliate links.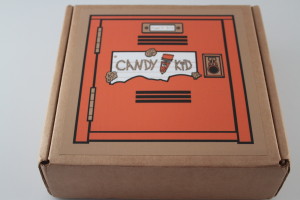 Update: It looks like Candy Kid may have gone out of business, but not deleted their check out.
The Candy Kid Co sent me their new Munch Box for review.  The Candy Kid Co Munch Box is a monthly surprise candy subscription box filled with candies that are funny, foreign, healthy, classic, and new. Delivered right to your door for your sweet tooth to munch into!  I love candy and was excited to see what this box included!
The Details:
Cost: $25.00 a month or you can buy a 1 time box for $25.00. There is also a Munch Bag for $9.95.
Coupon; Click HERE and use the code SUBMOM10, you will get 10% off any subscription plan.
Shipping:  Shipping is Free for anyone in the United States.  Candy Kid Co also ships internationally.  All international orders are charged  $10 for any Munch box plan and $5 for every Munch Bag plan anywhere in the world!
What's in the box? the Munch Box features 5-7 candy items such as
The Geek: fun novelty candy anything from pop culture to geek themes.
Health Nut: candy that is made with all natural ingredients and gluten free.
Newbie: candies from independent candy makers and/or bakers with products that have been in market for less than 2 years, from time to time we'll also feature new candy from some of the big names.
Foreign Exchange: candies from all over the world anywhere from Mexico to Japan. Let Candy Kid take your taste buds on a sweet tour!
Old School: some of your old time classic favorites to bring out the childhood memories!
Also included is the Munch Bag which is 1 serving of every bulk candy item in their collection (collection grows and changes every month). (The Munch Bag is also available for $9.95)
What is a Munch Bag? The Munch Bag is a monthly or biweekly subscription that features one serving of every bulk candy item in their bulk candies collection from the online shop. They currently have over 30 different bulk candy items to offer and every month the list continues to change and grow!
When am I charged? Initially you will be charged for your first Munch Box at the time you register for your subscription. From there you will be billed at the same day you signed up, every month for that month's subscription.
When does the box ship?  7th of the month
How do I cancel? Just email info@candykid.co with your name and address, the word "CANCEL" on the subject line and we'll cancel your account. Please note that all orders must be cancelled 24-hours prior to the first date of every month.
Website: http://candykid.co/
Candy Kid Co Munch Box ships in a brown box with a cute locker on the front.
The box was packed full when I opened it.
Underwear Sucker $3.50: Mint-flavored Underpants Sucker and is 2-3/4″ x 1-1/2″
Butter Sucker: $3.50 This is shaped like a 1-3/4″ x 1-3/4″ pat of butter.  It says it tastes like butter but it just had a weird candy taste.  My husband says it tastes like Pediasure.  It just seems to have a generic candy taste to me.
Fish Head Sucker: $3.50  This is a 2-1/4″ x 1-5/8″ fish head sucker on a stick.  I will admit this is the most unappealing sucker, I have ever seen.  C and I did try it, and it was pretty good.  It tastes sort of like a Lemonhead.
Willy Wonka Heart: 85 cents:  I couldn't find this online, so I guessed on the price.  Inside it had 3 wrapped rolls of tiny Sweetarts.
Now & Later $1.19: I love these and used to eat them as a child.  They are probably the cause of my cavities, but that's another story.  This pack has 18 pieces.  If you eat these, just brush after.
New Super Mario Brothers Green Mushroom Candy Tin, $4.45 These have tiny sour mushrooms inside.  These were a hit with my family!
Jet Bar $1.00 :  I couldn't find the price online, so I made a guess on the price.  These are not full size bars.  These tasted just like regular milk chocolate.  My friend Carolina let me know there is a surprise picture in every bar.  I totally overlooked this.  Sure enough, there was a little picture of a frog.  These bars are from Colombia and children collect the pictures.
Angel Crisp $2.26:  This is a light candy bar that tastes like a 3 Musketeers Bar meets a Nestle Crunch.  From Angel Crisp " a classic combination of smooth, creamy milk chocolate and crispy rice. Every bit a candy bar, but gluten-free, and made from the same organic and Fair Trade Certified® ingredients as the rest"
Bon Bon Bum 37 cents This is a sucker from Colombia and is strawberry flavored.  My 4 year old loves suckers, so this is going to him.
Cotton Candy $1.00: I am not sure the manufacturer on this, so I took a guess.  This wasn't very good, although I don't like any manufacturer bagged cotton candy.
 There was The Munch Bag included that was filled with candy.  This is also available for $9.95 .
Mix Bag of Candy: There was a bag of mixed bulk candy in a snack bag, that was sealed with a piece of tape.  I didn't like that the loose candy was mixed with wrapped candy.  Since the wrapped candy goes down the factory belts, I didn't feel it would be safe eating the loose candy.  I wish they would have had the candy separate.  I may be picky, but I think a twist tie or the fancy tape that seals the bag, would have been a better choice.
Wrapped Candy from Bag: 75 cents  The was a Charms Blow Pop, 2 starbursts, a jolly rancher, piece of gum, 2 bit of honey, 2 pixie sticks and a box of sugar babies.
Bulk Candy:  This looked like a yummy bag of candy, but I didn't try it, due to it being in the same bag as the wrapped candy.
Final Thought:  Overall, the total value was $22.37.  I didn't add the value for the loose candy, since I couldn't eat it.  Had the candy been wrapped separate, that value would be higher.  I would like to see an information card in future boxes.  I was able to find the novelty suckers online, but I like having a card to explain all the items.  My favorite items in the box were the Fish Head, Butter and Underwear suckers.  I have never seen suckers like those, and they made me laugh.  I like the idea of this box.  In the future, I hope wrapped and unwrapped candy is packed separate.   This is a new subscription box, and I look forward to seeing new boxes from them.  If you want to sign up for the Candy Kid Munch Box, click HERE and use the code SUBMOM10, you will get 10% off any subscription plan.
Do you love Giveaways?  Check out all my Giveaways HERE
Disclosure: I received this box free for review.  I was not compensated in any other way.  My opinions are my own.  This post contains affiliate links.