February 19, 2014
02/19/14

By Subscription Box Mom

2 Comments
2
Austin Lloyd February 2014 2-3 year old
This post contains affiliate links
Austin Lloyd is a subscription box for children newborn to age 3.  Each month, your child gets 4-5 educational toys and at least 1 book.  The toys are bpa and phthalate free and they are unique, high end toys, that you will not find at most stores.  You will never get toys with batteries.  The toys are also chosen to improve fine motor and cognitive skills.  Each box is designed for the play level of the child.  Austin Lloyd has a breakdown of child development on their website.  You choose the play level that fits best for you child.
The box is $49.99 a month, but you can choose to go every other month too.  Austin Lloyd also has a donation feature.  Once you are done with the toys, and are ready to get rid of them, Austin Lloyd will send you a prepaid shipping label.  You mail the toys back, and they will donate them to their partnering charities.
My youngest son has been getting Austin Lloyd for a few months, and we really love it.   I love using Austin Lloyd to gather birthday presents for T.  Since T is my second child, it is harder to buy for him, as we have so many toys from my first.  I think it's important for T to have new toys and not just hand me downs.  Austin Lloyd sends great unique toys and books.  All of them have been well received by T.  I still have some held back for his birthday next month, and I am excited to for him to see all his great toys.
The Details:
Cost: 1 Month $49.99
         3 Months $ 49.99 per month
         6 Months: $44.99 per month
Play Levels: 0-5 Months
                      6-12 Months
                     12-18 Months
                     19-24 Months
                      2-3 Years
What's in the box? Each month, or every other month, your child get 4-5 educational toys and at least 1 book.  You will get unique, high end toys that are not typically sold in retail chains.  All the toys are designed to improve fine and cognitive motor silks.  The toys will ever have batteries.  The overall value of the box will also be greater than what you pay.
When will I get my box? Subscribe by the end of the month, to get the next month's box.  Boxes ship the 3rd week of the month.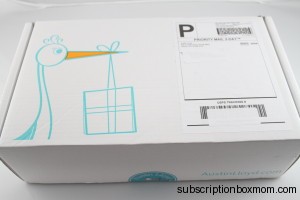 Austin Lloyd's box are rather big and have a beautiful drawing of a stork holding a present.
I love the presentation of the box.  When you open the box, it looks like a wrapped present.  There is a name tag that is personalized with your child's name.  There is also envelope with your child's age group.  The envelope contains cards with all the products in the box.
Each information card has pictures of the product, a description and the retail price.  The theme for this month was Zoo Adventures.
Serpentine of Numbers: Zoo: $32.29.  Count on the fun with Serpentine of Numbers Zoo from HABA! These brightly colored beech wood tiles foster recognition and the assigning of pictures and numbers. They can be arranged into a long snake or a circle! 21 pieces with animals and numbers on them. Perfect for ages 2 and up!
These look really fun.  This is something both of my boys can play with together.  I like that your child learns animals and numbers.
My First Touch and Feel Animals $8.90.  These are perfect for helping children develop early language skills, this exciting range of interactive flash cards reinforces learning through touch.
This is an example of the cards.  There are 16 cards in all.  Each card has a touch and feel part and the back has questions you can ask your child.  Some of the questions are "What's the name of this animal", What does the monkey feel like?", "What noise does the monkey make?" and What sound does the word monkey start with".  There are also notes on how to say that animal name in other languages.  These are really neat cards.  I plan to give this to T for his birthday, but I got them out tonight instead.  T loved the cow card and now can say MOO.
How Do Lions Say I Love You? $7.19:  This has sweet little rhymes and show how animals show their love.  For example, Lions say "I love you" with a purr and a cuddle.
Jungle Pals Lion Stacking Puzzle $15.83: Your child stacks and plays to make this lion puzzle.  This can also be a decorative accent to a child's room.  This looks like a fun and challenging toy for T.  This also comes with a year subscription for Parents magazine ($7.49 value).  You can get a $7.49 refund if you don't want the magazine.
Final Thought: The total value (using Amazon prices) is $71.70, that includes $7.49 for the magazine.  I like you can get a refund on the magazine and lower your monthly cost for this box even more.  This was another great box.  I love the toy selections and I think T will like each one.  Austin Lloyd would make a great gift for any little boy or girl.  I like that you can alter your subscription to every other month. I like stocking up for birthday or Christmas presents with this box.  If you want to sign up for Austin Lloyd, click HERE.
Disclosure: This post contains affiliate links.