January 3, 2014
01/03/14

By Subscription Box Mom

1 Comment
1
Cypress & 5th Review and Discount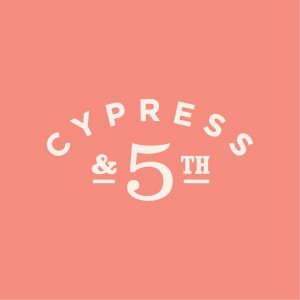 Cypress & 5th is a clothing subscription box company that lets you pick out a complete outfit for $74.95 a month.  A complete outfit consists of an accessory, top & bottom or dress. Each piece also comes with styling suggestions.  Cypress & 5th let me try out their styling process and they sent me the outfit I chose.  It was fun to look at all the clothing choices.  When you sign up, you answer several styling questions, so Cypress & 5th knows your style.  You will then be given a dressing room full of clothes.  Once you create the outfit you want, you can add on pieces for an additional cost.  Tops cost $39.95, bottoms cost $39.95, dresses are $69.95 and accessories are $17.95.  After your create your outfits and any additional pieces, you check out.
Each month, your dressing room would be filled with new items.  You have until the 5th of the month at 12:00am to make your selections or Opt Out.  If you opt out, you will have your $74.95 applied as store credit for the next month.  If you opt out of 3 consecutive months, you will placed at the back of the check out line.  If you are not satisfied with your outfit, Cypress & 5th accepts exchanges and refund.  You can find their complete exchange and refund policy HERE.
The Details:
The Cost: $20.00 Syling Fee and $54.95 for the outfit, for a total cost of $74.95
Coupon: Use the code SUBMOM15 to save 15%on your 1st order, exp 1/31.
What's in the box?  Every month you are given a dressing room and you can pick out a top & bottom or dress, and an accessory.
What sizes are available?  There are small (0-2), medium (4/6), large (8/10)
When am I charged?  You are charged when you sign up and you are charged the 6th of the month at 6am.
Can I skip?  Yes, you can skip, but you must log in and skip by the 5th of the month at 12:00am
Can I exchange or get a refund? Yes, please read the details of exchange and refund options HERE
How do I cancel?  You can call Monday through Friday 9am-5pm EST at 1-888-244-9881
Contact Info: Phone: 1-888-244-9881 , email:  hello@cypressandfifth.com  Website: https://cypressand5th.com/
The outfit came in a mail bag.  The bag was securely sealed.
The outfit was wrapped in tissue paper and sealed with a sticker.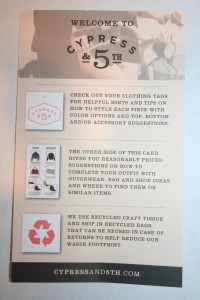 Cypress & 5th sends an information card that has general information about the company on the front, and styling suggestion for outerwear, purse suggestions and shoes on the back.
These were my purse, shoes and outerwear suggestions
This was everything that came in the package.  All the clothing was folded neatly.  I was excited to check everything out.
I have to be honest, I don't wear leggings…ever.  I am a conservative person and leggings always seemed so revealing.  I never wear skirts, so I decided to try leggings.  I am really glad I did, because they fit really well.  They have a thick material so I felt concealed.  I paired them with a large black and white sweater and boots and felt great.  Cypress & 5th included a small white card with styles suggestions: boyfriend sweater, riding boots, front tuck shirt, and bright colors.
This is how the style instructions come.  Each card is attached to the garment it goes with.
I really love this sweater.  It is a beautiful color and looks great on me.  I pair it with a camisole  for extra coverage.  I love this with jeans.  Cypress & 5th suggestions the following style instructions: front tuck, boyfriend jeans rolled, oxfords, stacked jewelry.
This is how the sweater instructions were printed.  This was also attached to the sweater.
I chose a simple arrow silver necklace for my accessory.  I love how simple it is.
This is a close up of the arrow necklace.
Final Thought:  Cypress & 5th is a unique styling subscription service.  I love that I got to see my outfit before making a purchase.  This gave me more confidence that I would be happy with my outfit.  I couldn't find my exact pieces online but many high end stores care the Blu Pepper brand (like Nordstrom).  The sizing of each item was very accurate.  Being a mom of two small children, it is hard to get time to shop for clothing.  I am glad there are companies that Cypress & 5th that let me shop from my own home.  If you are interested in trying Cypress & 5th, use the code SUBMOM15 and click HERE.  The coupon code expires Jan 31st.
Disclaimer: This box was received free for review.  My opinions are my own.