August 1, 2020
08/01/20

By Subscription Box Mom

0 Comments
0
Pipsticks July 2020 Pro Sticker Club Review + Coupon
Disclosure: This post contains affiliate links. I received this box for review.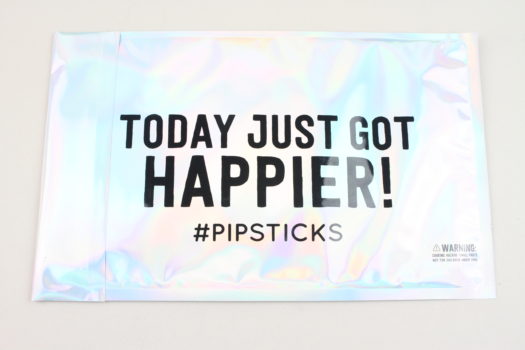 Pipsticks is a sticker subscription box for kids and adults too!
The Pro Club is $17.95/month and it's the sticker subscription just for adults, perfect for decorating planners, scrapbooking, or fun notes in your kid's lunch box. Each package contains 15 sheets of stickers, a reusable holographic pouch, plus extra goodies like paper, postcards, and an issue of Pippy, sticker club zine.
The Kids Club is $17.95/month and contains 15 sheets of stickers, a reusable holographic pouch, an issue of Pippy, sticker club zine, an activity booklet, 1 coloring postcard,
There are now Petite subscriptions. You can get either the Pro Club or the Kids Club for $11.95/month. Each package comes with 7 sheets of stickers and including 1 collectible Big Puffy PipSticker with the kids club and 1 Issue of Pippy, sticker club zine with the Pro Club.
The Details:
Cost: Kids/Pro Club – $17.95/month Kids Petite/Pro Club Petite – $11.95/month. There are discounts for longer subscriptions.
Coupon: To check out Pipsticks, use this link with the code BOXMOM15 to save 15% off the first month of any subscription order.
What's in the box? Each Pipsticks sticker subscription pack is full of stickers in all shapes, sizes, colors, and textures.
When will I get my box? Your first sticker pack will be shipped on the 1st or 15th of the month. You will never wait more than two weeks for your stickers.
Website: http://pipsticks.com/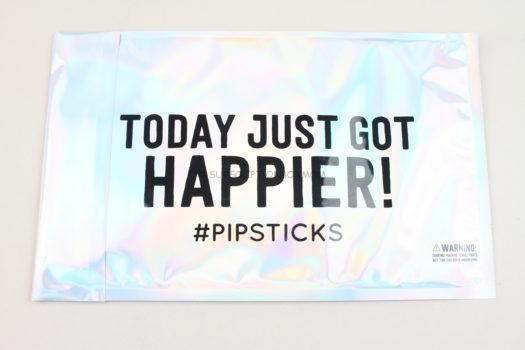 Pipsticks ships in a holographic envelope.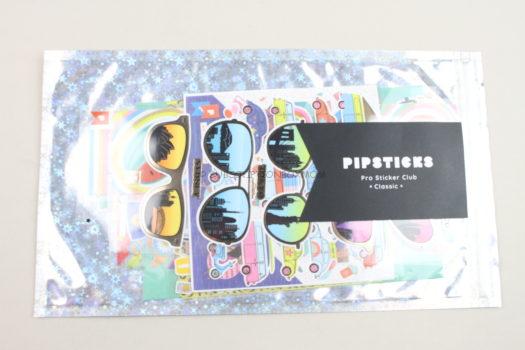 All the stickers come in a resealable clear envelope.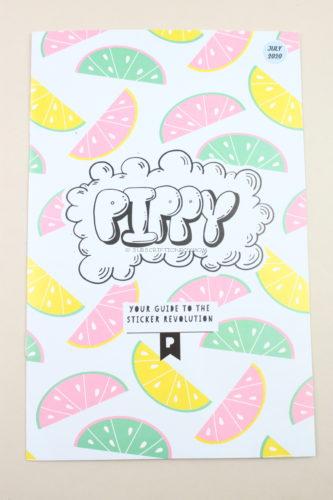 The magazine comes with a magazine, Pippy. The magazine contains an introduction to the magazine, information about designs in the bag, a poll, and additional articles. There is also a monthly raffle.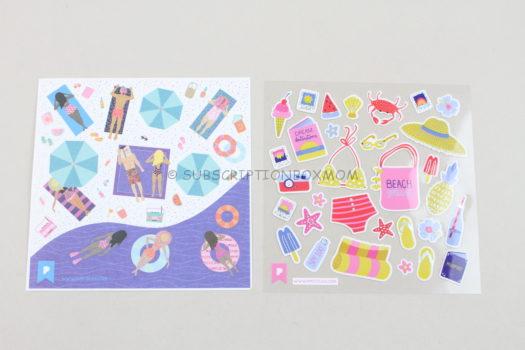 Beach Stickers There were two different sheets of beach themed stickers. I wish I could go to the beach right about now.
Hotel Keys and Door Hangers This is a unique sheet with hotel keys and little door hangers. These are so cute.
Faces There are multiple different faces on this sheet.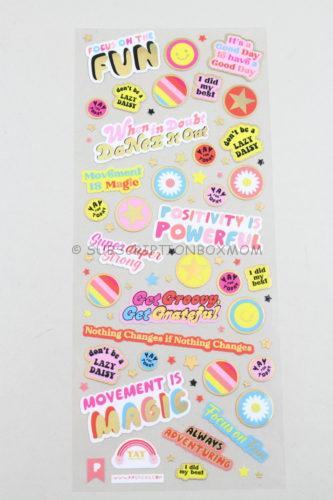 Phrases This sheet has several fun phrases that you can put on your backpack or notebook. I like the "positivity is powerful" sticker.
City Sunglasses Each of these pairs of sunglasses has a different city in the lenses. The cites featured are: San Fransciso, Paris, New York, Tokyo and Sydney.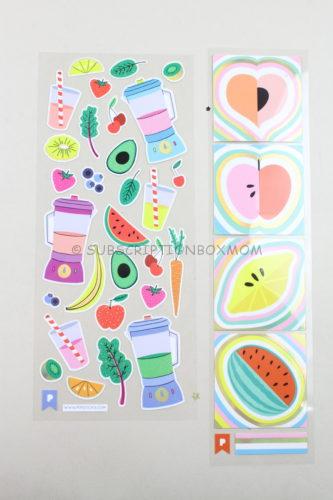 Fruit and Smoothies These stickers are various fruits. One sheet has a couple blenders, filled with smoothies.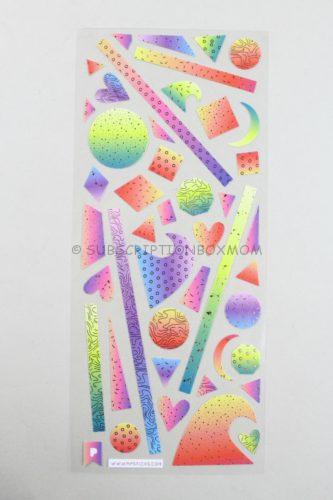 Rainbow Shapes These shapes remind me of the 80's. I love the fun color combinations.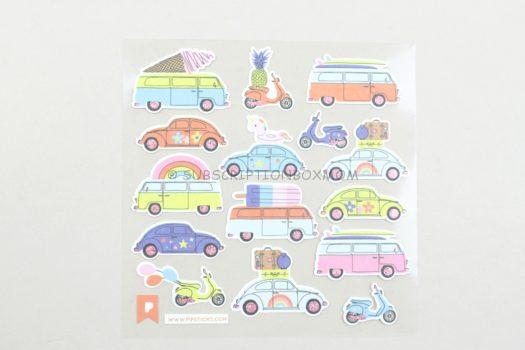 Vehicles I think all these vehicles are on the way to a fun vacation. The pineapple on the scooter is my favorite one!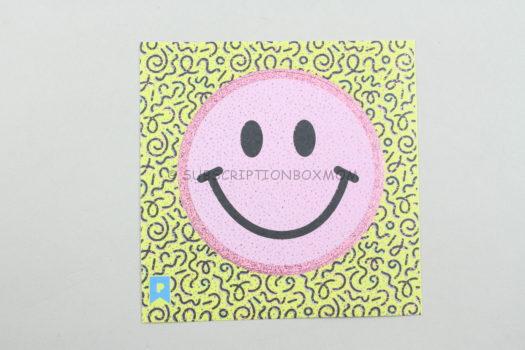 Smiley There was a building when I was growing up with a giant smiley face on the side of it. This sticker reminds me of that face. The outline of the face is a pretty pink metallic trim.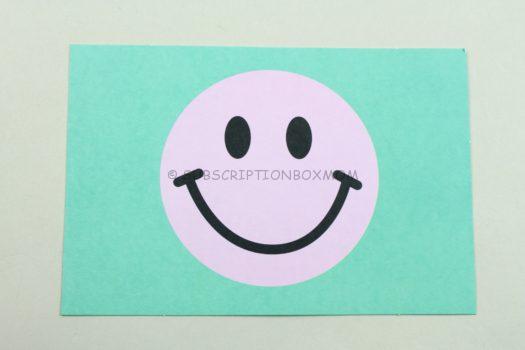 Postcard The postcard in the box matches the sticker! You can send this to a friend who needs some cheering up.
Standing Animals These animal friends are all standing up in swimwear and each one has a metallic feature. I like the pink gorilla in the bikini.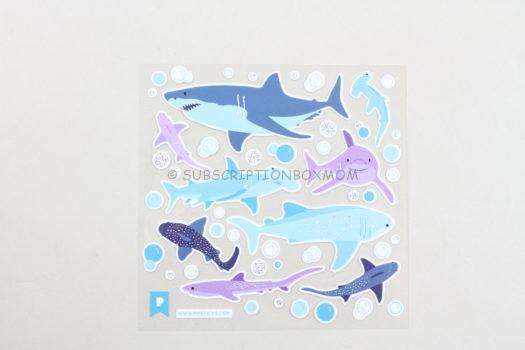 Sharks My boys love sharks so I know they each will want some of these. The sharks have little metallic highlights on each one.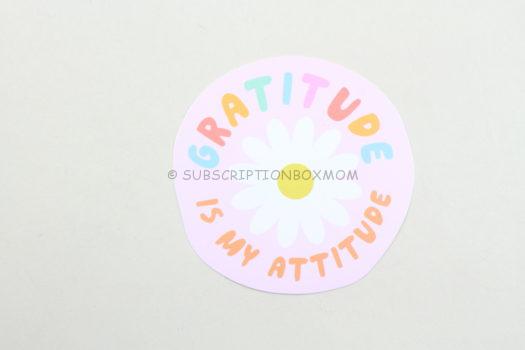 Gratitude is my Attitude This sticker is another positive and uplifting sticker. This one went into my journal.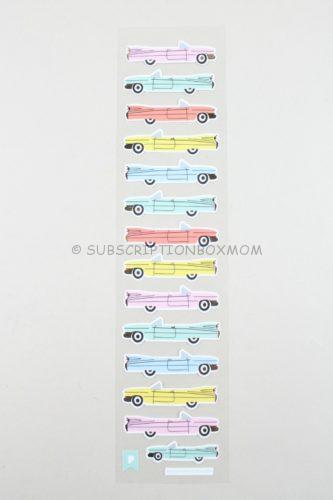 Convertibles These cars are ready to hit the beach or just enjoy the sunshine.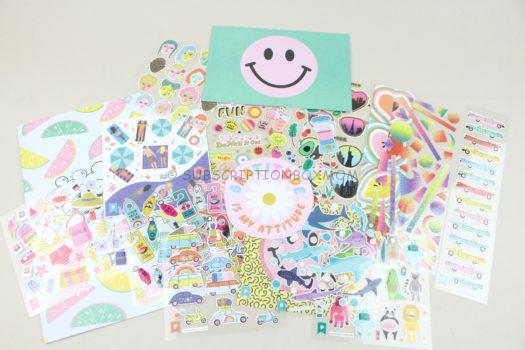 Final Thought: This month delivered a great month of stickers. I love all the vacation-themed stickers the most. Pipsticks is an affordable subscription with cute stickers.  For a limited time, use this link with the code BOXMOM15 to save 15% off the first month of any subscription order.
Do you like FREE SUBSCRIPTION BOXES? Click HERE to see my free subscription box list.