July 1, 2019
07/01/19

By Subscription Box Mom

0 Comments
0
Candy Club June 2019 Subscription Box Review + Coupon Code
Disclosure: This post contains affiliate links. I receive a commission from my links.
Candy Club is a candy subscription box that sends up to 3 pounds of candy for $29.99 a month. If you love candy, Candy Club delivers a huge amount of candy each month.  When you sign up, you will fill out a little questionnaire about your preferences. Each month you will receive up to 3 pounds of candy and a bonus splash of candy. Your candy will come in 6 plastic twist-off jars.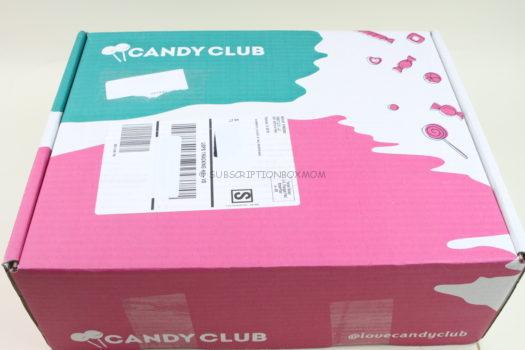 Candy Club now ships in a larger colorful box.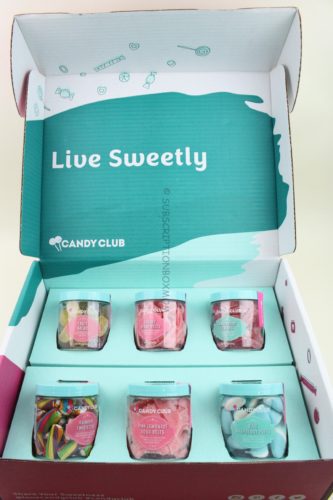 First Look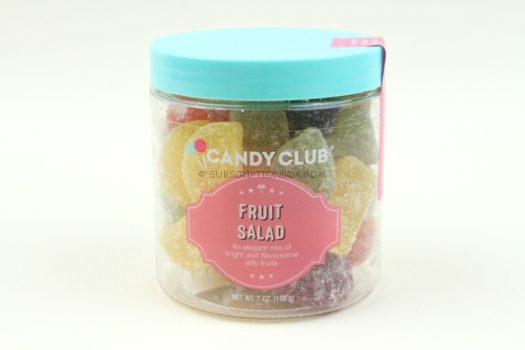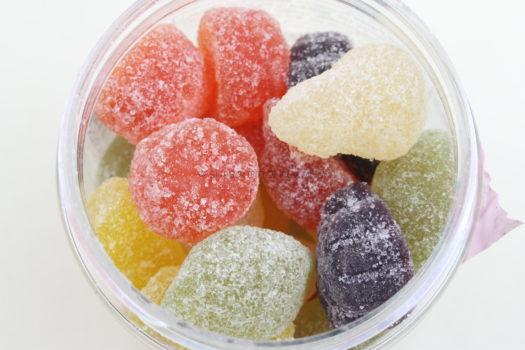 Fruit Salad Sophisticated and sweet, these succulent jelly fruits are infused with real pear, raspberry, lime, black currant, and orange juices. Non-GMO. These candies are shaped like different fruits and pack a huge flavor. My favorite flavor is the orange ones because they remind me of orange slices.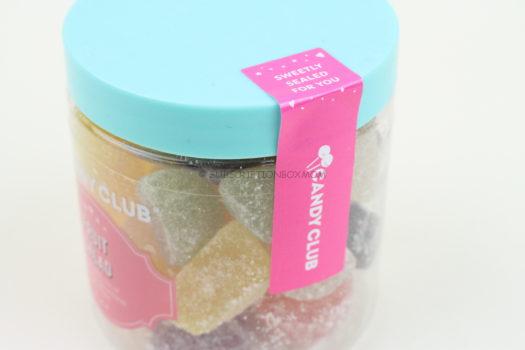 The jars of candy now have a sticker seal, in addition to a paper disc seal over the candy.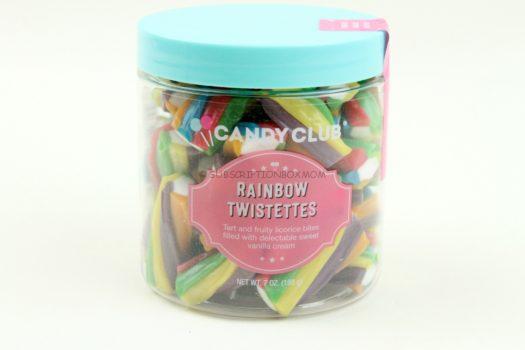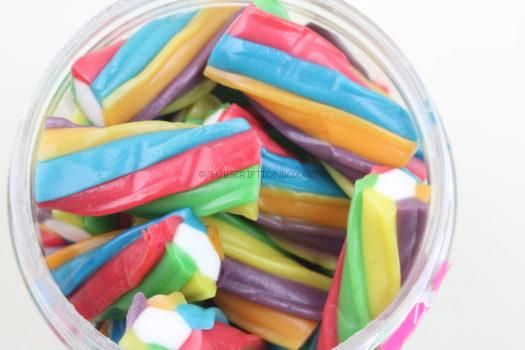 Rainbow Twistettes Twisted in red, green, blue, orange, yellow and purple stripes, and filled with a pleasantly tart sour center, this unique treat puts a wild spin on traditional licorice! Fruity licorice and vanilla cream come together in this treat. These remind me a bit of SweeTarts Rope, but they taste more like licorice.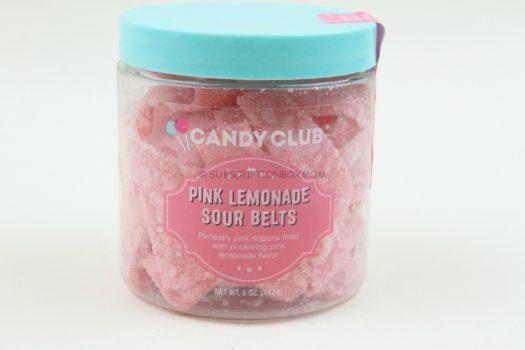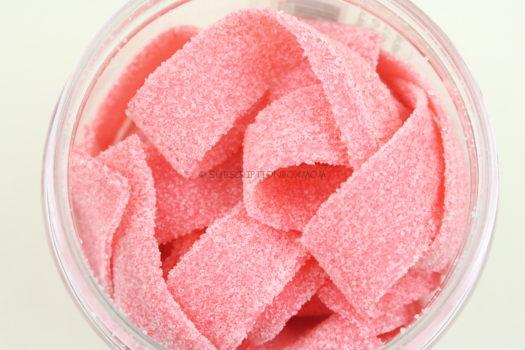 Pink Lemonade Sour Belts Get your summertime sour shimmy on with pout-puckering lemonade belts! These long candy ribbons deliver mouth-wateringly sweet-tart flavor in every bite. These have the same flavor as the lemonade straws, only in a thinner long belt.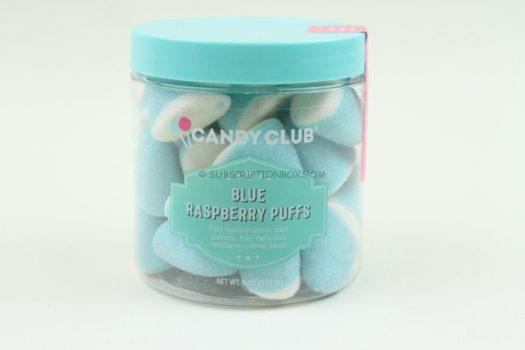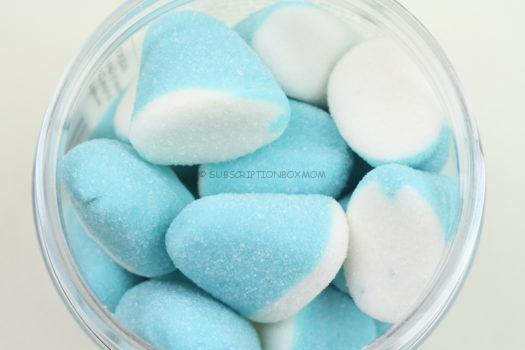 Blue Raspberry Puffs Soft and chewy, these blue and white, sugar-sanded raspberry gummi drops are bursting with flavor! When you open them up you'll smell the heady aroma of juicy raspberries! I am not a fan of blue raspberry flavor, but these are quite good. They are a lighter gummy that tastes great.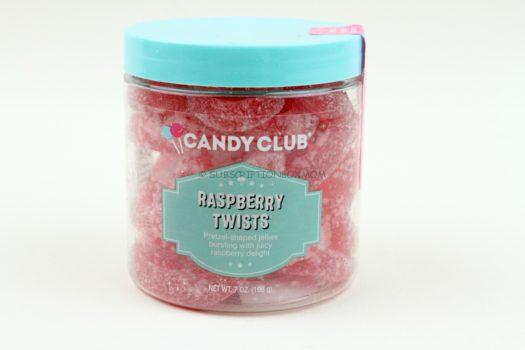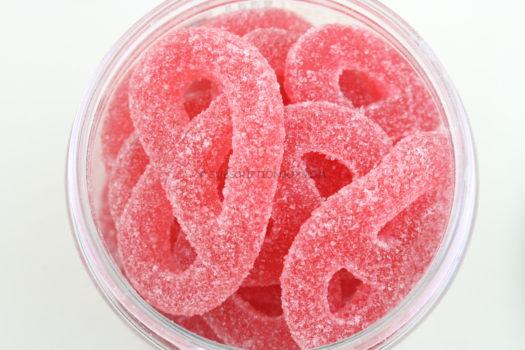 Raspberry Twists Bursting with bright, intense raspberry flavor, these delectable pretzel-shaped jellies are sure to twist your tastebuds up with delight! These gummies look just like pretzels. They are very dense, so one piece of candy lasts a long time.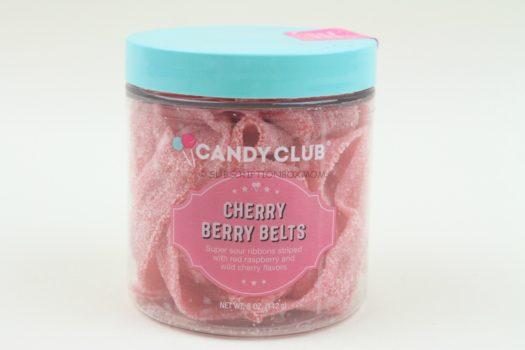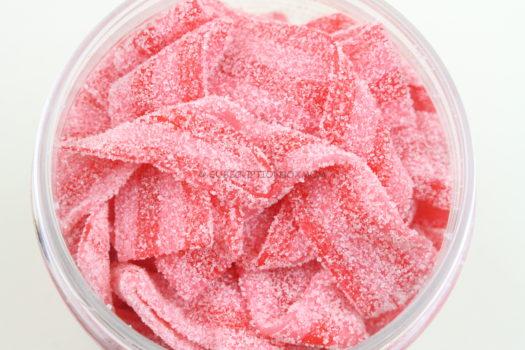 Cherry Berry Belts Super sour ribbons striped with red raspberry and wild cherry flavors. This is the most intense sour candy that I have received from Candy Club. I didn't taste much raspberry flavor, but the cherry was very sour.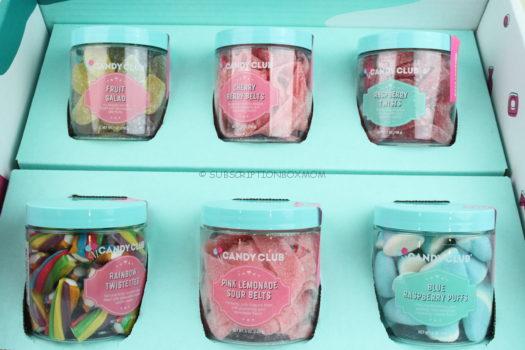 Final Thought: There were many great tasting candies in this month's box. The Fruit Salad and Lemonade Belts were my favorite candies in the box. The box is a fun treat for our family. The portions are great and the new jars are so cute! Get $15 off your Candy Club box, just use this link.
Completely Free Subscription Boxes + Cheap Subscription Boxes
Check out the NEW Subscription Box Directory
You can see my FULL coupon list HERE.