July 9, 2018
07/09/18

By Subscription Box Mom

0 Comments
0
Bibliophilic Excursions June 2018 Review + Coupon
Disclosure: This post contains affiliate links. I received this box for review. I receive a commission from my links.
Bibliophilic Excursions is a book subscription that includes a book, along with other items from that destination. The Bibliophilic Excursions Signature Journey is $59.99/month and comes with two books set in the featured country (one fiction and 1 nonfiction), along with items from that country. There are also other subscription plans; children's excursions, moving memoirs, ladies at lunch, women at work, and productive booster.
The Details
Cost: $59.99/month for the signature journey
What's in the box? The Signature Journey comes with two books set in the featured country (one fiction and 1 nonfiction), along with items from that country.
Coupon: Use the coupon POST5 to get $5.00 off your subscription.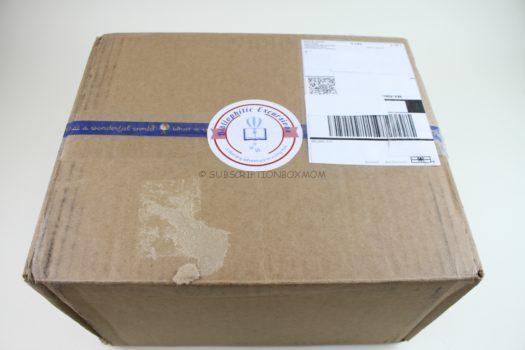 Bibliophilic Excursions ships in a big brown box.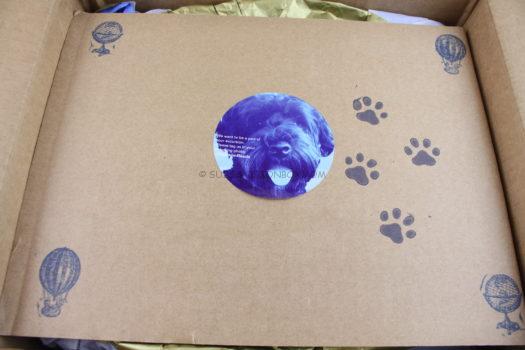 When you open the box, there was a picture of Malcolm the dog. Malcolm is asking you to share your photo with @malcomreads.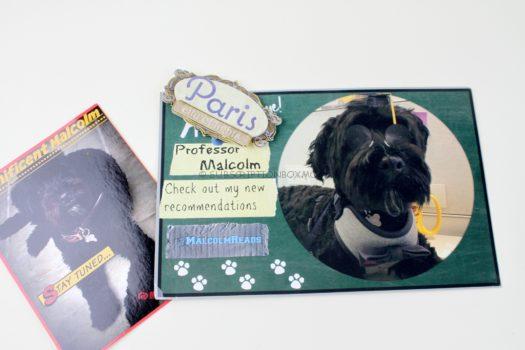 There was a coupon for $5.00 off your subscription, just use the coupon POST5.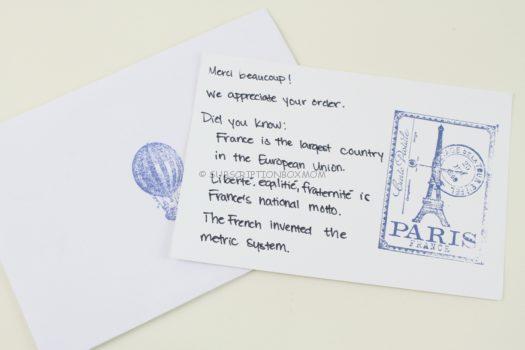 There was a welcome card in the box. There were some facts about France, along with the national moto.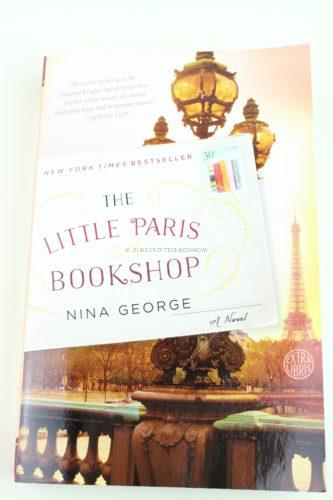 The Little Paris Bookshop: A Novel Paperback by Nina George $10.25 This is the fiction selection and it looks really good. I would love to sell books on the Seine, though I'd pass on the heartbreak.
Summary: Monsieur Perdu calls himself a literary apothecary. From his floating bookstore in a barge on the Seine, he prescribes novels for the hardships of life. Using his intuitive feel for the exact book a reader needs, Perdu mends broken hearts and souls. The only person he can't seem to heal through literature is himself; he's still haunted by heartbreak after his great love disappeared. She left him with only a letter, which he has never opened.
After Perdu is finally tempted to read the letter, he hauls anchor and departs on a mission to the south of France, hoping to make peace with his loss and discover the end of the story. Joined by a bestselling but blocked author and a lovelorn Italian chef, Perdu travels along the country's rivers, dispensing his wisdom and his books, showing that the literary world can take the human soul on a journey to heal itself.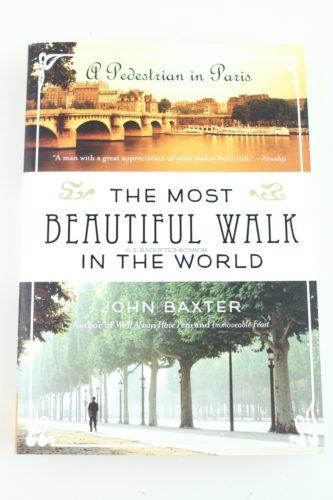 The Most Beautiful Walk in the World: A Pedestrian in Paris Paperback by John Baxter $10.86 This is the non-fiction selection. It's about a man who gives tours around Paris and his tales about what he has experienced.
Summary: From the author of Immoveable Feast and We'll Always Have Paris comes a guided tour of the most beautiful walks through the City of Light, including the favorite walking routes of the many of the acclaimed artists and writers who have called Paris their home. Baxter highlights hidden treasures along the Seine, treasured markets at Place d'Aligre, the favorite ambles of Ernest Hemingway, Gertrude Stein, and Sylvia Beach, and more, in a series of intimate vignettes that evoke the best parts of Paris many charms. Baxter's unforgettable chronicle reveals how walking is the best way to experience romance, history, and pleasures off the beaten path . . . not only of La Ville-Lumière, but also, perhaps, of life itself.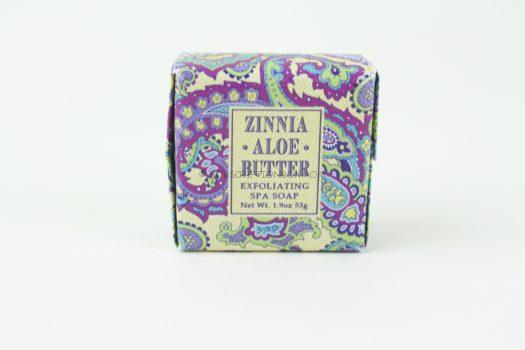 Zinnia Aloe Butter Exfoliating Spa Soap $1.97 Paris is famous for their gardens and this soap is very floral. Even the paper around this soap is pretty. This is a 1.9 oz floral scented soap that exfoliates your skin.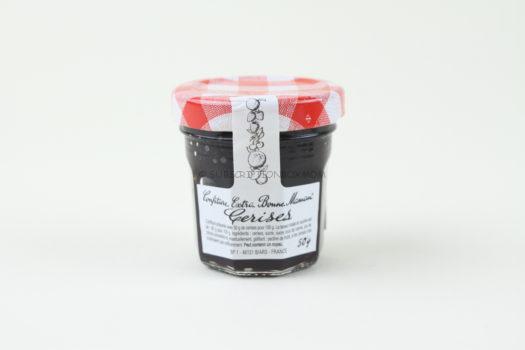 Confiture Bonne Maman Cerises Fruits Choisis I wish I had a croissant for these preserves. This cherry based preserves that are made a bit of lemon. I checked out the ingredients and at the end, it says "Malgré tous nos soins, cette confiture peut contenir des noyaux.", which basically means as much as they try, there may be stones. It gave me a laugh but I have had eaten this a few times and there are no stones.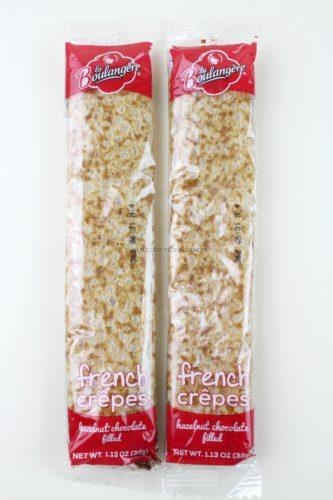 La Boulangerie French Crepes Crepes are one of the first things I think of when I think of Paris. For packaged crepes, this was pretty good. The filling is a yummy hazelnut. I only wish there more in the box. I could eat a whole package of these.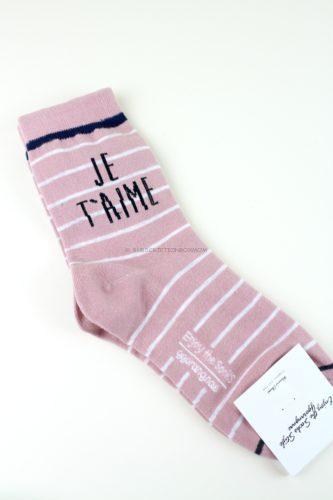 Ggorangnae Company Je T'Aime Socks Je T'Aime in French means "I like you". These sweet socks are comfortable and cute!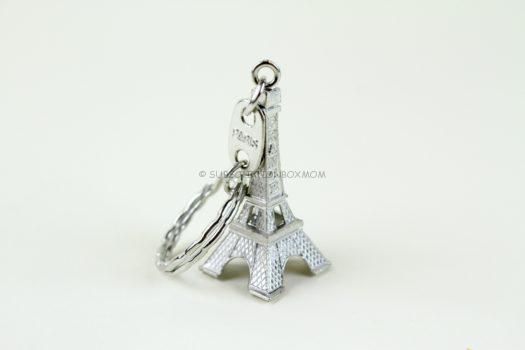 Eiffel Tower Key Chain I love Paris, though I have never been. This keychain is already on my keychain and it's a reminder that someday I will cross that ocean and see Paris.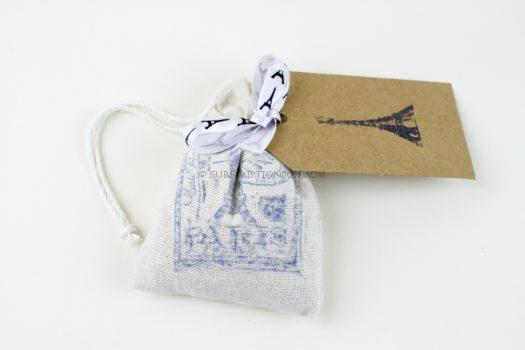 Lavender Sachet This little sachet is printed with a Paris print and is filled with dry lavender. You can put this in your drawer with your clothes or tuck it under your pillow at night.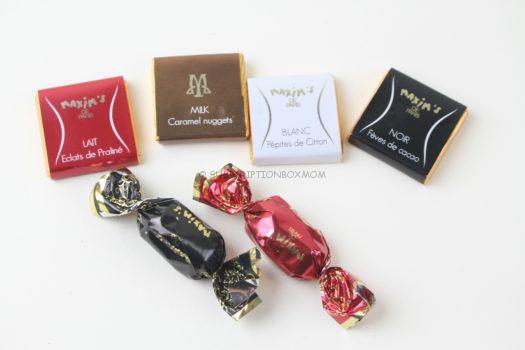 French Sweets There was an assortment of milk, dark, and white. There was also some chocolate caramel pieces. I did have a Gavottes Crepe Dentelle cookie, but it got ate before I could take a picture. It was a tasty sweet and was similar to a Graham cracker.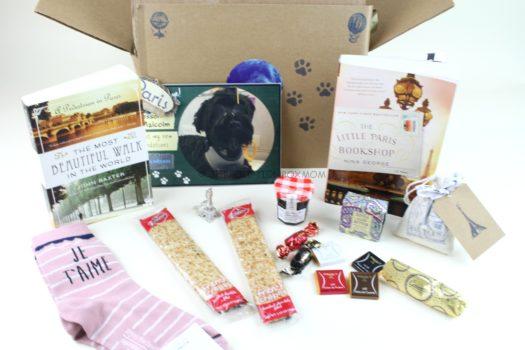 Final Thought: I enjoyed my little trip to Paris this month. I really loved the socks and the crepes this month. If you want to try out this subscription, use the coupon POST5 to get $5.00 off your subscription.
Do you like FREE SUBSCRIPTION BOXES?  Click HERE to see my free subscription box list.
Check out the NEW Subscription Box Directory
You can see my FULL coupon list HERE