December 15, 2017
12/15/17

By Subscription Box Mom

0 Comments
0
December 2017 Love with Food Deluxe Review + Coupons
Disclosure: This post contains affiliate links. 
Love with Food's theme for the December 2017 box is "Share the Love".Love with Food is a snack subscription box that sends snacks that are organic or all-natural, GMO-free, gluten-free or free of artificial junk.
 The Tasting Box is $9.99/month with free shipping and contains eight or more snacks.  The Deluxe version that features 16-20 snacks and is $19.95/month (free shipping).  For those on a gluten-free diet, the gluten-free box contains 8-12 snacks for $24.50/month.  Keep reading to the end of the review for coupons to save on a Love with Food subscription.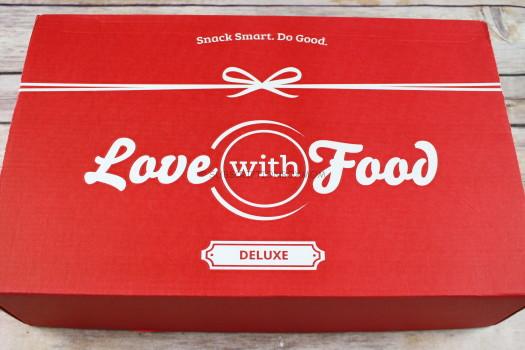 The deluxe Love with Food box ships in a large red box.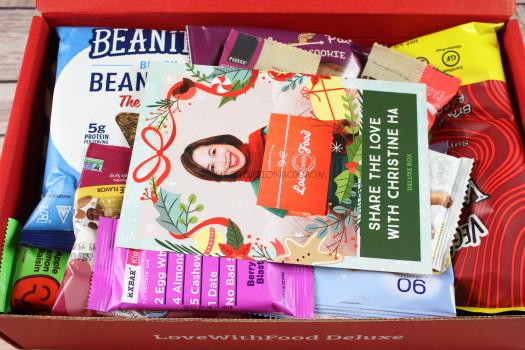 First Look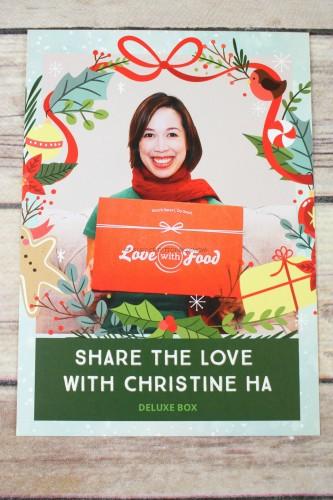 The theme for December is "Share the Love".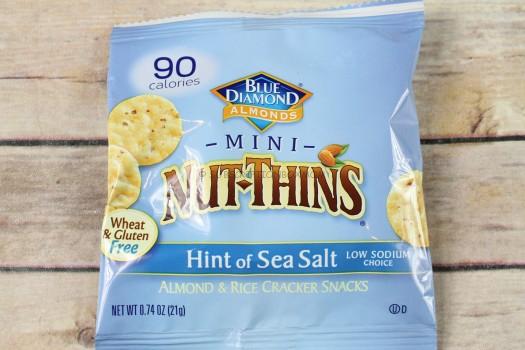 Blue Diamond Mini Nut Thins These crackers are made with almonds and rice. They are great with cheese or other toppings. There are only 90 calories in the bag. I regularly buy these in the store.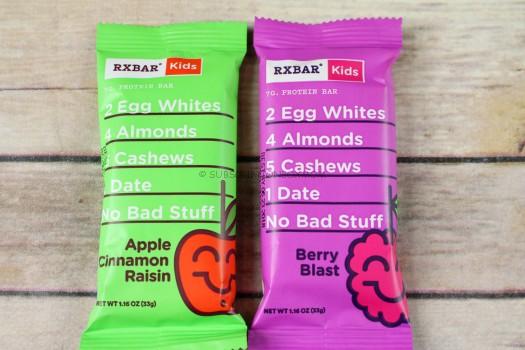 RXBAR Apple Cinnamon Raisin Kids + Berry Blast Protein Bars The front of these packages has some of the key ingredients, but the actual fruity flavors are listed on the back of the package. Each bar has 7 grams of protein and are a healthy choice for breakfast or snack.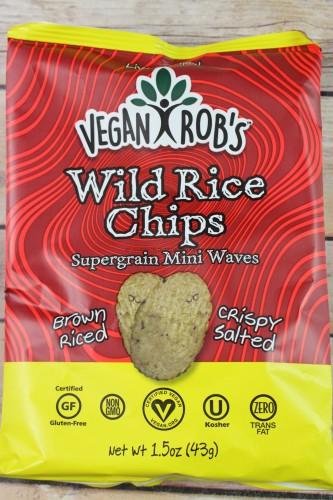 Vegan Rob's Wild Rice Chips These chips are made with brown rice, chia seeds, flax seed, quinoa and are lightly salted.  These are don't have any trans fat, are kosher, gluten free, vegan and non-gmo.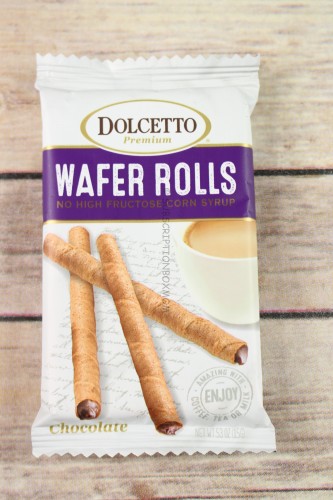 Dolcetto Chocolate Wafer Rolls These crunchy sticks are filled with chocolate and are great right out of the package.  They are designed to nicely complement a cup of coffee or hot cocoa.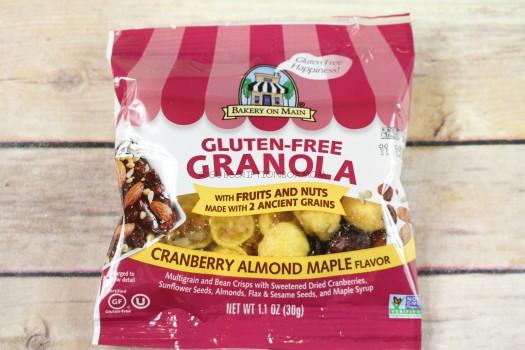 Bakery on Main Cranberry Almond Maple Granola Snack Pack I have had this snack before, but it was the coconut version, so I didn't eat it. This is a mix of multigrain crisps, bean crisps, dried cranberries, sunflower seeds, almonds, flax, sesame seeds and maple syrup. This was sweet and savory at the same time.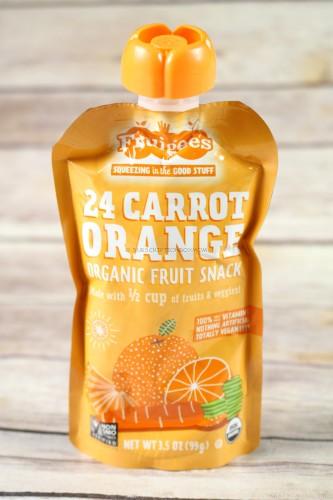 Fruigees 24 Carrot Orange Organic Fruit Snack My 5 year old loves pouches and it doesn't matter the flavor. This pouch contains 1/2 cup of fruits and veggies, so I will get at lease some veggies down him.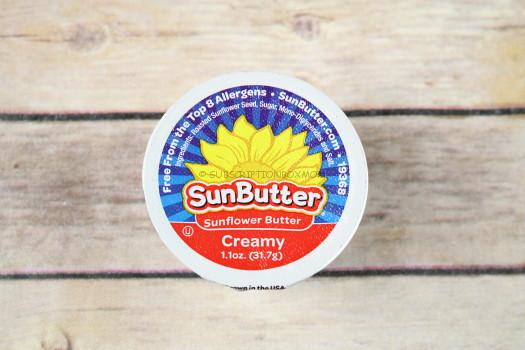 SunButter Sunflower Butter Since my 8 year old is allergic to peanuts, I don't keep any peanut food in the house.  This is a yummy alternative to peanut butter and it's safe to have around my son.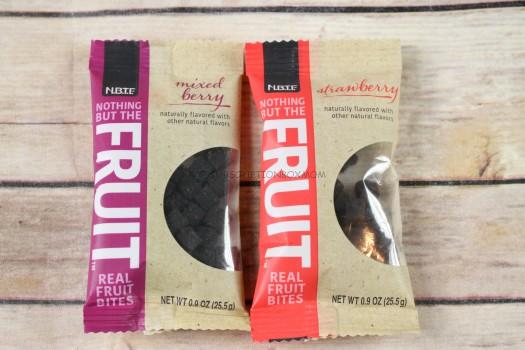 Nothing But The Fruit – Mixed Berry & Strawberry Real Fruit Bites If it looks like a fruit snack, my kids will eat it. These are also vegan, gluten-free and non-GMO.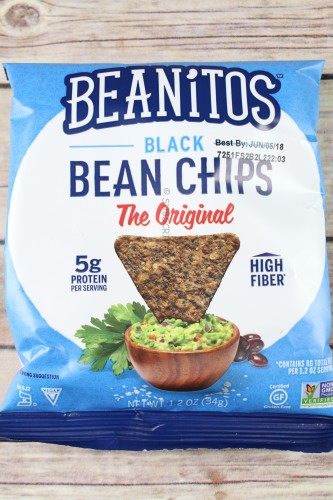 Beanitos Original Black Bean Chips Beanitos are my go-to chip for healthy options. These black bean chips are even better with salsa, though they are great right out of the bag.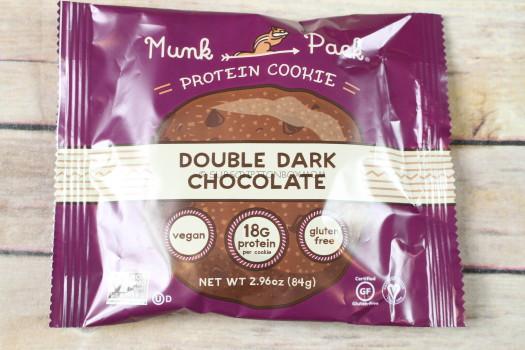 Munk Pack Double Dark Chocolate Protein Cookie I think this is my third one I have received in subscription boxes! I work out daily and this gives me the ability to have a cookie post workout.  This giant cookie can be split in two and has 9 grams of protein per serving. It's also vegan.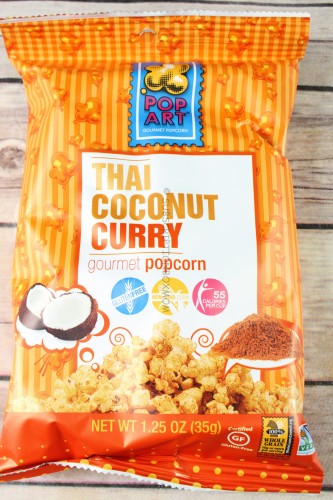 Pop Art Thai Coconut Curry Gourmet Popcorn This organic popcorn is flavored with coconut milk and spices. I am not a fan of coconut, so this is going to go in my babysitting box.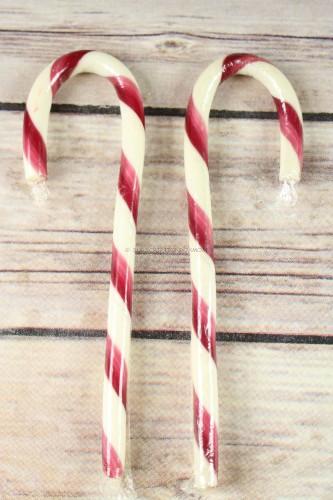 Wholesome Organic Peppermint Candy Cane These candy canes are gluten free, vegan and organic.  These have purple stripes instead of red and white.  These were tasty, but they are not as strong as regular candy canes.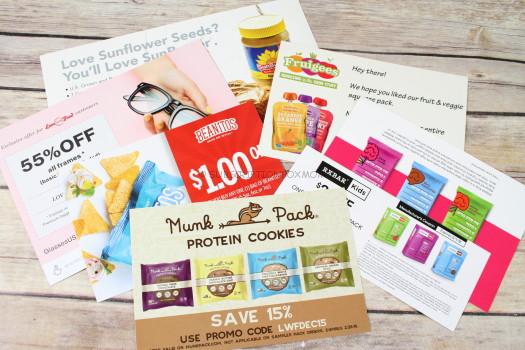 There were many different coupons and advertisements in the box.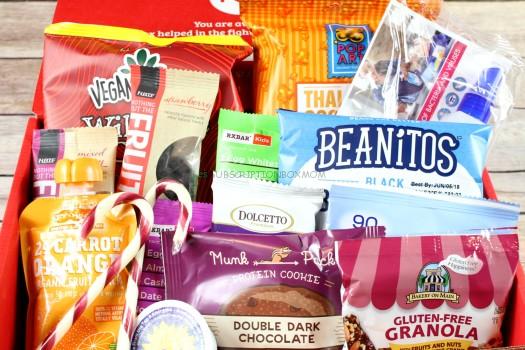 Final Thought: This was a nice box, full of tasty snacks. I love getting chips and salty snacks in my box. I also liked getting another Munk cookie.  If you want to sign up for Love with Food, there are a few deals.
Coupons:
To get the FREE Bonus Box, just use this link amd purchase a 6 month subscription. 
To save $10 on the Deluxe and Gluten Free boxes, use the code JOLLY.  You will also get the bonus box.
Do you like FREE SUBSCRIPTION BOXES?  Click HERE to see my free subscription box list.
Check out the NEW Subscription Box Directory