December 18, 2017
12/18/17

By Subscription Box Mom

0 Comments
0
BookCase Club December 2017 "Read To Me" Review + Coupon
Disclosure: The post BookCase Club December 2017 Read To Me Review contains affiliate links.  I received this box for review.
BookCase Club is subscription box that sends mystery boxes of 4 books, all for $9.95 ($5.00 s/h). When you sign up, you choose the category of books you wish to receive: Thrill Seeker Case, Booking for Love Case, Quarterly Cookbooks, Quarterly Military History, Strange Worlds Case, Teenage Dreams Case, Read to Me Case, and Blind Date Case.  Once you select your BookCase, your will get two books from that category, except the children's subscription will contain 3 books.  BookCase Club also gives back!  Each month, BookCase Club will partner with a book-centered, charity.  I was sent the children's subscription to review.
The Details:
Cost: $9.95/month
Coupon:
Use the code BoxMOM15 to save 15% on your subscription.
Shipping: $5.00/month.  US only.
What's in the box? BookCase Club will send you two handpicked books from one of five categories of your choosing.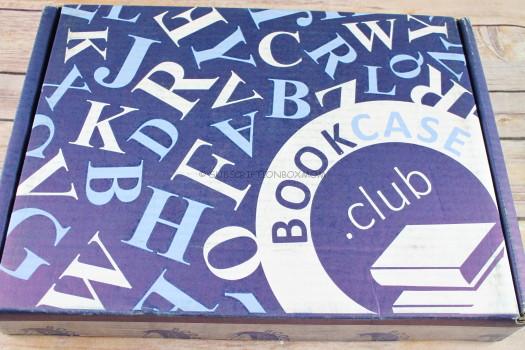 Bookcase Club ships in a little blue box.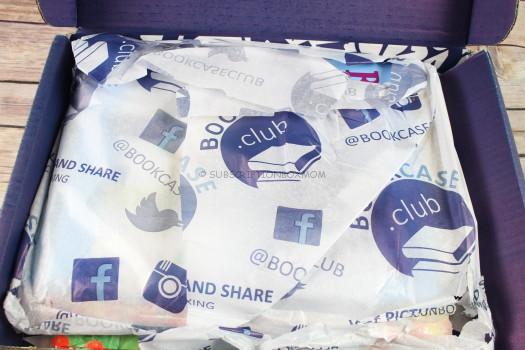 First Look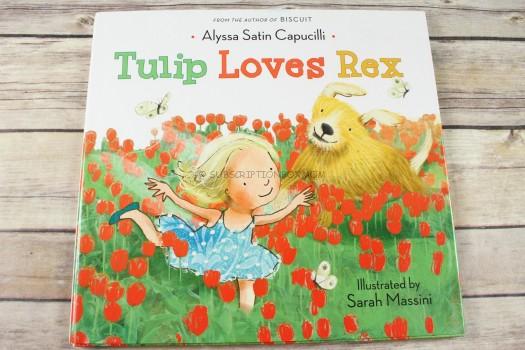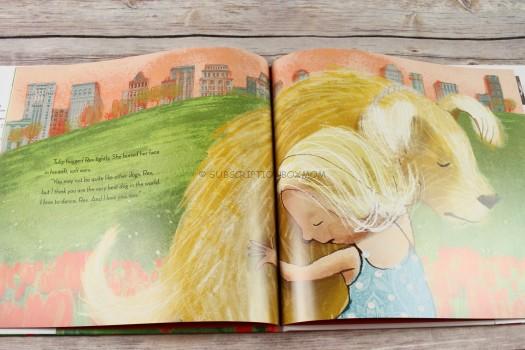 Tulip Loves Rex by Alyssa Stain Capucilli  $11.31 Amazon ($9.98 MSRP) This book is perfect for a little dancer.  Tulip loves to dance and each night she wishes the same wish.  One day, she goes to the park and meets a dog, who isn't quite like other dogs. This is a sweet story with a happy ending.
Summary: Alyssa Satin Capucilli, beloved author of the bestselling Biscuit books, has written another charming story about a little girl and her dog. With illustrator Sarah Massini's whimsical artwork, Tulip Loves Rex is perfect for fans of Ladybug Girl by David Soman and Jacky Davis and A Pet for Petunia by Paul Schmid.
Tulip Loves Rex is a sweet story about Tulip, who loves to dance, and her new friend Rex, a fluffy dog who also loves to dance. The lyrical text touches on themes of friendship, acceptance, and, most important, finding out what makes you who you are—and sharing that with someone you love.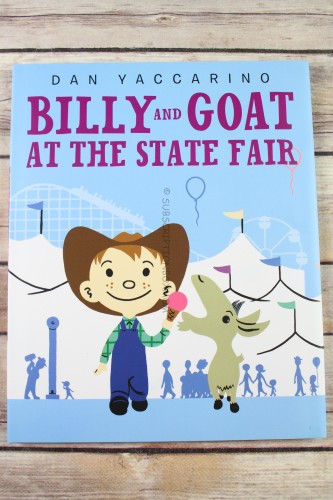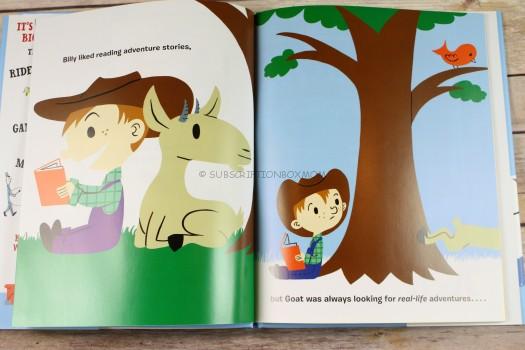 Billy and Goat at the State Fair Library Binding by Dan Yaccarino  $16.99 MSRP Goat and Billy each want to enjoy the state fair in different ways.  Billy is more shy and reluctant to go out where the rides are, but Goat is all about going full force.  While it makes for an exciting day, they both end up having fun.
Summary Billy and Goat are best friends, but they have different styles. Billy likes to smell the roses—Goat likes to eat them! So it's no surprise that they have different ideas of how to enjoy the state fair.
 
For Billy, the crowds and the noise are pretty intimidating. He's happy to wait in the livestock pens until the best-goat contest begins. But Goat's not one to sit when he could run. Faster than you can say butter sculpture, Goat's out of the pen and leading Billy on a merry chase past rides, games, contests, and exhibits. When Billy finally catches up to him—on the biggest float of the parade!—he's relieved, but also amazed. The fair is awesome! They may have missed Goat's chance to win best in show, but for Billy it's never been more clear—his best friend is the best goat ever!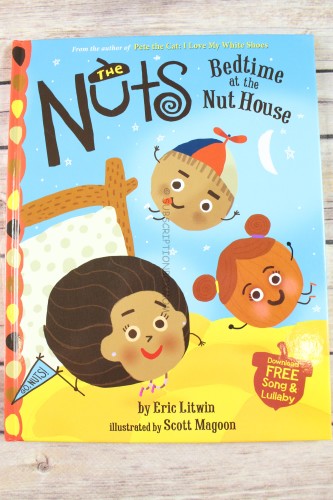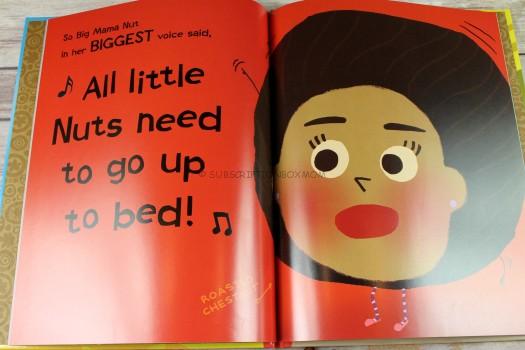 The Nuts: Bedtime at the Nut House Hardcover by Eric Litwin $11.61 Amazon I think I live at the nut house at time.  These little nuts are full of energy and do not want to go to bed. This is a book all parents of little nuts can relate to.
Summary: It's bedtime at the Nut House, but little Wally and Hazel Nut aren't ready to go to sleep."We're Nuts! We're Nuts! We're Nuts!" Why go to bed when you could be singing and howling at the moon?But Mama Nut insists… "All little Nuts need to go up to bed!" Who will win this bedtime tug-of-war?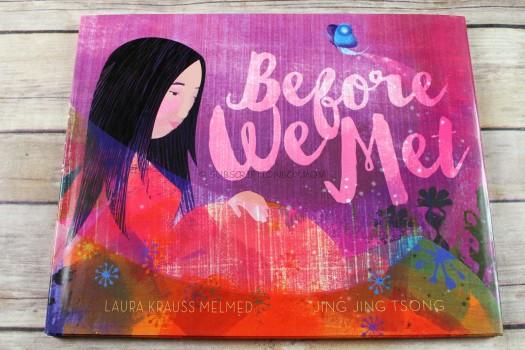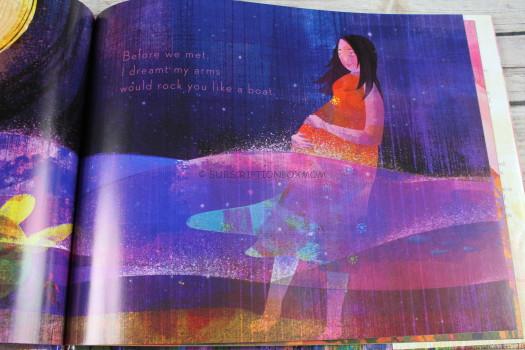 Before We Met by Laura Krauss Melmed $17.99 Amazon ($14.43 MSRP) This is a sweet story of a mother planning for her baby.  Kids love to hear how they were born, so I know kids will enjoy this story.  A family member just had a baby, and I think this will make a good baby gift.
Summary: No time is a dreamier time than when a new baby is on the way, and in this gorgeous book a mother tells her little one about all the dreams and promises and love she had for him or her even before they met. Laura Krauss Melmed's gentle verse and Jing Jing Tsong's lush, vibrant illustrations make this a wonderfully fresh look at the love between a mom and her baby.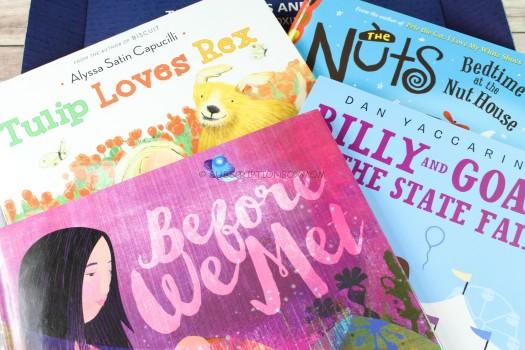 Final Thought: I really enjoy this subscription.  The value was over $55.00, which is a great deal.  The book about the state fair, and the nut house were our favorite books.  Subscribe and use this link with the code BoxMOM15 to save 15% on your subscription.  Your first month will be $8.49, plus the $5 shipping charge.
Do you like FREE SUBSCRIPTION BOXES?  Click HERE to see my free subscription box list.
Check out the NEW Subscription Box Directory
You can see my FULL coupon list HERE