November 30, 2017
11/30/17

By Subscription Box Mom

0 Comments
0
SnackSack Gluten Free November 2017 Review + Coupon
SnackSack Gluten Free November 2017 Review. Disclosure: This post contains affiliate links.  I received this box for review.
SnackSack is a healthy subscription box that includes snacks that are organic or all-natural,
non-GMO, vegan, fair-trade, or gluten-free.  SnackSack is $22.00/month for a sack full of healthy snacks.  There are also new vegan and gluten free boxes, which are $24.00/month. This is a review of the new gluten-free box.
The Details:
Cost: $22.00/month, You can also choose a 3 or 6 month subscription
Coupon: Try SnackSack and use the code BOXMOM15 to save 15% on your subscription for life.
What's in the box? SnackSack sends a sack full of delicious health snacks each month.
 Shipping; Free
SnackSack ships in a large white and green box.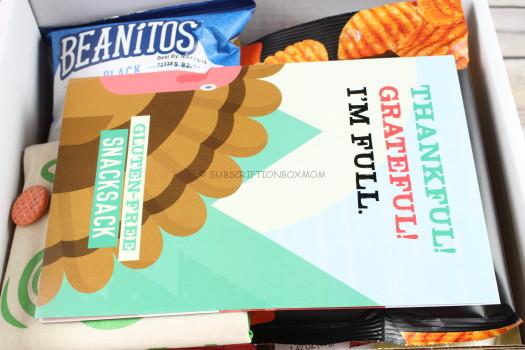 First Look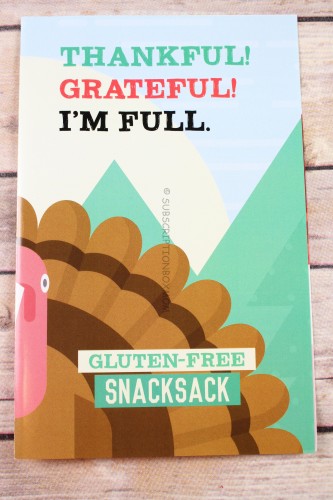 The theme for this month is "Thankful, Grateful, I'm Full".  The information card indicates this is the gluten-free box.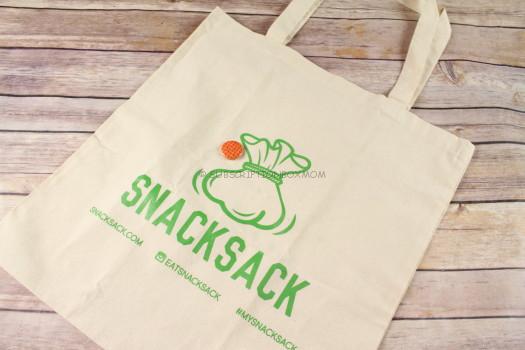 Your first box will come with a reusable tote.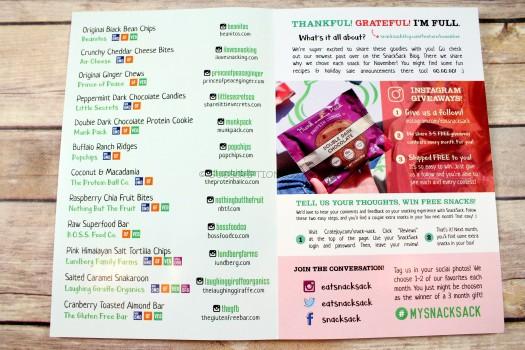 Inside the information guide, there are names and prices for everything in the box. The guide also tells if the food item is non-gmo, gluten free, vegan, and non gmo.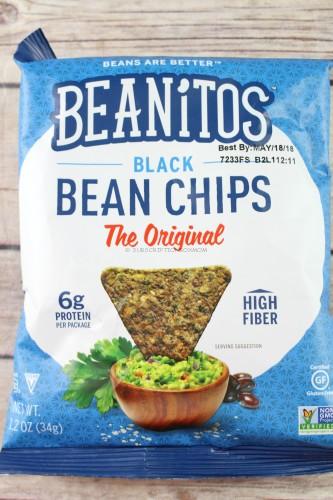 Beanitos Original Black Bean Chips I love Beanitos, because they are a healthier version of my beloved Doritos. These black bean chips are great with some fresh healthy salsa. These chips have fiber, which is kinda rare for a chip, plus 6 grams of protein.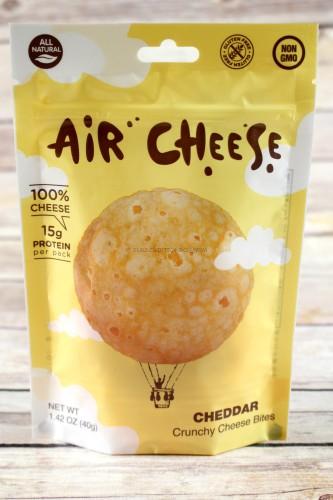 Air Cheese Crunchy Cheddar Cheese Bites These were so good! I started eating these and finished the bag.  Concerned with how much I ate, I checked the label. The whole bag is a serving, plus there are 14 grams of protein.  These look like cheese balls (the chip), but are crunchy and hard like a cracker.  They are made with 100% pure cheese.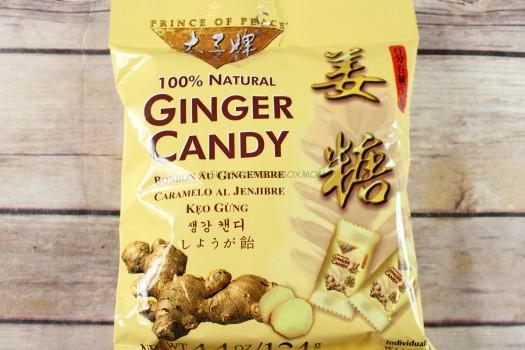 Prince of Peace Original Ginger Chews I was pretty surprised to see such a large bag in the box.  This bag is filled with little individually wrapped ginger candies. Ginger is great at settling tummies.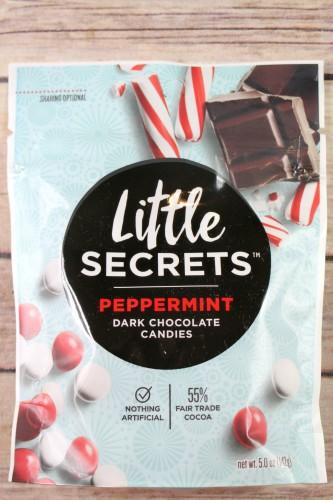 Little Secrets Peppermint Dark Chocolate Candies Chocolate and peppermint are my favorite combinations of sweets at Christmas time.  These are like a large M & M, but have the great taste of peppermint.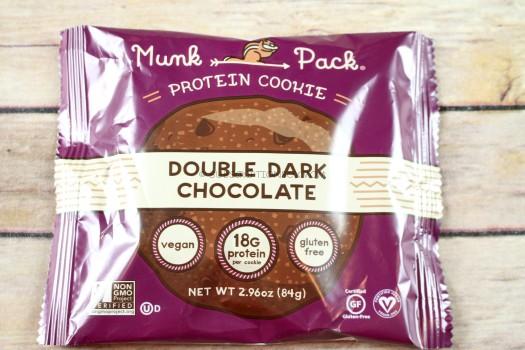 Munk Pack Double Dark Chocolate Protein Cookie Post workout cookie! This giant cookie can be split in two and has 9 grams of protein per serving. It's also vegan.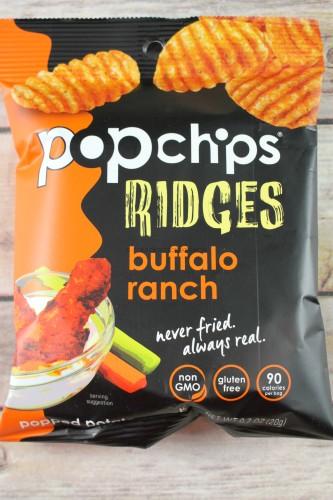 Popchips Buffalo Ranch Ridges These were much hotter than I expected. These had a hot flavor, mixed with a bit of ranch.  If you love hot wings, you will like these.  These aren't fried, so they are a bit better for you.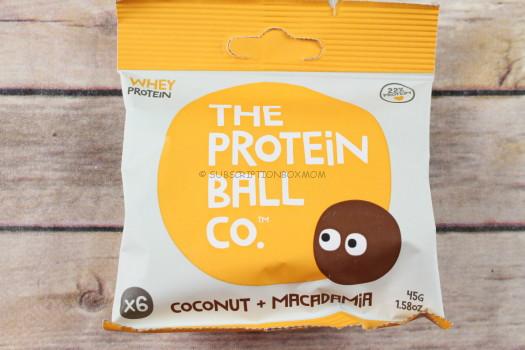 The Protein Ball Co. Coconut & Macadamia These are made with organic protein whey concentrate from grass fed cows, mixed with macademia nuts, dates, and coconut.  Since I am not a fan of coconut, I'll save this for my parents.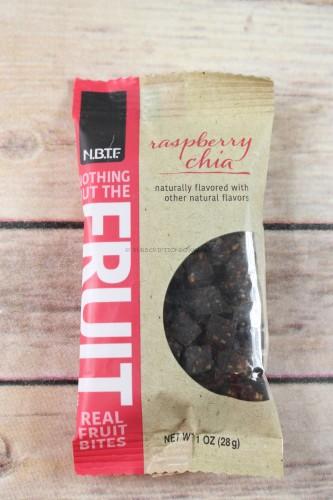 Nothing But The Fruit Raspberry Chia Fruit Bites My 5 year old loves fruit snacks of any type, so he will love these.  I won't tell him there is chia in them, and he will never no the difference.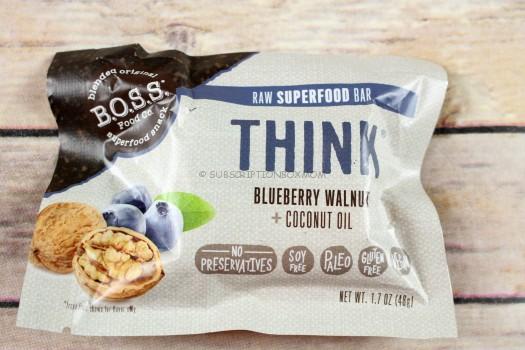 B.O.S.S Food Co Raw Superfood Bar These type of bars are great for breakfast, post workout snack, or while on the go.  This is free from preservatives, paleao,vegan and soy free. This bar is made with blueberry, walnuts, and coconut oil.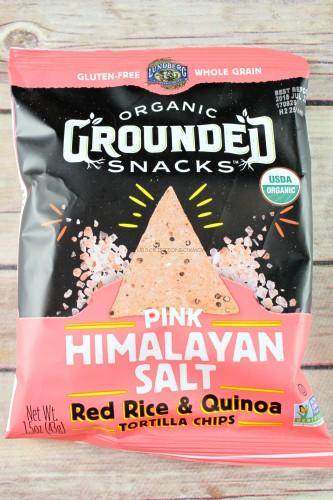 Lundberg Family Farms Pink Himalayan Salt Tortilla Chips More chips! These chips are made with red rice, quinoa, and pink himalayan salt. These salty chips are also good with salsa.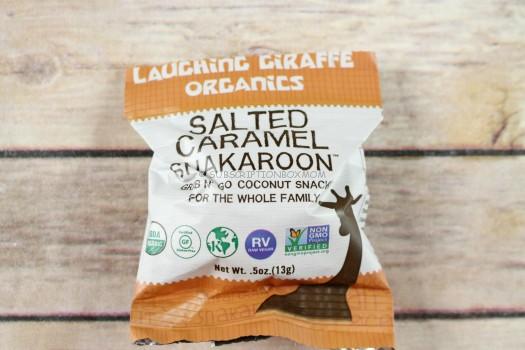 Laughing Giraffe Organics Salted Caramel Snakaroon These macaroon cookies are made with coconut and have a salted caramel taste. My parents love these little treats, so I make sure and save from my boxes.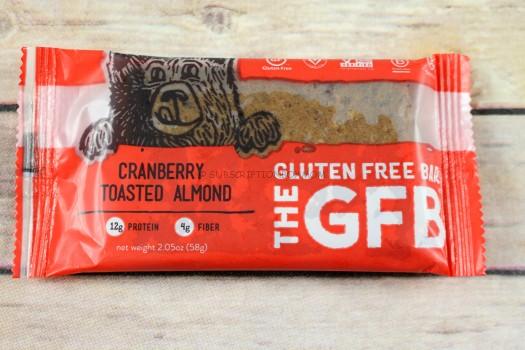 The Gluten Free Bar Cranberry Toasted Almond Bar This bar is made with cranberries and almonds.  It has 12 grams of protein, making another great breakfast bar.
Final Thought: I really enjoyed eating so many of these treats that I forgot they were gluten free.  The chips were outstanding, along with those Little Secrets. Try SnackSack and use the code BOXMOM15 to save 15% on your subscription for life.
Do you like FREE SUBSCRIPTION BOXES?  Click HERE to see my free subscription box list.
Check out the NEW Subscription Box Directory
You can see my FULL coupon list HERE