October 18, 2017
10/18/17

By Subscription Box Mom

0 Comments
0
BookCase Club October 2017 "Read To Me" Review + Coupon
Disclosure: The post BookCase Club October 2017 Read To Me Review contains affiliate links.  I received this box for review.
BookCase Club is subscription box that sends mystery boxes of 4 books, all for $9.95 ($5.00 s/h). When you sign up, you choose the category of books you wish to receive: Thrill Seeker Case, Booking for Love Case, Quarterly Cookbooks, Quarterly Military History, Strange Worlds Case, Teenage Dreams Case, Read to Me Case, and Blind Date Case.  Once you select your BookCase, your will get two books from that category, except the children's subscription will contain 3 books.  BookCase Club also gives back!  Each month, BookCase Club will partner with a book-centered, charity.  I was sent the children's subscription to review.
The Details:
Cost: $9.95/month
Coupon:
Use the code BoxMOM15 to save 15% on your subscription.
Shipping: $5.00/month.  US only.
What's in the box? BookCase Club will send you two handpicked books from one of five categories of your choosing.
Bookcase Club ships in a blue box.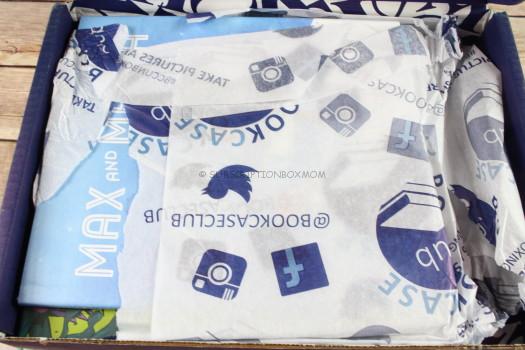 First Look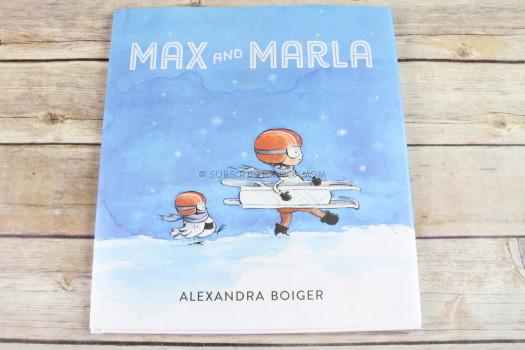 Max and Marla Hardcover by Alexandra Boiger $11.31 Amazon ($17.99 MSRP) Max and his little bird friend Marla are best friends.  They are also Olympians in their world.  They love to go sleeding, but they run into obsticals. 
Summary: Max and Marla are best friends. And aspiring Olympians! With their eyes on the prize, they know exactly what it'll take to reach sledding success: preparation, practice and perseverance. So when rusty blades, strong winds and difficult slopes get in their way, Max and Marla realize true joy lies not in winning but in friendship. Obstacles turn into victories! With delightful illustrations and charming text, Alexandra Boiger brings to life the story of two unstoppable pals—true Olympians who never give up!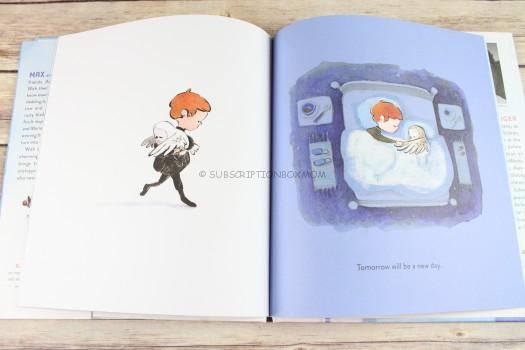 My youngest loved the part where the boy and bird fly through the air and hit a tree. This book was good at teaching kids persistance.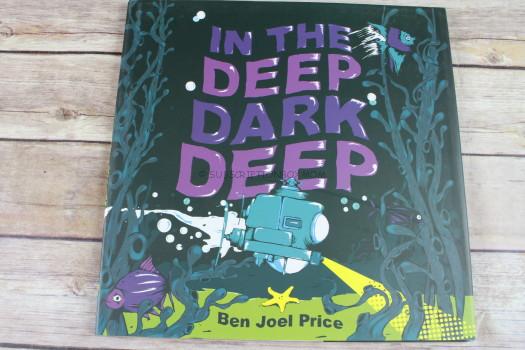 In the Deep Dark Deep Hardcover by Ben Joel Price This book is a squel and features monkey, robot and deep-sea diver on an adventure under the sea. My boys enjoyed reading about all the things they saw.
Summary: In this sequel to Earth Space Moon Base, Monkey, Robot, and Deep-Sea Diver embark on a dangerous underwater quest! The jellyfish and spider crabs they encounter are the least of their worries as they search the depths for missing starfish in their bathysphere, the Guppy. Ben Joel Price's cheeky rhymes and limited yet striking palette evoke an enchanting world that will give young readers the explorer's bug!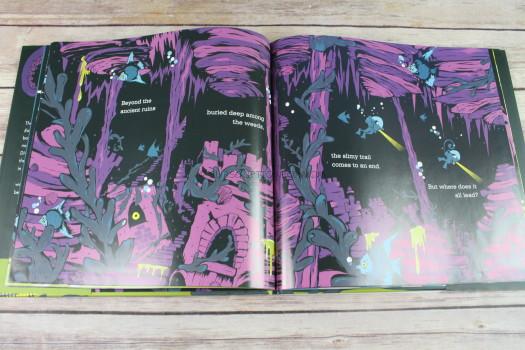 The book uses the same colors throughout the book: teal, green, purple, and grey. My oldest loves more adverture themed books, so he enjoyed this one.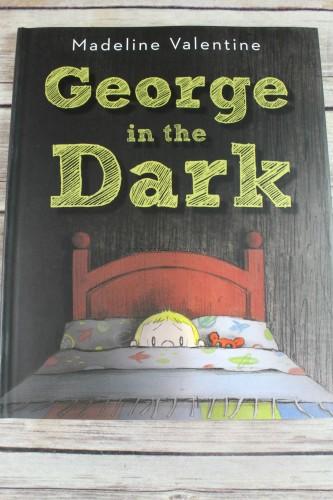 George in the Dark Hardcover by Madeline Valentine This is a great book for kids who are scared of the dark.  George's bear is across the room and it's dark.  George has to face his fears to get his friend back.
Summary By day, George is a brave boy. He'll climb the tallest tree, leap over fences, and stand up for his friends, without fear. But when the sun goes down, it's only a matter of time before his parents say good night, leaving him in the dark. In the dark, George's room fills with terrifying sights. The only thing to do is to hide under the covers with his bear. But wait! On this night, Bear is not in his bed. Where is it? It's across the room, in the darkest, scariest corner…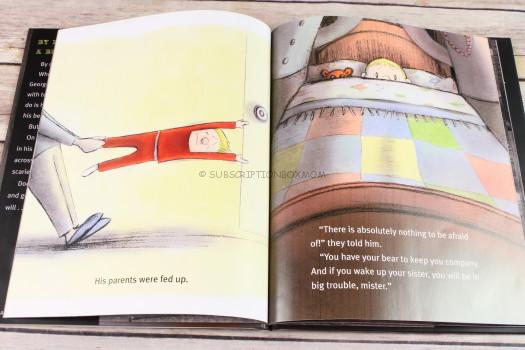 The author did a great job and putting the story in the perspective of a young child.  I remember having the same kinds of fears as a child.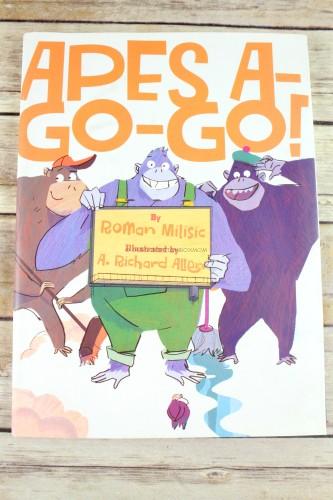 Apes A-Go-Go! Hardcover by Roman Milisic  This book is about a clean little town and how a bunch of apes ended up messing it up, all while trying to help. It's a pretty cute story and reminded me of my children.
Summary: When the mayor of a very tidy town notices a single flower out of place, Fussy Great Ape helpfully offers to fix it…but he demolishes the rest of the flowerbed in the process. He doesn't want the mayor to worry. He sounds off the ape call to action–"Bogo! Pogo! Apes-A-Go-Go!"—and Mucky Great Ape turns up to replant the flowers. Now the flowers look lovely…but now the entire town is covered in dirt!  Well, it's clear what this problem calls for. More apes! These eager apes have the best intentions, but they're heaping disaster upon disaster. Can they work together to return this town to its formerly tidy glory?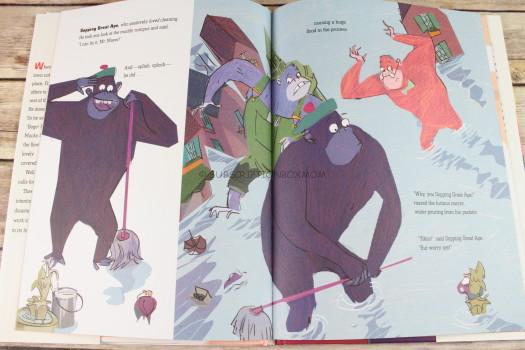 We liked how the gorillas were so much bigger than the townspeople.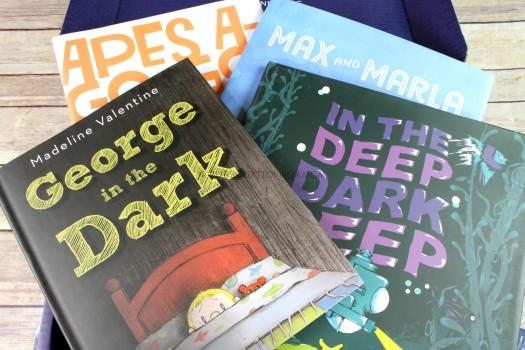 Final Thought: My boys love getting this subscription.  George in the Dark and Apes A-Go-Go the favorites in this month's box.  The value is outstanding for a $10 box (plus shipping). After using the coupon, you will be paying about $3.37 per book. Subscribe and use this link with the code BoxMOM15 to save 15% on your subscription.  Your first month will be $8.49, plus the $5 shipping charge.
Do you like FREE SUBSCRIPTION BOXES?  Click HERE to see my free subscription box list.
Check out the NEW Subscription Box Directory
You can see my FULL coupon list HERE