September 14, 2017
09/14/17

By Subscription Box Mom

0 Comments
0
Sensory TheraPlay Box September 2017 Review + Coupon
Sensory TheraPlay Box September 2017 Review. Disclosure: This post contains affiliate links.  I received this box for review.

Sensory TheraPlay Box is a subscription box filled with sensory toys for kids.  Boxes are $39.95/month and come with 5-8 sensory toys/ items in each box. Items are designed for kids on the autism spectrum or who have sensory processing needs.  Items are chosen to encourage the development of important sensory motor skills and are calming/ therapeutic. All items are selected by an Occupational Therapist, so you know the toys will be appropriate!
The Details
Cost: $39.95/month
Coupon: Use the coupon welcome to save 10%.
What's in the box? Each box contains 4-6 items chosen to encourage the development of important sensory motor skills and are calming/ therapeutic.
Sensory TheraPlay Box ships in a purple box.
First Look. Sensory Thereaplay includes an information card with pctures, names and discriptions for everything in the box.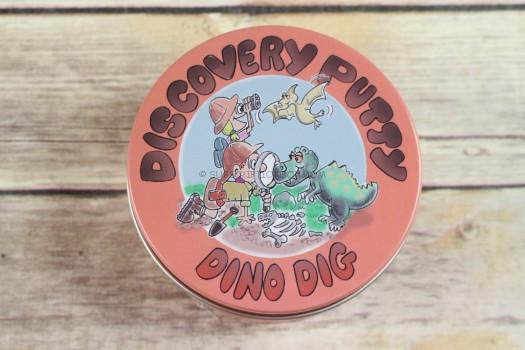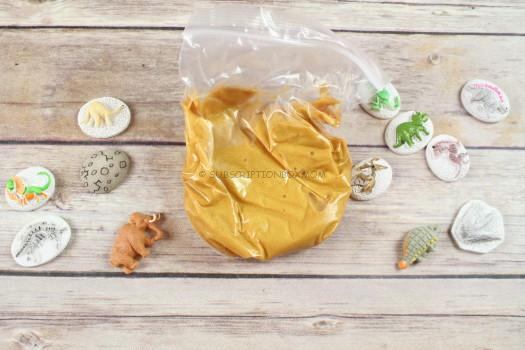 Fun and Function Dino Dig Discovery Putty $14.99 This is a soft resistance putty that comes with 12″ prehistoric dinosaurs and fossils. When you open the tin, you mix the dinosaurs and fossils in with the putty, then your child has to pull and stretch the putty to get them out. This works to help kids with low tone to build their muscles.  This is also a good sensory toy.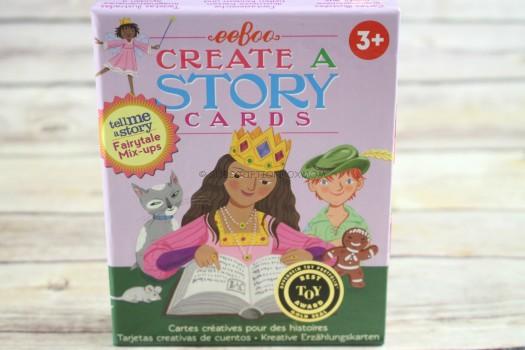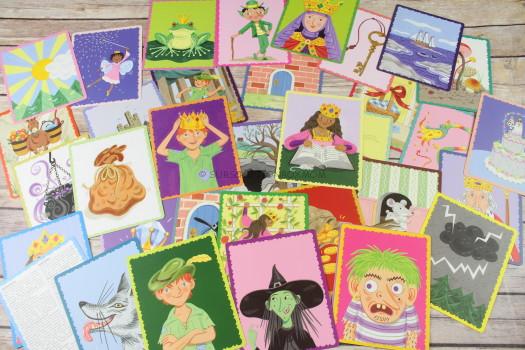 Create A Story Cards $11.95 These cards have different pictures on each one.  Your child can lay the pictures out and tell a story.  This is a great toy to help early reading skills.  These cards can also be used for kids who are non-verbal. My son and I had the greatest time today creating different stories.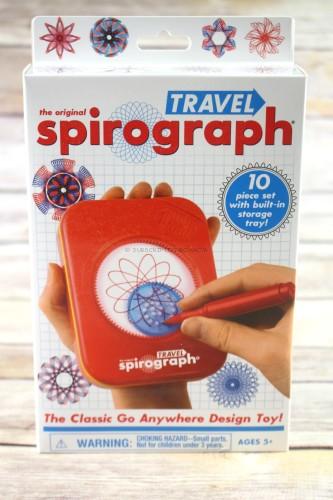 Spirograph Travel Set $9.99 This little set has gears your child can use to create different patterns.  This toys works fine motor skills, visual motor, and bilateral skills.  Everything fits inside the case for easy transport.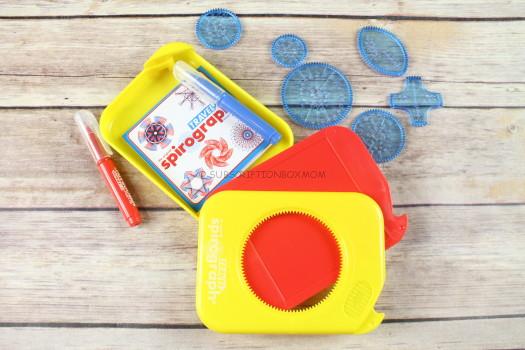 This set comes with two pins, 6 gears, a 24 page pad and a deisgn guide.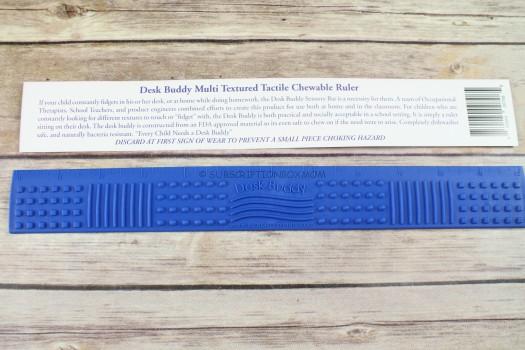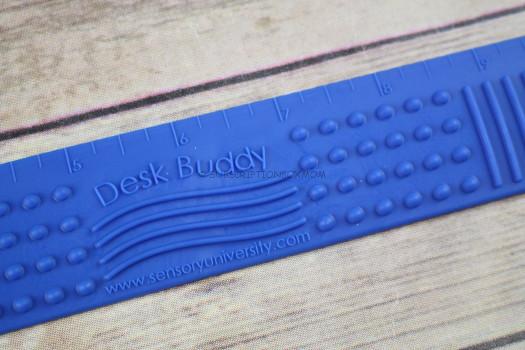 Desk Buddy $18.48 This ruler was created by an occupational therapist, school teacher and product engineers. This tool is an actual ruler, so it's a socially acceptable figit.  The ruler has different textures down the ruler, so there are many places to rub.  This is also FDA approved, so it can be chewed on.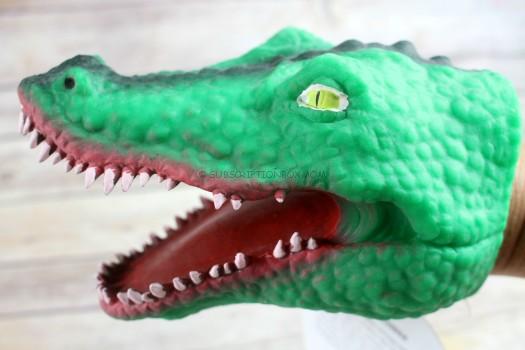 Club Earth Big Bites $6.00 This item was different than the product listed on the information card.  The item on the card were porcupine ball pencil toppers.  This crocodile hand puppet is made of a soft rubber and is very easy to manipulate.  There have been many crocodile attacks in my house lately.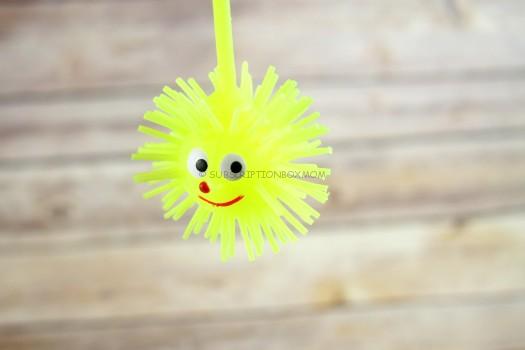 Smiley Face Puffer Ball Yo-Yo $1.00 This rubber puffer ball has a loop to go on around your finger to use as a yo-yo.  My son and I used the crocodile to try to catch the smiley yo-yo.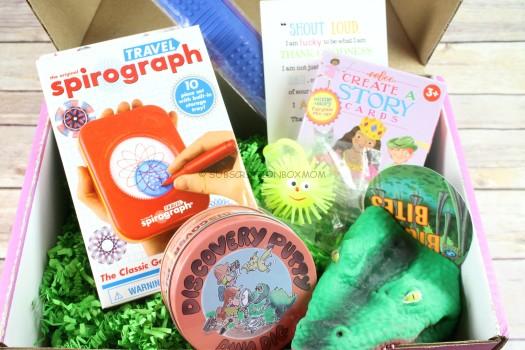 Final Thought: This box had a total value of $62.41! This box is one of my favorite subscription boxes.  My 5 year old loves this box and the toys he receives in this box get played with all the time.  The value is outstanding and well worth the cost.  You can use the coupon welcome to save 10% on your subscription.
Do you like FREE SUBSCRIPTION BOXES?  Click HERE to see my free subscription box list.
Check out the NEW Subscription Box Directory
You can see my FULL coupon list HERE