September 19, 2017
09/19/17

By Subscription Box Mom

0 Comments
0
FabFitFun Fall 2017 Review + $10 Coupon
Disclosure: This post contains affiliate links.
FabFitFun VIP sends a box of fabulous finds in beauty, wellness, fashion, and fitness, hand-picked by Giuliana Rancic and the FabFitFun team, delivered once per season. Each box is limited edition (once they're gone, they're really gone!) and contains $120+ in retail value.  
The Details:
Cost: $49,99 a quarter
What's in the box? FabFitFun VIP sends a box of fabulous finds in beauty, wellness, fashion, and fitness, hand-picked by Giuliana Rancic and the FabFitFun team, delivered once per season.
When will I be billed? "You will charged immediately upon enrollment to guarantee your spot on the list for the current season. Thereafter, every three months (so, four times a year) when we release our seasonal box, your credit card will be charged $49.99 7-10 days before the box goes out (CA Sales Tax may apply). Specific billing and shipping dates will be pre-announced each season."
When will I get my box? "We expect to ship boxes in the following seasonal months: March, June, September, and December (subject to change, though, of course, we will announce any deviations from this schedule). Specific shipping dates will be pre-announced each season prior to billing.  Depending on what part of the country you're living in, your box should arrive within 2 weeks of shipping. As soon as your box gets shipped you'll be emailed with tracking information, so you'll be able to keep an eye out for your box of goodies"
How do I cancel? If you would like to cancel, please do so before the next bill-date; otherwise you will continue to be billed for the following season's box. To cancel your quarterly subscription, please fill out the cancellation form. There are no cancellation fees.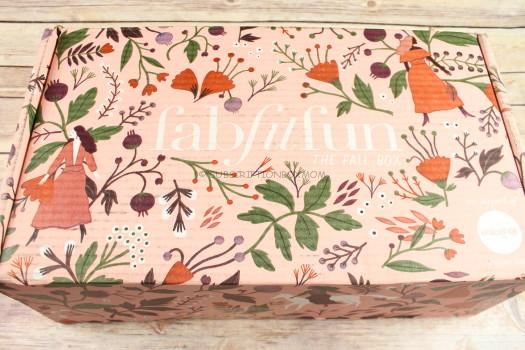 FabFitFun shipped in a floral box this month.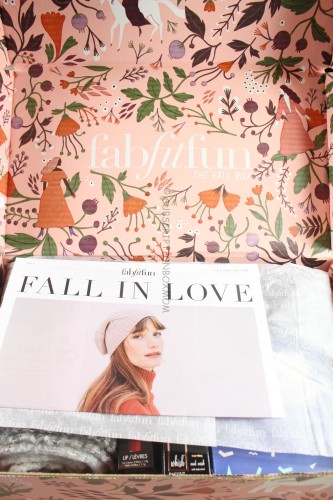 First Look.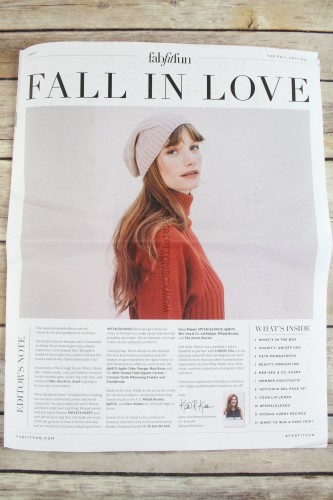 There was a newspaper in the box that had articles about how to use many of the items in the box.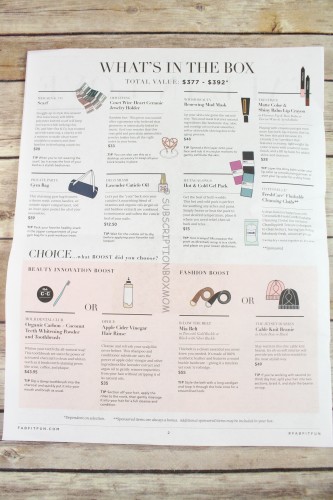 All the items in the box were on a pager, with descriptions of each one.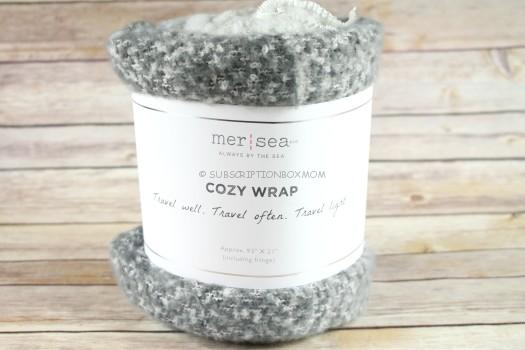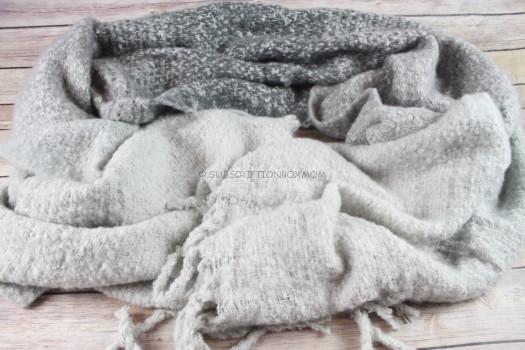 Mer- Sea & Co The Cozy Scarf $98.00 This scarf is made with 100% knitted polyester and is so cozy.  This is a brand new item and is even on pre-order from the company.  You can use this as a regular winter scarf, or my preference, a wrap. It's no secret we love to camp, and this wrap would be great in the fall by the camp fire.  You can also dress it up for an evening out.  I selected the grey, because I think it's a very versatile color.  This was also sent to subscribers in teal and blush.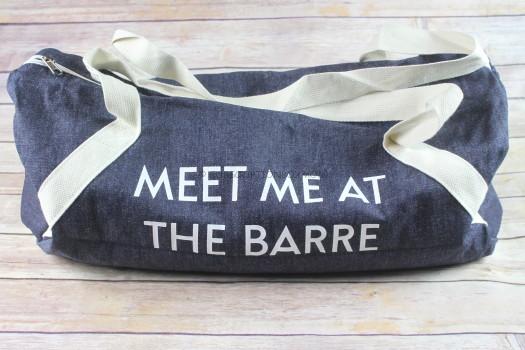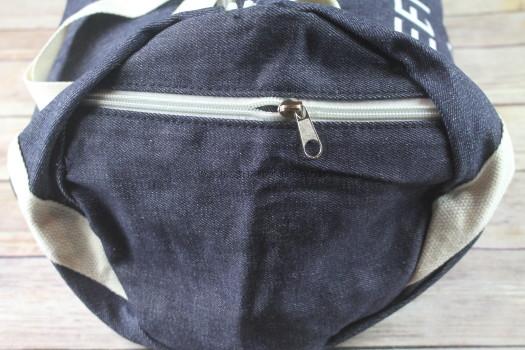 Private Party Gym Bag $59.00 Even though I have several reusable bags, I actually don't have a good gym bag.  As an annual subscriber, I could've chosen between "Meet You At The Barre", "Gym & Juice", and "Will Workout For Cupcakes". I honestly didn't love any of the slogans, but I picked the Barre bag.  I don't do Barre workouts, but I do like to go get a drink at the bar at the end of the week.  I love this gymbag slogan here, though it's from another company. The bag itself is very nice.  It's a decently thick denim bag, plus it has a zipper on the end.  I always end up using our swim bag for my gym bag every day, so now I have my own.  This is big enough to hold my extra shoes, outfits, toiletries and towel.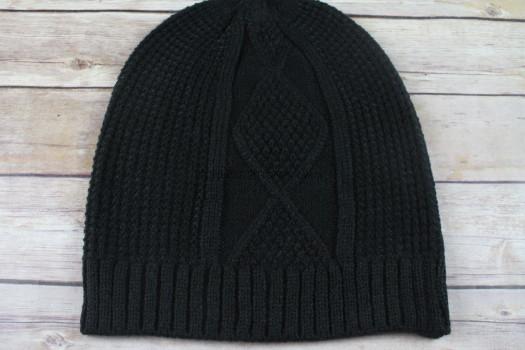 Cable Knit Beanie by The Jetset Diaries $49.00 It's still hot here, but that hasn't stopped me from thinking about cooler weather.  I was able to chose between this beanie and a belt.  Being short waisted, belts look bad on me, so I chose the beanie.  This is made with 100% acrylic, has a nice stretch and is roomy.  This also came in pink.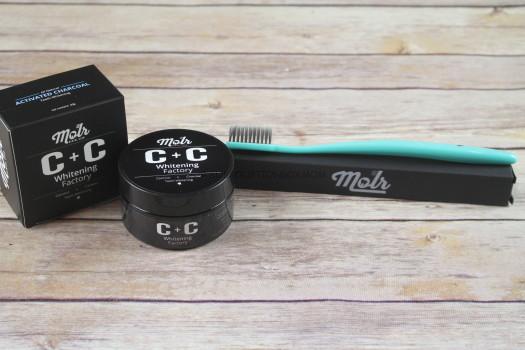 Molr Dental Club Carbon + Coconut Teeth Whitening Powder and Toothbrush $43.95 I have used charcoal toothpaste before and while it's not as nice as brushing your teeth with Crest, it is effective.  This is a black powder that you use with the included brush to whitten teeth.  It's quite messy, so be sure to brush over the sink.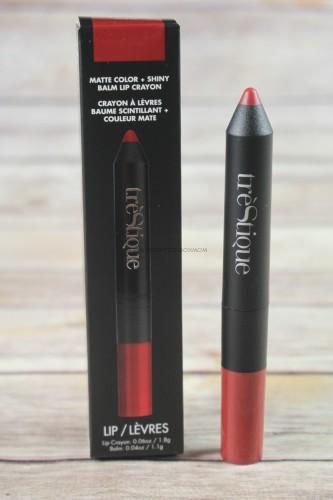 trèStiQue Matte Color & Shiny Balm Lip Crayon (Tuscan Wine & Syrah Balm) $28.00 This lip crayon is also a moisturizing balm.  Subscribers had a chouce from Florance Fig & Rose Balm or Tuscan Wine & Syrah Balm. The Florance Fig is a much lighter color than I usually wear, so I chose the Tuscan Wine. It's a really rich wine color that's great for evening. One side is the crayon and the other side is the balm.  The balm adds a nice amount of moisture to the crayon.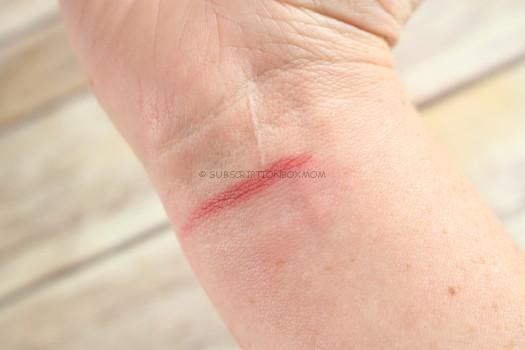 This is a swatch of the color.  I love the bold look.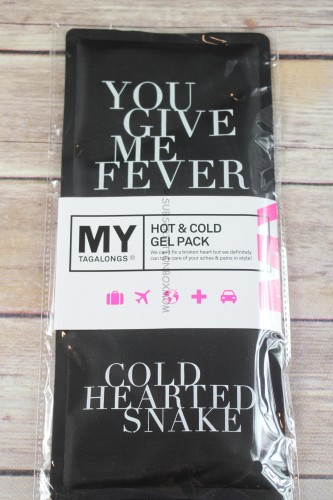 My TagAlongs Hot & Cold Gel Pack $15.00 This pack can be frozen or heated up.  There were three color choices but they were sent out at random.  I have been adding weights to my regular runs, so I have had a few aches and pains. I am sure I will end up using this.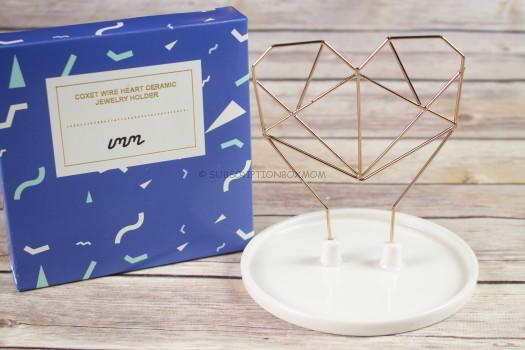 Coxet Wire Ceramic Jewelry Holder design by imm Living $30.50 This jewelry holder has a ceramic base with a wire top holder.  My base was a bit off, so one side of the wire holder is lower than the other.  It's also a bit wobbly.  I am not a fan of this item. All my jewelry is stored in a jewelry stand, and I think this is another item that will just sit out and get dusty.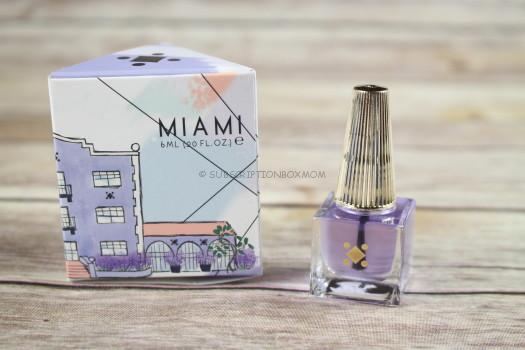 Deco Miami Lavender Cuticle Oil $12.50 While I tend to get professional manicures fairly often, I am sure I will use thsi cuticle oil.  It's made with vitamins, argan oil and bamboo extract, plus it comes in a cute little bottle.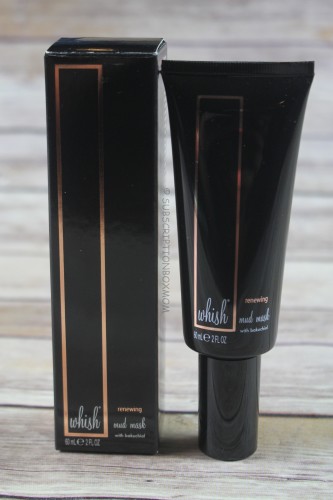 Whish Renewing Mud Mask  – $48.00 I love the Whish company, so I was excited to check out this mask.  It is made with bentontite clay, aloe, and rosehip oil to deliver smother, younger looking skin.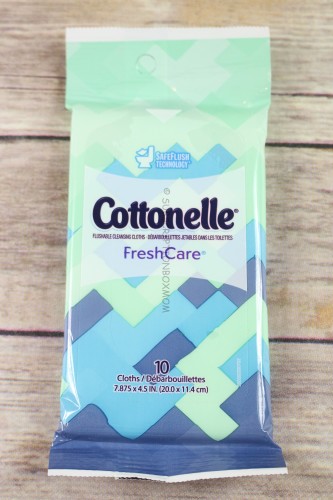 Cottonelle® FreshCare® Flushable Cleansing Cloths 10 count $1.00 est This was the sponsored item in the box. These have an exclusive "CleanRipple" technology to keep you really clean.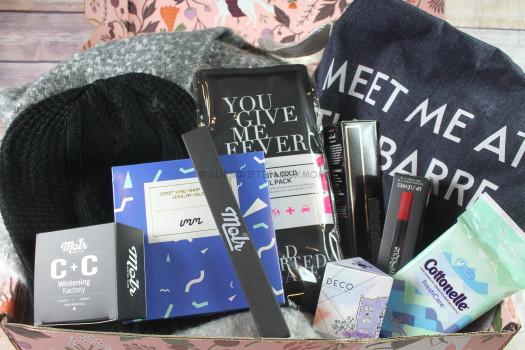 Final Thought: This was an outstanding box.  The total value of my box was $384.95.  It's a pretty crazy value considering it only costs $49.95/quarter.  This is one of the "highest values for your money box" that I review or subscribe to. I love that fall scarf in this box, along with gym bag. I really love this box and I am looking forward to the FabFitFun Winter 2017 box. Subscribe and use the code Fab10 to get $10.00 off your 1st box. 
Do you like FREE SUBSCRIPTION BOXES?  Click HERE to see my free subscription box list.
Check out my NEW Subscription Box Directory
You can see my FULL coupon list HERE.
Do you love Giveaways?  Click HERE to enter all my Giveaways