September 11, 2017
09/11/17

By Subscription Box Mom

0 Comments
0
BookCase Club September 2017 "Read To Me" Review + Coupon
Disclosure: The post BookCase Club September 2017 Read To Me Review contains affiliate links.  I received this box for review.
BookCase Club is subscription box that sends mystery boxes of 4 books, all for $9.95 ($5.00 s/h). When you sign up, you choose the category of books you wish to receive: Thrill Seeker Case, Booking for Love Case, Quarterly Cookbooks, Quarterly Military History, Strange Worlds Case, Teenage Dreams Case, Read to Me Case, and Blind Date Case.  Once you select your BookCase, your will get two books from that category, except the children's subscription will contain 3 books.  BookCase Club also gives back!  Each month, BookCase Club will partner with a book-centered, charity.  I was sent the children's subscription to review.
The Details:
Cost: $9.95/month
Coupon:
Use the code BoxMOM15 to save 15% on your subscription.
Shipping: $5.00/month.  US only.
What's in the box? BookCase Club will send you two handpicked books from one of five categories of your choosing.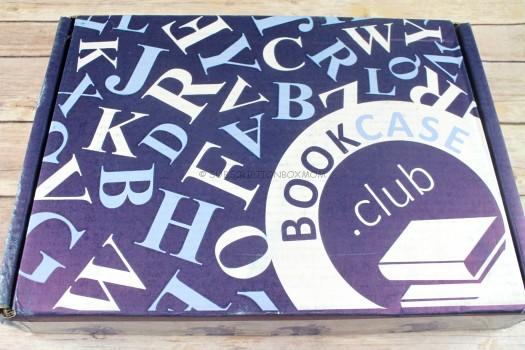 Bookcase Club ships in a blue box.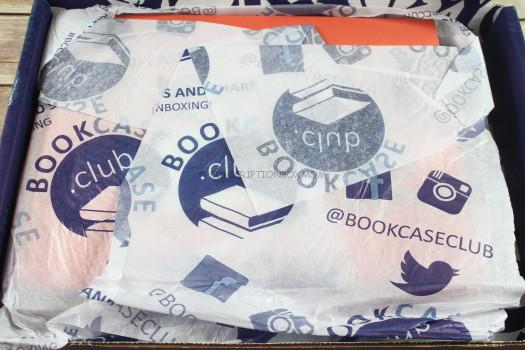 First Look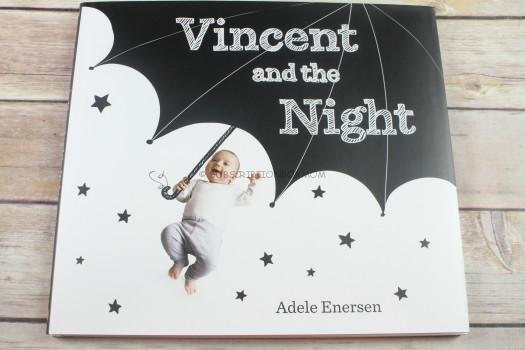 Vincent and the Night by Adele Enersen $6.14 This book features Vincent, who is a little baby that doesn't want to go to sleep.  As the night rolls in, he unravels it and creates cute scenes with his "string".  I love how the book features a real baby with other illustrated scenes.
Summary: In the tradition of Harold and the Purple Crayon, an inventive and charming bedtime story that blends whimsical art and sweet photographic touches.
 
Vincent is a very clever boy. So when the night rolls in like a warm blanket, he unravels it and begins to play. The threads of the night become a violin, an elephant, and even a pirate ship—anything to delay bedtime. But in the end, even Vincent can't resist resting his eyes and snuggling up in the dark. Good night, Vincent!
 
Whether delighting in bedtime or are afraid of the dark, every child will enjoy this playful and reassuring picture book that entices even the most rambunctious little dreamers to sleep.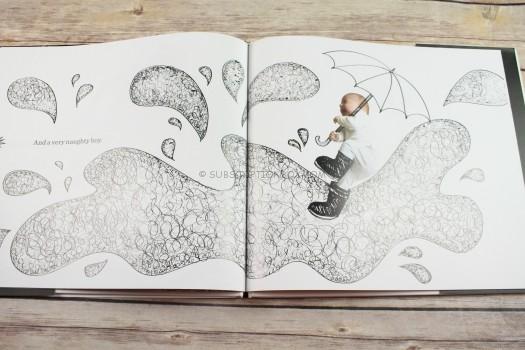 This is one of the scenes where Vinvent is being naughty.
Young Cam Jansen and the Knock, Knock Mystery Paperback by David A. Adler $3.99 This book is part of a level series, where book are groups from levels 1-4.  This is level three, which is for transitional readers.  Just looking at the book, I know this is something my 2nd grader can read. This book is about Cam and Eric who go to visit Eric's grandparents.  Eric's grandparents are very tired because they keep hearing knocking, but no one is at the door.  Eric and Cam make it their mission to find out the cause of the knocking, so Eric's grandparents can get some sleep.
Summary: Cam, her best friend Eric, and Eric's mom are spending the day with Eric's grandparents. But Grandpa and Grandma seem too tired to visit. Every so often, a knock at the door wakes them up. But when they go to answer, no one is there. Is a Knock, Knock Ghost on the loose? It's up to Cam to solve the mystery!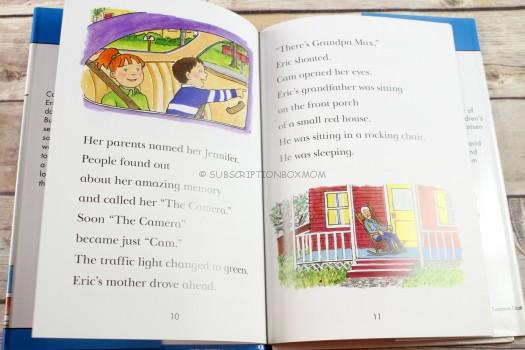 Even though my son can read this book, it can help him improve his speed and fluency.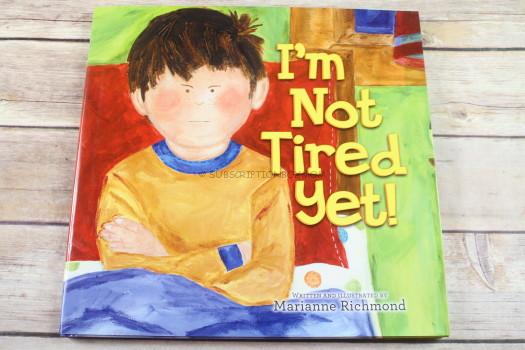 I'm Not Tired Yet! by Marianne Richmond $17.74 This is another book about children not wanting to go to bed.  Ralphie doesn't want to go to bed.  As Ralphie gives his mom every excuse why he can't sleep, his mother uses animals to gently get him to go to sleep.
Summary: For every parent whose child won't settle into bed without a dozen excuses, here is an adorable bedtime story that makes us laugh with recognition from beloved, award-winning author Marianne Richmond. With her signature heartfelt illustrations and whimsical text, I'm Not Tired Yet! helps every parent ease their child off to dreamland. I'm Not Tired Yet! inspires a playful, endearing bedtime routine that leaves kids and grownups looking forward to nighttime, no matter how strong the allure of playtime.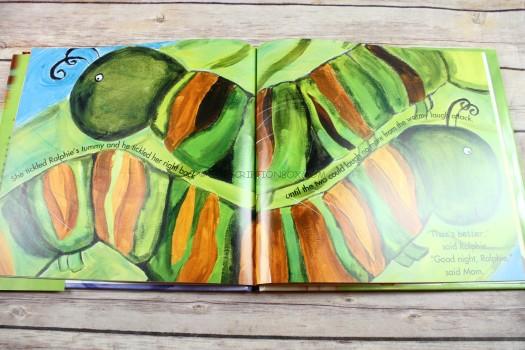 This is a look in the book.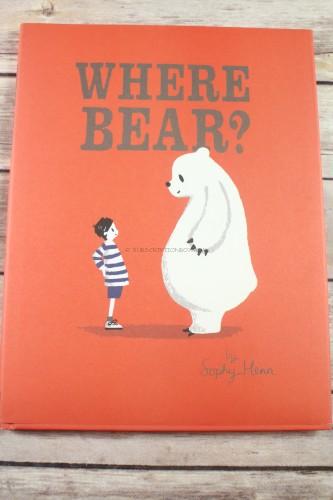 Where Bear? by Sophy Henn $7.99 This book is a great story for kids who have to deal with a friend or family member moving away.  A boy has a bear who lives with him who keeps growing.  Eventually the bear gets too big for his home and has to find another. 
Summary: Once there was a bear cub who lived with a little boy. But over time the bear cub grew . . . and grew . . . and GREW! And did things that bears do . . . and do . . . and DO! One day the boy looked at the bear and realized he was just too big and bearish to be living in a house. "I think it's time we found you a new place to live where you can be bearish and big," said the boy. "But where, bear?"
From the only two-time World Book Illustrator Sophy Henn, here is a delightful journey that reminds us that even when best friends are apart, they always stay together.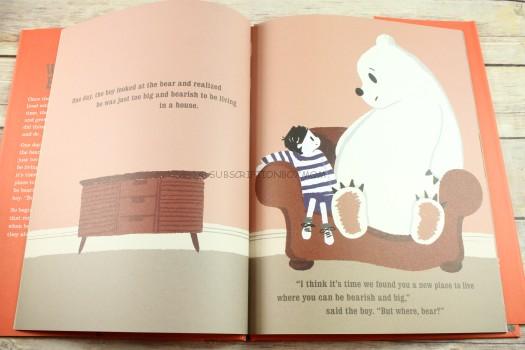 I love how cute the big bear looks.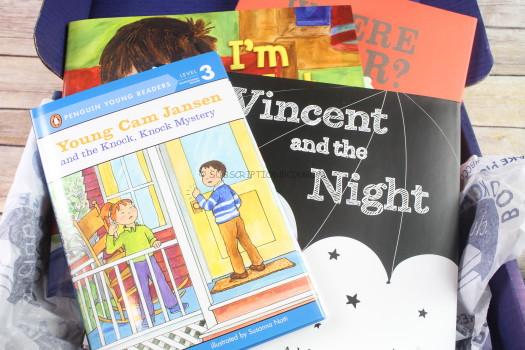 Final Thought: This box had a total value of $35.86. I really enjoyed this month's box.  My favorite book in the box was the Y0ung Cam Jansen book.  It's an interesting read and I was actually curious what made the knock knock noise.  My children love to read books and so they always look forward to receiving this subscription each month. Subscribe and use this link with the code BoxMOM15 to save 15% on your subscription.  Your first month will be $8.49, plus the $5 shipping charge.
Do you like FREE SUBSCRIPTION BOXES?  Click HERE to see my free subscription box list.
Check out the NEW Subscription Box Directory
You can see my FULL coupon list HERE