September 6, 2017
09/06/17

By Subscription Box Mom

0 Comments
0
Book of the Month September 2017 Review + 1st Box $10
Disclosure: The post Book of the Month September 2017 Review contain affiliate links.
Book of the Month is a book subscription box that sends a brand new book for as low as $10.47/month.
On the first of the month, you log into your account and choose between five different books, picked out by Book of the Month Judges.  There are authors, editors and more on the judging panel.  There is also one guest judge each month.  You must make your selections by the 14th, or Book of the Month will pick for you.  If you don't like any of the books, you can skip!
Once you make your book selection, you can add up to two books to your account for $9.99/each.  Once you get your book, you can log into your account and join the discussions.
The Details:
Cost: $16.99/month, $14.99/month for a 3 month subscription and $11.99/month for a 1 year subscription.
Coupon: Get your 1st month for $10.00 today, just use this link or save 3-Months for $9.99/month plus a free BOTM tote
What's in the box?  On the first of the month, you will get to select from 5 different books.
I was sent all the September selections for review.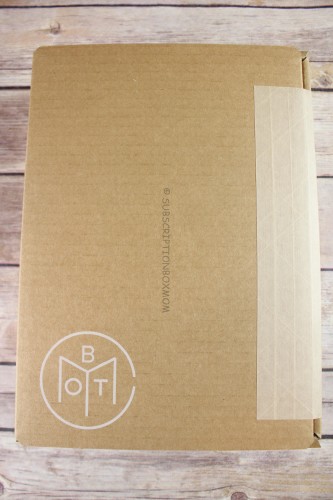 Each book comes in a small cardboard box.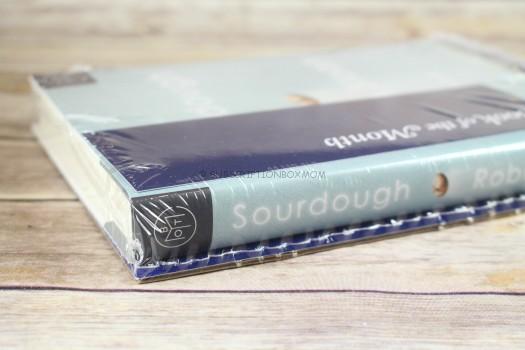 Each book is wrapped in plastic against a larger piece of cardboard to keep the edges from banging against the sides.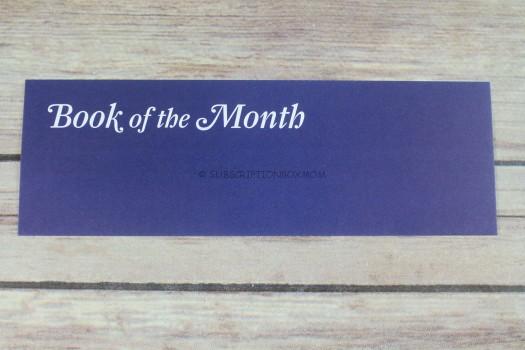 Each book also comes with a bookmark with a quote from the judge of the month on it.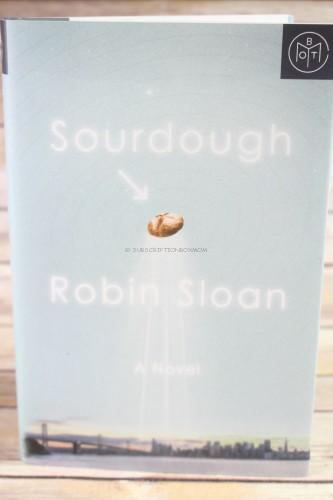 Sourdough by Robin Sloan – Judge Dana Schwartz Lois was a software engineer when her brother have visa problems and have to leave the country. Lois ends up taking care of her brother's bakery business, which turns out to be more complicated than she imagines.

Summary: Lois Clary is a software engineer at General Dexterity, a San Francisco robotics company with world-changing ambitions. She codes all day and collapses at night, her human contact limited to the two brothers who run the neighborhood hole-in-the-wall from which she orders dinner every evening. Then, disaster! Visa issues. The brothers close up shop, and fast. But they have one last delivery for Lois: their culture, the sourdough starter used to bake their bread. She must keep it alive, they tell her―feed it daily, play it music, and learn to bake with it.
Lois is no baker, but she could use a roommate, even if it is a needy colony of microorganisms. Soon, not only is she eating her own homemade bread, she's providing loaves daily to the General Dexterity cafeteria. The company chef urges her to take her product to the farmer's market, and a whole new world opens up.
When Lois comes before the jury that decides who sells what at Bay Area markets, she encounters a close-knit club with no appetite for new members. But then, an alternative emerges: a secret market that aims to fuse food and technology. But who are these people, exactly?
Leavened by the same infectious intelligence that made Robin Sloan's Mr. Penumbra's 24-Hour Bookstore such a sensation, while taking on even more satisfying challenges, Sourdough marks the triumphant return of a unique and beloved young writer.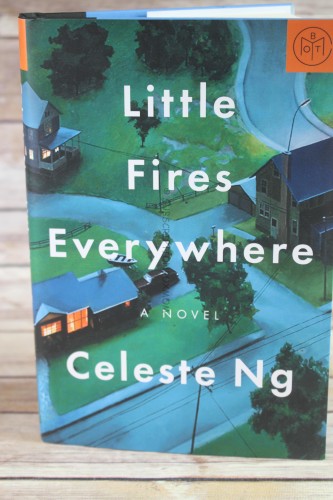 Little Fires Everywhere by Celeste Ng – Judge Kim Hubbard This book is about a progressive suburb in Cleveland where everything is a certain way.  When Mia Warren moves in the community with her daughter, she befriends a family there.  Over time, the family becomes suspicious of Mia and decisions have to be made.
Summary: In Shaker Heights, a placid, progressive suburb of Cleveland, everything is planned – from the layout of the winding roads, to the colors of the houses, to the successful lives its residents will go on to lead. And no one embodies this spirit more than Elena Richardson, whose guiding principle is playing by the rules.
Enter Mia Warren – an enigmatic artist and single mother – who arrives in this idyllic bubble with her teenaged daughter Pearl, and rents a house from the Richardsons. Soon Mia and Pearl become more than tenants: all four Richardson children are drawn to the mother-daughter pair. But Mia carries with her a mysterious past and a disregard for the status quo that threatens to upend this carefully ordered community.
When old family friends of the Richardsons attempt to adopt a Chinese-American baby, a custody battle erupts that dramatically divides the town–and puts Mia and Elena on opposing sides.  Suspicious of Mia and her motives, Elena is determined to uncover the secrets in Mia's past. But her obsession will come at unexpected and devastating costs.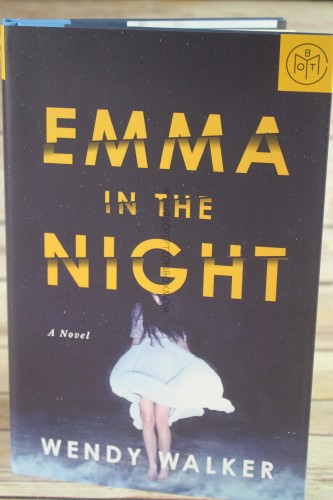 Emma in the Night by Wendy Walker – Judge Krysten Ritter 3 yeas ago sisters Cass and Emma disappear.  When Cass returns without her sister, there are questions about what really happened.
Summary: One night three years ago, the Tanner sisters disappeared: fifteen-year-old Cass and seventeen-year-old Emma. Three years later, Cass returns, without her sister Emma. Her story is one of kidnapping and betrayal, of a mysterious island where the two were held. But to forensic psychiatrist Dr. Abby Winter, something doesn't add up. Looking deep within this dysfunctional family Dr. Winter uncovers a life where boundaries were violated and a narcissistic parent held sway. And where one sister's return might just be the beginning of the crime.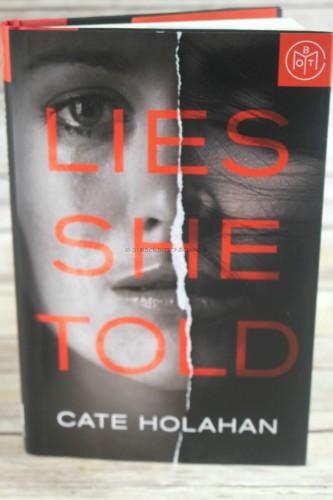 Lies She Told by Cate Holohan – Judge Stacey Armand  Liza is a writer whose personal and professional life are a mess. She is finishing writing a thriller, when her husband's best friend disappears.  Liza's personal life and the story in her book start to intersect and she must face some truths.
Summary Liza Cole, a once-successful novelist whose career has seen better days, has one month to write the thriller that could land her back on the bestseller list. Meanwhile, she's struggling to start a family, but her husband is distracted by the disappearance of his best friend, Nick. As stresses weigh her down in her professional and personal lives, Liza escapes into writing the chilling exploits of her latest heroine, Beth.
Beth, a new mother, suspects her husband is cheating on her while she's home caring for their newborn. Angry and betrayed, she aims to catch him in the act and make him pay for shattering the illusion of their perfect life. But before she realizes what she's doing, she's tossing the body of her husband's mistress into the East River.
Then, the lines between Liza's fiction and her reality eerily blur. Nick's body is dragged from the East River, and Liza's husband is arrested for his murder. Before her deadline is up, Liza will have to face up to the truths about the people around her, including her own. If she doesn't, the end of her heroine's story could be the end of her own.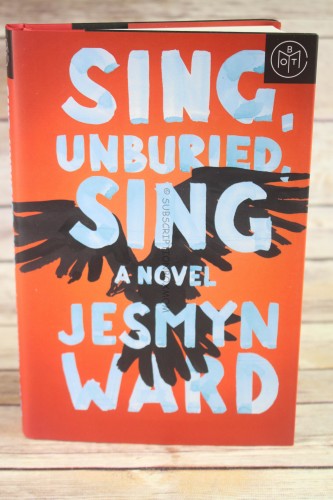 Sing, Unburied, Sing by Jesmyn Ward – Judge Elizabeth Kiefer  This book is about a family in Mississippi, whose lives are filled with chaos and drama.
Summary In Jesmyn Ward's first novel since her National Book Award–winning Salvage the Bones, this singular American writer brings the archetypal road novel into rural twenty-first-century America. Drawing on Morrison and Faulkner, The Odyssey and the Old Testament, Ward gives us an epochal story, a journey through Mississippi's past and present that is both an intimate portrait of a family and an epic tale of hope and struggle. Ward is a major American writer, multiply awarded and universally lauded, and in Sing, Unburied, Sing she is at the height of her powers.
Jojo and his toddler sister, Kayla, live with their grandparents, Mam and Pop, and the occasional presence of their drug-addicted mother, Leonie, on a farm on the Gulf Coast of Mississippi. Leonie is simultaneously tormented and comforted by visions of her dead brother, which only come to her when she's high; Mam is dying of cancer; and quiet, steady Pop tries to run the household and teach Jojo how to be a man. When the white father of Leonie's children is released from prison, she packs her kids and a friend into her car and sets out across the state for Parchman farm, the Mississippi State Penitentiary, on a journey rife with danger and promise.
Final Thought: This month, there were several books I liked.  I can't wait to read Lies She Told! This subscription is a great way to get new books to read at an affordable price. If you want to subscribe, there are several coupons to choose from: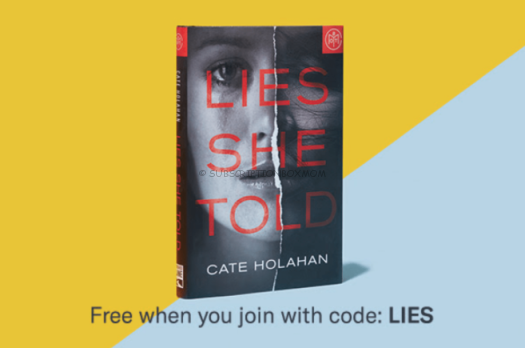 Right now, use the code LIES to get a free copy of Lies She Told by Cate Holahan when you subscribe.
Other Coupons
Sign up for a 1-month membership for $10
Sign up for a 2-month membership for $10 per month
Sign up for a 3-month membership for $10 per month
o you like FREE SUBSCRIPTION BOXES?  Click HERE to see my free subscription box list.
Check out the NEW Subscription Box Directory
You can see my FULL coupon list HERE.