June 9, 2017
06/09/17

By Subscription Box Mom

0 Comments
0
Book of the Month June 2017 Review + Coupons
Book of the Month June 2017 Review. Disclosure; This post contains affiliate links.  I received this box for review
Book of the Month is a book subscription box that sends a brand new book for as low as $10.47/month.
On the first of the month, you log into your account and choose between five different books, picked out by Book of the Month Judges.  There are authors, editors and more on the judging panel.  There is also one guest judge each month.  You must make your selections by the 14th, or Book of the Month will pick for you.  If you don't like any of the books, you can skip!
Once you make your book selection, you can add up to two books to your account for $9.99/each.  Once you get your book, you can log into your account and join the discussions.
The Details:
Cost: $16.99/month, $14.99/month for a 3 month subscription and $11.99/month for a 1 year subscription.
Coupon: Get a 1, 2, or 3 month subscription for $10.00 today, just use this link or get a receive a free copy of Paula Hawkins' Into the Water with a 3 month plan with code WATER
What's in the box?  On the first of the month, you will get to select from 5 different books.
I was sent all the June selections for review.
When you subscribe, your book will ship in a single brown box.
First look
Books come shipped in on a cardboard insert and was wrapped in plastic. This ensures that your book won't shift during shipment.
A Million Junes by Emily Henry – Judge Katie Cotugno This book is about a couple that falls in love, but their families hate each other!
In their hometown of Five Fingers, Michigan, the O'Donnells and the Angerts have mythic legacies. But for all the tall tales they weave, both founding families are tight-lipped about what caused the century-old rift between them, except to say it began with a cherry tree.
 
Eighteen-year-old Jack "June" O'Donnell doesn't need a better reason than that. She's an O'Donnell to her core, just like her late father was, and O'Donnells stay away from Angerts. Period.
 
But when Saul Angert, the son of June's father's mortal enemy, returns to town after three mysterious years away, June can't seem to avoid him. Soon the unthinkable happens: She finds she doesn't exactly hate the gruff, sarcastic boy she was born to loathe. 
 
Saul's arrival sparks a chain reaction, and as the magic, ghosts, and coywolves of Five Fingers conspire to reveal the truth about the dark moment that started the feud, June must question everything she knows about her family and the father she adored. And she must decide whether it's finally time for her—and all of the O'Donnells before her—to let go.
White Fur by Jardine Libaire – Judge Laia Garcia This is another love story about two people from completely different parts of life who fall in love.
When Elise Perez meets Jamey Hyde on a desolate winter afternoon, fate implodes, and neither of their lives will ever be the same. Although they are next-door neighbors in New Haven, they come from different worlds. Elise grew up in a housing project without a father and didn't graduate from high school; Jamey is a junior at Yale, heir to a private investment bank fortune and beholden to high family expectations. Nevertheless, the attraction is instant, and what starts out as sexual obsession turns into something greater, stranger, and impossible to ignore.
The Seven Husbands of Evelyn Hugo by Taylor Jenkins Reid – Judge Steph Opitz This book will also be appearing in another popular subscription this month!
From Taylor Jenkins Reid, "a genius when it comes to stories about life and love" (Redbook), comes an unforgettable and sweeping novel about one classic film actress's relentless rise to the top—the risks she took, the loves she lost, and the long-held secrets the public could never imagine.
Aging and reclusive Hollywood movie icon Evelyn Hugo is finally ready to tell the truth about her glamorous and scandalous life. But when she chooses unknown magazine reporter Monique Grant for the job, no one in the journalism community is more astounded than Monique herself. Why her? Why now?
Monique is not exactly on top of the world. Her husband, David, has left her, and her career has stagnated. Regardless of why Evelyn has chosen her to write her biography, Monique is determined to use this opportunity to jumpstart her career.
Summoned to Evelyn's Upper East Side apartment, Monique listens as Evelyn unfurls her story: from making her way to Los Angeles in the 1950s to her decision to leave show business in the late 80s, and, of course, the seven husbands along the way. As Evelyn's life unfolds—revealing a ruthless ambition, an unexpected friendship, and a great forbidden love—Monique begins to feel a very a real connection to the actress. But as Evelyn's story catches up with the present, it becomes clear that her life intersects with Monique's own in tragic and irreversible ways.
Written with Reid's signature talent for "creating complex, likable characters" (Real Simple), this is a fascinating journey through the splendor of Old Hollywood into the harsh realities of the present day as two women struggle with what it means—and what it takes—to face the truth.
Chemistry by Weike Wang – Judge Leigh Haber The narrator is majoring in chemistry and is practically engaged to be married when she decides to give it all up.
Three years into her graduate studies at a demanding Boston university, the unnamed narrator of this nimbly wry, concise debut finds her one-time love for chemistry is more hypothesis than reality. She's tormented by her failed research–and reminded of her delays by her peers, her advisor, and most of all by her Chinese parents, who have always expected nothing short of excellence from her throughout her life. But there's another, nonscientific question looming: the marriage proposal from her devoted boyfriend, a fellow scientist, whose path through academia has been relatively free of obstacles, and with whom she can't make a life before finding success on her own. Eventually, the pressure mounts so high that she must leave everything she thought she knew about her future, and herself, behind. And for the first time, she's confronted with a question she won't find the answer to in a textbook: What do I really want? Over the next two years, this winningly flawed, disarmingly insightful heroine learns the formulas and equations for a different kind of chemistry–one in which the reactions can't be quantified, measured, and analyzed; one that can be studied only in the mysterious language of the heart. Taking us deep inside her scattered, searching mind, here is a brilliant new literary voice that astutely juxtaposes the elegance of science, the anxieties of finding a place in the world, and the sacrifices made for love and family. 
The Sisters Chase by Sarah Healy – Judge Liberty Hardy When Mary and Hannah's mother died, they are left with a motel that is worthless. The sisters set out to find their new path in life.
The hardscrabble Chase women—Mary, Hannah, and their mother Diane—have been eking out a living running a tiny seaside motel that has been in the family for generations, inviting trouble into their lives for just as long. Eighteen-year-old Mary Chase is a force of nature: passionate, beautiful, and free-spirited. Her much younger sister, Hannah, whom Mary affectionately calls "Bunny," is imaginative, her head full of the stories of princesses and adventures that Mary tells to give her a safe emotional place in the middle of their troubled world.
But when Diane dies in a car accident, Mary discovers the motel is worth less than the back taxes they owe. With few options, Mary's finely tuned instincts for survival kick in. As the sisters begin a cross-country journey in search of a better life, she will stop at nothing to protect Hannah. But Mary wants to protect herself, too, for the secrets she promised she would never tell—but now may be forced to reveal—hold the weight of unbearable loss. Vivid and suspenseful, The Sisters Chase is a whirlwind page-turner about the extreme lengths one family will go to find—and hold onto—love.
Final Thought:There were so many interesting book for this month, I am not sure which one to read first.  White Fur I think will be my first book I read. I also like that you can skip, so you never have to pick a book you don't like. Subscribe and choose one of the deals below. Subscribe and get a 1, 2, or 3 month subscription for $10/month. You can also get a  free copy of Paula Hawkins' Into the Water with a 3 month plan with code WATER
Subscribe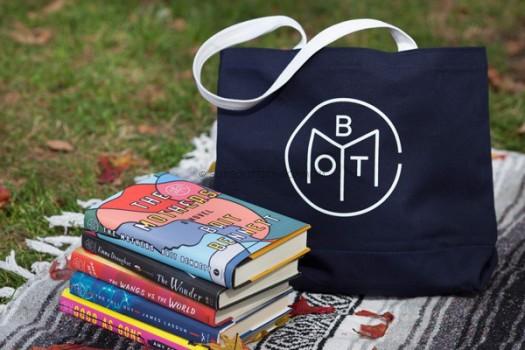 Do you like FREE SUBSCRIPTION BOXES?  Click HERE to see my free subscription box list.
Check out the NEW Subscription Box Directory
You can see my FULL coupon list HERE.