February 24, 2017
02/24/17

By Kristi Klemish

0 Comments
0
Munchpak January 2017 Review + Coupon
Disclosure: This post contains affiliate links. I received this box for review.
Hi all!  It's Kristi doing another guest review.    I haven't done Munchpak for a while, and this one looks good from my first peek!  This is the original size box.
MunchPak is a snack subscription box that packs a huge amount of yummy snacks into their boxes.  Subscriptions start at $9.95/month and each box packs old favorites and new goodies.  When you sign up, you can select your favorite flavors to help make your box even better.  I received the original box for review.
Here are the flavors.  You can hit the + sign for flavors you like and the – sign for flavors you don't.  You will pay $1 extra for every flavor you select.
The Details:
Cost: Mini $9.95, Original $19.95, Family plan $39.95
Coupon:  To subscribe,, click HERE and use the code BOXMOM to take $2.00 off.
What's in the box?  Boxes are filled with a huge variety of delicious munchies from Australia, Sweden, Japan, United States, Canada, and many other countries from all over the world
When will I get my box?  You box will ship within about 48 hours after ordering.  You will then get a new box around the same time each month.
Where do you ship?  USA and Canada
Website: www.munchpak.com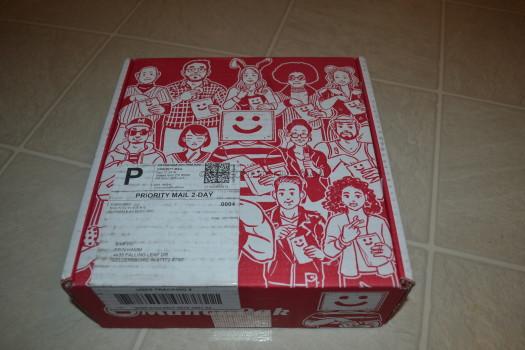 Munchpak ships in a bright red box.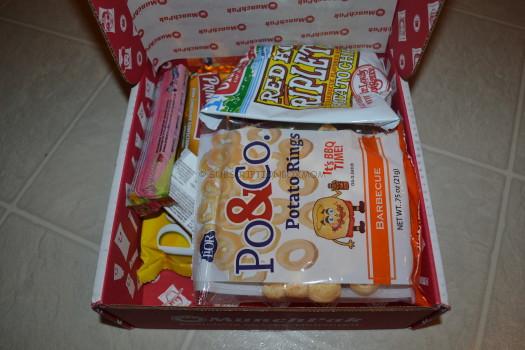 First Look.  There was a welcome note too.  There isn't an information card in the box, so you have to download the Munchpak snack scanner app.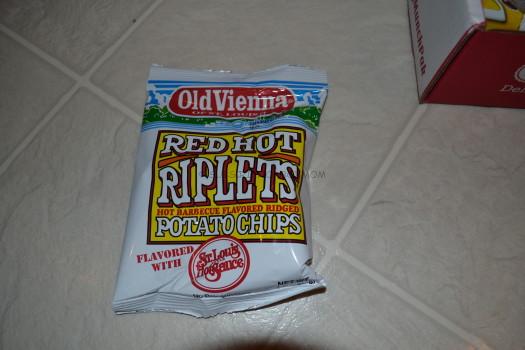 Old Vienna Red Hot Riplets (from United States):  These are a very yummy Hot BBQ flavored riplet potato chip.  These were a hit!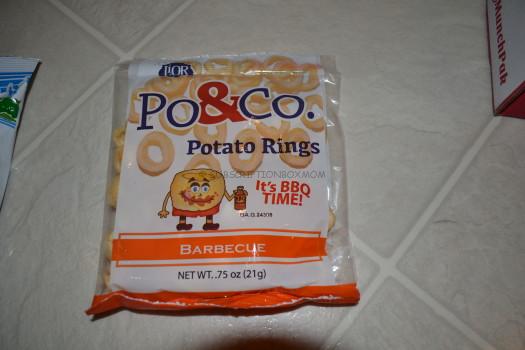 Po & Co Potato Rings (from Israel):  These are a light and airy BBQ potato ring with a huge crunch.  The whole family loved these too!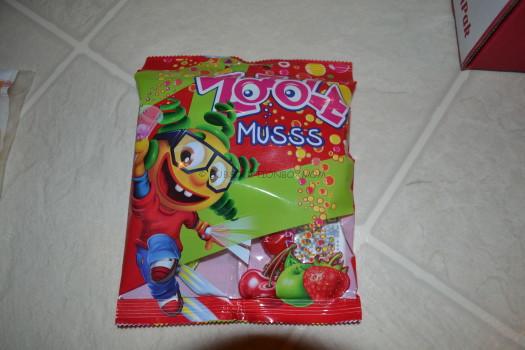 Mieszko Zozole Apple, Cherry, and Strawberry (from Poland):  Apple, cherry, and strawberry flavored candy with a fizzy filling.  Yum!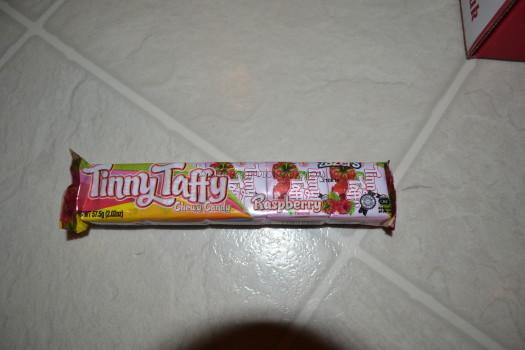 Tiny Taffy Raspberry (from Brazil):  These are chewy raspberry taffy's.  Each block has four tiny taffy's.   These were good, and my kids loved them!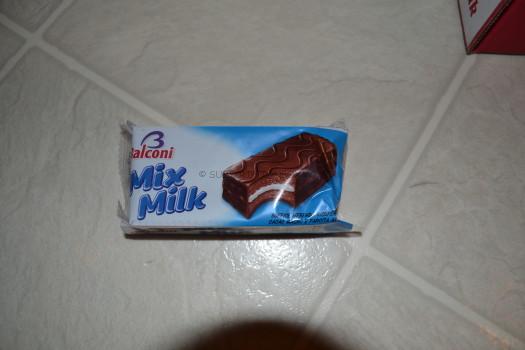 Balconi Mix Milk (from Italy):  This is a soft delicious cake.  I loved it.  So did the kids!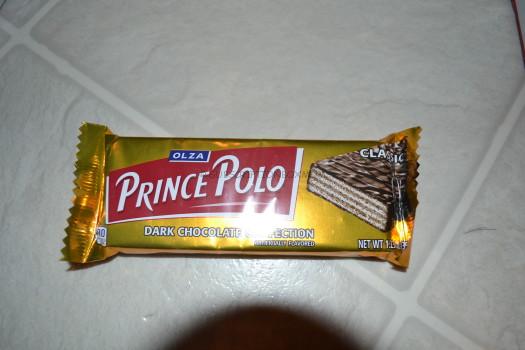 Prince Polo Classic (from Poland):  This is a light and crunch wafer coated in milk chocolate.  It is filled with a rich chocolate cream.  It reminded me of a Mounds candy bar 🙂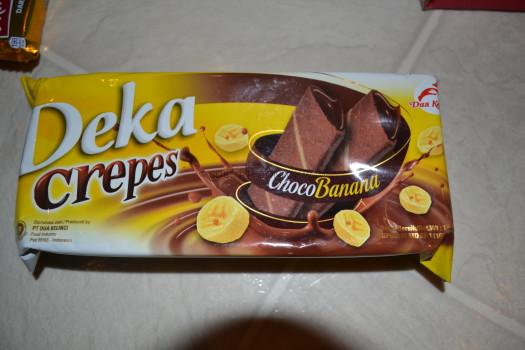 Deka Crepes Choco Banana (from Indonesia):  This is a rich and delicious chocolate crepe cookie biscuit filled with chocolate and banana creme filling.  It reminded me of the German banana candy I love in the same flavor!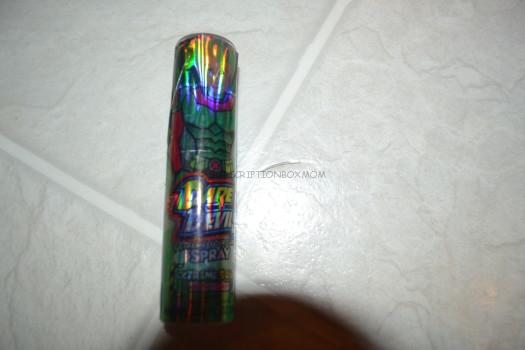 Dare Devil's Extreme Sour Candy Spray (from China):    Just like the name…a super sour spray candy.  It comes in different flavors as well.  I think kids would love this!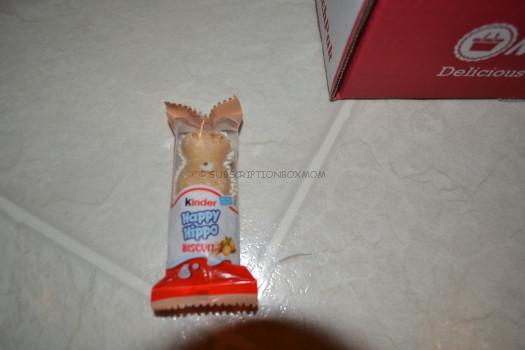 Ferrero Kinder Happy Hippo Hazelnut (from United Kingdom):  This is a mild and hazelnut cream in a crispy waffle, coated with meringue shards.  I loved it!  It was sweet and crunch.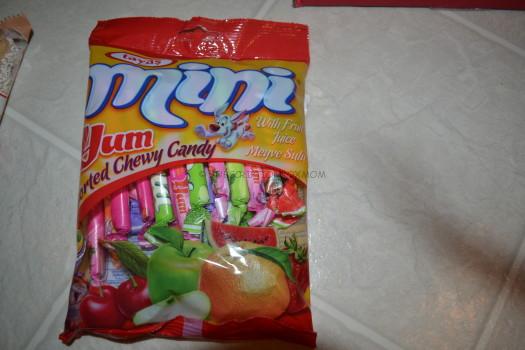 Tayas Mini Yum Candies (from Turkey):  This is a good-sized bag filled with individually wrapped fruit chews.  There is cherry, apple, orange, watermelon, strawberry, and cola.  My only complaint is that these weren't very chewy.  The flavor was good, though.
Final Thought:  This was a great box!  I love that there are snacks from all over the world.  It gave the box a lot of variety.  The only thing I would change is to pick one or two more savory items by customizing differently.  My hubby really likes savory over sweet so he would have a few more choices to eat .  I am not too fond of the app to see what I'm eating, as the scanner is pretty finicky, and I'd like to just have a paper, but it is nice that you can see how others rate it and order yourself more of that item if you like it.  Most items are in the $1-3 range.  To subscribe,, click HERE and use the code BOXMOM to take $2.00 off.
Do you like FREE SUBSCRIPTION BOXES?  Click HERE to see my free subscription box list.
You can see my FULL coupon list HERE.